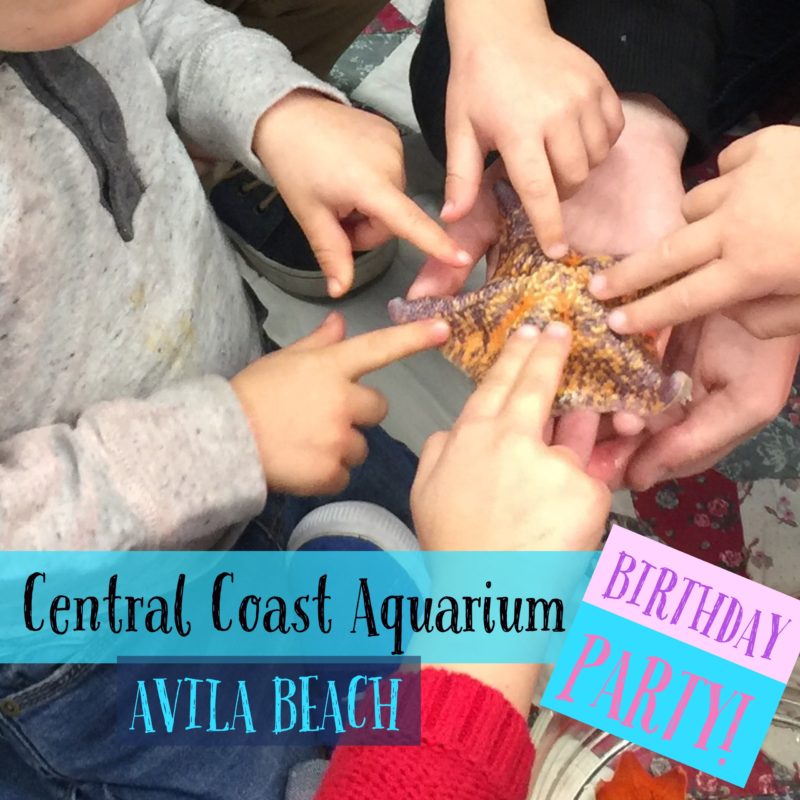 The beachfront aquarium at 50 San Juan St. in beautiful Avila Beach is on the smaller side, but packed with exhibits featuring the smaller species in the local sea life scene. The aquarium has touch-tanks for kiddos to explore purple sea urchins, crabs, sea stars and abalone. The touch tanks each have a staff member to guide the touching experience so the kids (and critters!) stay safe. Also on exhibit are little sharks, the red octopus and really cool jelly fish in a stunning wall display with lights. 
For a birthday party, this is a great venue that your guests will LOVE. It's 40 miles, one way, from Paso Robles but almost everyone who was invited still came because there's so much to see and do there. And, yeah, ok, probably because they also love these two little crazies of ours 🙂
As a birthday party venue, the aquarium is indoors and in an ideal spot —  located right next door to restaurants, the beach and a playground. Our closer look at its birthday package will show you that having a party here is super cool because it offers a fun look at sea life,  easy-peasy because the staff does nearly everything for you, and both fun AND practical because it offers different activities that move seamlessly into the next, while still fitting in enough time for food, presents and cake.