Some of my favorite collabs are when I get to work with hotels, places to play and other family-friendly destinations to bring readers a comprehensive and honest overview of our experiences.
Plus, we get to show all the fun!
All my writing is backed by 12 years in the journalism industry as a newspaper reporter from 2005 to 2017; in addition to my current family adventure columns printed in Paso and Colony magazines.
For more info on my professional background, check out my LinkedIn page.
---
Here's a look at what I've done so far in this niche:
THE BROADLIND HOTEL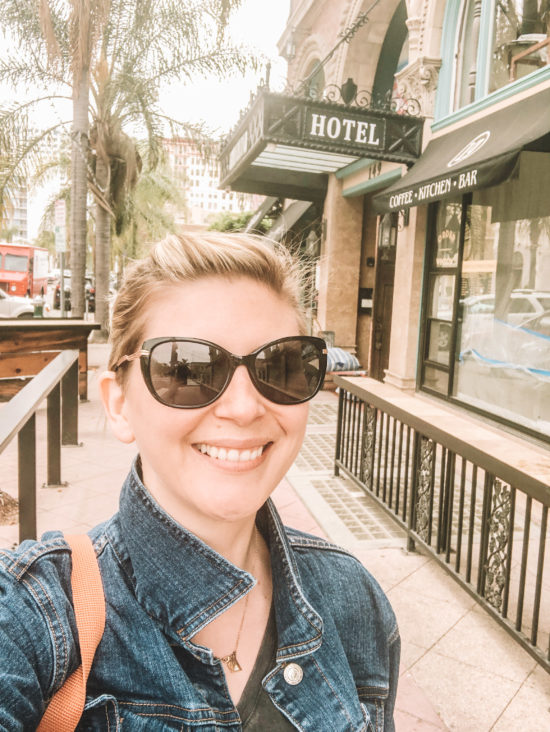 Two gal pals and I left our collective assortment of tiny humans with the husbands and the grandparents and lived it up at the Broadlind Hotel's penthouse suite in Long Beach, California. Overall, the property is a truly charming getaway with all the architectural character I love, situated in a conveniently walkable downtown location. FULL POST.
---
CAVA ROBLES RV RESORT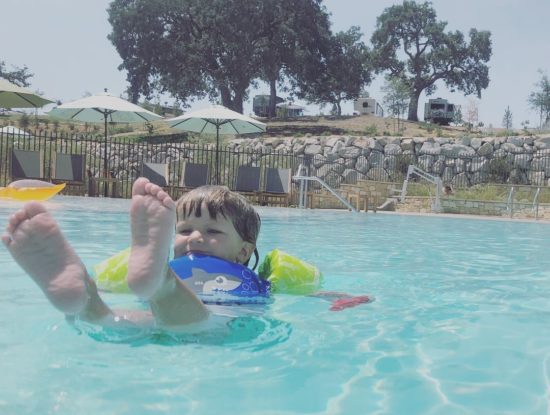 We were #hosted by the gorgeous  Cava Robles RV Resort in Paso Robles, California in 2018. And, you guys, we just about had the best time ever. We now have a ton of favorite things about this place. From the luxury pools, to a bucket-dumping splash pad and a giant chess board to play on at the wine patio, I definitely recommend this resort for your next family-friendly adventure. FULL POST.
---
THE RAVINE WATERPARK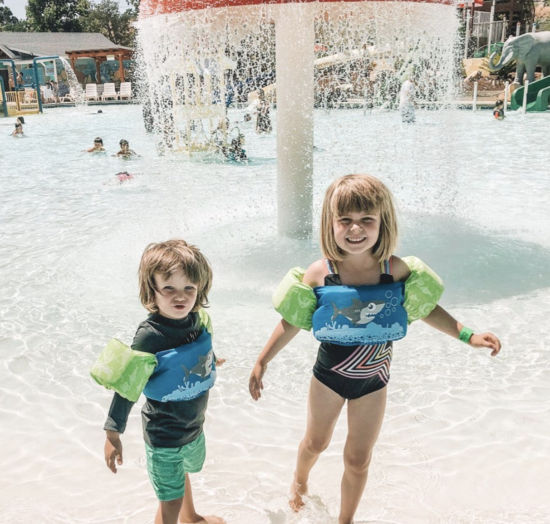 We received three season passes compliments of @ravinewaterpark in summer 2018 and 2019 in exchange for sharing all our theme park tips and tricks. I know a lot of parents with small children are on the fence on whether they can benefit from season passes to the waterpark. I've been in the same boat – and that's why I shared our real life experience of using the park on a weekly basis to encourage others to take the plunge too!
Read on to find out the 411 on all of our fave places to sit, eat and play 
. FULL POST.
---
TRIVAGO MAGAZINE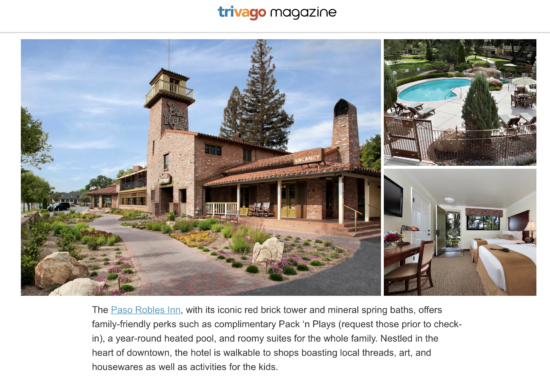 In March, we wrote about the Paso Robles Inn as part of the nationally distributed article "Spring Screening: Unplug from Tech and Get the Family into Nature" by global hotel search platform Trivago and its online magazine. FULL POST.
---
VISIT SLO CAL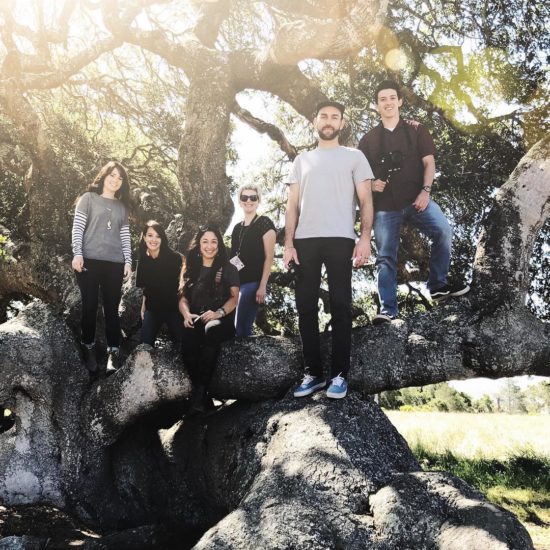 I applied to become one of five SLOCAL Storytellers for San Luis Obispo County's tourism district, and was lucky enough to snag a spot! In this role, I go on day trips organized by SLOCAL and then chronicle those experiences in writing and photography for its website and mine. You can read all about our Storyteller collab here and watch the video Visit SLOCAL featured about me here.
So far, I've written about our kid-friendly trip to the Morro Bay Skateboard Museum; Studios on the Park's free art nook – a fun spot for your littlest downtown-goers; a kid-friendly afternoon North County-style at Castoro Cellars and the picturesque Jack Creek Farms.
I also wrote about a mom's night out at 1122 Cocktail Lounge in downtown Paso Robles, but that hasn't been published yet. Here's an exclusive sneak peek:
Opt to dress on the fancier side to partake in this refined celebration of a retro cocktail culture among plush seats and low light. Cell phones go on silent, but texts and pics are ok. And keep those cell phones handy – because you'll definitely want to snap shots of the barkeep blackening a slab of walnut with a blowtorch to give his mix of rye whiskey, amaro, apricot brandy and orange bitters in your tall stemmed glass its perfect aroma. 
---
TRAVELPASO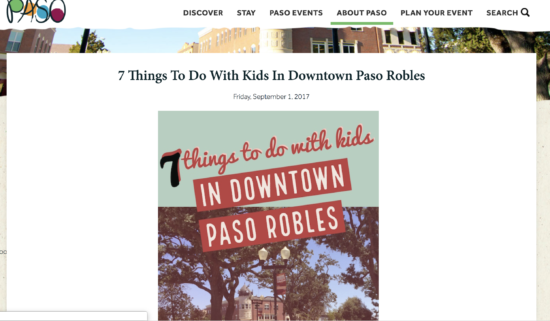 I often contribute to the another tourism organization, TravelPaso.com, which focuses on our hometown of Paso Robles, California. You can find a sampling of my contributions here.
---
These posts include journalism-quality travel information and honest reviews in exchange for pay, comped fees or discounts. Like always, such perks will never shape my review content and all opinions are my own. For more information, please see my disclosure.