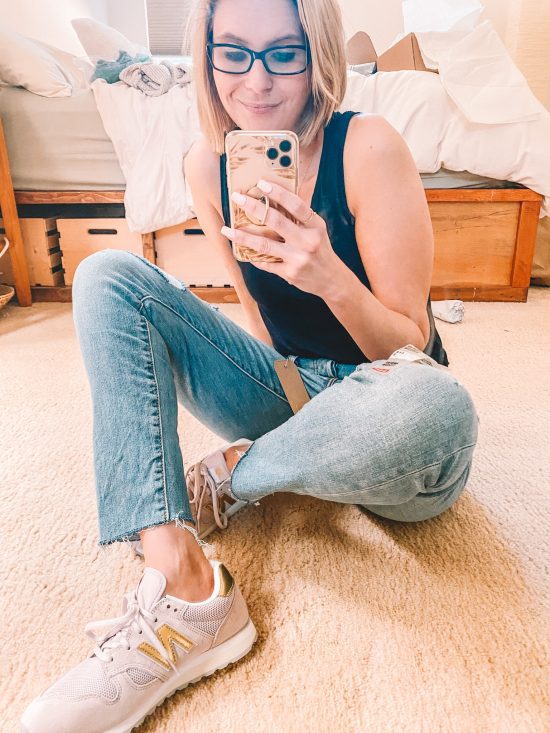 I feel like I have a million things to catch you up on, but first is my Keto progress update!!
I've reached my GOAL! I hit 128 on the scale after the first day of the writers conference in late September.
But it was only because on that particular day, they provided boxed deli sandwiches so I could only eat the deli meat inside 😂. Otherrrrrwise, I'm resting at 129 on the scale any other day — but I'll take it!
---
Keto is worth a try to see if it works for you. There are no shady pills, no crazy workouts to track. I'm not selling anything here, I just know first hand that kids tooootally change our bodies and it's nice to feel somewhat like your self again 🥰.
The background is I was normally in the 128 to 134 weight range for forever, but after I stopped breastfeeding Wyatt and drinking wine weekly I gained 20lbs in the last year. I'm 5"6 and small-boned (minus the hips! But I like 'em) so 20lbs was like a bowling ball added to my frame.
So my stats are:
---
148 June (when I was in my period … ugh don't get me started in that!) to 129 today … almost 20lbs in three months.
► 145 July 1 (Keto Start Date)
► 139 July 7 (immediate results = super rewarding)
► 134 Most of August
► 131 Early September
► 128 Deli meat day lol
► 129 Now!
---
"It's more than a number on the scale" stuff:
– Best Unexpected Perk: You can see the change in my FACE the most! Not as puffy/tired looking either!
– Down two pant sizes
– Down two shirt sizes
– Staying fuller for longer and no more hangry/mean mommy moods
– Down a notch on my watch
– Down a half size on my RING SIZE (🤯) I didn't even realize that could be a thing.
– Total TMI but my boobs are the same size again! 🤣. No but seriously my predominate nursing boob (left) never went back to normal until doing keto.
– No more upper arm cellulite 🙌🏻 (personal fave)
– I can do things like drink a hard seltzer and eat ice cream every night and just maintain 129 on the scale but not lose anymore. If I cut those out I'd keep losing … but I don't want to! Because yum.
– Love me cheesecake for breakfast and bacon, too.
– I do miss some fruits and popcorn but otherwise, I'm not missing much bc I'm allergic to gluten anyway and have been gluten-free for the last three years.
---
Anyway, I totally recommend this "diet" to anyone male or female. Since it's burning fat for energy, you don't really gain it back bc the fat is just gone + calorie intake didn't change. So it's not like other diets where your limiting calories and then adding them back after. It's like a total weird science thing.
Honestly, since your not really limiting your calories it just feels more like a different way of eating to me. I think I'll keep at it for a while longer bc I really do enjoy the ice cream part, the sustainable energy factor and not being starving an hour after a meal. And, yeah … You know me – the ice cream part! It's the Keto Collection ice cream by Enlightened and it's full dairy and creamy and amazing with only 1 net carb per serving. 🧡
RELATED
To read about my go-to foods from Trader Joe's that keep me full and happy during the Keto diet, see this post: Trader Joe's Keto Diet Haul Pictures of Every Product I Eat
For motivations, read this post.