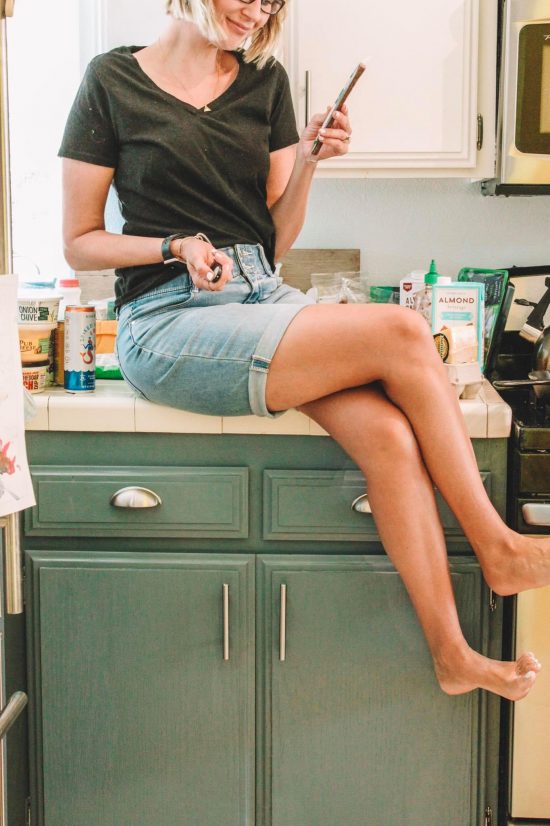 Here's my best effort trying to style my Trader Joe's Keto haul with a tripod and a remote:
✔️cutting off my head
✔️forgetting to hide the remote
✔️blocking all the food with my butt 👍🏻
Aren't I so good at this?! 😂
In this post, you'll find all my go-to foods from Trader Joe's that keep me full and happy during the Keto diet.
---
Yes, I took individual pics of each product at the store. I am that person lol. Yes, the keto diet is low-carb, high-fat. But … it's not like I'm drinking bacon fat or anything. I don't feel gross when I eat. I totally put heavy cream in my tea which is new and love me some mayo on avocado per usual, but overall the change is totally doable.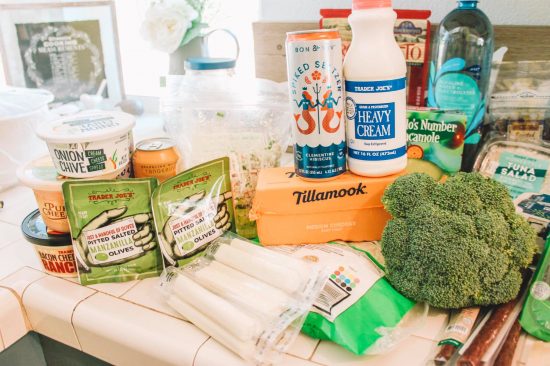 ---
SWIPE THROUGH ALL 30 FOOD PRODUCT PICS over on my Facebook page. Also gimmie a like over there if you haven't already, and I'll love you forever 🙂
---
---
When you're done with that, he's a glance at some of the daily meals I eat. You can go by this exactly, or switch it up with different combos of things you see in the pictures.
SWEETS
Things I didn't buy from Trader's are my sugar replacement.  My friend Jamie recommended I use Swerve, and here's the affiliate link to Amazon. I buy the Swerve Sweetener Bakers Bundle with Granular and Confectioner bags: confectioner is key so I can make cheesecake and whipped cream.  Swerve is 1000% better than literally ALL the other keto-friendly sugars I tried bc of the way the other ones leave a cooling sensation in your mouth after. So weird! Swerve does too but it's by far the least noticeable of the bunch.
I also by Milk Chocolate Baking Chips By Lily's Sweets on Amazon. I think they're better tasting than regular non-keto chocolate chips, to be honest.
Enlightened Keto Collection ice cream is my fave thing EVER – you can buy it online like me in order to try all the flavors in bulk or buy the PB Chocolate keto version at the Paso Robles Albertsons. If you live someone where else, try the Store Locator.
And yeah, I'm fully aware that the keto collection ice cream is super pricey to buy in bulk online …. but I do not care.  love it that much.
DRINKS
Water. SO. Much. Water
La Croix (Albertsons, Target)
Bon + Viv spiked seltzer (Albertsons, Target, CVS)
Coffee
Tea
MEALS
BREAKFAST
For breakfast, I'll eat a hardboiled egg and avocado
dinner leftovers
Bacon
KETO Cheesecake! (a personal fave. Here's the recipe)
Coffee, Swerve and heavy cream
London Fog at Starbucks (Earl Grey, 4 pumps sugar-free vanilla, heavy cream).
LUNCH
My friend Tina made me a killer "sandwich" with turkey, mayo, mustard, cheese, and pickle rolled up on in leaf of romaine and now I eat those almost every day.
Other options include the Pork Belly easily fried on the stovetop with Avo oil, Bacon ranch dip with broccoli, tuna salad.
Blaze Pizza chain has a legit Keto pizza option.
SNACKS
Meat sticks are my No. 1 LIFESAVER. Stash 'em in your car and purse and eat them when you're stuck without food or needing a snack and feel instantly better. I linked the exact ones we buy off Amazon here (affiliate link).
Roasted, salted almonds
Cheese for days, all kinds
Green Olives
DINNER
For dinner, we use the Keto menu plan from Green Chef, delivered to our door!! Here's our link for you to try it at a discount:https://greenchef.com/invite/mQ5WlL (I think it's $55 off and we get a $25 credit or something).
That's it! Let me know if you have any questions!