I revamped my "About" section this week and turned it into a post, this time adding a fresh social media pic, new details about my crazy days as a government reporter and what really happened in the events that led me to become a stay-at-home mom.
---
Hey there!

I'm Tonya Strickland, a longtime journalist, former travel ambassador and local mom-of-two.
Here you'll find pictures, tips, and stories about places to take kids in and around Gig Harbor, Washington.
Readers know me for my storytelling, some snazzy iPhone photography, and above all, my honesty. Writing makes me happy, and you'll also often find me reflecting on motherhood and even some local history here. (I really love falling into the rabbit hole of historical storytelling!)
This blog began in the lovely San Luis Obispo County, California region where we lived for a long time before moving to Washington in 2020. Much of that California content still stands, and is located in my CA Archives section. Originally, I hail from Newbury Park, California. Go, Panthers!
Before The Blog
Before I was @two.n.tow, I wrote for The Tribune newspaper in San Luis Obispo, California as a coffee-crazed city government reporter. I landed there after earning my journalism degree from Cal Poly State University.  (Psssst: I started out at Moorpark College in SoCal and I 100% support the junior college route!).
During my senior year at Cal Poly in 2005, I got a job at the Trib as its obituary editor. The late Bill Morem* used to pop his head up over my cubicle and ask me "how the deadbeat was." I loved that newsroom. So I stayed there for the next 15 years, eventually owning a regional city beat that covered half of SLO County. I got some state awards*, went behind the scenes, met some truly incredible people, met some truly not-so incredible people, almost accidentally went into a murder's house* once, got yelled at by cranky readers looking for their Sunday comics, covered some absolutely brutal attacks* at a state mental health hospital, ate free pizza on election night, got hung up on by a mayor (twice), became an honorary paramedic on a cliff rescue call, and got to tell hundreds and hundreds of stories.
(*I'd loved to link more Trib stories for specifics, but McClatchy has a paywall. I subscribe, but if you don't, you won't be able to read the clips).
My husband Bowen, who I also met in 2005, was with me through all of it. Then, in our 30s, we had Clara. Bowen and I did the nanny thing for a while, and that had its challenges, but I still loved The Tribune and wanted to stay there forever. It was my second home.  But then two years later (2 years and 3 days to be exact), Wyatt was born. A few weeks into my maternity leave with him, our nanny was spotted driving two-year-old Clara unbuckled in the backseat of our car. Luckily, Clara didn't get hurt. But after that scare, I decided to go freelance, stay home with the kids, and explore my own writing path. (I also didn't have anyone babysit our kids until a full three years later. No joke. Hashtag nanny mistrust).
Leaving work was a big, scary change. But after the first 6 months of juggling newborn Wyatt and a two-year-old Clara, I was already brainstorming ideas for starting my own community travel blog that showed readers the places I took the kids around town. I needed a creative outlet that I could involve the kids in, and this blog was it!
Finding My Own Writing Voice
---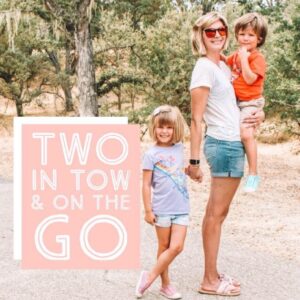 All that unfolded afterward was pretty unexpected.
First, promoting my blog posts on Instagram led me to several "influencer" gigs, which, at the time, I didn't even know was a thing – unless you were a Kardashian.
Second, blogging forced me to go out on my own as a writer, and to find my own voice. I'll never regret that I did that for myself, and for our family.  Plus, like I said, writing makes me happy. And that kind of happiness is worth a lot.
My "Why" | Via My Very First Blog Post:
I started this blog because sometimes you just have to get out of the house.
The days when you're a short-order cook/nonstop cleaner-upper/sibling referee. The days when you have to brush your teeth in the kitchen because the small children stick their hands in the toilet every chance they get. The days when you just can't even.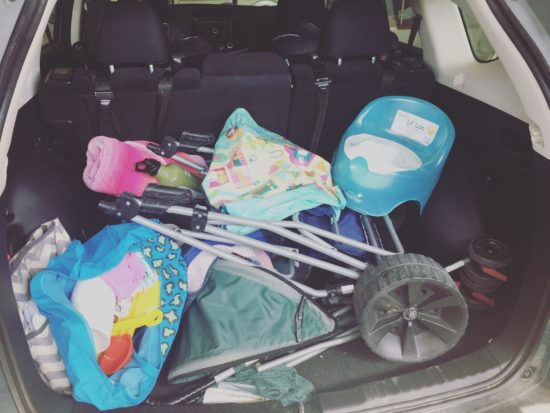 So I mad grab for little person shoes and socks and snacks and waters, click the kids in their car seats and GO. And we go to lots of places. Some successfully, some not.
And yeah, it'll probably suck getting there. The kids might cry for most of the car ride (mine do). You'll have to listen to the same 16 nursery rhymes on repeat. Your toddler will whine for the snack you don't have or can't reach or is the one thing you brought for yourself.
But you're going somewhere. You're trying. You're making memories. There's laughter and sweet pudgy hands holding yours and you feel all the parenting feels.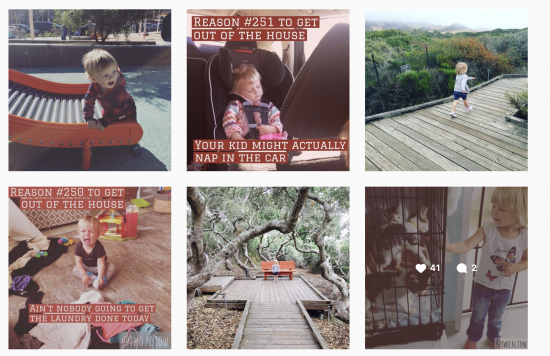 So my idea with this blog is to show you our adventures – but also tell it like it is. I'll share the good, the bad, and the just plain crazy on those no-nap days. I post pictures and all the deets so you have what you need to try the adventure, too.
Overall, I'll show you that the struggle to raise kids is real for all of us, but there's still a ton of fun out there.
Adventure awaits!
---
If you want to check it out, my collection of past journalism work is posted at  www.tonyastrickland.com.
---