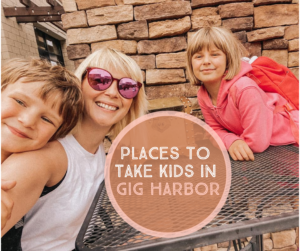 On this blog, you'll find pictures, tips, and stories about places to take kids in and around Gig Harbor, Washington.
We also venture out to Tacoma, Fox Island, Point Ruston and other Seattle-area spots.
Bonus: You'll find some major vacation-worthy content from when we lived in California here, too.
I love scouting out the "secret" and lesser-known places to take kids, but we hit up all the major bucket list-worthy spots, too. Beaches, play-places, parks, bowling, kids museums – they're all on our list.
I do all this because I love exploring with my kids – but also because I love writing. I was a newspaper reporter for 15 years, and now I'm stepping out from above the fold to do my own thing as a writer. Readers know me for my storytelling, random fun facts, and love of local history. I hope the posts here help you discover some cool hidden gems with your fam.
Because, as I like to say around here, sometimes you just need to get out of the house!