---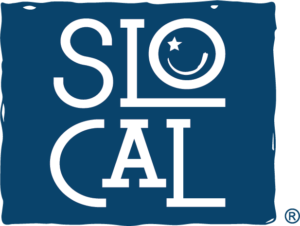 This article was published as part of my SLO County Tourism Ambassador role as a SLO CAL Storyteller. I was one of five chosen writers selected to share local attractions for our regional tourism board. Check out the cool places everyone went here. 
---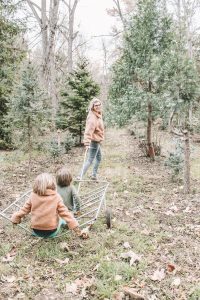 If you have not been to Atascadero's Hidden Springs Christmas Tree Farm, you're missing out on a true holiday experience.
I can say this with certainty because, being a fake-tree person (hellooo, Target Wondershop!), bundling up in warm coats and trekking through a Christmas tree farm hasn't traditionally been on my holiday bucket list. So what a treat it was to finally go with the kids! Leashed dogs are welcome, too.
---
Hidden Springs Tree Farm
3202 Monterey Road, Atascadero
(805) 538-9355
Hidden Springs welcomes the public to stop by and "experience hot apple cider, roasted chestnuts, a romp around the farm and a cute photo opportunity with the family," according to its website. It's open seasonally: starting with the Friday after Thanksgiving to the middle of December. Wednesday, Dec. 18 is the last day it's open in 2019. Call (805) 538-9355 for its hours of operation before heading over. 
ABOUT
Family-owned for more than 50 years, Hidden Springs was established in north Atascadero in 1962. Every year, new seedlings are planted by hand after each Christmas season while the young trees before them are tended to as they grow. Fun fact: It can take five to fifteen years (!!) for a tree to be ready to cut. Due to the Central Coast's warm weather and light rain, yearlong upkeep is needed including pruning, mowing, and watering. The farm also grows chestnuts to sell at Christmas time and imports some pre-cut trees from Oregon and Washington that can't be grown here due to climate and elevation.
This 10-acre farm sports all the holiday DIY vibes as you grab a saw and hike various dirt paths winding toward your potential tree, all while pulling a metal tree cart behind you. Talk about an exploring oasis for you and your littles! And it all smells SO AMAZING. (Carts and saws provided)
HOW TO
After you park your car along the entrance road, walk to the Lot 1 welcome barn decorated in string lights. There you'll find a few photo-op spots, including a growth chart painting where kiddos can see how they measure up. At the barn, you can also pick up a map of the property complete with printed tips. FAQ and available services. The brochure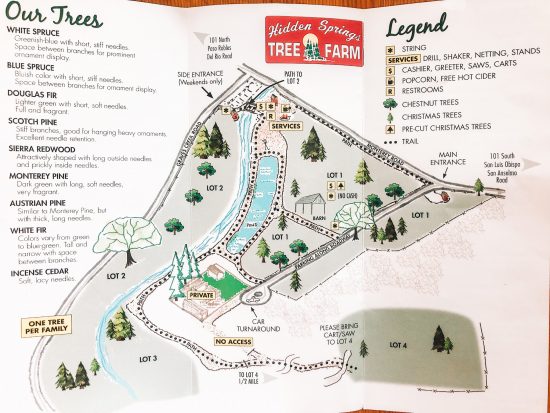 (and the friendly staff on hand) will tell you that there are four types of forests at the farm, all with different mixes of trees and each marked with a price tag tied to the branches. We learned that the farm has at least nine varieties of Christmas trees: including white spruce with its greenish-blue color and short needles, Scotch Pine with its stiff branches good for heavy ornaments (who knew?!) and the tall and skinny White Fir trees. After leaving the barn, you take your saw and cart and go exploring. Just northeast of the Lot 1 barn, you'll find a smaller red barn marked Services, and it's here where most of the action is.
SERVICES
Staffers are on hand to help you prep your cut tree to take it home (and where to pay for it). Wondering what the services are? Here are some keywords in the tree farm life:
🌲Shaking: Getting rid of most bugs and loose pine needles
🌲Baling: Wrapping the tree to transport it
🌲Drilling: Drilling holes in the trunk for watering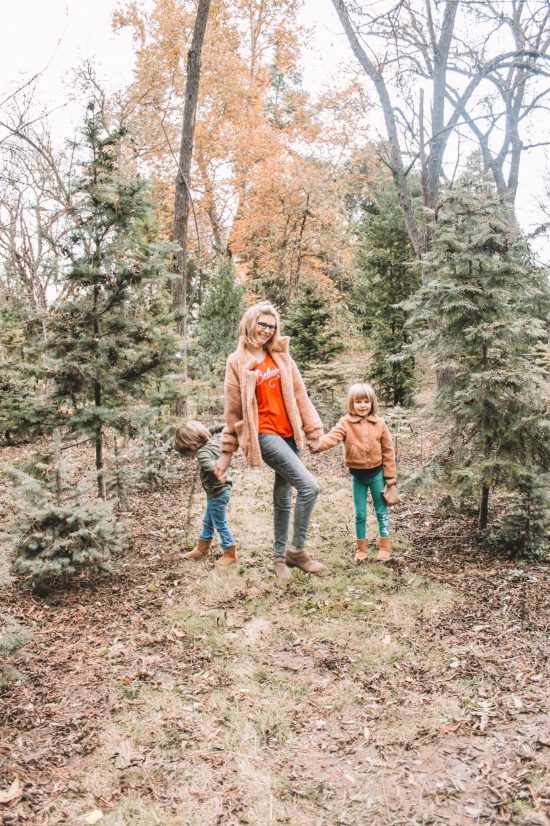 We didn't get a tree, but I set up my tripod and was a one-man band of photo-taking craziness of Clara and Wyatt, which the farm was totally accepting of. (Its website does request that all amateur and professional photographers please contact the farm before visiting). The kids had a great time running around, taking pics, riding on the tree cart. I don't know if that last part is technically allowed, but the kids were super into it 🙂
Other FUN
🌲Free Apple Cider and Popcorn for purchase for 50c/bag from the cutest popper stand!!
🌲Homemade Wreaths for purchase
🌲Roasted Chestnuts to taste (Only if we have a fire going) and for purchase
🌲Free tree shaking
🌲Bailing and stands for purchase