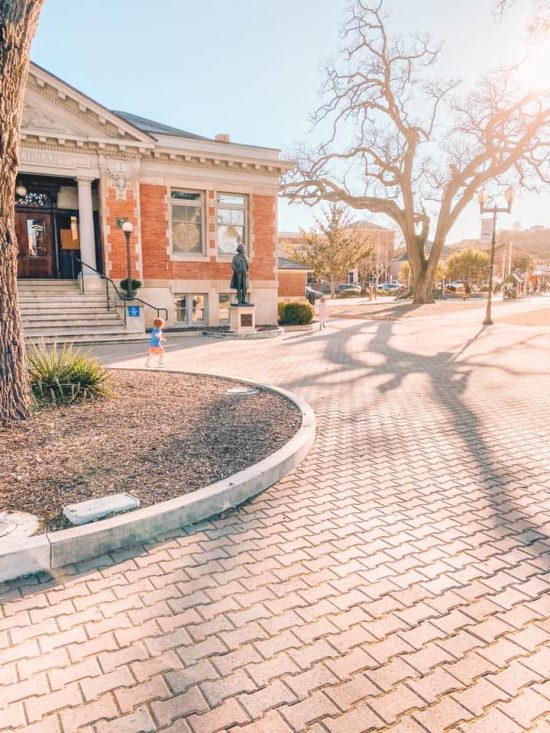 Downtown Paso Robles' Carnegie Library is one of the most picture-perfect backdrops in the city, but it's also a treasure trove of stories.
The structure, built in 1908, was a gift by steel tycoon Andrew Carnegie. He provided public libraries to cities throughout America from 1889 to 1923. San Luis Obispo also has one. Paso's Carnegie Library isn't a library anymore but is home to the Historical Society. I've spent many hours combing through old boxes of photographs and scrapbooks in Paso's basement, doing research for the newspaper. In 2009, I took a tour of its remodeled interior, which revealed a bright room with rich chocolate finishes on original woodwork detailing.
One of my very favorite assignments for the newspaper was back in 2013 when I wrote about a trove of glass-plate negatives from the late 1800s that someone found and donated to the history museum. A group of volunteers got together to start the delicate process of cleaning the slides inside the Carnegie. The images revealed men, women and children in the coolest period clothes, in buildings, outside in familiar scenes. It was crazy cool.
Here's an excerpt:
"The distinct crinkling sound of aged paper filled the hushed basement of the Paso Robles Carnegie Library on a recent morning as several people worked to reveal turn-of-the-20th-century photography from envelopes long forgotten. "Is it exciting every time you open (one)?" volunteer Helen Luther asked with interest. "Every one is sure a treasure." Beside her, with careful hands, volunteer Bruce Van Dyke lifted a glass-plate negative shrouded in dirt and water damage to the light. It revealed an eerie shadow of a man's portrait captured on the surface.
Van Dyke, seated at a tidy cleaning station, smiled with a hint of excited wonder in his eyes as he continued working. "You never know. It might be Jesse James," he said, laughing, hopeful for a glimpse of the infamous outlaw known to have visited his uncle east of Pozo in the late 1800s.
Since August, Paso de Robles Area Historical Society volunteers have been revealing faces from the Central Coast's affluent and minority families in a collection of 2,000 glass-plate negatives. They are the work of late photographer Richard "R.J." Arnold."
Isn't that neat?