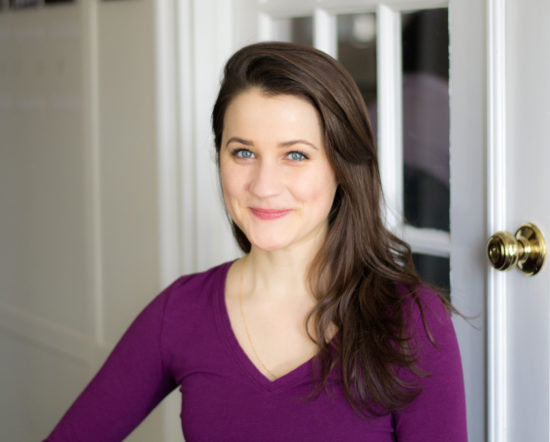 Twenty-eight year old Carolyn McRae was inspired by her time as a volunteer with the elderly to bring joy into other people's lives.  And she knows that nothing makes family more happy than little ones.
"I've volunteered with senior citizens since I was 14, and have seen first-hand how happy grandparents are when they can hold a photo of their grandkids," McRae said. "It always warmed by heart and I wanted to create more of these moments."
But … she also knows that sometimes (ok, so maybe all the time), it's hard for millennials to print out a picture or send a physical card through, (gasp!), snail mail.
That's why in February 2017, she founded the Boston-based tech company The Silver Post to bridge the tech gap between grandparents and their grandchildren. The company operates off the concept of "you text us your pics and Grandma gets them in the mail!" by translating those texts into a physical postcard.

We got two months of free service in exchange for our review. But all opinions are my own. For more information on these types of collabs, see our disclosure.
Overall, our two months of using The Silver Post was fun for us as the senders, and my mom as the recipient. And easy! So so easy. My favorite words as a mom. In fact, I'm going to legit sign up for this service as a normal paying customer now that the review is over because we've liked it so much. Here are a few reasons why:
The texting system was straightforward and helpful.
There was no app or webpage to sign back into  (and subsequently forget a password to) #mombrain
I didn't have to wait until after the kids went to bed to send my pics/messages like I normally do for any normal shopping/gifting I do online. I could send a quick text to them anytime, especially after I got a reminder.
It really is pretty genius.
The physical product looked nice.
Basically, all the elements were super easy to send, process and then laid out together in an attractive way on the final postcards. I almost wouldn't change anything about the whole thing. Two small tweaks I would like to see are: an option to send a postcard to multiple recipients from just one text thread …. (Carolyn said they're working on that! Yay.) AND a final draft review option before the postcard goes off to print. Just to make sure my message was coherently typed in my typical sleep-deprived/rushed/toddler-crazy state when texting.
The Silver Post – How It Works:
Sign up with The Silver Post for $5/month (or $45/year for 3 months free) and they text you friendly inspirations and reminders to send pics.
Then you text back 1 to 4 photos per month along with a personal note.
Those elements will be turned into a physical 4×6 postcard to soon arrive in grandma's mailbox! (Or whoever your recipient may be).
Here's Our Experience:
We sent two postcards over two months to my mom. She sees pictures online of the kids from our blog, but receiving the surprise paper postcards in the mail totally made her day! Each time, she gushed about how cute the kids looked and how much she loved the little note.
Here's a message she sent me after receiving the first postcard (which I didn't tell her about, so it was a surprise!)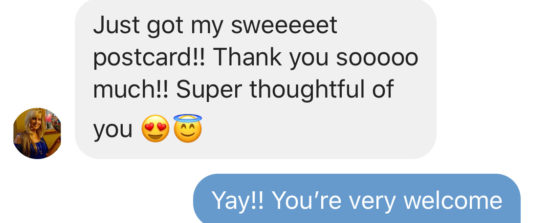 As a bonus, I deliberately picked the photos she commented on the most from our blog, so I knew which photos she'd appreciate the most in print.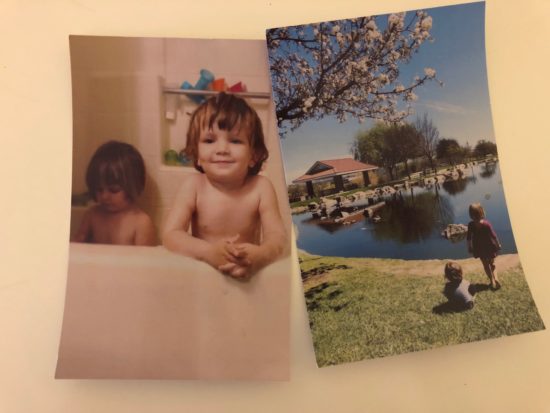 And boy, she really did. For the bathtime photo, she told me before in passing she loved the way Wyatt's hands were crossed and how his smile was so carefree. And then she said it again when she got the postcard!
I texted phrasing for the postcards with sweet little messages "from the grandkids" – which I know totally made her day, as well as a prime dresser spot in her bedroom.
And putting all this together was seriously easy. And I'm not just saying that. A service that makes it easy to send a physical postcard from a text is pretty genius, because it's easy for me and SUPER appreciated by the loved ones I hope to stay in touch with most. You think #momguilt only exists with kids? Nope …. it extends over into "Are the kids staying in touch with our family enough???" too.
So, like I said above, the whole process is super easy. Here's a more detailed look at how it all went down:
After I signed up with my name/phone number in February, The Silver Post texted me inspirations and reminders to text back with pics. I texted photos and a message back to that same number. To confirm they got it alright, I got a text back that saying "received".
Subscribers have the option to text 1 to 4 photos per month for a single photo or a collage PER POSTCARD, along with a personal note that will be typed up and printed on the back. I didn't realize you could do a collage when I did mine, so I sent over single photos for February and for March — And it was so hard to pick just one!! So for April, I'm definitely sending over a collection of pics.
Here are some screenshots of our first-ever text exchange. (Kellie is my mom):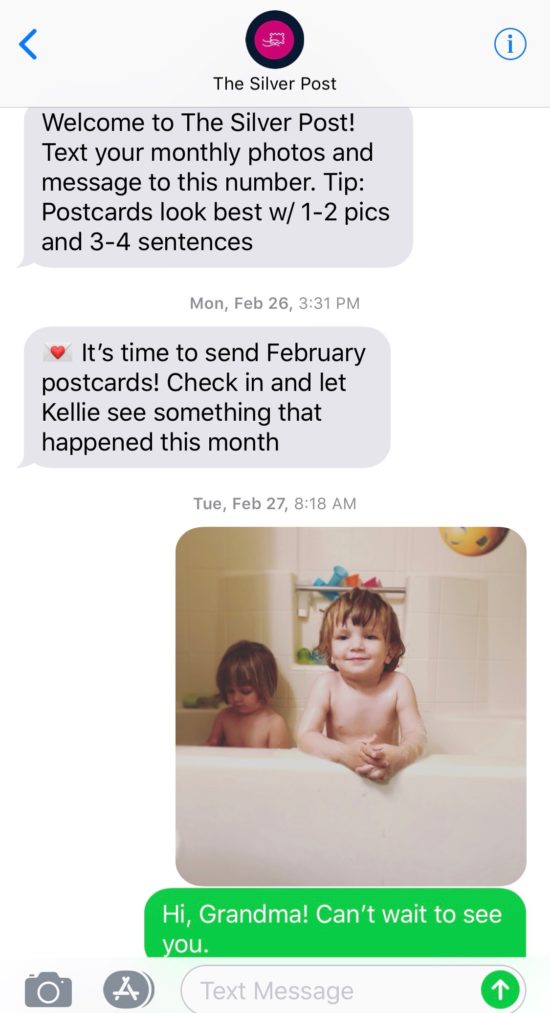 Then she received it above photo with the following message on the back: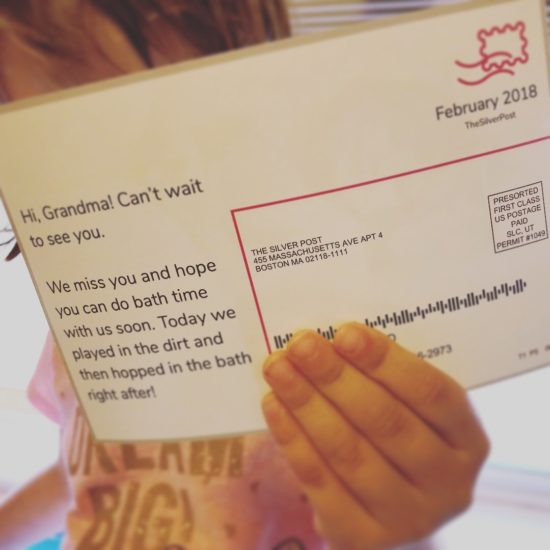 For the sake of this review, the company also sent me copies of the postcards sent to Grandma so I could see and photograph the end result.
And aren't they so dang cute??
Then, as the days flew by in a whirlwind of snacks, tantrums, movies and adventures on my end,  the March texts soon came in.  For April, I may send a photo after every reminder for the collage. But for March, I was just waiting till the end of the month to send my picture and message.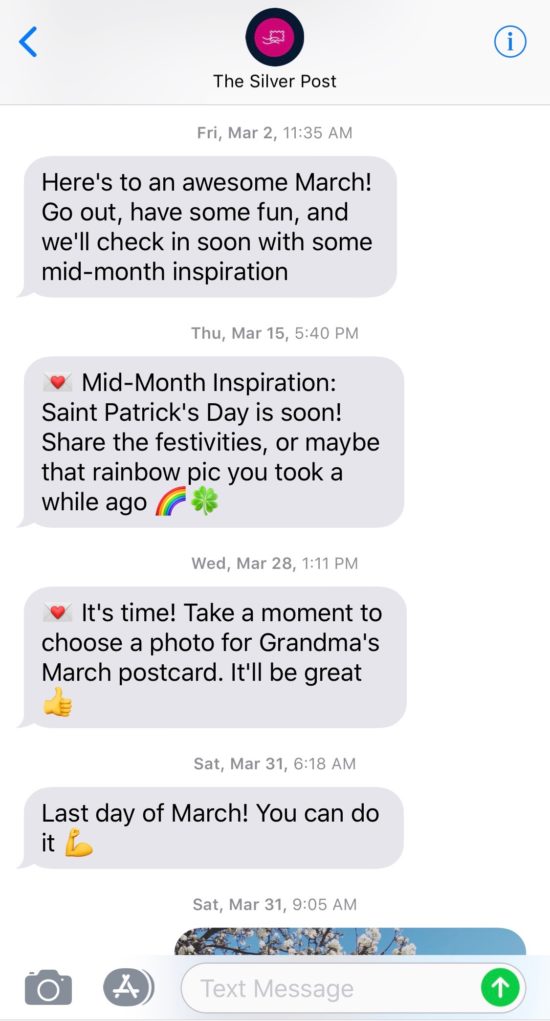 And then I sent this photo of the kids at Barney Schwartz Park in Paso Robles.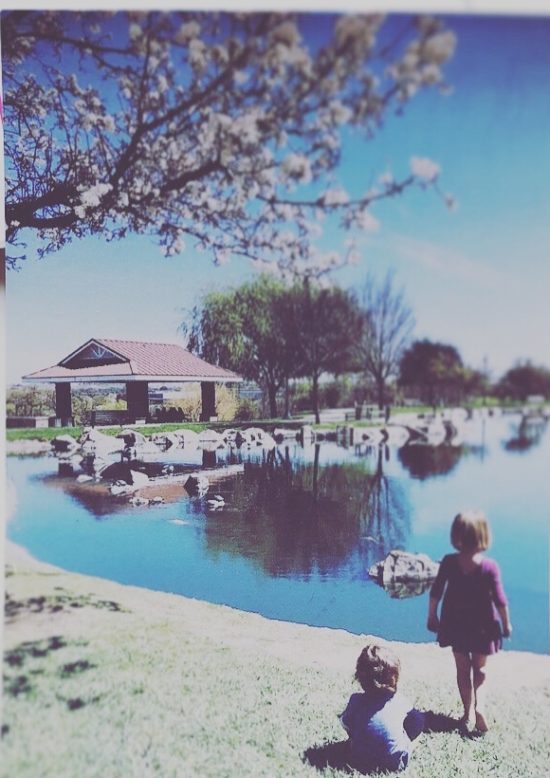 The backstory here is the kids,  Grandma, Auntie and I all went to this park when Wyatt was a newborn  and Clara was 2 so we could take a bunch of pretty lake photos. So this park was a special memory to all of us. Then, revisiting it when they kids were 2 and 4 was definitely a "cue the waterworks" type of moment for grandma (and I!) on the memories front.
Here are a few behind-the-scenes shots from that day in 2016:
And then here was Grandma's reaction to the lake park photo, and The Silver Post experience as a whole when we posted our reviews on Instagram and Facebook: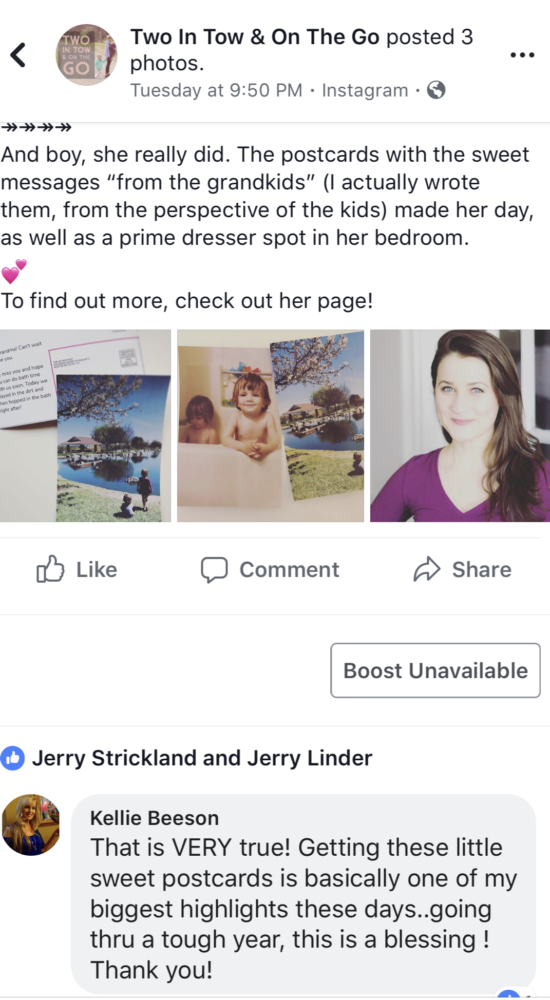 …Tears!! Can't get better than that! Thank you, The Silver Post, for making my mom's day. 🙂
To connect with The Silver Post, you can text them at (617) 652-5562 or visit them online:
Website: The Silver Post
Instagram @TheSilverPost
Facebook /thesilverpost
Twitter @TheSilverPost
Email: thesilverpost@gmail.com
XO