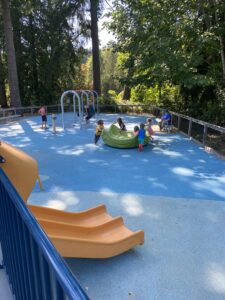 Crescent Creek Park stands out as one of Gig Harbor's coolest parks for two reasons:
Its OG name was "Gig Harbor City Park" (also,"Town Park") and it existed as the city's very first park and playground!
And, my favorite, today it has a fenced (and gated!) toddler area separate from the main playground.
How genius is that?
Honorable mentions for this park's wow factor also go to an imaginative boat-shaped play structure, a spinning buoy ride-on my kids can't get enough of, and a cool big rock thing to climb in/on!
---
Actually, looks like that cool 'big rock thing' (as I so eloquently put it, lol) is an 8-ton concrete climbing sculpture called "Seaform" that artist Oliver Tiedeman installed at the park in 1975.  I found mention of this fun fact in a Nov. 24 1975 clip of The Tacoma News Tribune that specifically says the piece resembles the form of a mollusk (Aka snails, etc.) with little caves to crawl into. (Check out this shell, too! Super similar shape)
So what do you think? It's held up pretty great over the last 47 years, don't you think?? The two pics look a little different because I photographed Seaform head-on to the caves while the newspaper's angle is shifted right. Pretty cool to see the "then and now" perspectives side by side!
---
SIDE NOTE: I don't know where I would be without newspapers – and especially newspaper archives!! It's incredible how much info/context/throwbacks one can find in a town's official written record. Each newspaper usually has its own archive system but with paywalls and other complications, I prefer my Ancestry.com subscription for most of my local writing research, specifically because it pairs universal newspaper archive access with some seriously fantastic databases to all sorts of legit public records like birth, marriage, death, and census. This is exciting for a geek like me because it's where I get all the cool clips to reference in my posts like the Seaform one above. All I did was search "'Crescent Creek Park' Gig Harbor" in the search box, sort the clips from oldest to newest, and see what popped up! I wasn't even planning on writing about the rock thing, but then even a pic of it came up! So fun, right? The three newspapers I use for almost every post here are the
contains affiliate links
---
The Park Today
Crescent Creek Park
3303 Vernhardson St., Gig Harbor
Run by the City of Gig Harbor
Over the years, Crescent Creek Park has seen many changes to get to how it looks now. Its inventive and inclusive Maritime PlayZone project, for example, was completed in 2014. The design features a great big fishing boat that kids can steer with a rotating wheel (walkup AND wheelchair accessible) and lots of space to explore (and play pirates).
---
---
Tot Lot
Today, in the park's gated tot lot area, there's an XL sandbox with lots of sand toys people leave for the common good, a pint-sized dome climber, and something else I can't seem to recall and didn't get a photo of — maybe a teeter-totter? I'll check my pictures again.
The fenced-in design features a short chainlink style with two entry/exit areas. I think one of the access points is designed with a partial opening, so it's not a complete fenced-in layout – but it's pretty close.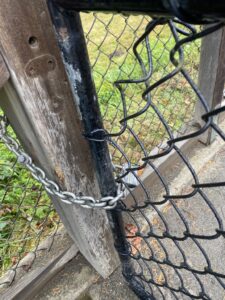 The second gated opening near the perimeter fence is a short chainlink door, but it's padlocked shut. Or, at least it was when we visited the park this October.
Fine by me! Corral those tiny humans! 🙂
---
Below are some more cute details in the tot lot:
---
More Crescent Creek Park History
The park site was originally home to the 1915 Crescent Valley School on the corner of Vernhardson/96th streets and Crescent Valley Road on Gig Harbor's northeast side. The school featured a two-story building and a playground for what I can only imagine was a cute roster of little homesteader kids in trousers and frilly white smock dresses. Later, kids were moved to a different school and the Crescent Valley building retired and the whole park area was gifted to the city in 1948. In the 1990s, the longtime City Park/Town Park got its new name, Crescent Creek Park, to reflect the natural creek that runs alongside it.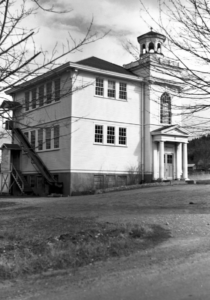 FUN FACT: That old homesteader school building still exists on the park site!! It's located up the hill/stairs from the present-day parking lot. After students moved out, the building became a masonic lodge and now it's a preschool! Apparently, the area's neighborhood formed the Crescent Valley Alliance and established a National Wildlife Schoolyard Habitat there as well (scroll to the bottom).
I posted a pic of Crescent Valley School from the old Harbor History Museum blog. Gig Harbor's City Park History page says "children enjoyed fire drills as they were allowed to slide down the chute-style fire escape from the upper floor." Cute! You can see the former chute feature in the museum pic.
 I definitely plan to drive by the school site building because I didn't know it was up the hill from the park until I wrote this post!
---