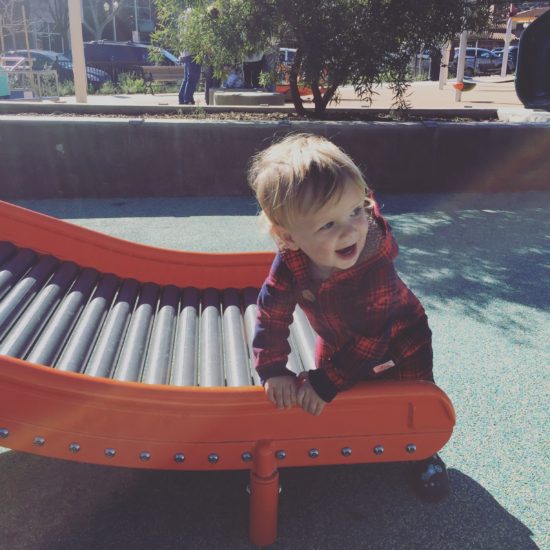 Piggybacking off my recent post about 7 things to do with kids in Downtown Paso Robles, here's our more comprehensive review of Paso Robles' Downtown City Park Playground. This overview also kicks off our Parks & Playgrounds Series!
---
Name: Downtown City Park Playground.
Location: 11th and Spring streets.
Amenities: Some disabled access playground equipment, shade structures, new public restrooms, drinking fountain, grass, picnic tables, benches.
Parking: Street parking (free).
Year built: Playground replaced in Summer 2016.
In 2016, the city of Paso Robles replaced its entire  Downtown City Park Playground with a new one.  Instead of rusty metal bars, boarded-up openings and missing parts, the new playground is brightly colored and modern with lots of things to see and do. It also has some pretty awesome all-inclusive features, including a wheelchair-accessible merry-go-round, multi-seat seesaw and a super cool molded harness swing that my kids always run to first.
The playground is in the same general spot, but shifted slightly west to get it out from underneath a large oak tree that dropped messy acorns and leaves. Kids have two sections of play structures: one for very small children ages 2 to 5 and another for the bigger kids ages 5 to 12. But both sections basically work for all ages, even though it's pretty frustrating when the way big kids take over the tot lot. This park has free street parking, large public restrooms and a drinking fountain by the restroom sinks.
And as an added bonus, this park has inclusive features for children with disabilities that you don't see at most local parks. Others I've read about are the Jack Ready Imagination Park in the works on the Nipomo Mesa in the South County and the Parents for Joy all-access park approved for Atascadero in the North County.  If you know of another, make sure to let me know in the comments! We'd love to check it out.
From right to left, here's a photo of Paso's old downtown playground equipment, which was last updated in 1980 and removed in early 2016. The next photo is of my daughter (when she was just 2! Sob.) playing in the same playground's smaller tot lot when it was under the oak tree.
Now compare those to the playground today — completely different, right?! Below you'll find a closer look at our favorite features of this playground.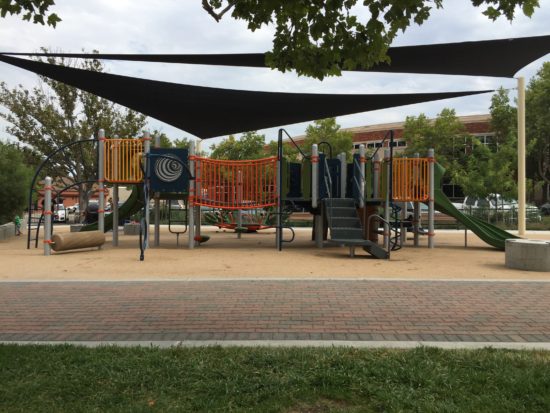 ---
When I was writing this, I was curious about the intended uses for some of the playground components. Make sure to click on the links below to get more official details about each one from the companies that designed the playground.
Minus the merry go round, this playground is designed by Landscape Structures, a Minnesota-based manufacturer of commercial playground equipment that the city also used for its playgrounds at Sherwood Forest off Scott Street (you might recognize the Chimes Panel) and the newer Uptown Family Park off Spring Street. The same company will also be used for the city's two new playgrounds coming to Larry Moore Park in the neighborhood behind Walmart and to the lower half of Barney Schwartz Park off Union Road.
Our Downtown City Park Playground Faves:
Seesaw
As far as I know, the seesaw doesn't have a cute backstory steeped in Paso history. But I do like that is has four seats and a neat little middle platform for extra seating. Plus, you guys, it's officially called a "We-saw," which is totes adorable. And parents can fit on the seats alongside the kids without feeling like you're going to launch the littles in the air.
Molded Bucket Swing
Another inclusive aspect at this park is at the swing set on the west side of the playground. There's one large molded bucket swing with a plastic latching harness that locks kids in. The swing also has a backrest that adds more structure to the seat. In fact, the company that designed it indicates that the high back and deep seat provides "greater stability for kids with limited upper-body strength" for ages 5 to 12. My kids really love riding in it and pushing it!
Tot Lot Playhouse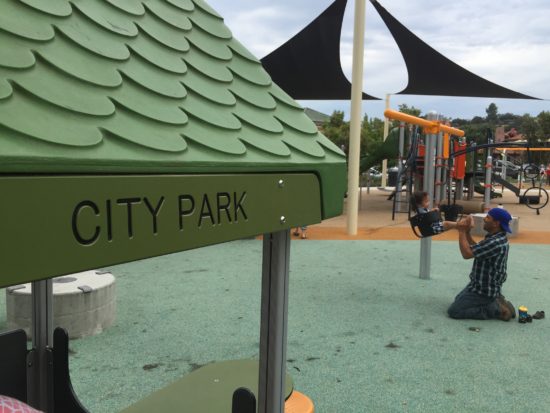 The tot lot playhouse is really cute for little ones. I think it's designed for babies ages 6 to 23 months from what I saw on the Landscape Structures website, but I could be wrong. Babies certainly gravitate toward it.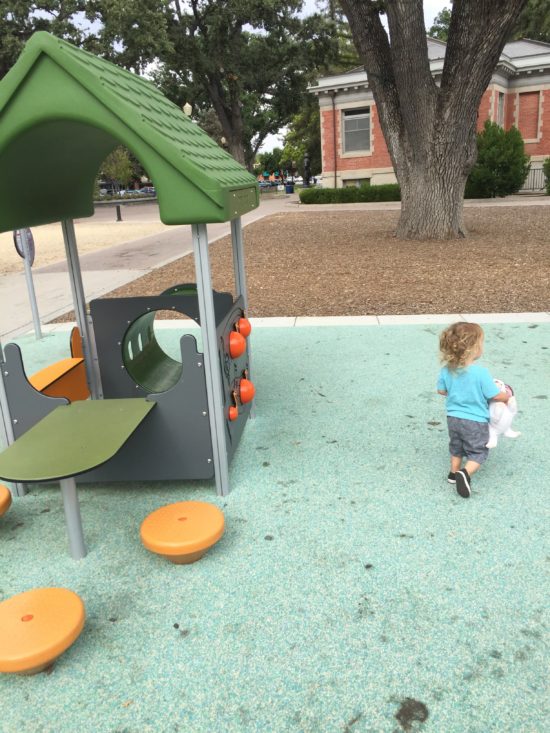 It has a tunnel entrance that's baby height, a nice counter to play restaurant from (with nearby rocks and sticks) and a little table with seats on the outside. The counter is actually called a "Storefront Panel" and it's designed to teach cooperative play.
And it's musical! On the playhouse's southern wall, you can find the Ring-a-Bell panel. Just pivot the yellow music notes so they fall  against the orange steel bells to create a chime sound. But be forewarned: It's super loud. Aside from sounding pretty, this feature is apparently designed to teach cause and effect, and problem solving skills. Who knew?
Marble Wall
Located on the smaller playground, the marble wall is really pretty in the sun. And Paso has no shortage of that. It's fun to have your kid stand on one side of the wall and you on the other, and roll your hand over the marbles so your little can see them move in the light. A nice sensory element here. In fact, the designer says the 2-inch glass marbles are encapsulated in clear polycarbonate and "offers a sensory-rich visual, auditory and tactile experience." Fancy.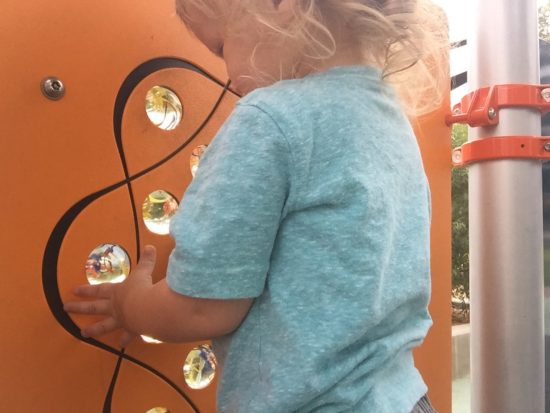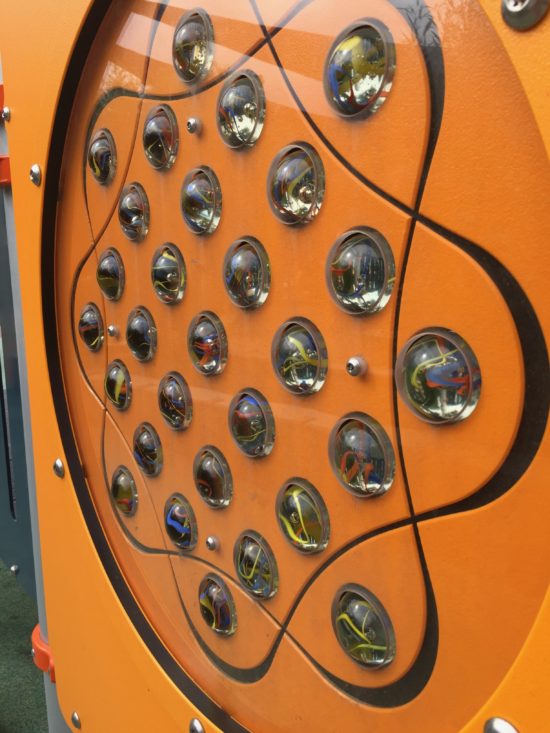 Roller Slide
We love the roller slide! The kids keep coming back to it. I notice that they like to put their hands over the rollers as they slide down because of the cool feeling. The designer says the slide was made to be roomy so it can be used by "multiple kids side-by-side at one time," to teach social skills.
I also want to note that the hammock looking thing on the big kids section is called a "Boogie Board," and is designed for standing/balancing on it, as well as lying down. And lots of kids can go on it at a time. I wasn't sure what that one was for at first.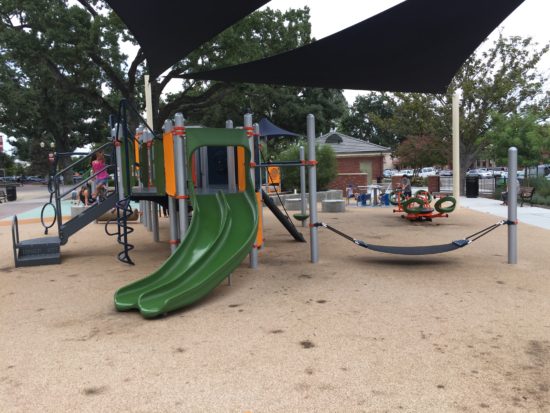 And here's a little gallery of more playground shots, just for kicks.
Merry-go-round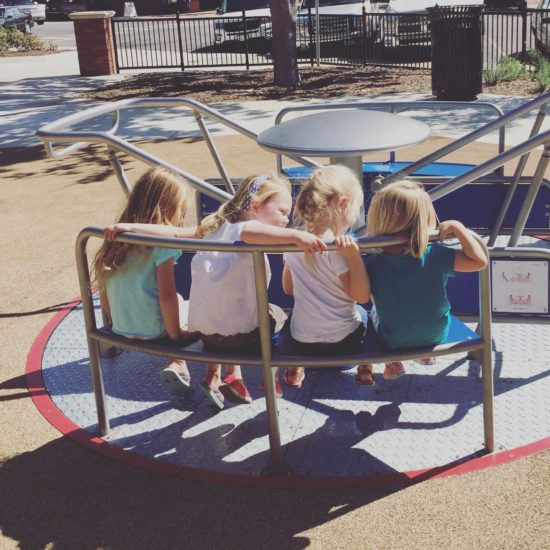 First off, the best part about this park is the merry-go-round and the history behind it. For Paso Roblans, it's a throwback to a beloved metal and wood merry-go-round that generations of children grew up with.  If you asked folks that rode it as a kid, they'd laugh and recall long afternoons of running and climbing up onto its wooden slats, their dirty little hands gripping the railing as they tried to spin it so fast they fell off of it. They joke about the splinters they got and how tall they climbed. People loved this thing, you guys. And then in 2004 the city removed the merry-go-round because of liability issues since it was estimated at being 70 years old — seriously impressive. But residents were heartbroken.
Here are some photos of the oldschool merry-go-round posted on the Facebook group You Know You Grew up in or Around Paso. The last photo shows the merry-go-around sits on display at the Paso Robles Pioneer Museum, welded and inoperable. It was taken in 2014 by Facebooker Don Dahl. I drove by today, and it's still there.
The merry-go-round's new and modern successor is in-ground and can fit two wheelchairs in the middle. It also has bench seating and standing room. This playground feature came from international company Eibe, which is a different designer than the company that supplied the rest of the playground's features.
Hold up: Eibe has it listed as a "Integration Carousel" in the "roundabout" category. But when you search for pictures of merry-go-rounds, you find those horse rides at the carnival which I thought was a carousel. And then I equated roundabouts to this. But basically they all eventually bring up the same thing. I think I just need more coffee.
Anywhoo, … apparently the tall round middle piece thing in the merry-go-round is a "central driving wheel" that will spin the carousel by turning it with your hands. That means riders in wheelchairs can use the wheel to spin the merry-go-round independently without someone else having to run around and push it. In researching this specific piece of equipment, I also found this picture on another website that shows parents sitting on the bench seats while turning the wheel, which I didn't realize you could do.  For more how-to information on the wheelchair aspect, there's a diagram printed on a panel of the merry-go-round itself and there are some PDF downloads on the manufacturer's website. The diagram seems to indicate that wheelchairs can roll into the base of the merry-go-round when you lift the handles up, which also puts on the brakes. Then you put them back down agains and spin the merry-go-round with the central wheel.
To me, making the merry-go-round all-inclusive was a great touch. While this one is new and modern and physically very different than the city's beloved older version, it's still a nod to the togetherness of all children at play, regardless of their abilities. I appreciate that thoughtfulness.
Here's a video of my 3 year old pushing her brother and some other little kids:
---
So, lots of faves at this park. There are some not-so-favorites, too, since no place is perfect:
The traffic makes me nervous. It's downtown, so there are cars coming and going on all sides of the park. But there is a nice fence on one side.
It gets pretty crowded.
If you have more than one child to watch, it can be difficult to stand back in one spot and see everyone at once due to a blocky planter box with bushes and just the various angles around the park.
Hope to see you there!