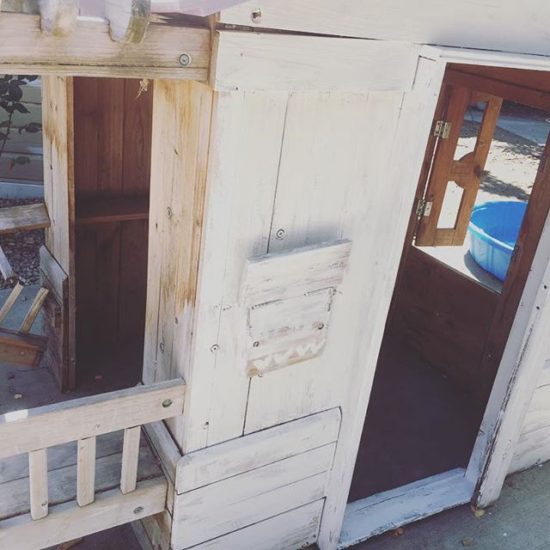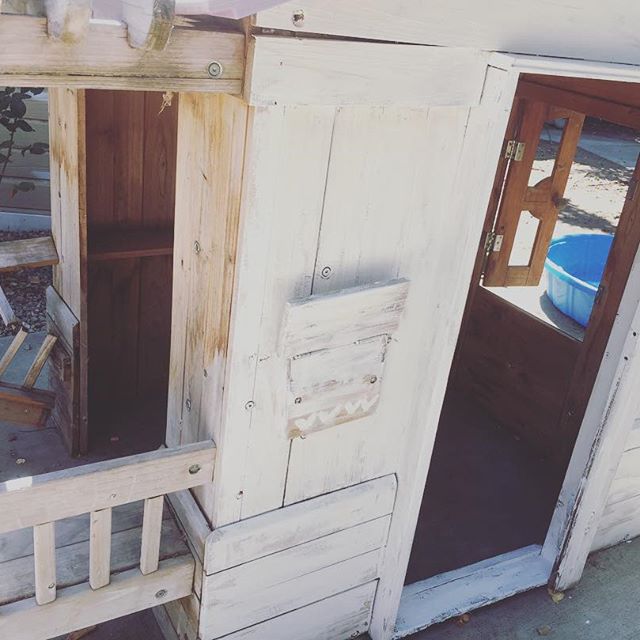 This used wooden playhouse was one of the first things I bought when I became a stay at home mom a year ago.
It was supposed to be my super cute Pinterest project to work on "when I had time".
Well, fast forward to today where I have a 1 and a 3 year old and literally almost NO time to get anything remotely "projecty" done.
And it's not like I never EVER have time to myself, because I do, but I use it for things like napping, or calling my mom on an actual phone. And, writing this blog (which is a small miracle in itself, really).
You know what doesn't make that precious me-time list? Sweating outside in the Paso sun to battle flies and my dog sniffing my butt in order to paint this damn miniature house.
I was so seriously ready to scrap the whole thing when a good (and wise) friend encouraged me to just try to do a little bit at a time, even with the kids outside with me.
She was able to paint her kitchen cabinets that way, even if it took forever. Which, like so many things in life, is super hard to accept. When I start on a project I just want to FINISH the dang thing. And I want it perfect, too. But life isn't like that.
But then this friend told me she felt so good starting a project and completing it – and that idea had me hooked. I, too, wanted to finish projects. 🙂
So today I got out some old primer from the kitchen and — no joke — my kids' crappy craft paintbrush because that's all I had on hand. And then U primed the whole west face of the playhouse while the kids played with rocks and shells in the backyard.
It's not perfect, but I feel good about it. Because I'm on my way! The end result will be khaki paint with white trim and hopefully, me mastering some power tool action to fix those benches and the broken door.
Wish me luck 😅💪🏻.