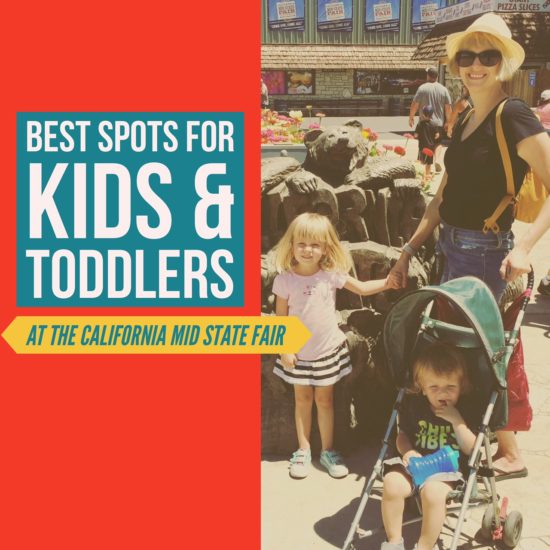 We hung out at the California Mid State Fair on Sunday, and I wanted to get a quick post up about our experiences there with little kids. Plus highlight some new features that made our life there easier and a few of our favorite spots. Also, daddy came with us on this trip (he's taking the picture). And hooray for trips with daddy!
California Mid State Fair: The Deets:
When: July 19 to July 30; Noon to Midnight daily.
Where: Paso Robles Event Center, 2198 Riverside Ave.
Admission: $12 for adults and free for children age 5 and younger.
Parking: The Paso Robles Event Center parking lot on Riverside Avenue costs $10 before 3 p.m. That price jumps to $20 after 3 p.m., at which point the lot will probably be full anyway. But there's a ton of private lots at various prices (that take cash only!) around the general area of the fair.  So be prepared to walk.
Shuttles: There are free shuttles provided by the fair.
First off, this carved  "California Mid State Fair" statue makes for a good entryway photo op. It's located in the Main Quad. I feel like taking a sense of place entry photo is a nice idea for any trip and it's something I'm trying to keep doing in our family. It feels like an often forgotten about tradition now that photo albums aren't a thing anymore. But I still think it's nice for the memory.
Now, you're probably thinking: Two in Tow makes taking a family photo look easy!
Then I must say, 1) Thank you for saying that.  2) Think again, my friends. We are just like you. That pic above is one of 20 ridiculous ones.  Here are a few outtakes of the sheer impossible-ness of getting everyone to look and smile at the camera at the same time: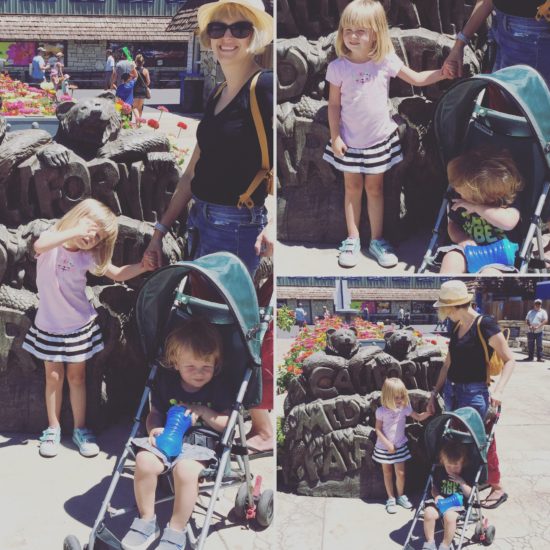 Some immediate takeaways from our visit:
Sandals. Don't wear them. You and your kid can't ride some of the rides if you're wearing open-toed shoes. I'd recommend everyone wear sneakers just in case.
There's a ton more seating throughout the entire fair. Lots of shaded tables with umbrellas tucked in here and there and a new food court with tables and huge shade structures.
There seems to be more of those little plastic handwashing stations!  The ones with soap and those pedals you tap with your foot to turn on the water. Really nice improvement for families.
There's a new free Hydration Station for drinking water fill-ups off Frontier Town Lane. Bring empty bottles.
The Cub Country carnival area for very small children is awesome.
Parents and tall kids can't go on all the rides in Cub Country.
The carnival is strict on the minimum and maximum height requirements.
The gear
Now, on to the gear: we brought a lightweight umbrella stroller so we wouldn't be stuck hauling around the larger beast if both kids wanted to walk. We also brought empty sippy cups and an empty Contigo water bottle for us parents. Also: wet wipes. I'm really a minimalist at heart and I don't like to haul too much with us. That just gets heavy and in the way. But, you guys, wet wipes are key at the fair. Those mercilessly small napkin squares that the food vendors pass out do nothing to save you from the insanity of melting ice cream dripping down your kids' arms.
So, we thought we were good on gear but then OF COURSE our 3 year old wanted to ride in our stroller at the same time her brother did.  So we checked out the fair's Funrider Rentals booth, located to the left of the Main Gate. It has some super cute push cars, shaded wagons and double stroller cart things.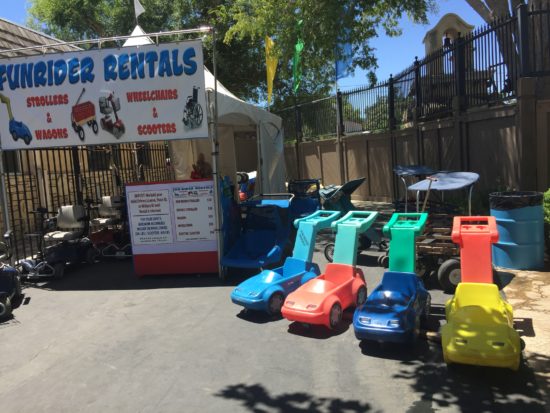 According to that sign, the flat fees are:
Fun Rider Stroller (I think that's the push car): $10
Double Stroller: $20
Wagon: $20
Wheelchair: $20
Electric Scooter (as a wheelchair type): $50
We ended up not getting a rented stroller because neither adult wanted to leave their driver's license as required for the rental (mama needs her wine!) There's still the chance I'll get carded, right?! (Ha!). Luckily Little Miss didn't really want a stroller after all.
Find drinking water
Our first order of business was to head over to the fair's new free Hydration Station. Located at the south end of Frontier Town in the Good 'ol Burgers restaurant, this new drinking water area is an awesome spot to fill up the empty sippys and water bottles we brought.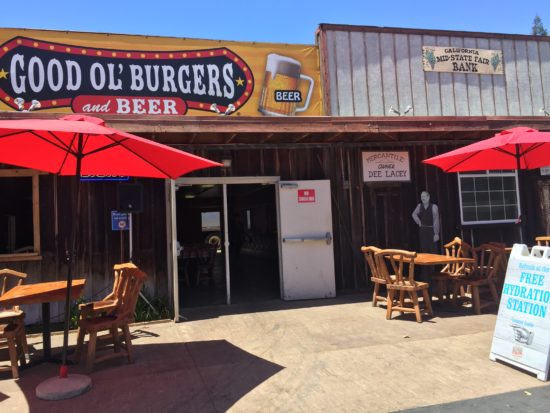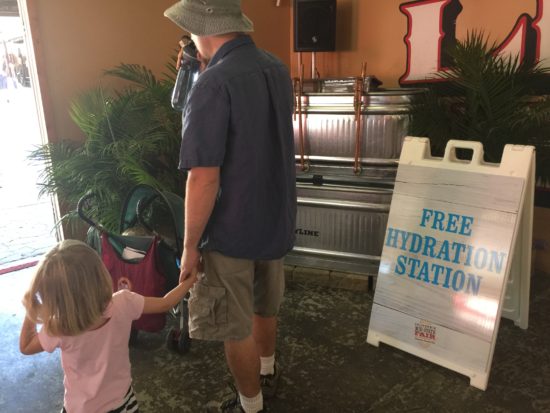 We brought sippys because, 1) have you seen a little kid try to drink out of a bottle of Aquafina before? Not pretty. And 2) we knew regular bottles of water at the fair run about $3 each and can be gulped down in seconds on these hot afternoons. Plus that can really eat up your cash fast.
I should note here that per official fair rules you can also bring two unopened bottles of water with you:
….you may bring up to two (2) unopened plastic water bottle(s); they are also available for sale from various vendors. There is one public water fountain on the grounds, located in the Main Quad.
The public water fountain looks like traditional water fountains but in this rock stand thing. I saw it but I didn't check if it worked. The Hydration Station is in addition to that, The station is also nice in that it's not an actual single mouthpiece water fountain but a contraption with handles. I'm sure there's better phrasing for that, but hey. Plus it looks super ag-industrial cool.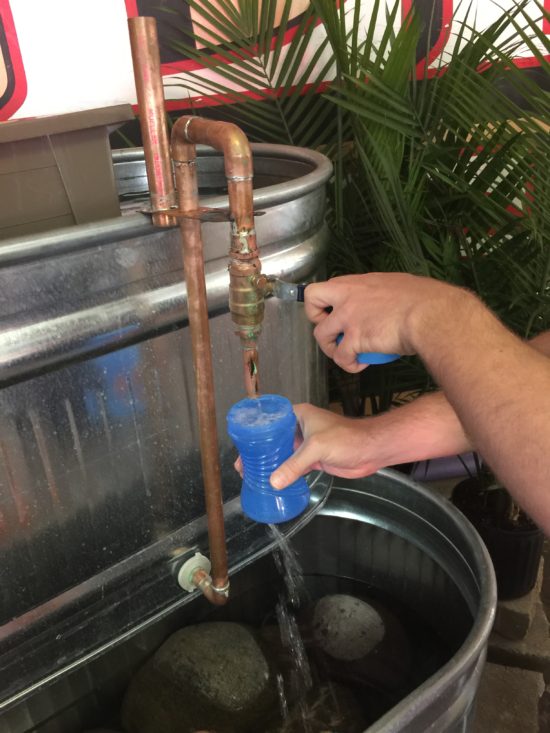 Check if we forgot something. Because we usually do.
After that we went back outside and across Frontier Town Lane to the Albertsons/Vons General Store. It's a favorite go-to place for essential things people end up needing but didn't bring … like sunblock, hair ties, Tylonol and even a little sewing kit! You know, for when my strap breaks on my super sexy fair top that I spent hours shopping for to complete my well-thought-out fair outfit. Oh, no, wait. I'm a mom and I wore the same plain cotton T-Shirt I always do! Silly me.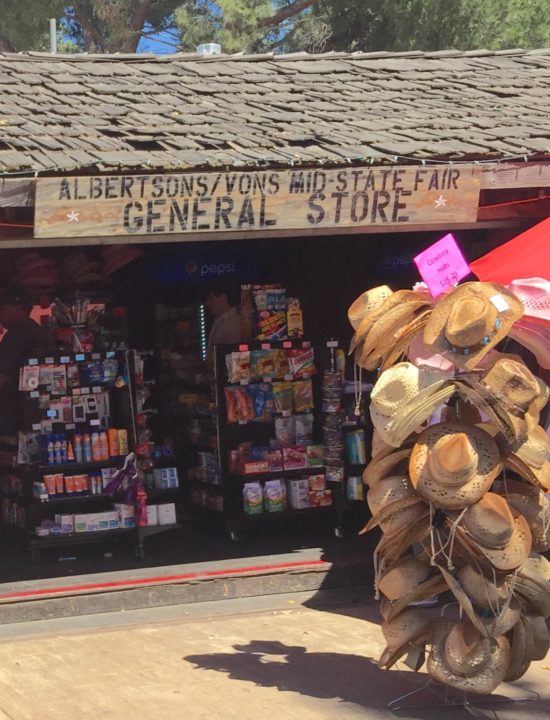 Here's a closer look at just some of the goods: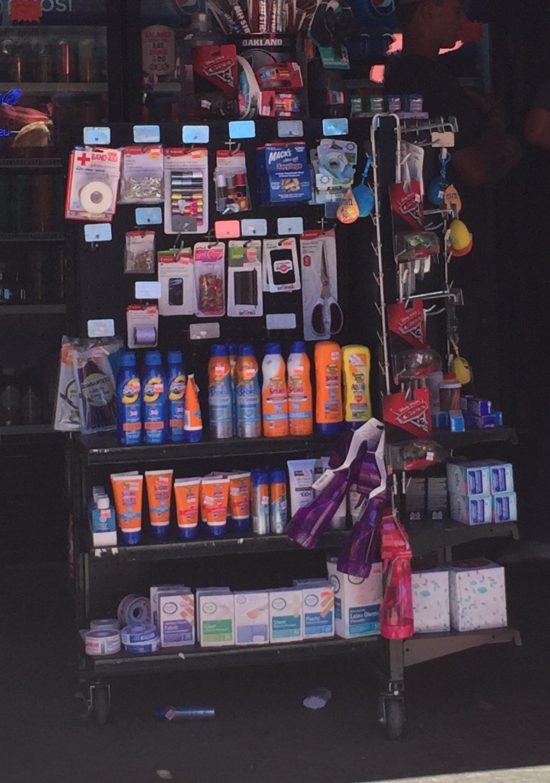 There's also an ATM to the left of the general store. Dolla dolla bills, ya'll.
Check out the creepy crawlies
Next door to the general store is the entrance into the Ponderosa Pavilion building where you can check out some bugs and live animals in the Hall of Bugs, Slugs, and Spiders exhibit. We decided to check that out next.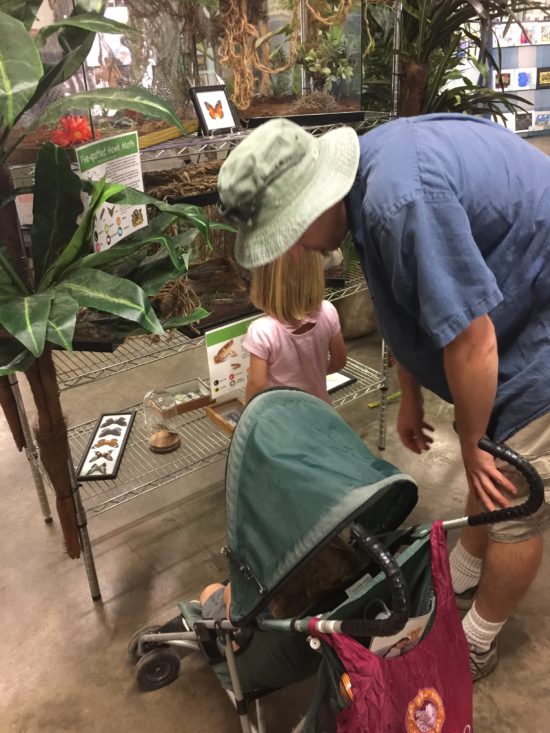 The bug part was a little dicey for kids because they're all kept in what I believe were glass aquarium/terrariums, all precariously perched on shelving. The exhibit also had some pretty awesome framed beetles and butterflies propped up against the habitats for extra color. All of which is perfectly acceptable for adults to oohh and ahh at. But for the tiny hands of the tiny children … not so much. I mean, totally go and see the things, but just beware that there's a bunch of glass stuff there.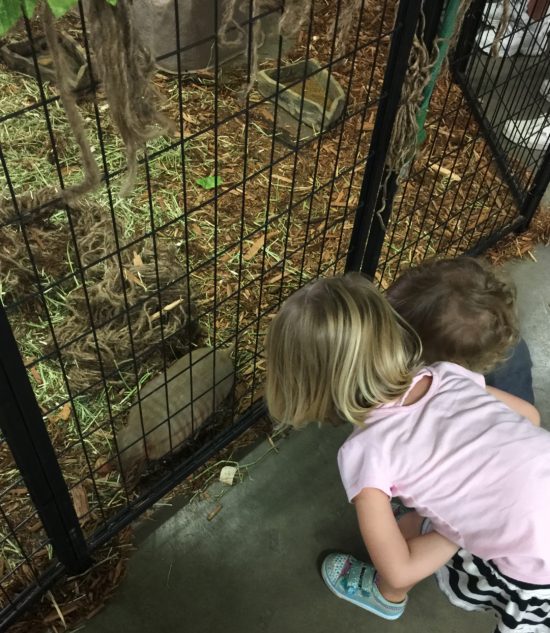 Highlights of this section were the live armadillos (seriously so cute), tons of giant furry tarantulas (one that eats birds!! But not in front of you) and a hedgehog that you can touch. Don't worry, the prickles won't hurt. Oh, and they also have a stand for edible bugs in there which we did NOT try. Perhaps you will be more adventurous than us.
Explore the new kid-friendly activities at Rancho Frontier
After that, we went back to Frontier Town Lane, heading south, until we got to the new Rancho Frontier area located just inside the South Gate.
Here's more info on Rancho Frontier:
… free daily races at the Wild West Turkey Stampede, the adorable animals of the Great American Petting Zoo, free hands-on, farm-based activities in the new Farm Fresh Kids exhibit, the hilarity of the Something Ridiculous jugglers, live contests, Cow Parade SLO County display, pony rides, cow milking, butter making, strawberry tastings, food, shopping and a chance for children to have a photo taken with a baby chick. Plus, shade and seating are available for grandma and grandpa to sit and watch the kids enjoy the Fair.
Rancho Frontier's free Farm Fresh Kids exhibit
Here we are in the Farm Fresh Kids exhibit petting the fluffy chick and taking our picture of it, as promised. I also saw some cows there and a sandbox filled with corn kernels with some neat digging toys. Kids also get a little sticker badge, which I think is super fun.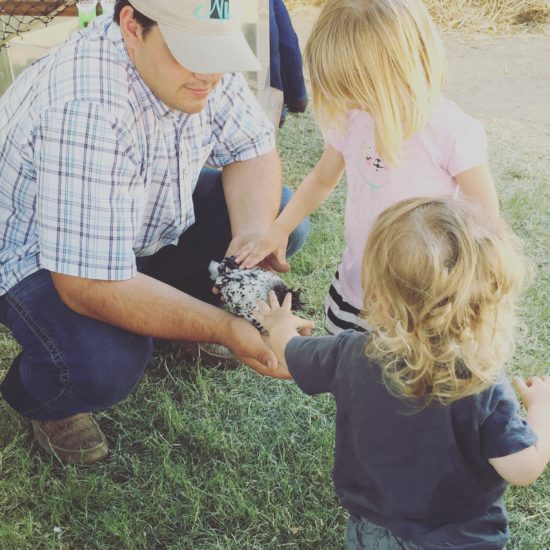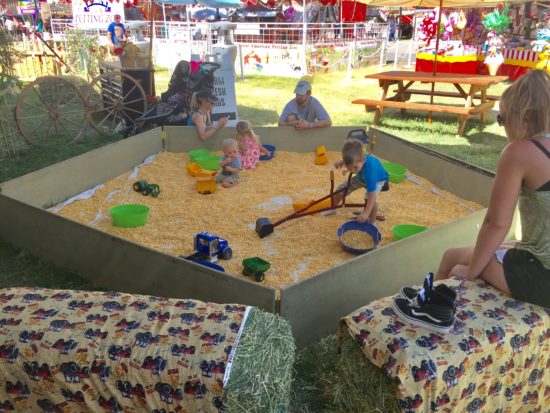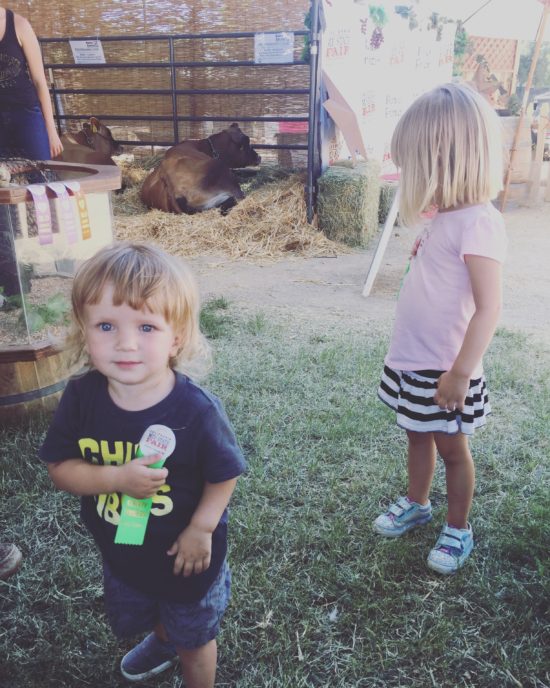 Rancho Frontier's $7 Pony Ride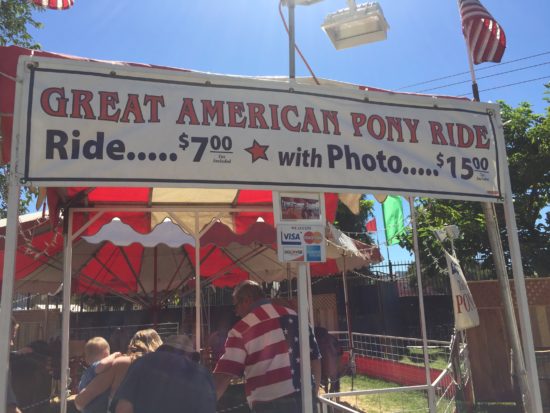 Pony Rides are $7 per rider, in real monies (not tickets). And they actually accept credit cards! Which is super nice because we run out of cash so fast at the fair. Of course, there are ATMs everywhere. For the pony rides, you have to be at least 1 years old to ride, and a parent can walk around with the kid even though kiddos are impressively strapped onto each pony.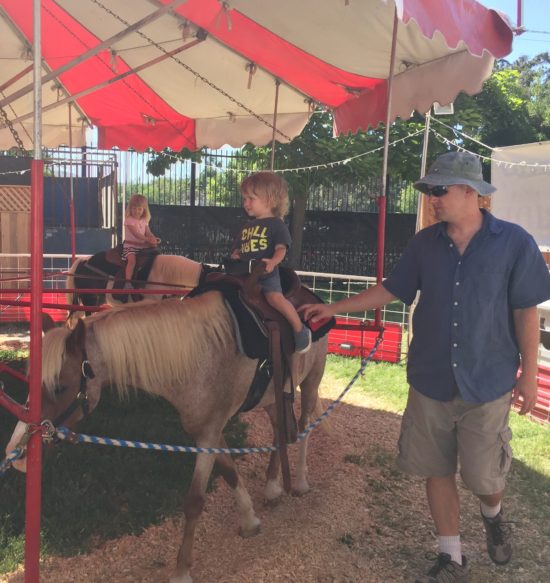 Our 3 year old really loves the pony ride: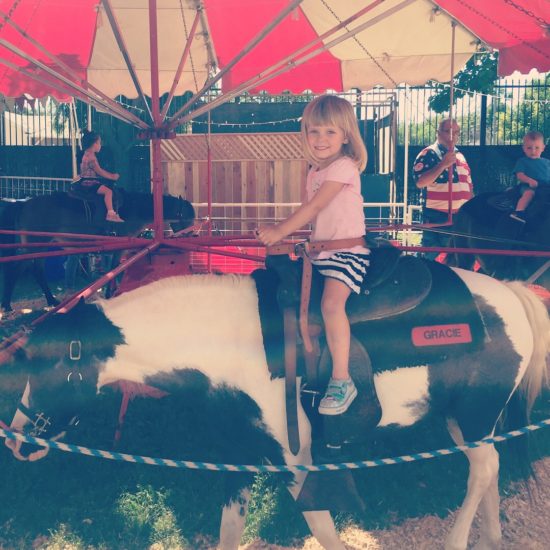 Rancho Frontier's Cub Country kiddie carnival
Rancho Frontier is also home to the brand new Cub Country kiddie carnival! Super cool spot, you guys. So cool, in fact, that we completely skipped the larger carnival and stayed in this easily navigated area for littles.
… this decision came after:
One threenager tantrum about using the potty before going on any more rides.
Bending over 53 times for a toddler who wanted to be in the stroller. Then out. Then in. Then out. Then in. Then out.
Chasing after said toddler who was now out of the stroller.
Getting too hot.
Fixing a leaking sippy cup.
Finding food, having the kids not eat it, getting different food.
Hitting up the ATM … yet again.
Cleaning sticky ice cream hands five times (bring wet wipes!).
More kiddo tears over I don't even know what.
… So, safe to say, with very little children staying in one spot close to everything is a nice feature. Also, you pay for the rides there with regular carnival tickets.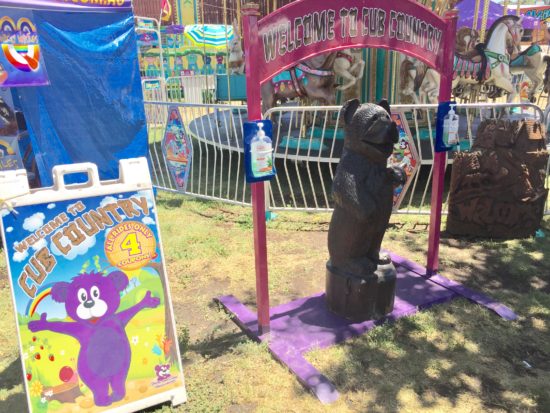 Can I just saw how much I appreciate the double jugs of hand sanitizer at the Cub Country entrance? It's like they totally get me. Here's some additional info from the fair's website about Cub Country:
CUB COUNTRY features, plentiful seating, 4-5 colorful safe, clean, specially selected rides for children in the 32" to 38" height range, one Farm themed soft bounce with low sides so parents can watch their children, themed music, custom made chainsaw carved wooden Bear ornaments and statues, picket fencing, a winner every time kids only game and plenty of space for strollers and spreading out
For reference, our kids are 1.5 years old and 3.5 years old. There's a handful of fun rides in Cub Country that both kids could go on, some together even. But they're pretty strict on height minimums AND height maximums. So Cub Country is truly a carnival section for very young kids and toddlers.
I saw some bigger kids that were denied entry on some of the rides for being too tall – like the canoe ride, for example. But those restrictions are there for a reason. When I covered the fair as a reporter, I wrote about a little girl in 2010 who was actually too short for a carnival ride but rode it anyway.  It was suspected that her platform sandals raised her up to the minimum height level for a spinning Super Himalaya ride — and she ended up falling out and was injured. Basically every parent's worst nightmare. But it seemed like nothing was getting passed these Cub Country people.
Here are the Cub Country rides:
Cub Country fun house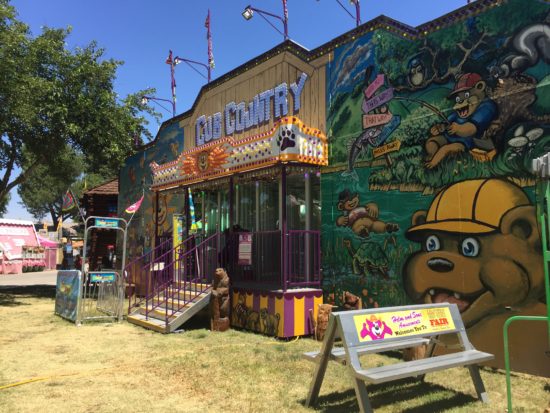 So, I guess this specific funhouse is just a mirror room? I can't guarantee that last statement to be true, but my husband took both kids in here expecting to go to at least a few different rooms and down a slide or whatever. But they were quickly ushered out by the attendant at the end of the same mirror room where they entered. So, if that's really all it is, I'd say it's not worth the 12 tickets it cost for a parent and two kids.
Raging River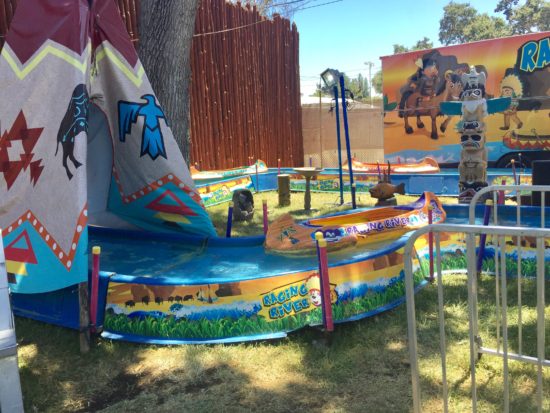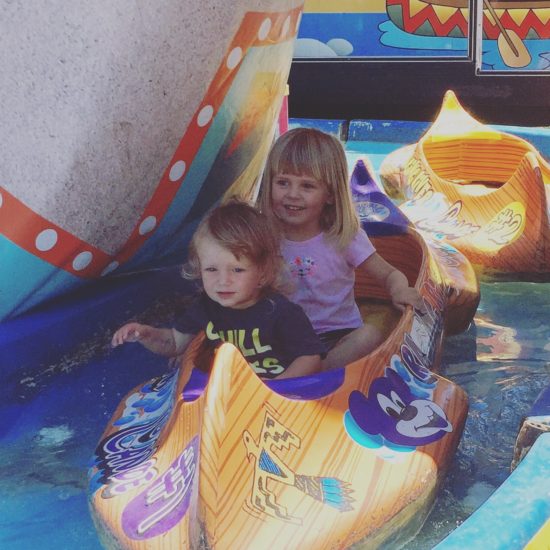 Raging River is basically a little lazy river that kids float around in one time along a meandering loop. It's super cute and well decorated (and fun for pics!) but also a little freaky in that there are no straps to keep the kids in the canoes. But luckily parents can walk around most of it and grab your kid if you see him getting antsy. Note that parents and tall kids can't go on this one.
Frog Hopper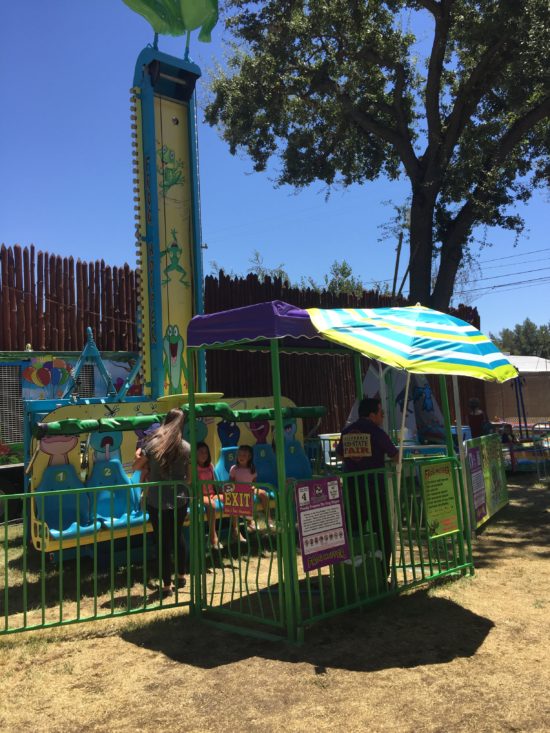 Riders all sit in a line on the Frog Hopper as it raises them up high and drops them a little bit at a time in a hopping motion. It does that, like, 10 times maybe and then it's over.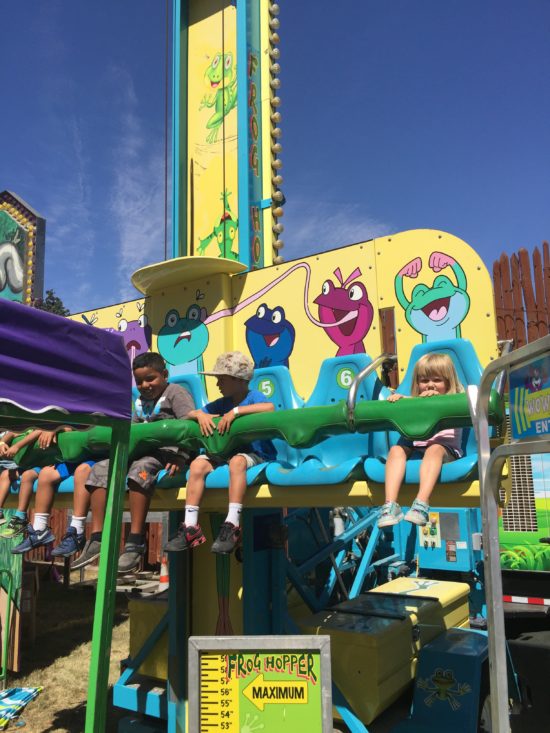 I don't think parents can go on this one, and (thank god) my 1.5 year old was too short for this. His sister went on it though which I thought was super brave of her! It's pretty tall for a little kid!
Turtle ride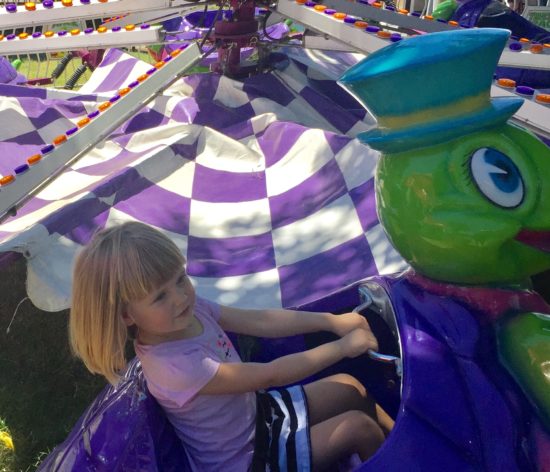 I didn't catch the official name for this one. But basically your kid gets strapped into one of several purple turtle cars and then the whole thing rotates in a circle. It's a classic little kid fair ride. Lots of baby smiles and hair blowing in the wind pics on this one.
Carousel
I don't have a picture of this but daddy went on this to hold the two kids in place and he had to pay 4 tickets for himself, too. So 12 tickets total for the carousel. I walked around and took pictures for the blog 🙂
Bounce House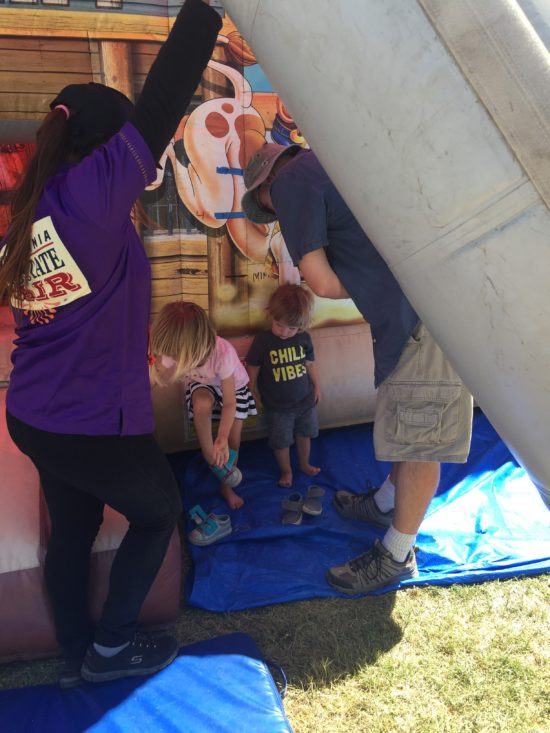 Super cute western-themed bounce house that costs tickets. Our 1.5 year old decided not to go in at the last minute but our 3 year old had fun jumping.
Overall, we appreciated that Cub Country was small and removed from the larger carnival. In fact, you can't even see the larger carnival which meant bonus points for us because we didn't want to have to drag the kids away from that one so we didn't even go into the larger carnival. Perhaps next year when the kids are ages 2 and 4 but for this year Cub Country was perfect for us as the main ride event.
Cub Country's shaded seating
And it's true that there is shaded seating in this section with benches set up everywhere. And lots of places to stash strollers, etc., too.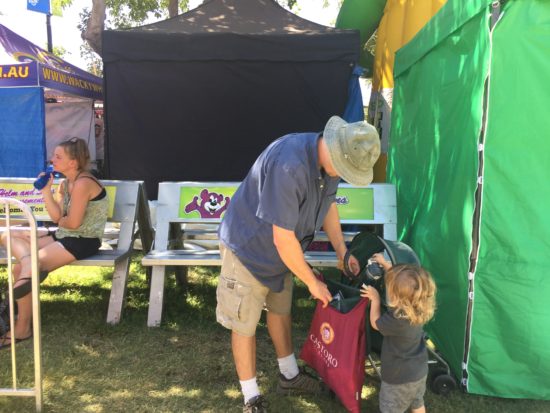 Tickets for Cub Country
Cub Country also has a ticket booth, but the tickets are good in the main carnival, too. So that's nice. Except all the rides in Cub Country only cost 4 tickets per rider where other carnival rides can cost up to 12 tickets each.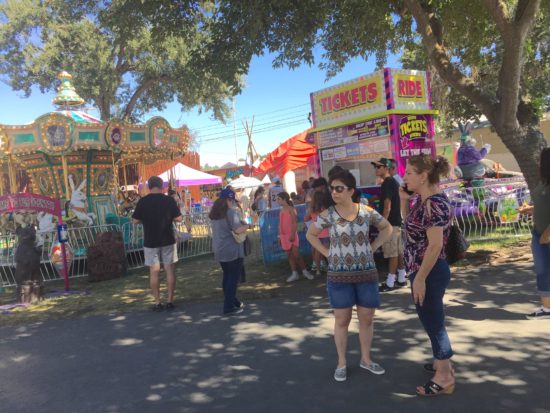 Here's the official carnival ticket pricing throughout the fair:
.50 per single ticket

$25 for sheet of 50 tickets

$50 for sheet of 100 tickets

Rides Require Between 4-12 Tickets Each Per Person. All rides regardless of location (Cub Country, Kidland, Main Carnival) all take same tickets without restriction.
Some other carnival rules that were kind of bummed by (but we understand) are:
Parents riding with children must pay to ride (but I'd mention that the fair's official program specifically says parents can ride for free if their kid is scared to go alone.)

Some rides have age and size restrictions.

Some rides DO NOT ALLOW SINGLE riders.

Some rides do not allow riders with open-toed shoes (sandals).

That last rule affected us actually. I was wearing flip-flops and couldn't go in the Cub Country funhouse.
Find family friendly fair food
Next, we were on the hunt for some fair food. Heading north on the Midway, the fair added a new food court area with HUGE shade structures over a bunch of new tables. It's really, really nice to be able to sit down in the shade and eat your fair food. Especially knowing that it was tough to get that in previous years.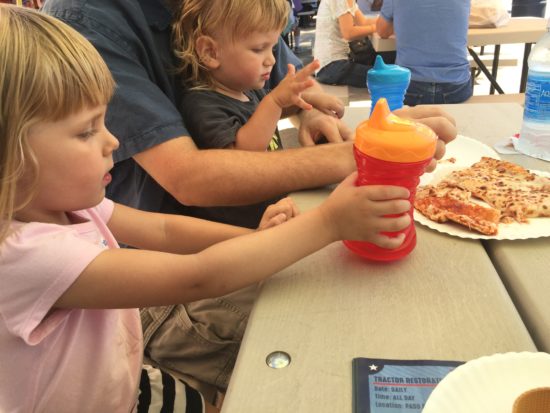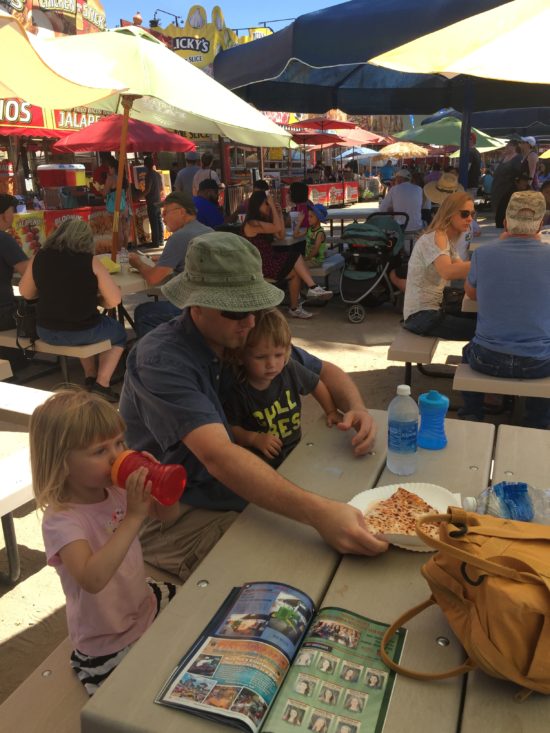 I don't have any fun fair food pictures because I'm allergic to gluten and can basically eat salad at the fair. Not so fun. It actually really sucks, since fried Oreos is basically half the fun of going! Oh well. I'll throw myself a pity party later. But the kids got this yummy looking pizza! I asked the fair's Facebook page if they knew of any gluten free vendors and they mentioned that the Willamette Valley Pie booth has gluten free cookies. But I didn't see the comment until we got home. Bummer.
Check out the fair animals
After snack, it was on to the animals.
The brand new Paso Robles Pavilion is seriously nice. It's noticeably cooler (in temps) than the other barns and has huge new fans.  We saw some cute pigs/hogs here.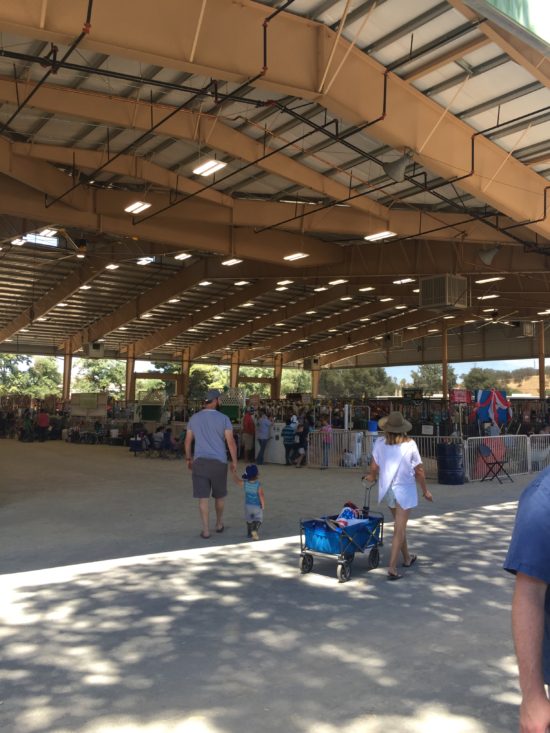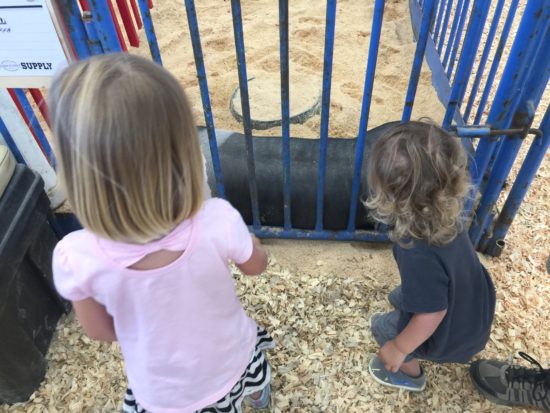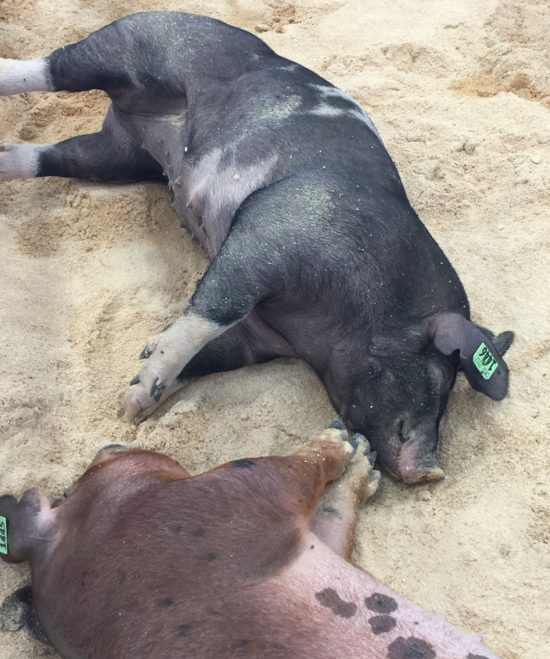 The fair also has chickens, cows, sheep, goats and all the other furry friends. There are even some little deer in the petting zoo!
Tip – Lots of new washing stations
While we were in the livestock area, we noticed a ton of new hand-washing stations. That was so great because with animals I'm usually nervous about E. Coli and other bugs. When I was a reporter, I wrote about a strain of E. coli that broke out at this fair in 2013 and made some 4H kids sick. I'm not bringing up this bad news to rehash it, but posting it as a reminder that E. coli is real possibility so handwashing is key. Plus, it's always smart for protecting yourself from kid colds any time tons of people are together in one space.
I must say, though, that the barns are not dirty places. Our local 4H and FFA youth works hard to keep their barns and animals clean and organized, which really stands out.
This is what the stations look like: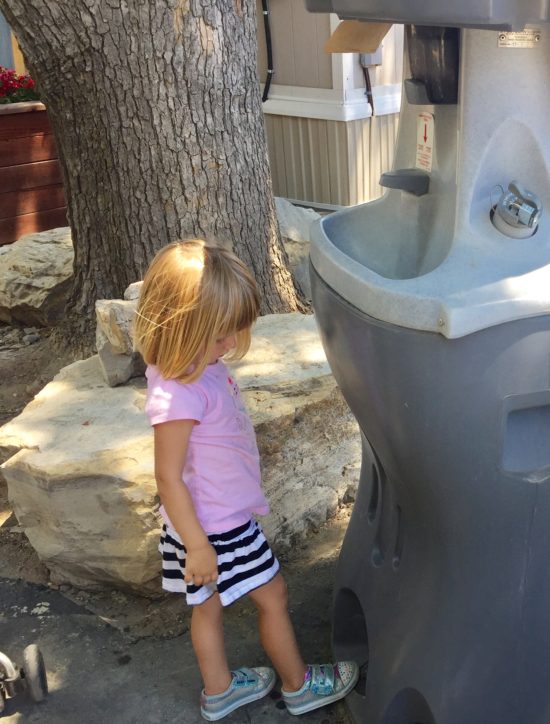 We didn't see the cute sudsy-barn hand washing attraction the fair has had in years past. It was located as your turn the corner into the livestock areas. Let us know if you spot it! It might not be there this year, which is a bummer because we liked it.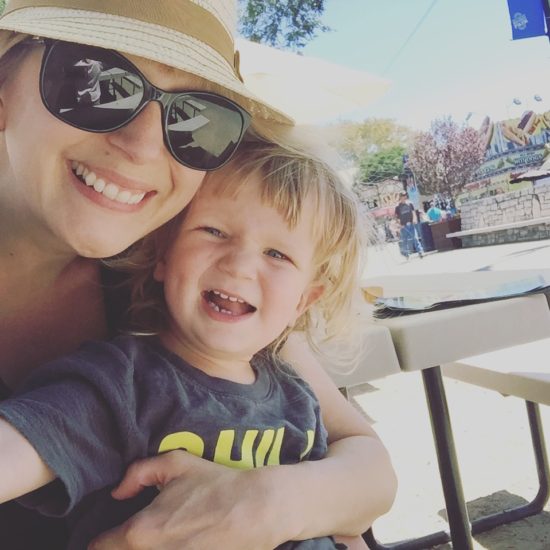 And that's a wrap! We hope we gave you some tips for enjoying (ie: surviving) the California Mid State Fair with toddlers this year!