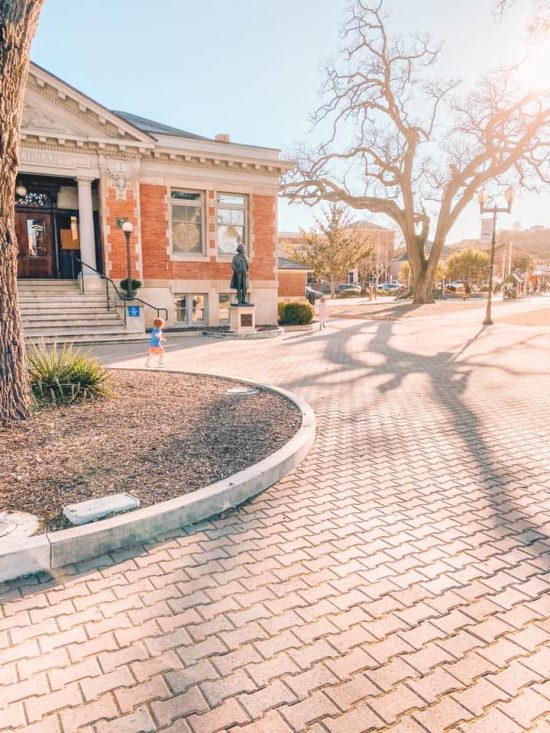 I could do oh-so-many posts about how to have fun with kids in Downtown Paso Robles, since this is our home and we're, you know, here all the time.  There are a lot of family friendly things to do with kids in this town. But for this post, I'm going to focus on the seven things I do with my 3 year old during our special weekly one-on-one time.
The main part of downtown is situated on four streets in a square (actually, it looks more like rectangle, doesn't it?) around Paso Robles Downtown City Park.
There are great things to do outside of this main part, of course. But with a 3 year old, I find that sticking to this downtown core keeps things moving. With each of these seven stops, we essentially go around the square until we end up back at our car.
Here's a look at what we do:
1. Grab a library parking spot
Our little tradition usually starts around noon in the Paso Robles City Library parking lot at 1000 Spring St. You're almost always guaranteed a space in this lot during the weekdays, and, as with all of the downtown, parking is free. The library has two restroom locations (one in the city hall lobby and another inside the library) and a water fountain. So it's just a good home base when you're with kids.
When you park here, just walk through the south entrance of the library/city hall toward 11th street and then you're downtown. BOOM. Easy peasy.
I don't always shell out lunch money for myself and the kids because that gets pricey pretty fast (and annoying if your kids are having a picky eating day. Like mine do. So more often than not, I opt for a picnic in the car with a packed lunch from our house.
2. Eat at Red Scooter Deli
But if you do opt to eat out  … we highly recommend eating lunch with kids at the Red Scooter Deli at 1102 Pine St.
After you exit the doors from the library's breezeway, walk east for a block (or two?) on 11th Street and enter the crosswalk. The deli is just to the left of the end of the crosswalk, next to Park Cinemas.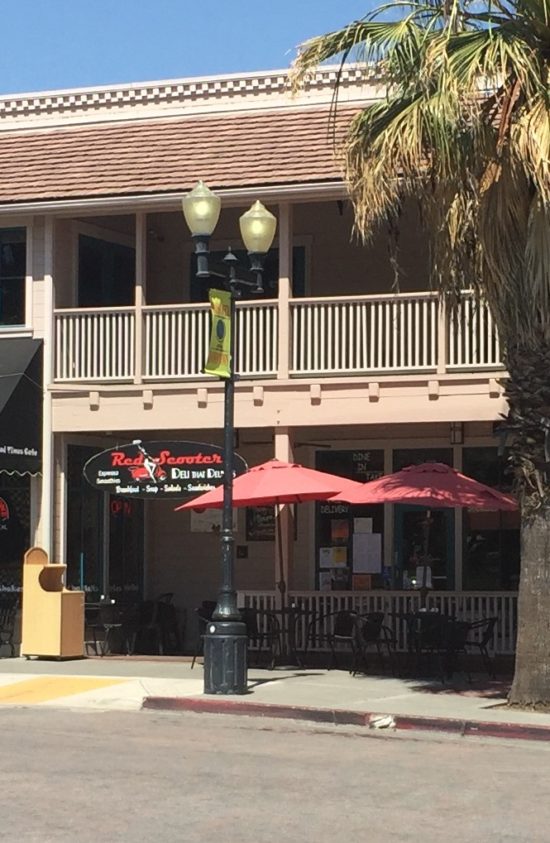 Red Scooter has kid menu items for the littles. We're talkin' half a sandwich, GoGurt, Goldfish crackers and a drink for $5.  Which is basically all of the major kid food groups at our house.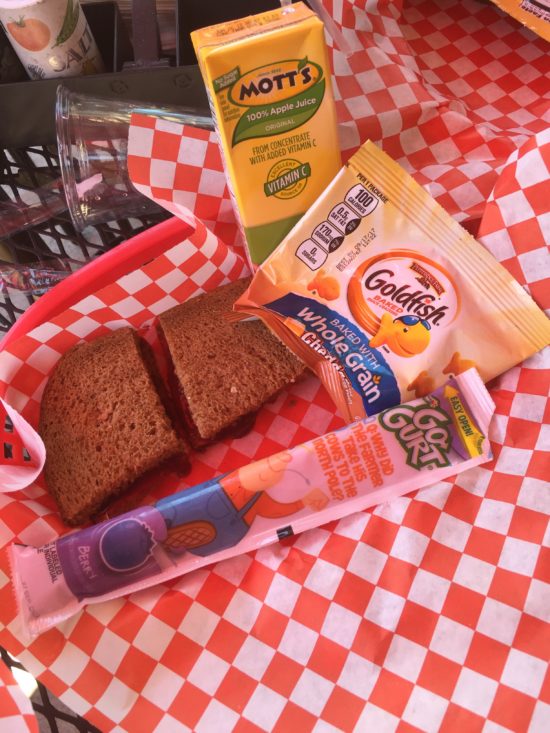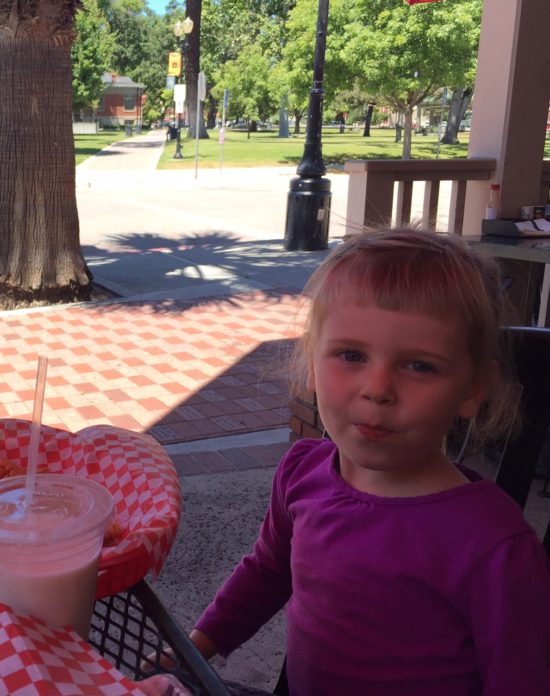 The deli also has gluten free items for me. And, of course, all the delicious gluten-y items the rest of the world enjoys.
It also has highchairs and outdoor seating with nice shade umbrellas on the patio, with tables overlooking the downtown scene. It's a great spot for people watching. Which  means there's enough going on for baby/kids to look at so mom and dad might actually have a chance to eat as well. (Imagine that!).
I haven't tried this, but the deli's website says it's also a dog-friendly restaurant and they provide water and a treat. So fur babies are welcome, too.
3. Eat Candy; Hang with Willy Wonka
After lunch, we walk directly across the street to the candy store.  Just take the same crosswalk you took to get to the deli, but go west on 11th Street, requiring just a few steps of backtracking. You can literally see the candy store from the deli's patio.
The newly-named SLO Sweets is located Paso's historic bathhouse building at 840 11th St. It used to be called Powell's Sweet Shoppe until this summer when the owners dropped the franchise and rebranded it while also celebrating its 10-year anniversary in business. The store specializes in hard-to-find classics, an international section and an impressive Jelly Belly assortment.
Some people may think we'd save the candy for the end of the day, like a grand finale. This makes sense to pre-kid me, too. Kinda like how pre-kid me planned to convince my toddlers that trail mix was candy. I thought I was so smart. Pre-kid me was cute.
But, seasoned toddler parent me now knows that if we waited on the candy store, the entire afternoon would go something like this:
Me: Wow, look at this cool thing at this store!
Kid: Can we have candy yet?
Me: But wait, there's this super fun slide to go on at the park.
Kid: Can we have candy yet?
Me: We still have to walk around a bit.
Kid: Can we have candy yet?
Aaand repeat. 'Till mommy goes bonkers.
So instead we go right after lunch. I grab one of the cute oversized candy baskets near the cashier's area so she can tip-toe around with it looking all wide-eyed while I take pictures of how cute she looks.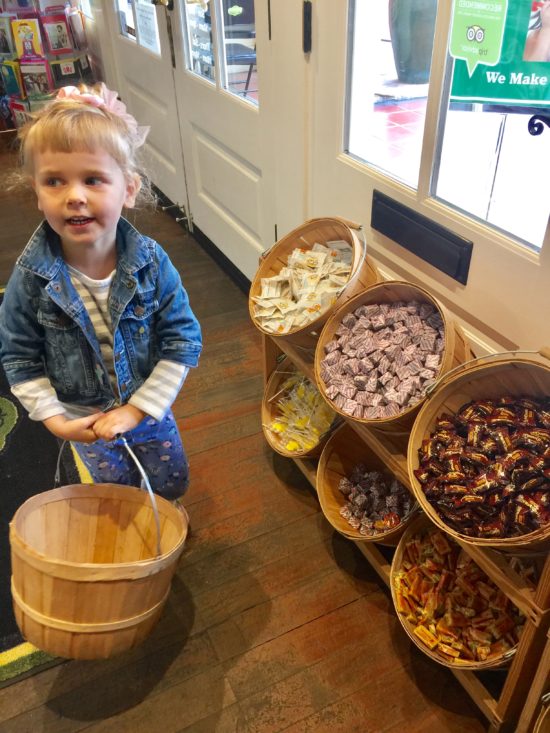 She can get a handful of candy and it's usually individually wrapped taffy, Tootsie Rolls or squares of chocolate. I don't think she understands that there are giant candy bars and big boxes of candy there, too. We'll just keep that our little secret for now. Meanwhile, mommy gets a Charleston Chew because it says it's gluten free on the wrapper. Plus they're seriously yummy. I basically want like five right now just while writing this.
So we get our candies, and pay for them at the register. Then we eat our goodies inside the store, because it has the 1971 classic Willy Wonka & the Chocolate Factory movie playing on an endless loop. So I'm basically like, heck yeah, give me candy and a free movie in the air conditioning. To watch it, we either go sit at the little metal table inside or mosey on over to the set of four movie theater seats right in front of the screen (so cool), depending on which is available.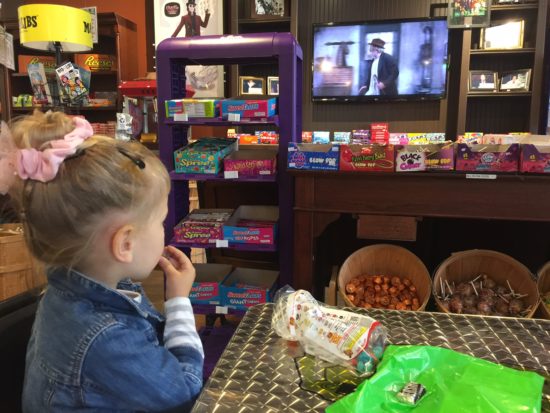 The movie theater seats are old-timey with wooden armrests that remind me of the handcrafted wooden chair Aiden made for Carrie in Sex & The City. Props if you know what I'm talking about! (Hint).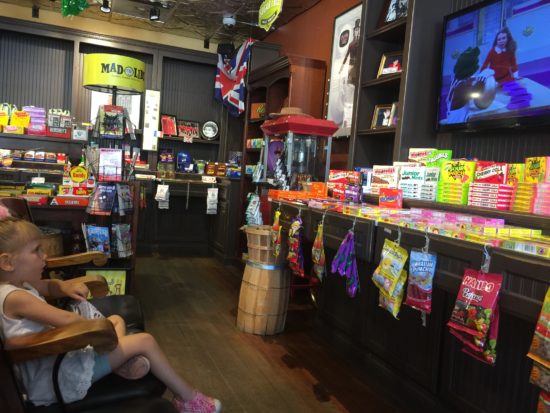 Then we sit and eat our candy and watch the movie.  And it's awesome.
Unfortunately, though, this gloriousness only lasts as long as it takes for Little Miss to finish eating her candy. Otherwise, since she's literally surrounded by sugar everywhere, she will inevitably ask for more candy which just explodes into total human chaos when you say no.
Basically, she breaks out the crazy on me. Like this: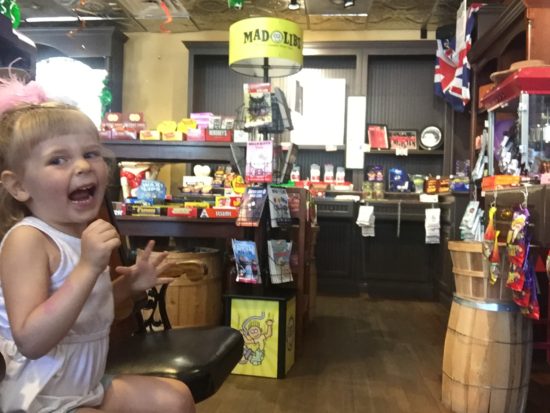 So I find it best to pop up and say "All done!" when she finishes the last piece. Another good tip is to get lollipops since it takes kids longer to eat those. They had some cute Minions ones last time, which were flat and on the smaller side and not those big lollipop balls that send me into a panic about choking.
4. Go inside an actual bookstore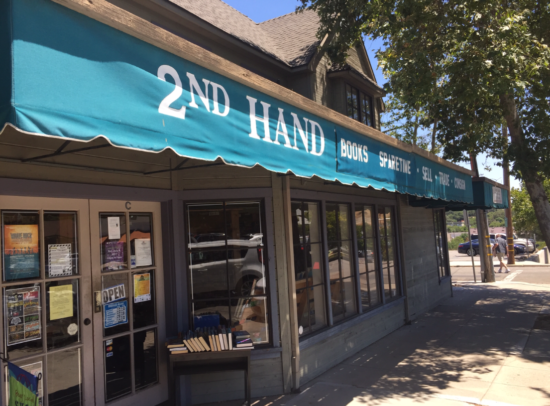 After your bellies are filled with all the candies, take the same crosswalk east toward the theater and deli again, this time pass those and walk north on Pine Street one block to 12th Street.
On the other side of the street you'll find Spare Time Used Books & Treasures at 945 12th St., D.
There's just something about a used book store, or ANY walk-in bookstore these days, that feels like a special treat. No tablets, no Amazon Prime. Just the good 'ol fashioned smell of musty pages.
Here, you can buy books for cheap and turn them in later for credit toward more books. Plus, I like to think you're teaching your kids about shopping local and the benefits of shopping second-hand.
Which gives you the warm fuzzies. They have a small shelf of books for very small children at the cashier counter. We picked out two bedtime books.
OK, so, this sounds more like a mommy activity than a kid one. But hear me out.
In all, Downtown Paso Robles has some seriously cute stores. And we all know that cute little shops can be small child disaster zones because kids run around and touch/knock over all the things. Not fun.  So my remedy to this is to find a few select shops with at least one child element so I can take a quick scan of the mama inventory to see if there's anything worth coming back for sans kiddos. (There almost always is). Just picture me, arms outstretched, yelling out the door: "Pretty things, I'll come baaaaack for youuuuu!"
To get to these shops from the bookstore, enter the crosswalk westward on 12th Street passing only a few places until you find: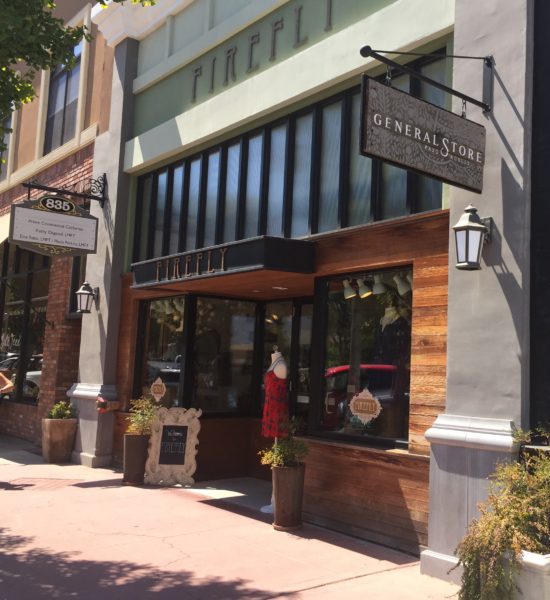 Oh, Firefly. I love this store. Dare I say, it's my favorite downtown store to visit. It's just super whimsical and fun. Picture aprons in super fun prints, cute little bowls with bold patterns and pretty floral notebooks you wish someone would gift to you. Then just tons of super comfy boho chic clothes and handmade jewelry. Gah. And make sure to visit Max the Shop Dog. He's super sweet and soft.
After petting Max, we head over to the toy section, which will not disappoint. The kid stuff is on display in the middle of the store under this little wooden house display. Using the same expertly curated eye as the mama merchandise, the selection there is always changing and super cute. Think boutique baby clothes and bows, beautifully crafted picture books, adorable little stuffed animals in sweet things like knit sweaters and crowns and unique finds like wooden animals on wheels or a little mouse in a matchbox toy.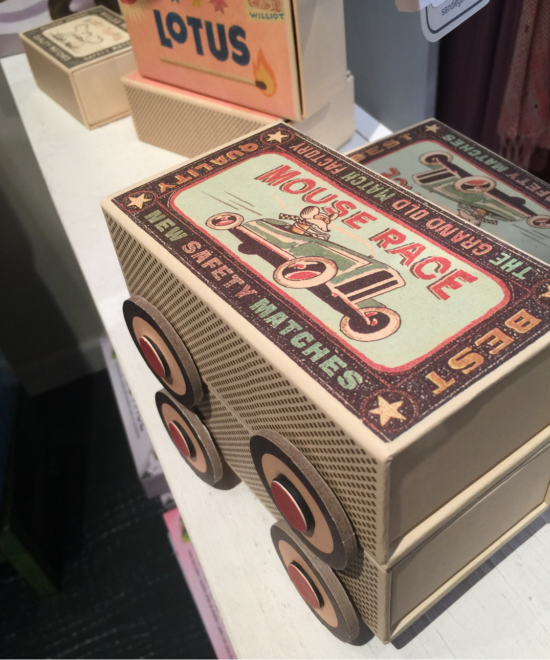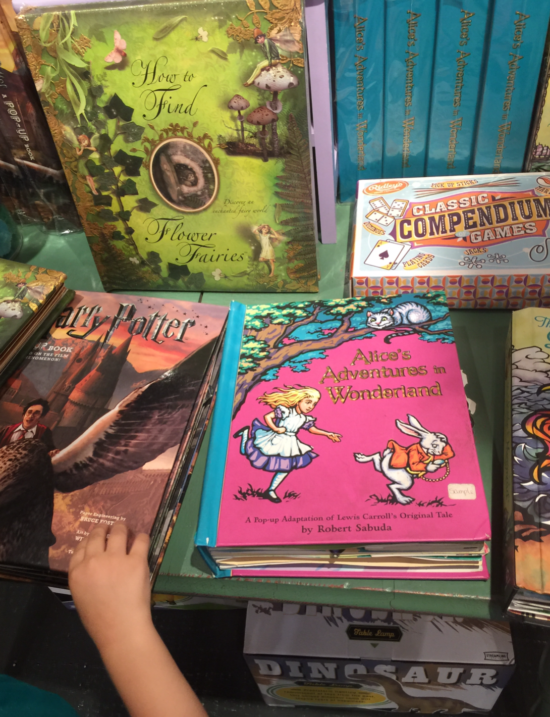 Firefly's dressing room also has some a-mazing hand painted flowers on the floor that my 3 year old liked skipping on.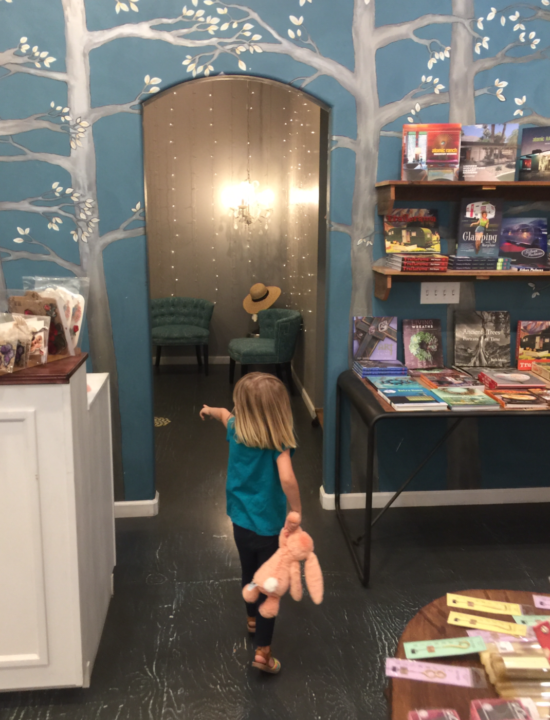 Which makes for sweet Instagram shots like this: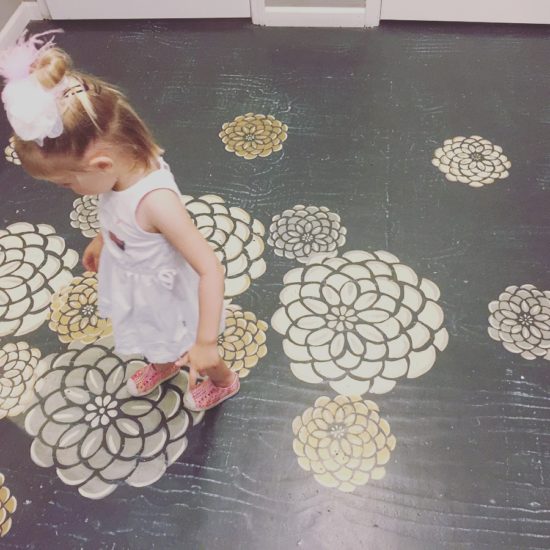 From Firefly, we go west again, one shop over, to …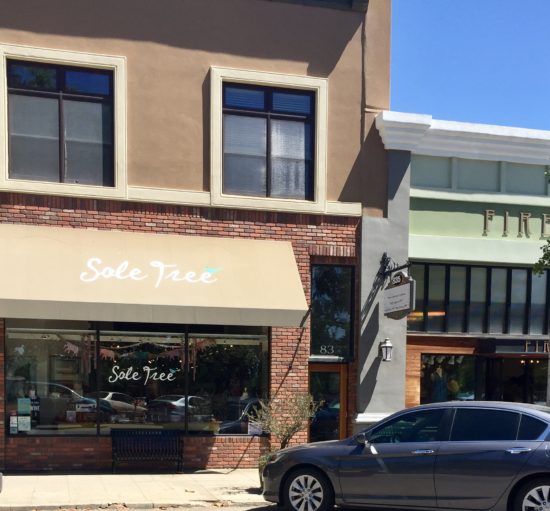 But, you guys, the shoes Sole Tree. Just … omg. They're so nice. Really nice soft caramel leather sandals, chunky peep-toe heels, chic flats and wedges in beautiful colors and intricate details …. I die. It just feels GOOD going in here. See?
But that's not why my 3 year old likes it (she'll see the light one day). For right now,  she likes it because the shop is where we visit our favorite little downtown birdies – Summer and Fern. This sweet pair of feathery finches have their own adorable vintage metal birdcage near the store's front window. These shop birds have intricate markings and hop and chatter and are just a delight to watch. We heart them.
After we get our cute bird fix, we go westward, yet again, just a few shops over to Bijou. It's the store with the bright yellow and white striped awnings. Really cute window shopping here.
My daughter saw a little tea set in the window and then practically pulled me through the door so she could go gawk at it. Which pretttty much sums up every time my mom and I pass a jewelry store. Genetics, baby. Here she is looking at all the cute things.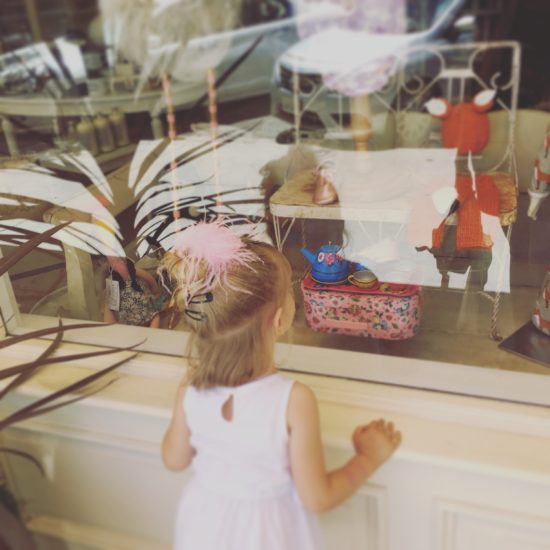 Inside, the store has women's clothing and jewelry to drool over. But tucked in a corner near that front window, are lots of cute baby blankets, picture books and little felt toys perched on antique furniture displays.
6. Play in Santa's/the Easter Bunny's house
This little house is home to Mr. Santa Claus himself and the Easter Bunny (during the respective seasons. Not at the same time, silly. That would just be weird.) But since the house is a permanent downtown fixture year-round, it serves as a fun little playhouse pitstop. The pint-sized real wood Colonial is complete with a porch and open windows for ample pretend play opportunities. My 3 year old actually remembers visiting the Easter Bunny this year, so she takes egg orders from the window. 🙂
7. Play at Downtown City Park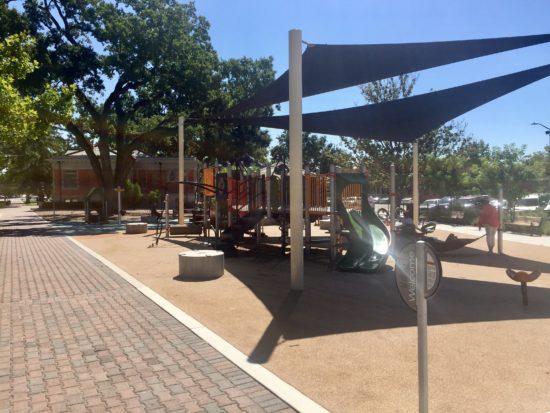 To cap off our trip, we usually burn off some of that sweet, sweet candy consumption at  Downtown City Park. The park, as a whole, is a pretty great place for kids. It has pathways and big stretches of grass, a historical museum, a gazebo, and some cool barn-themed bathrooms.
But in  2016, the city replaced the entire  City Park Playground with new awesome stuff like a merry-go-round, see-saw and a super cool all-access swing. So that makes the playground extra cool. It has two sections: one for very smaller children and another for the bigger kids. But both sections basically work for all ages.
And that's our day!
Hope we gave you some fun ideas for enjoying Downtown Paso Robles with kids.
MORE INFO:
For anyone looking to stay in Paso Robles for vacation, internet search engine company AllTheRooms.com has compiled a  Paso Robles, CA Vacation Rentals Guide where travelers can find the information necessary for booking a vacation. From things to do, vacation types, vacations with specific features, price, availability, and weather, this guide has all the tools to help travelers plan, book, and go.
For more tips on family friendly fun in Paso Robles, make sure to check out the Downtown Paso Robles Main Street Association and the Paso Robles Destination  tourism website.