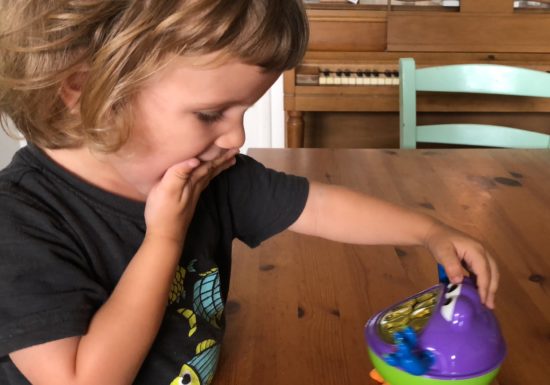 ---
Overall, it's a super cute addition to our snack game that looks more like a toy than a container. But, unfortunately, I tend not to use it because it's fairly difficult to open without spilling its contents all over the floor. 
The general design of this cup features soft silicone flaps as the monster's teeth for kids to reach into to grab their Cheerios, Puffs, or whatever other portable snack your kiddos crave.
Faves:
It has an "Easy Grip Design" that touts as being "perfect for little hands," which I totally agree with. My 2-year-old holds on to this like it's nobody's business.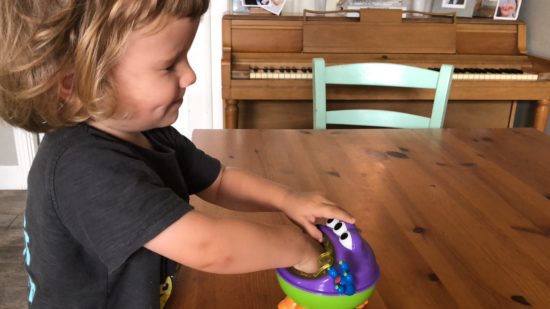 Recommended for kiddos age 

12 months and older, the monster theme stays true throughout its design. It even has little movable monster arms, which makes this cup very toy-like and keeps my son occupied in the car.

Room for Improvement
If I never had to open this container to dump old snacks, or refill it, I'd be all about this cup. But every time I've opened it, it sticks slightly and then suddenly gives way so the snacks quite literally pop out all over my shirt and on the floor.
That's such a bummer, too, because it's totally adorable.
---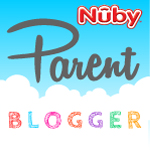 ---
As an official Nuby Parent Blogger, I'm part of the brand's selective group of mommy bloggers chosen to show you some of its latest products in action. You can see my Reviewer Badge page and the network of other Parent Bloggers here.
Here's how you can stay in touch with Nuby for new products and updates: