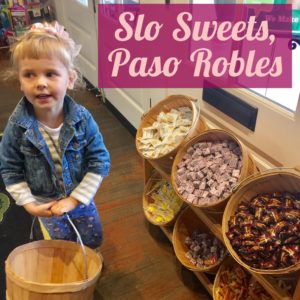 Eat candy; hang with Willy Wonka. The newly-named SLO Sweets is located Paso's historic bathhouse building at 840 11th St.
This location used to be called Powell's Sweet Shoppe until this summer when the owners dropped the franchise and rebranded while also celebrating its 10-year anniversary in business.
The store specializes in hard-to-find classics, an international section and an impressive Jelly Belly assortment.
---
Some people may think we'd save the candy for the end of the day, like a grand finale. This makes sense to pre-kid me, too. Kinda like how pre-kid me planned to convince my toddlers that trail mix was candy. I thought I was so smart. Pre-kid me was cute.
But, seasoned toddler me now knows that if we waited till the end of the day for a candy store trip, the entire afternoon would go something like this:
Me: Wow, look at this cool thing at this store!
Clara: Can we have candy yet?
Me: But wait, there's this super fun slide to go on at the park.
Clara: Can we have candy yet?
Me: We still have to walk around a bit.
Clara: Can we have candy yet?
We usually go here right after lunch. I grab one of the cute oversized candy baskets near the cashier's area so she can tip-toe around with it looking all wide-eyed while I take pictures of how Little Miss Clara looks.
She can get a handful of candy and it's usually individually wrapped taffy, Tootsie Rolls or squares of chocolate. I don't think she understands that there are giant candy bars and big boxes of candy there, too. We'll just keep that our little secret for now. Meanwhile, mommy gets a Charleston Chew because it says it's gluten-free on the wrapper. Plus they're seriously yummy. I basically want like five right now just while writing this.
After we pay for our candies at the register,  we watch the store's endless loop of the 1971 classic Willy Wonka & the Chocolate Factory.
This thought process is basically like: heck yeah, entertain my child with a free movie while also giving me candy in the air conditioning!! To watch it, we either go sit at the little metal table inside or mosey on over to the set of four movie theater seats right in front of the screen (so cool), depending on which is available.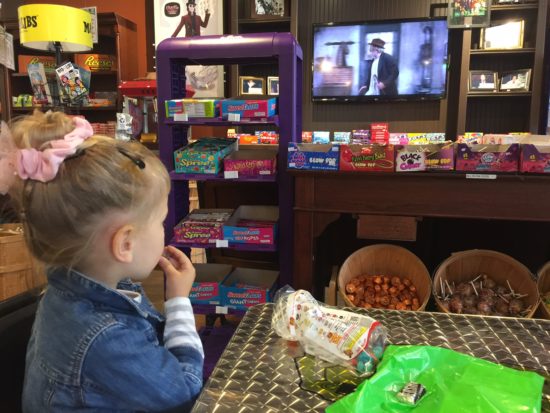 The movie theater seats are old-timey with wooden armrests that remind me of the handcrafted wooden chair Aiden made for Carrie in Sex & The City. Props if you know what I'm talking about! (Hint).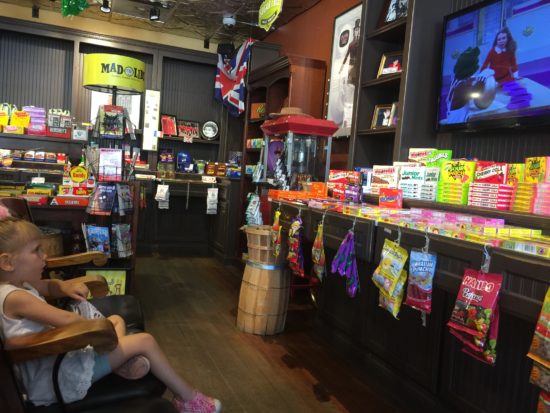 Unfortunately, though, this gloriousness only lasts as long as it takes for Little Miss to finish eating her candy. Otherwise, since she's literally surrounded by sugar everywhere, she will inevitably ask for more candy which just explodes into total human chaos when you say no.
Then she breaks out the crazy on me. Like this: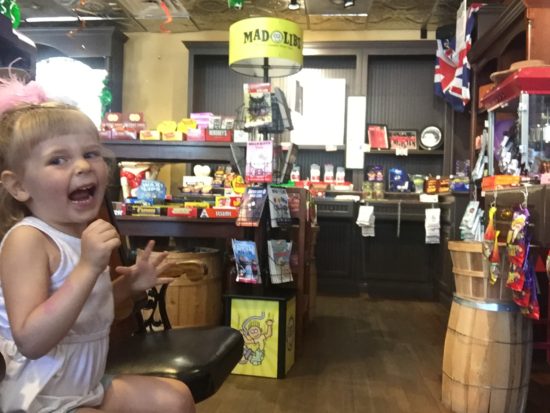 So I find it best to pop up and say "All done!" when she finishes the last piece. Another good tip is to get lollipops on your way out since it takes kids longer to eat those. They had some cute Minions ones last time, which were flat and on the smaller side and not those big lollipop balls that send me into a panic about choking.
And that's that. See you there!