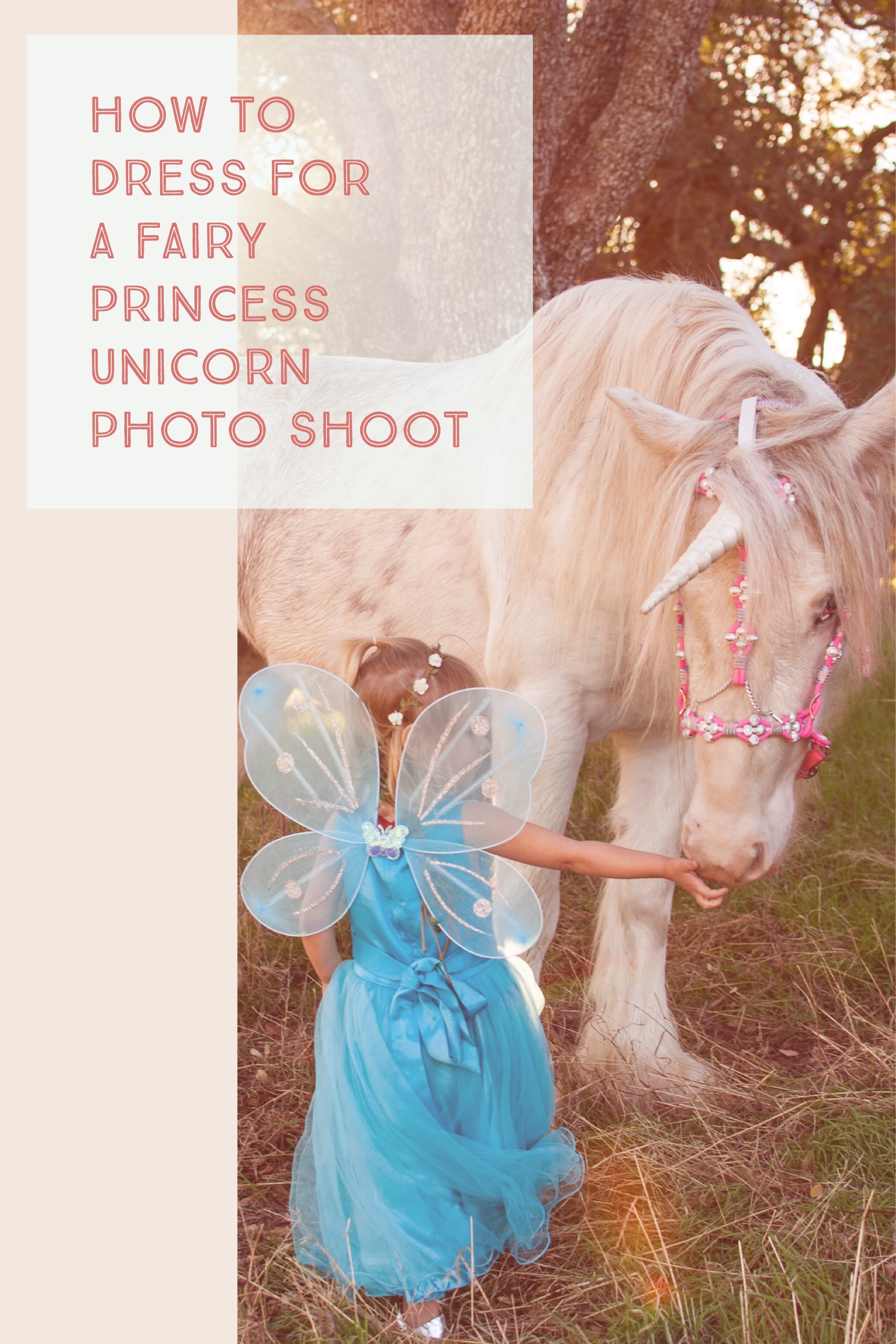 One of the best parts (for moms, at least) of toddler photoshoots is planning what your child is going to wear. For our unicorn photo shoot, the process actually started with buying my daughter's Halloween costume in this totally practical 24-step online shopping approach.
Find a super expensive but TO DIE FOR Pottery Barn Kids butterfly fairy costume. Fall in love. Pine over the color combination of glittery gold and mint tulle; the oversized and sparkly wings; the beautiful floral detailing on the front. Decide my kid definitely needs this costume in her life.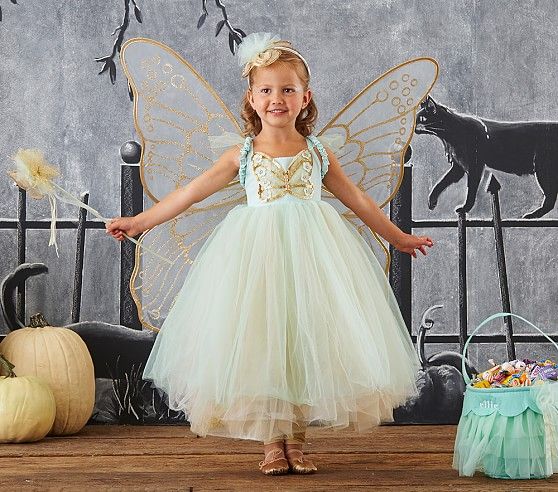 Laugh at myself for considering something so expensive.
Scour the internet for a similarly styled but cheaper version. One that I could reasonably defend should someone find out what I spent on a Halloween costume my small human will wear for a total of two hours before smearing chocolate on it.
Hit up all the usual suspects for alternatives: eBay, Target and Amazon.
Try to come up with the magic combo of search terms because so far they bring up stuff like this . Vow my kid isn't going to look like a swap meet Peter Pan/rose/vine wench.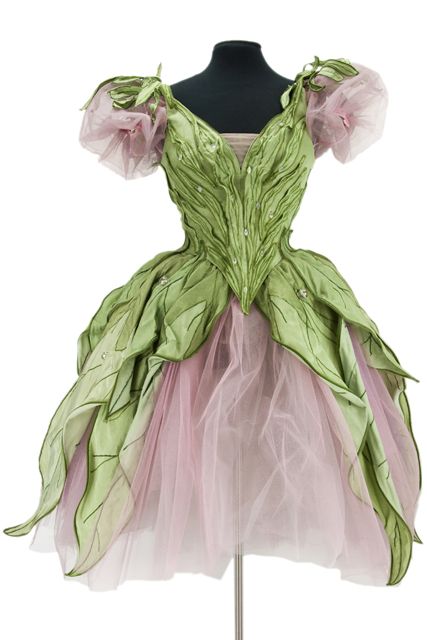 Fill up my cart on at least three to five different websites until midnight, totally missing out on my much-needed mom sleep but rationalizing that it's #totallyworthit. 
Don't buy any of it.
Go to bed.
Become totally obsessed with all things fairy dress shopping for days. Talk about it and text screen shots and finely crafted collage comparisons to anyone who will listen.
Debate whether my 30lb 3-year-old could squeeze into the SO MUCH CHEAPER infant size PBK dream dress. She's still a baby, RIGHT?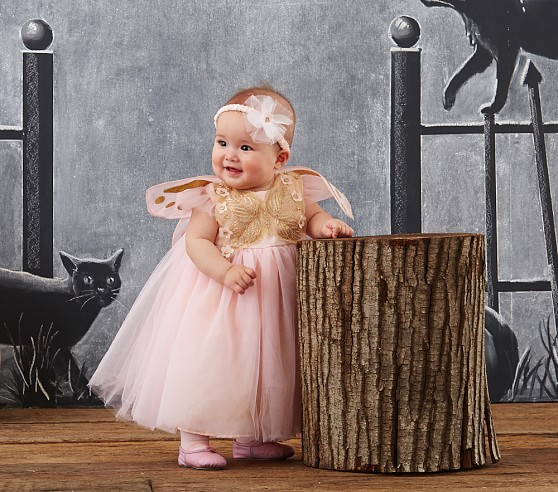 Have dinner. Drink wine.
Hide in the bathroom with my phone (and refilled wine glass) before the kids' bedtime routine begins with my thumb hovering over the confirm order button on the original, toddler sized PBK dream dress. Must. Have. It.
Don't buy it.
Search for PBK coupon codes instead. Disclose my email address to spammers in a desperate hope that a shady looking 30% off code is real. It's not. 
Text more people a meticulous pros and cons list.
Consider making the costume myself.
Research the DIY materials.
Remember I can't actually sew.
Pin no-sew versions of costumes on Pinterest.
Remember I have two kids and NO time.  Unpin all that crazy stuff.
Agonize some more.
Return to trusty 'ol Amazon. My free-shipping savior. Find some awesome LED light-up butterfly wings. Decide to plan a costume around those wings instead. Find a super pretty glittery blue dress, also on Amazon, and hope it's not one of those overseas knock-offs that look like a ballgown online but end up being a glorified plastic bag.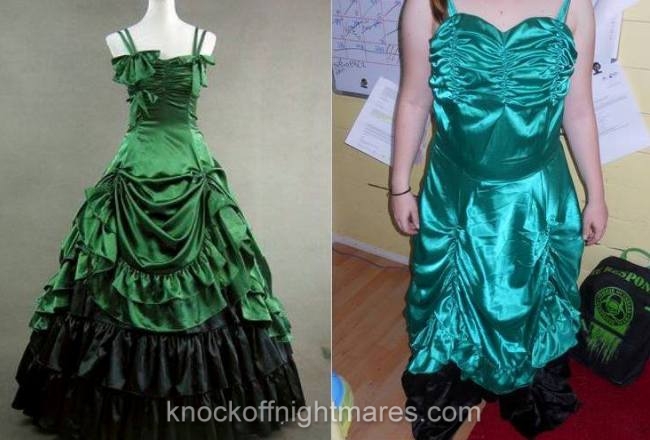 Buy all the things. 
Receive my much-anticipated Amazon box. Open it. Rejoice! It all looks normal and super cute on my kid.
…Easy-peasy process, right? I thought so. And here are the links to my daughter's exact costume pieces just in case you're in the thick of your search, too. You're welcome.
Girls Flower Party Wedding Gown Bridesmaid Tulle Ruffle Dress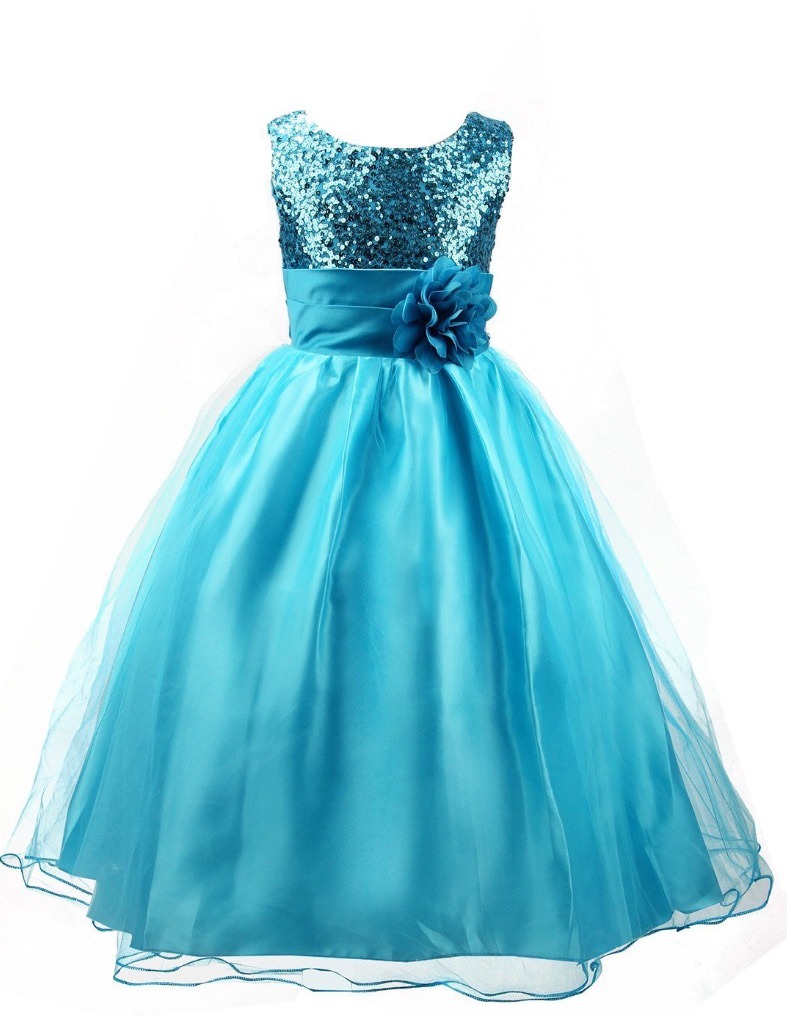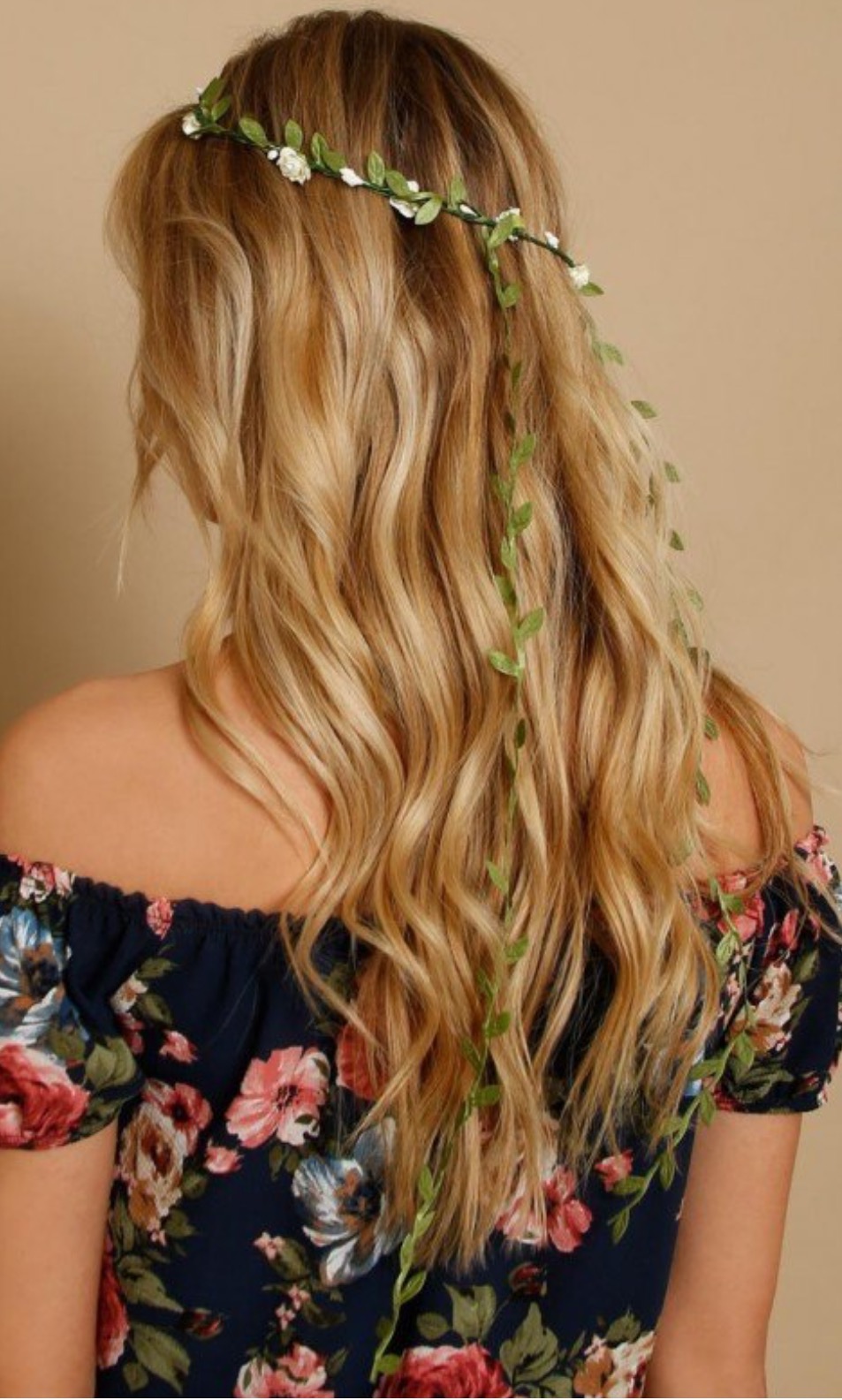 LED Light Up Butterfly Wings – Blue. (Blue is no longer in stock … but here are the same ones in pink with blue lights).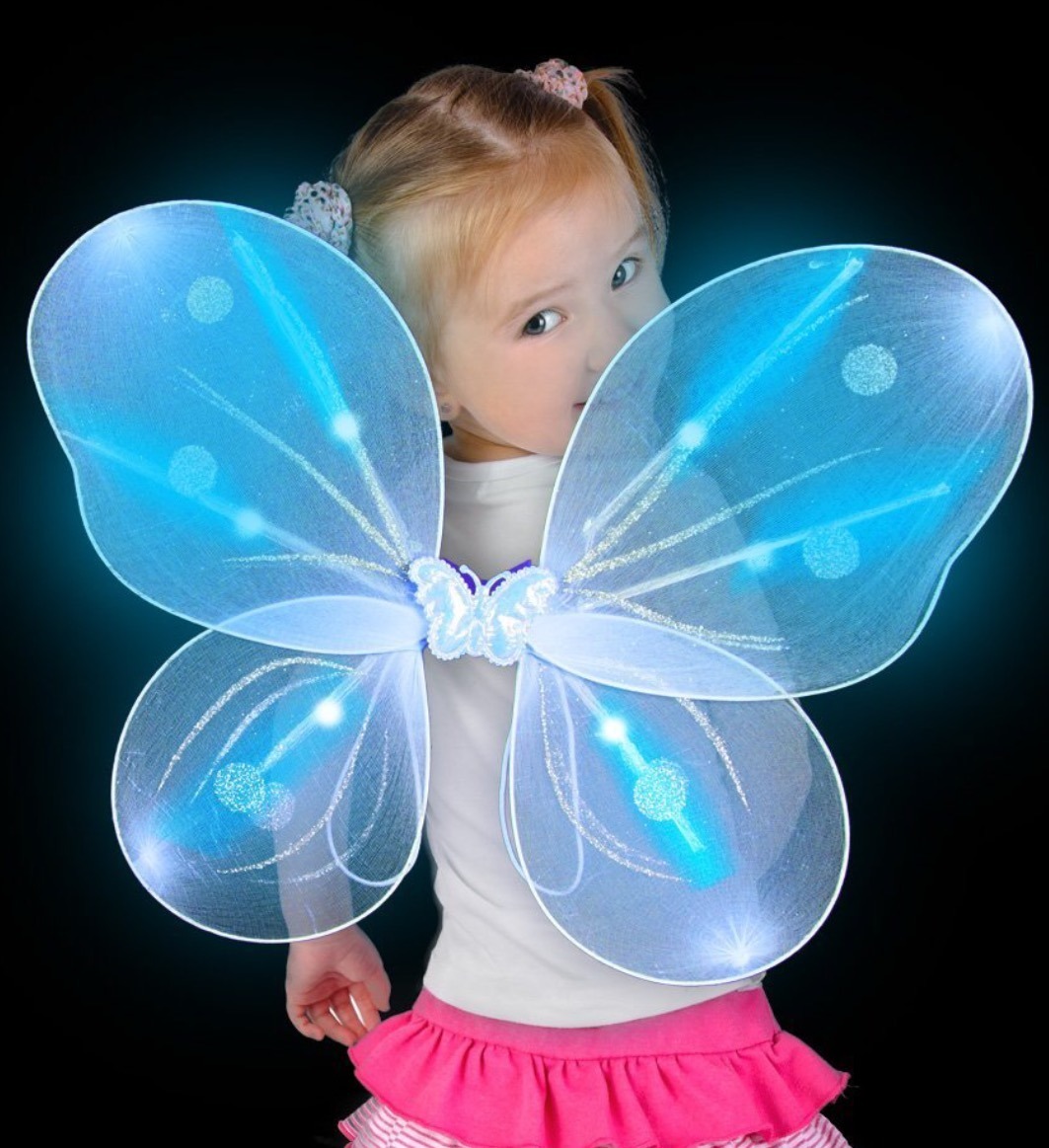 Put it all together, and magic: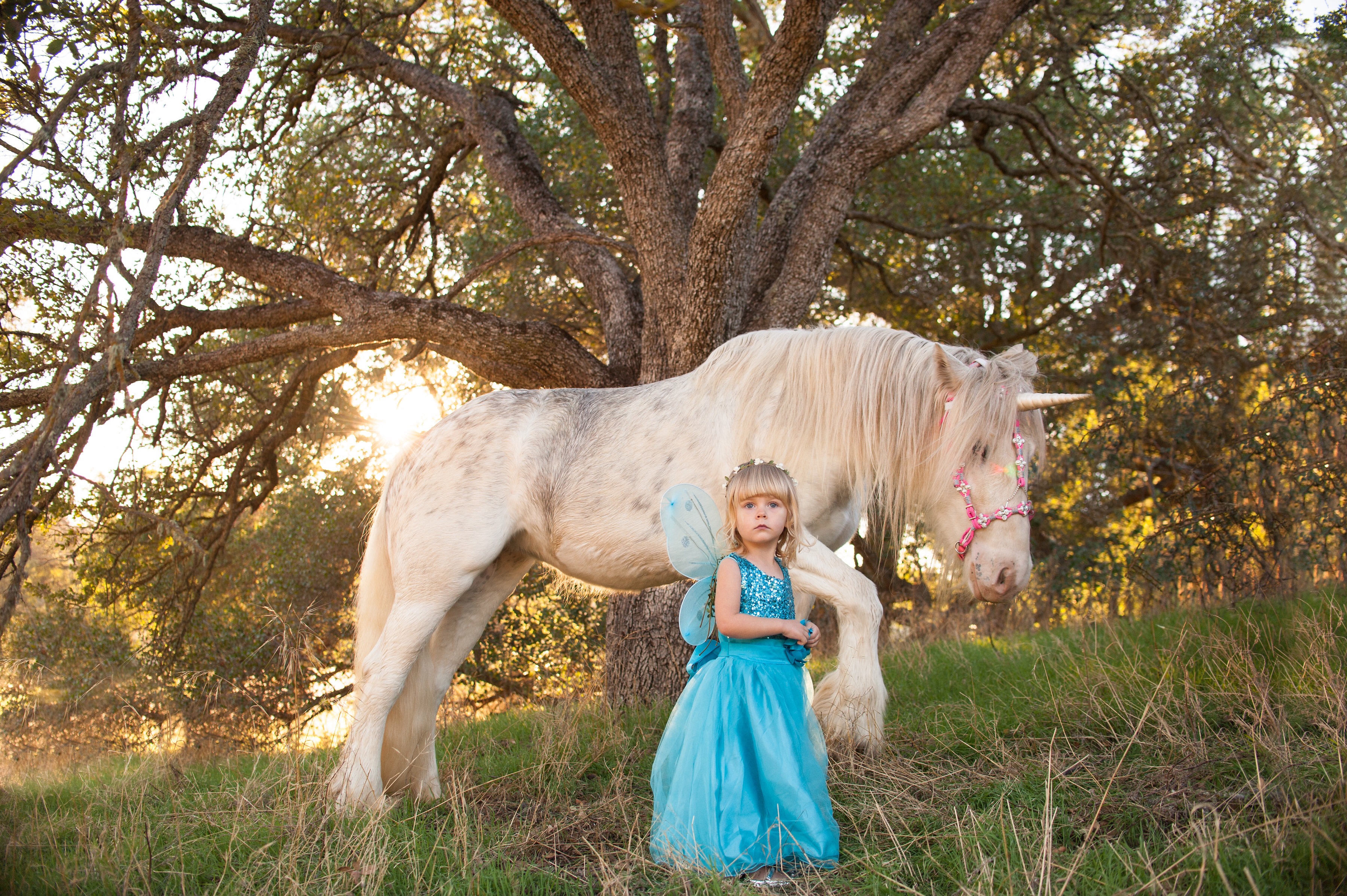 While my daughter did wear this dress on Halloween and rocked it, I practiced a different brand of shopping crazy before realizing she could wear the same costume for her unicorn photo shoot, which you can read all about here.