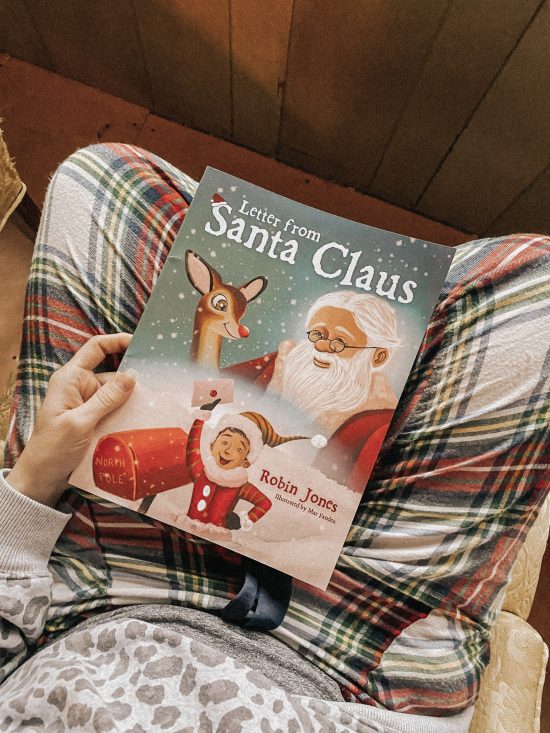 This Christmas season, we read Clara and Wyatt the children's book "Letter from Santa Claus" we were gifted by author Robin Jones.
Overall, this is a sweet tale from the past with heartwarming illustrations and a fun historical element. My only complaint is I would've Iiked a warning about the story's religious references on how Santa's elves came to be.
---
My children's book reviews are a side passion project to help show my support of authors of color, female authors and independent authors. As a writer, I know how much work, love and integrity goes into each of these projects – big or small. It's important to me to help show the world that, too. These books are usually #gifted to me to review, but all opinions are my own. [disclosure]
---
Story Synopsis:
"Letter from Santa Claus" follows a young boy who is sick with pneumonia in the year 1949. In the spirit of Christmas, this five-year-old writes a letter to Santa Claus while he is in the hospital. One morning, he is woken by his father who finds a letter from Santa waiting for him on his hospital bed. Santa shares with him magical stories of elves and reindeer. The next day, on Christmas Eve, a miracle happens, and the young boy's health greatly improves, and he can return home just in time for Christmas. This story is based on the author's childhood and an actual letter that he found in his attic.
Jones published his story to help children realize that with the help of a little Christmas spirit, and hope in their hearts, anything is possible.
Our Thoughts:
As an adult, I love that this story is set in 1949, and that the author based it off an old letter. That adds the historical charm of times past to the story. I also appreciate that the author is biracial (his father is black), so the kids can see and hear the experiences of authors of color.
To see all of our #diversebooksforkids recommendations visit here.
For the kids, they enjoyed hearing about the magic of Christmas and appreciated the big colorful pictures (it's illustrated by Argentinian artist Mar Fandos).
As I mentioned above, the only thing I'd change is the narrative about how Christmas elves came to be. The father in the story (writing as Santa) tells the young boy that when little kids die, they turn into angels and God gives them the choice of becoming Santa's elves or angels who play all day.
The idea that Santa's elves are children who have passed away isn't in-line with our own methodologies around Santa Claus in this house, so it raised a lot of questions with the kids. Bowen and I are, of course, open to all of the kids' questions  – and we welcome an open dialogue as a family. So talking about the ideas wasn't the issue. But more so that we weren't prepared to talk about what happens to children when they die at that exact moment, so it interrupted the bedtime routine. And, in the end, that took away from the fun of reading it.
Here's that part in the story:
But, to each their own. I challenge you to read it and decide for yourself, and then let me know in comments!  "A Letter From Santa" is available to purchase in my #diversebooksforkids Influencer Shop on Amazon. Children benefit from a library of inclusive and diverse books. I encourage you to check out my full list of recommendations.
---