---
This post is sponsored by BabbleBoxx on behalf of Oroweat.  Check out my disclosure for more details.   
---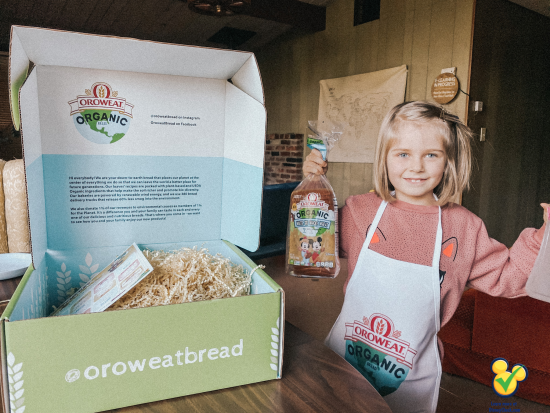 Got a picky eater? I hear ya, sista. My 7-year-old Clara likes what she likes and additional applicants need not apply.
That is – unless  Oroweat Organic White Made with Whole Wheat Bread is involved. And especially if it brings Disney's Mickey Mouse and Minnie Mouse to the table!
---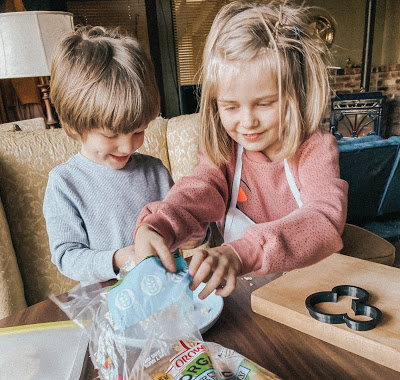 When Clara took a big 'ol bite of Oroweat Organic White Made with Whole Wheat Bread she was magically A-OK with this new lunchtime addition. And in typical sibling fashion, if it passes the taste test with Clara, then it passes with her brother, 5-year-old Wyatt, too.
Oroweat Organic White Made with Whole Wheat Bread sports the official Disney Check, a quick and easy way
for kids and families to identify nutritious choices at Walt Disney Parks and Resorts stores, live-event venues, online and on-air. This Oroweat Organic White Made with Whole Wheat Bread, for example, is a good source of Vitamins A, D, & E and is made with organic whole grains. All of that while also offering up a soft, smooth texture.
Moms of picky-eaters everywhere rejoice.
---
The brand also brought us a custom activity box featuring a pair of super cute Disney's Mickey Mouse and Minnie Mouse bread cutters, biodegradable wheat straw plates, sustainable baggies, and a pint-sized Oroweat apron and floppy chef's hat. While the kids pressed the cutters into the soft bread with their sweet pudgy baby hands, we bonded over talking about how certain nutrients help our bodies play and grow. When the cuts were complete, we worked on our vocabulary to describe the shapes we made.
It was a collection of perfect little moments, where I was happy to say yes to play – even at the dining table. Do a wholesome bread cut-out activity? Yes! Want to cut eight slices of it? Sure, why not?! All these decisions came with a clear conscience just fine – because this down-to-earth bread is plant-based, USDA Organic, Non-GMO Project Verified, and sustainably made in bakeries powered by renewable wind energy. Cool, right? In fact, as a member of the 1% for the Planet global movement nonprofit organization, Oroweat donates 1% of this bread's revenues to support environmental causes.
---
---
It's also in times like this where the no-frills/anti-cooking parent in me just goes with the flow. Oh, and the afternoon also came with gifts! We love gifts. In fact, when Clara saw the little Oroweat apron, she immediately unfolded it, put it on, asked me to tie it, and declared: "Yes! Now I can cook with … Daddy!" 
Ha. Yes. With Daddy. Always cook with Daddy.
And let Mommy take the pictures of it 😊.
---