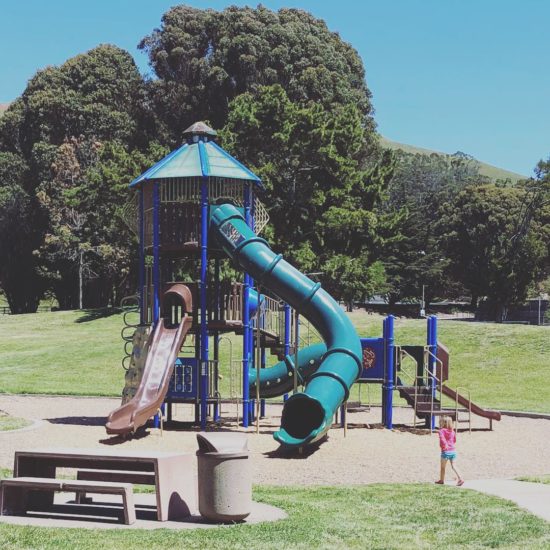 Who's been to Del Mar Park in Morro Bay?  We went for the first time in April and now we're basically in love. This park is known for its 28-foot climbing structure 😱, complete with crazy tall lookout points and a GIANT tube slide that dips down from the top lookout. It also has lots of grass,  a beautiful creek and bridge that's perfect for littles, and nice restrooms.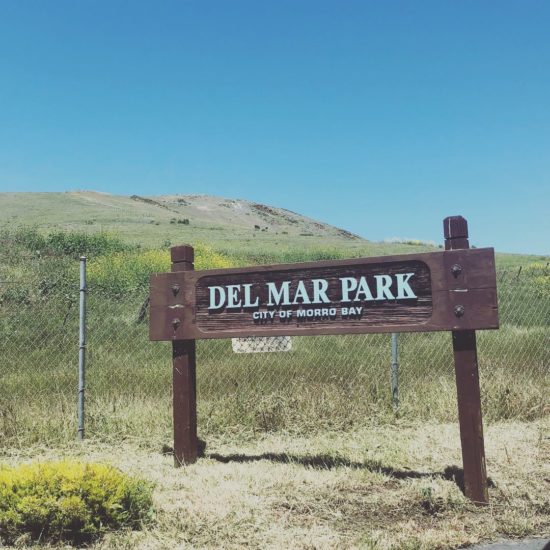 This city park has access points just off Island Street to the north and San Jacinto Street to the south, which are both neighborhood streets off Main Street in North Morro Bay.
From Paso Robles, I went:
Hwy 101 to Hwy 41 West
R Main Street
R Island Street
Park is to the right at the end of the street
Here's a map: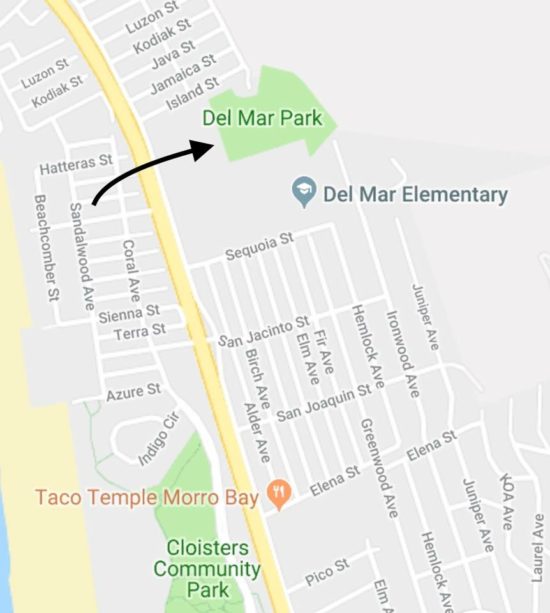 Here's another look at the rest of the slides on the tower: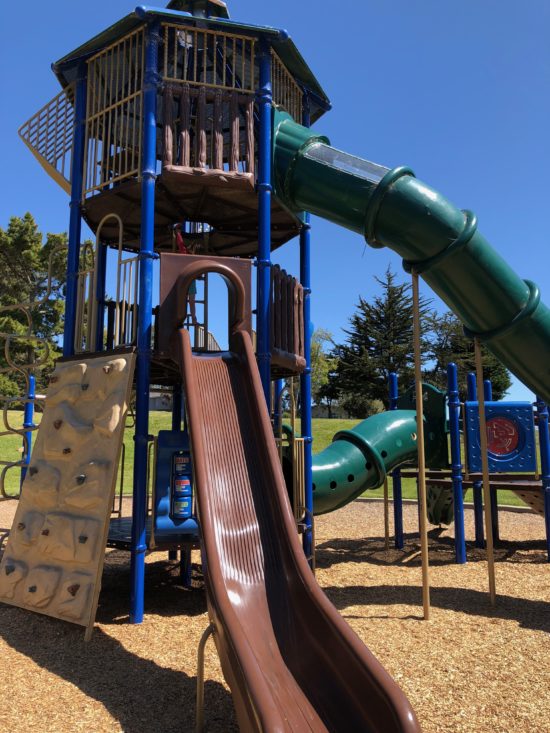 This thing is seriously so tall. But the top is all inclosed. I went down the big slide and it made my stomach drop! Lol. Clara and Wyatt did, too of course, but Wyatt was a little hesitant after his first try. (He's a little small for it … The park is designed for ages 5-12). After a few slide sessions, Clara just wanted to hangout in the top lookout, which you have to reach by a ladder. She spent about an hour up there telling an elaborate story of it being her castle to anyone who would listen.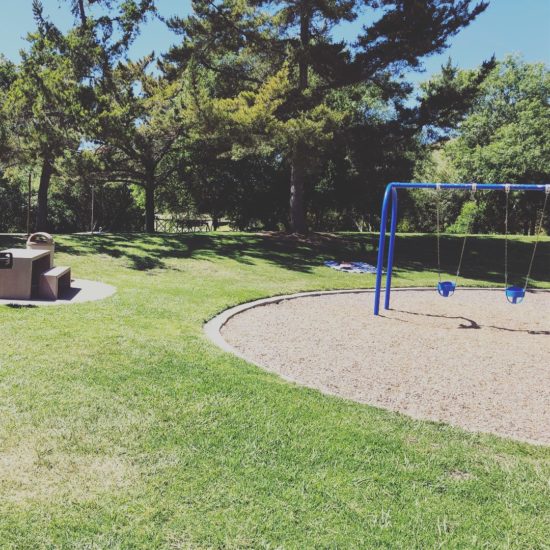 Like I mentioned above, we were super impressed with the 9-acre park. It was clean and pretty with tons of grass, trees, a little bridge and a natural creek. There were also lots of concrete picnic tables and the bathrooms weren't gross. It felt like a hidden gem in North Morro Bay.
A closer look
According to Morro Bay's official city website, this park features:
public restrooms with a drinking fountain
an outdoor basketball court
an amphitheater ( I didn't see this)
an off-court tennis and pickleball courts
the playground
horseshoe pits
two barbecue and picnic areas
a large meadow area for volleyball, soccer, and Frisbee games
walking paths popular with dog walkers (pups on leashes)
The website also lists a zipline and some standing see-saw thing called a Multi-Pondo— but we didn't see those there.  Maybe they were removed? It did however have swings, a pretty cool standalone twisty slide and rope pyramid in addition to the giant slide and climbing tower.
There's also a really cool natural creek that runs through the park at the north entrance. There were lots of kids playing in it. We went in April and it was at perfect capacity – just shallow enough for me not to be totally nervous with the kids running around it and splashing. Plus, it's really pretty:
We'll definitely be back soon just for the creek! It was that cool.