I'm no designer, but here's my home fashion prediction: play mats are soooo the new living room rug. Because the way I see it, if @jumpoffjo is going to create stylish ones such as this Little Jo Baby Play Mat we were sponsored to review, how can you go wrong???

We received this toy compliments of the brand to review, but all opinions are my own. For more info on all that, see my disclosure.
LIKES
Nice cushion-y layer and measures 69" x 58" making it amazing for playtime on our tile floors.
 The waterproof surface is kind of genius. It's designed to prevent absorption so I have time to wipe up spilled sippies (and, let's face it … pee) and all the toddler fun 😆😆.
And, according to its product listing, its material also resists stains and odors! Potty training here we come!! * I also totally appreciate that the mat is reversible. One side is this black and white fish print, which my home decor side LOVES. While the other boasts a super fun treasure map print that the kids like to look at. Given that our living room is also our playroom, I call that a #winwin.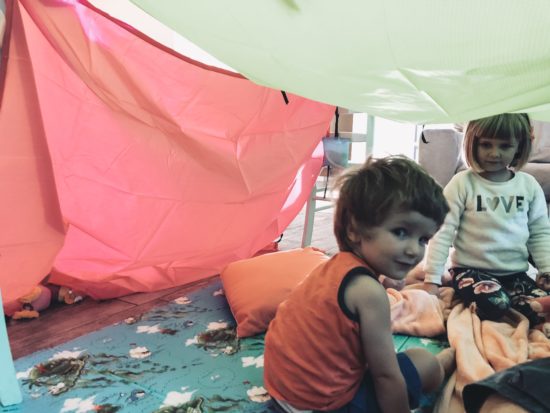 This mat is also reversible (bonus, right?). The opposite side boasts an ocean-y treasure map theme in teal.
ROOM FOR IMPROVEMENT
I'd like to see the mat be a little thicker
I also have a little #proudparent story for you: When we set this up …. I took a few pics and then continued on my Sunday business (mainly organizing the chaos that's my office nook). When I walked back into the living room a short while later, there was no mat to be found. I asked my hubby if he put it away, and he was like NOPE. After his denial, and my own curious searching around the house, we found it folded up underneath the couch …. via one of the kids!!! 😍 This makes me so proud, people!! To breed these little cleaner-uppers 😂😂😂.
So I must also add that I LOVE that this play mat folds up nicely for storage. That's totally key around here. 💁🏼‍♀️.
If you think so too, I've added this $59.99 play mat to our Amazon Influencer Shop via our link in bio.