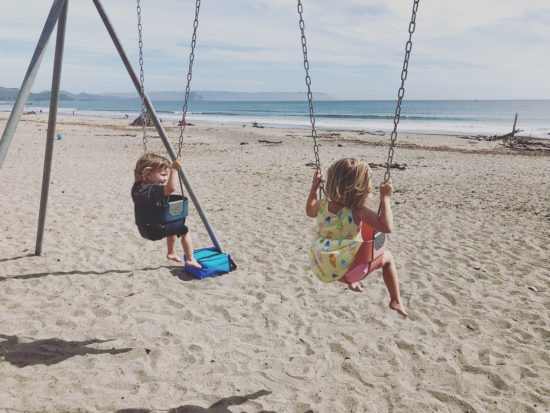 This post details some of our favorite features of Cayucos State Beach. This nice,  sunny beach is about 40 miles from our home in Paso Robles. Off the coast of Highway 1, it's located at 200 Oceanfront Lane.
It's also one of our go-to kid beaches because it has a bunch of convenient features, like:
Free parking close to the sand
Public restrooms
An outside shower spout for rinsing off
Lifeguard towers
Historic fishing pier
Views of Morro Rock
And …. it also has a playground right on the sand!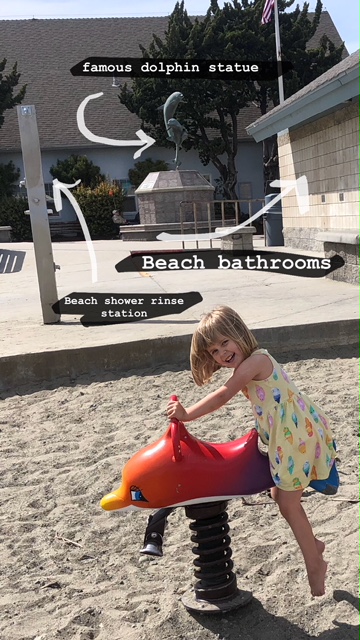 According to its Chamber of Commerce, Cayucos  was "born during the days of Spanish land grants. Cayucos grew up with sailing ships and steamers, rum runners and revenuers. Gamblers and seafarers met in the Old Cayucos Tavern, and adventurers and romantics of all kinds still meet there today."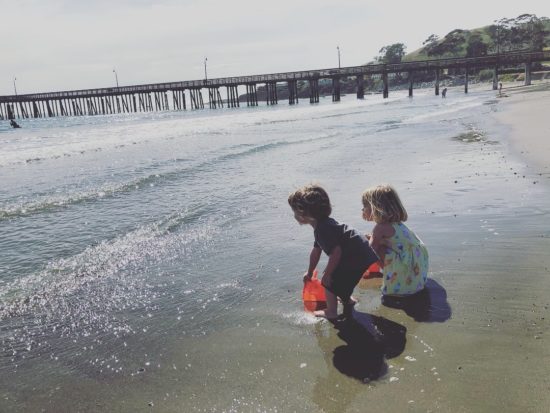 In Cayucos, you'll find a cute downtown with antique shops, eateries and sweet smells wafting from the commercial home of the original Brown Butter Cookie Co. (Paso Robles has its second location!).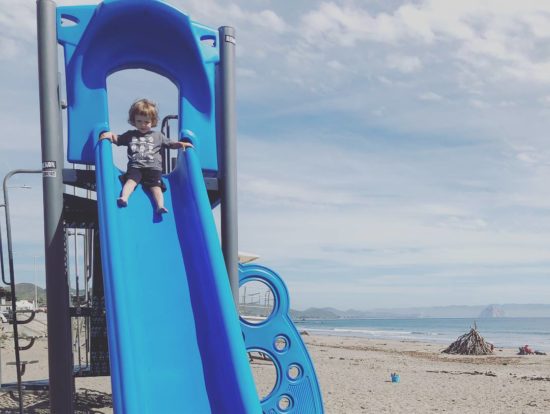 About the Playground
Having a playground right on the sand makes beach days with very small kids way more  enjoyable.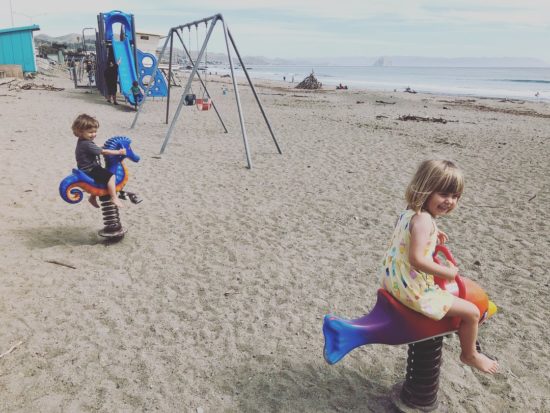 It's nice for running over to it and taking a break from the waves and sand-throwing (ha) for some awesome play distractions. Various community groups got together to make this lovely playground happen, and it opened in April 2013.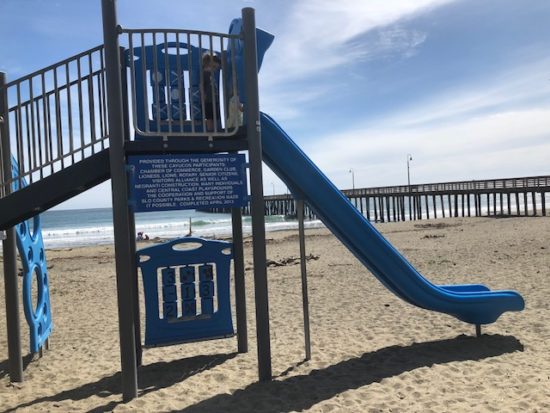 It includes:
one seriously tall slide
two colorful spring riders in the shape of a dolphin and a seahorse
bucket swings and regular swings
climbing bars on the slide structure
spinning number board on the bottom, and a similar tic-tac-toe board up top
climbing panel with circle cutouts for footholds
And, for your reading pleasure, here's a funny #momtruth side note about our beach outings:
As a stay at home mom, doing the bulk of these adventures alone, I can always judge my kids' ages by how big of a pain it is to take them to the beach. Ha. Here's a look at our beach outings over the years:
🔅When they're babies, it's cute for pics but otherwise not fun bc babies just get a face full of sand when they try to crawl anywhere at the beach. Plus they require just loads of stuff and their diapers get super gross in the sand. And sandy breastfeeding? No thank you.
🔅Then when Wyatt was born and Clara was 2, it was me babywearing an infant while having to bend over to help my two year old the whole time. And not to mention super difficult if I had to pee.
🔅Then they were 1 and 3, and it was way too hard to watch Clara while Wyatt was toddling into everything. And I still had to babywear Wyatt, carry all our beach gear to and from the car and manage my sandy 3 year old which always felt impossible. Definite Mama The Pack Mule status.
🔅And now, at 2 and 4, it's noticeably easier. I'm not saying "it's easy" …. just easier than impossible. I was telling a friend that I got to lay down A WHOLE FIVE MINUTES on this beach day. 🙌🏻🙌🏻 Truly remarkable right?! AND YET At the end of it I still was carrying 35lb Wyatt back to the car with Clara crying to also be held and me dragging our gear on one arm and barefoot. But those five minutes were priceless 😂😂