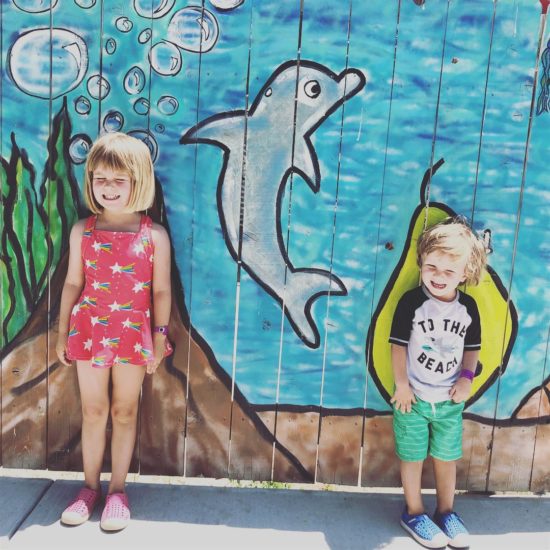 We  received three season passes compliments of @ravinewaterpark in summer 2018 in exchange for sharing all the tips and tricks of bringing small children. I'm so happy I was able to "master" the solo waterpark trip experience with the kids this year. I was so nervous about it before. But it was also something I longed to do last summer but couldn't bear to try. So here I am, a new woman, bringing u all our tips to navigating the park with one parent and two littles while the hubs is at work! Read on to find out the 411 on all of our fave places to sit, eat and play 😎.
---
I know a lot of parents with small children are on the fence on whether they can benefit from season passes to the waterpark and are hesitant because they just aren't sure what it will be like. I've been in the same boat – and that's why I'm sharing our real life experience of using the park on a weekly basis to encourage others to take the plunge too! (See what I did there?)
TIPS
✅ yes, you can bring strollers
✅ yes, my kids used their own Puddle Jumpers.
✅ yes, we still found somewhere to sit in shade at noon (tho we did share a chair).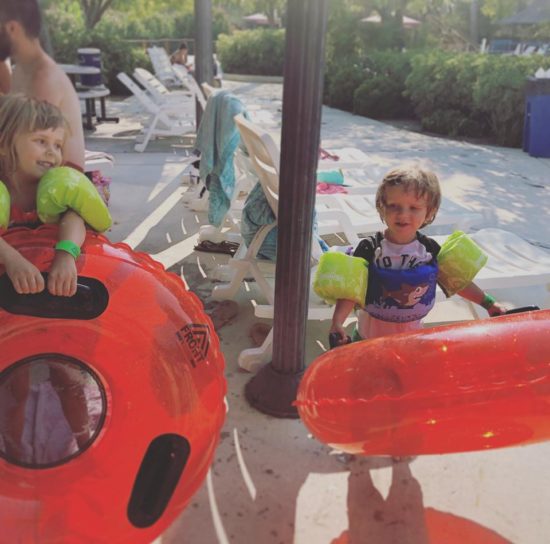 TODDLER TUBE RENTALS
In 2018, The Ravine Water Park got a new style of toddler tubes! Toddler tubes are rentable at the Tiki Hut in the middle of the park for $3 each + a $2 deposit. You use them in the lazy river and the wave pool. They're special because they have seats in the middle of the tube instead of going straight thru like a donut. That part isn't new, but the last version had a plastic seat and was clear, and these new ones have a mesh net seat and are red!
So now kids can get a little splash on their butts. 🤣 My kids liked the older version so they could go under the waterfall and then fill up their seats like a little pool: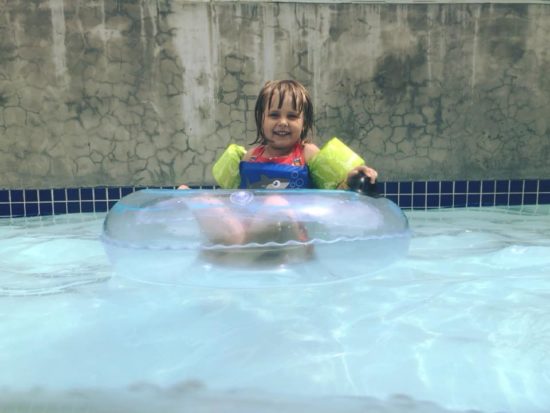 But with these new ones we got yesterday they still get to feel the water, so it all evens out.
---
LOCKERS!
I lost my wetbag for my phone, which I usually wear around my neck. So since I couldn't bring my phone with me in the water, I decided to get a locker for it. And for my license and debit card. Lockers cost $7 each for all-day use.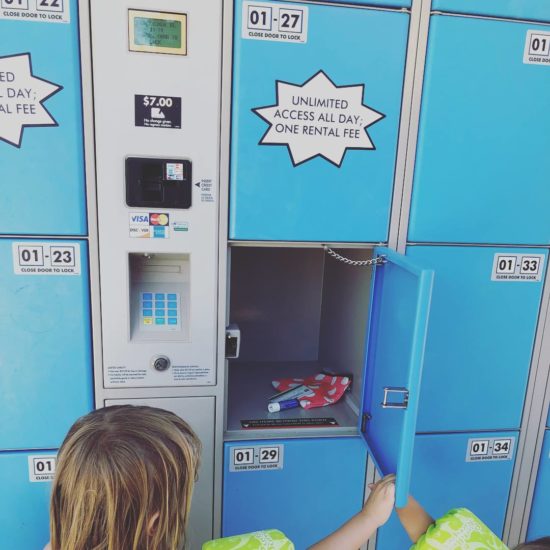 The systems are all digital and payable with a credit card via a swiper directly on the locker wall – so no coins or keys to keep up with! You swipe your credit card, choose a four digit code and then reopen the locker with the same reusable code. Then the locker system automatically pops the door open! My husband asked what happens if other people guess your code … since people usually pick something easy like 1234. I'm not sure about that. I'll have to ask about if there are any safeguards there.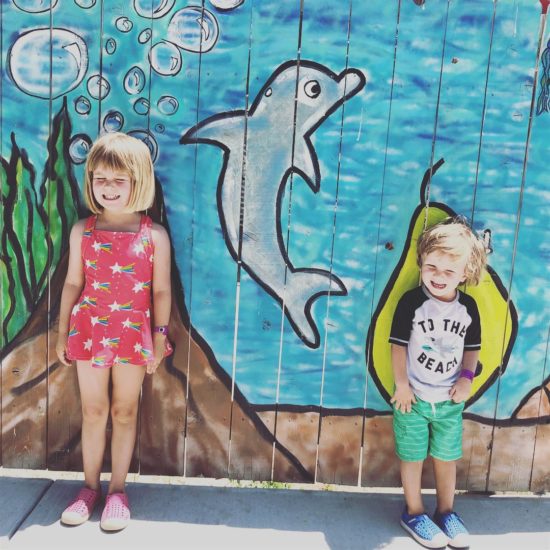 We've had such a good summer at the kids ages of 2 and 4 …. 100% better than the hot hot summer I was pregnant, the summer I was a new mom with a baby, the summer I was still a new mom pregnant again and chasing a toddler, the summer I juggled an infant and a 2 year old, and even the summer where I chased around a 1 year old and a 3 year old. For all the mamas out there who are going through all the stages I just described: I feel you. I SO feel you. I can say with experience tho that is GETS SO MUCH BETTER.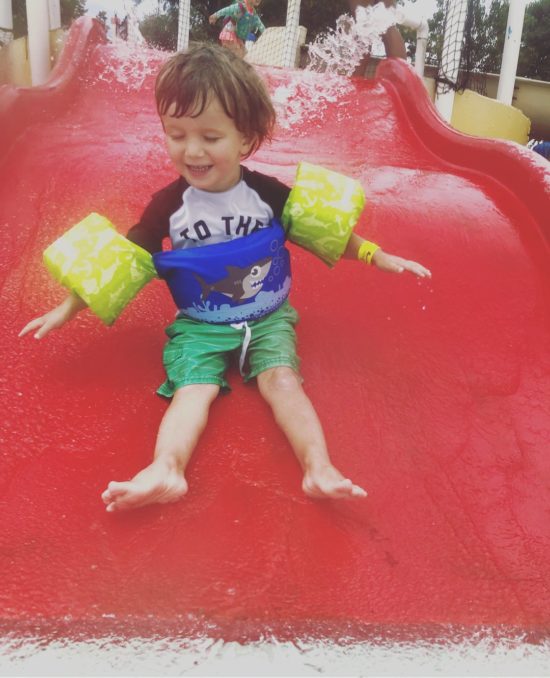 ---
MURAL

Another fave feature at this waterpark is the Paso Robles Youth Arts Foundation mural near the back gate. Have you checked it out yet?? So many cute sayings! Today's youth are so wise. We should give them more credit!! They even quote Paul Simon 😍.
Scroll through for some major life inspo:
---
SEATING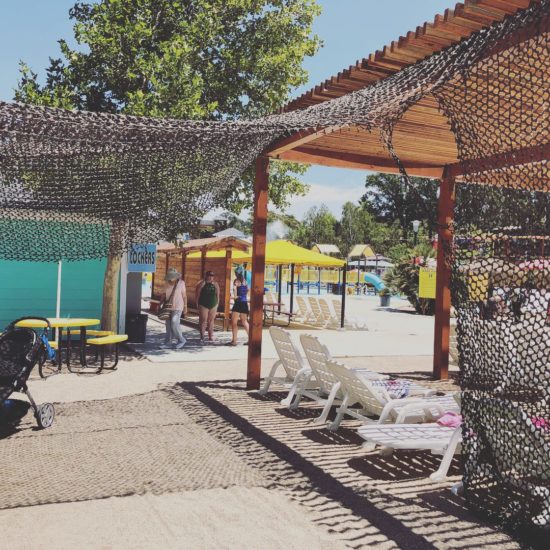 One time, we sat in a new (to us) area, with an interesting fish net shade thing and sand/dirt. It was kind of annoying getting the gravel on our wet feet and shoes, but the shade was nice and hard to find there. So it was a toss up. It was also right by the lockers which I liked. This seating is located on the west side of the park behind the wave pool.
There's also  some pretty cool looking seating under shade trees in the cabana area around the lazy river, except it's free seating not cabana seating.
I'd really love to try out a cabana 😂 (they cost money).
---
STROLLERS
I bring a stroller into the park, not so much to get the kids inside but to wrangle them when they're having the time-to-go meltdown at the end.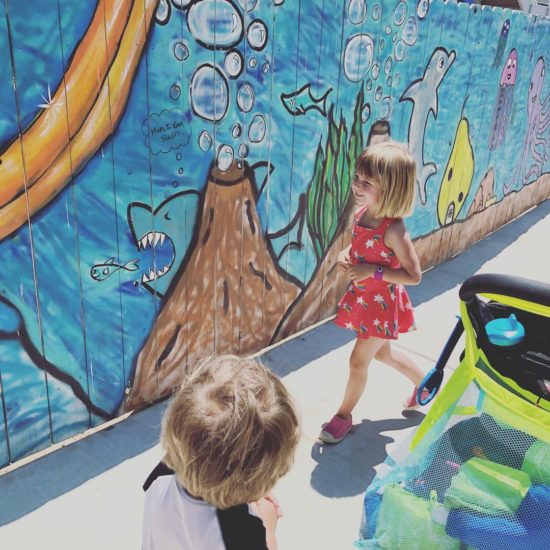 ---
ICE CREAM
Getting ice cream halfway through the visit is a great way to encourage the kids to take a break because otherwise they get super tired and cranky. The sugar recharge also perks them up.
---
COLD WATER BOTTLE FOR PHONE
It's 100% worth it to splurge for the large Aquafina water bottle from the ice cream stand, not only to give you some cold water to drink but also to lay that chilled bottle right on top of your iPhone when you inevitably get that "temp is too hot" warning screen. Totally fixed it during the ice cream break!
---
HANDY GEAR
Buy one of those $5 dry bags for your phone that you wear around your neck. I got mine on Amazon (affiliate link).
So much fun to be able to take pictures there and keep my $$$ phone on me.