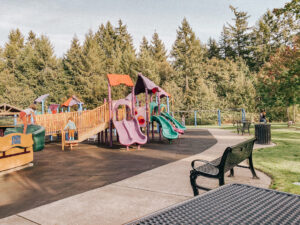 When I think of the best Gig Harbor playgrounds near me, Sehmel Homestead Park is easily the region's premiere recreational centerpiece in size, amenities, and inclusive play structure elements.
It's located at 10123 78th Ave. NW, just northwest of Gig Harbor waterfront.
---
Biggest Park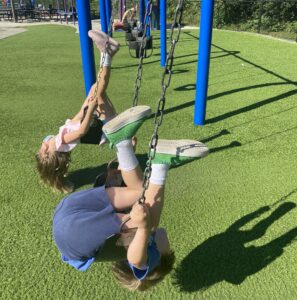 Once home to the Sehmel Family's historic settler homestead, the land where this public park is located encompasses a whopping  76 acres of meadow, a pond, wetlands, and a forest conservancy area alone. In addition to that, there are also 22 acres of "active recreation" with things such as sports fields, a community center, and a playground.
---
The property also plays host to several PenMet Parks events like its Summer Camp Open House and the popular Scarecrow Festival (linked our day there on IG). Wyatt even had his kindergarten field trip here!
---
Inclusive Features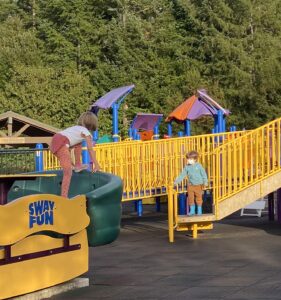 The park's playground is bright and fun in its rainbow of colors. My kids love the looooong line of swings so there's a good chance of snagging a seat. Overall, the park was designed with inclusivity in mind by offering several all-abilities features like structured swings and wheelchair ramps. It also has a multi-seat sensory structure that sways. Elsewhere at the playground, you'll find nice restrooms and lots of perimeter seating to join other parents to sit and watch (and maybe play on your phone – I don't judge).
I'd say this playground is almost always busy – but it's big enough that it doesn't seem to matter all that much.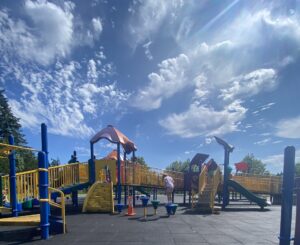 NOTE: While the playground seating is handy, it can get a little tricky to keep eyes on your kids depending on where you are. I've had to get up and walk around to find the kids behind a slide or under a platform before due to the orientation of the play equipment creating some blind spots.
---
Sports Fields/Courts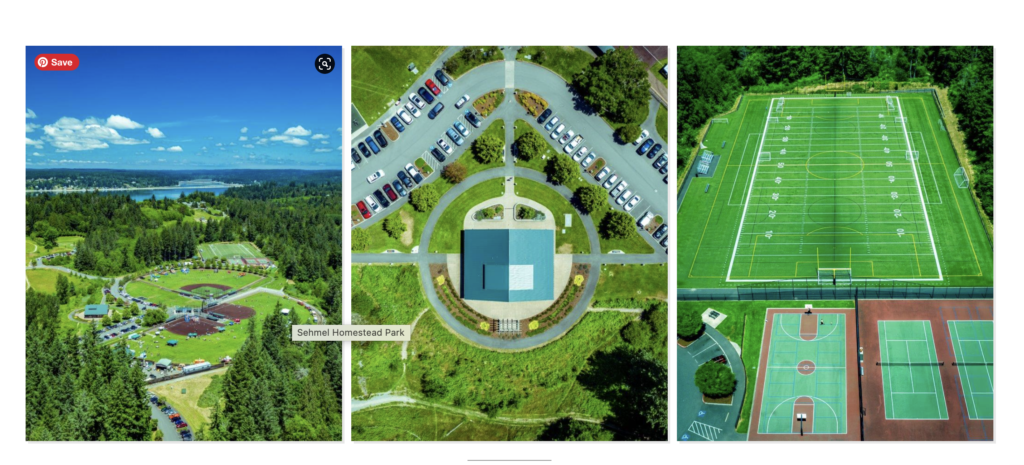 On either side of the playground, the sports fields are laid out in a fancy complex style with paved walkways and a seasonal concession stand for baseball, softball, and soccer; plus a tennis and basketball court. Clara and Wyatt haven't played any sports there yet but here are some clips of the sports area from Wyatt's visit. I also borrowed the PenMet aerials above from here.
---
Grass Amphitheater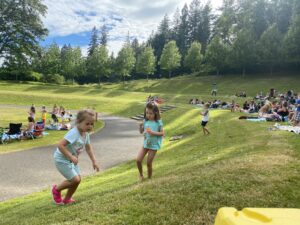 Out of sight from the main hub, a grassy outdoor amphitheater is a stunner in the summer – and is home to the rec organization's outdoor movie nights on the big screen. The kids and I saw Disney's The Little Mermaid there last summer. Take your first left after entering
---
the park off 78th Ave. NW road to find it.
Volunteer Vern Pavilion
Across the parking lot from the sports concession stand is this rentable pavilion for events. It also serves as PenMet's parks and rec hub for showcasing summer camps and its popular Kids Night Out events (and probably some other classes too!) Clara and Wyatt have done these and they usually involve pizza, a movie, and an activity.
(Update: PenMet's new Community Recreation Center is also under construction at 2416 14th Ave NW for classes, events, and administration).
---
IF YOU GO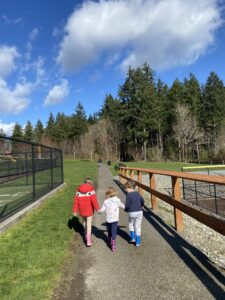 ADDRESS:
10123 78th Ave. NW,
Gig Harbor
, 
WA
98332
HOURS: All PenMet parks are open 7 a.m .to dusk
PARK + TRAIL MAP: here
MORE INFO: Call 253-858-3400 or visit here
FUN FACT: The Gig Harbor Demonstration Garden is also here.
---