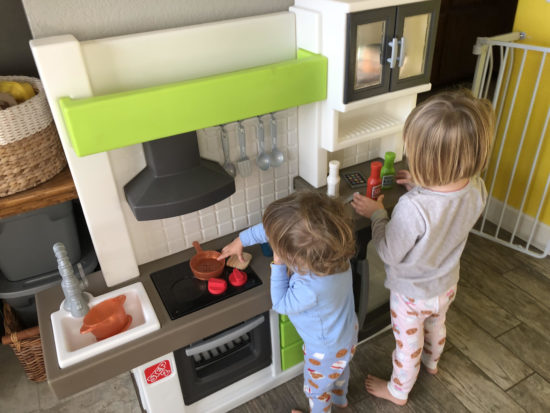 First, I gotta say thank you to Step2 for letting me test this Euro Edge Kitchen as part of the Step2 toy tester program.
Second, thank goodness for toy designers who really get what makes playtime fun because the kids loved this thing. We got it around Christmas time, and it kept their attention, had some engaging light-up features and lots of extra accessories including a smart phone toy and extra dishes … But, first, lets get to the important stuff — what was this giant play kitchen like in my living room? (#momtruth).
We received this product for free from the brand in order to review it, but all opinions are my own. For more information, please see my disclosure.
Q: Was it annoying?
A: No. Thankfully, there are no sounds with this kitchen.
Q: Did the colors make my living room look like a color-block preschool? Nope, again.  And all the hoorays for that. For me, I really like that the set is both fun for the kids but not a giant eyesore in my living room. Instead, its colors were seamless and contemporary.
Meanwhile, I especially loved that the large bag of accessories it comes with some super cute copper colored pots and some navy cups and dinnerware. Overall, this is a very solid play kitchen that has some fun and modern features without being overly obnoxious in the color department.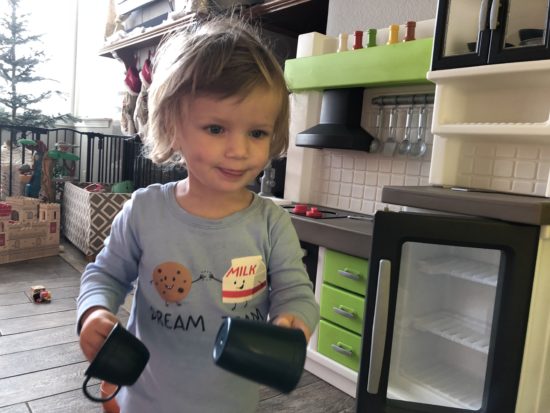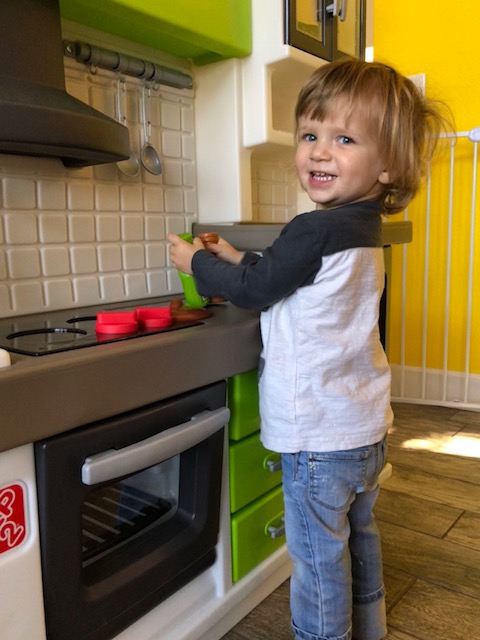 For the kids, they love opening and closing the fridge door with its snazzy light-up feature. The door is see-through, so the modern light looks cool through the panel.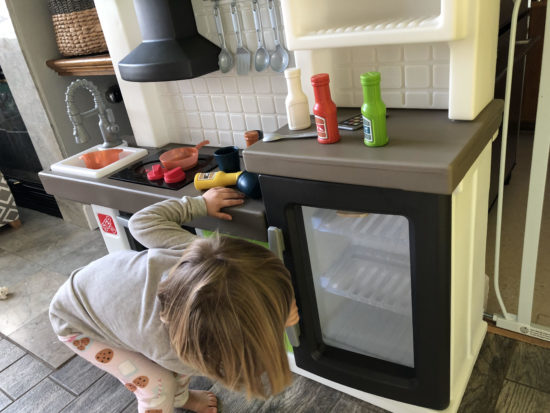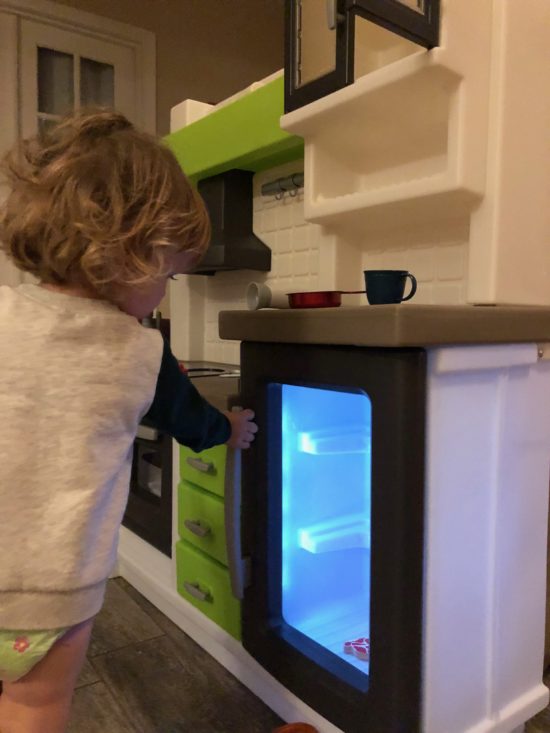 The kids also like putting toys in and out of the kitchen drawers and stacking plates and cups in the display cabinet.
In fact, there's a ton of storage space in this kitchen, including a spice rack that holds all the little spice bottles and other things. Including a few select toys big sister may want to hide from her little brother 🙂
Looking at the other features, my 4 year old daughter really digs that she can "heat up" food on the stovetop burners that light up red.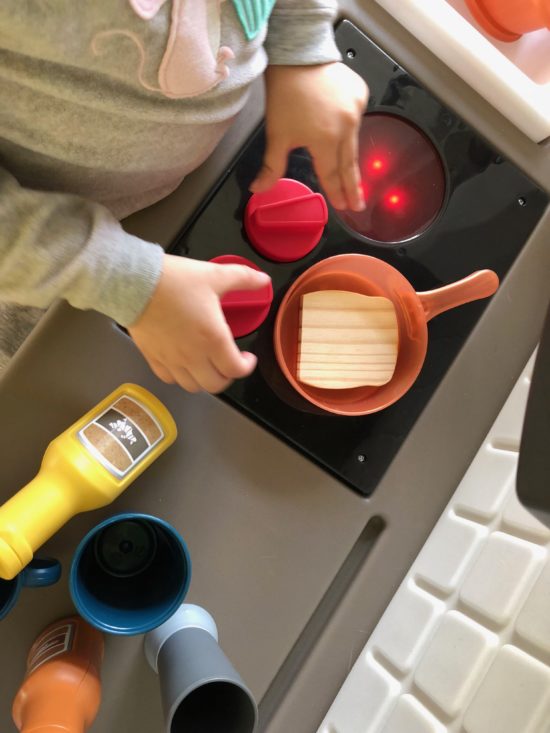 There are, however, two removable fridge trays that I wish were locked in because I keep finding them under the couch. The drawers also come out a little too easily. But neither are huge problems, just a preference thing.
---
And here's a rundown on what's included, from the Step2 website:
This modern, Step2 Play Kitchen allows kiddos to prepare their favorite meal in their very own kitchen. With the European styling and on-trend design, this play kitchen set is sure to be a hit for years to come! Open the over-sized refrigerator door and turn on the working LED lights to find all the ingredients inside. 
It also features:
Kitchen set oven features look-through glass window for junior chefs to see what is cookin' on the inside;
Oversized refrigerator door features look-through glass window and real working LED lights to let little cooks see all of their ingredients!
Glass-style stovetop burner brings the modern design feel to this kids play kitchen while featuring fun cooking lights and oversized clicker knobs;
Miele-style under mount sink features a gooseneck-style faucet with working faucet switch;
When playtime is over, little tots can put their cooking essentials on the molded-in shelves, in cabinets or hang their utensils!
---
RECOMMENDED AGE: 2 and up