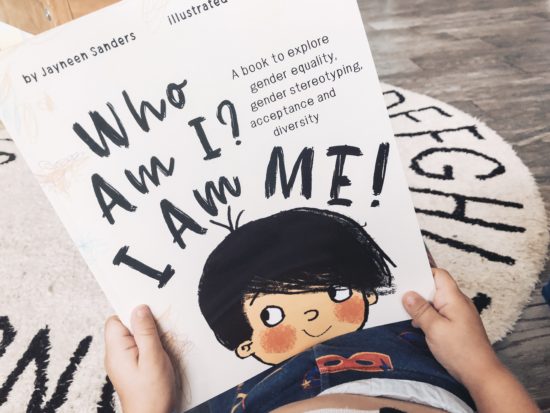 We were recently #gifted the children's book "Who Am I? I Am Me!" to review compliments of Educate2Empower Publishing. It's written by Jayneen Sanders // & illustrated by Diane Ewen.
---
---
My children's book reviews are a side passion project to help show my support of authors of color, female authors and independent authors. As a writer, I know how much work, love and integrity goes into each of these projects – big or small. It's important to me to help show the world that, too. These books are usually #gifted to me to review, but all opinions are my own. [disclosure]
---
The synopsis: 
Frankie loves dress-ups, playing soccer, visiting Grandpa, cooking pancakes, and so much more. Frankie loves what Frankie loves! The choice is always Frankie's. Allowing your child to do the things they love and simply be themselves is one of the greatest gifts you can provide. Through Frankie's active and fun encounters, readers soon learn that in Frankie's world there are no gendered roles — kids are just kids! Also included are Discussion Questions for parents, caregivers and educators, and extra tips on how to reduce gender stereotyping.
Overall, this is a good book to have in your child's collection. The writing is solid for our kids' age group (2 & 4+) and the illustrations are cute, modern and fun. For the subject matter, I think it's never too early to teach our children about how to work against stereotyping of any kind. And this book does it with an approachable little kid story with optional questions and answers to dive into on each page, and in the back of the book.
The pages of "Who Am I? I Am Me!" celebrate Frankie, a character whose gender-neutral little kid self plays dress-up with tutus and a firefighter hat and does what Frankie wants! As the story goes … "readers soon learn that in Frankie's world there are no gender roles — kids are just kids!"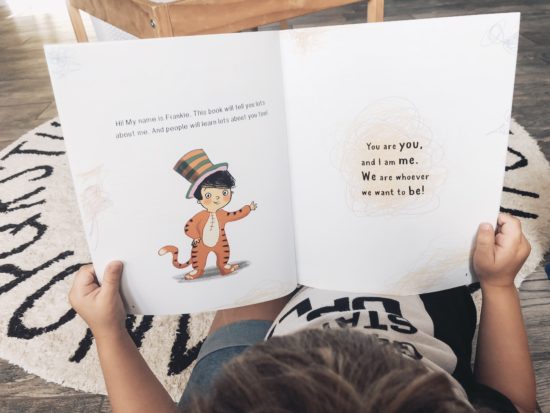 Its concepts help lay the foundation of acceptance of someone or something different. It's about teaching kids that they can live the life they want, in whatever way they choose – and not care so much about what other people think. And that's a sentiment I believe truly in – and one I hope to pass on to my children. So I'm happy to have that lesson in a book. In fact, on each page, there's a kid-friendly question built in to encourage more dialogue with your little.
You can find this storybook for $9.95 in paperback in our Amazon Shop (affiliate link).