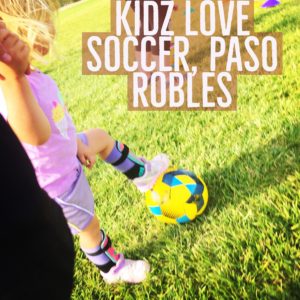 Last summer, my then-2-year-old participated in the Kidz Love Soccer Mommy/Daddy & Me class at Barney Schwartz Park in Paso Robles. The 30-minute class is organized through a national program but offered through the city, and was $117 for eight classes held once per week. You can see the classes offered for 2017 here.  Just type in your city's zip code and the class you want, and the search form brings up all the available times. If you're in Paso Robles, like we are, you can also search classes through the city's recreation website.
What you need for this class
Soccer balls and the related gear is provided at class, and your child even gets their own Kidz Love Soccer shirt to keep. When you register for class, the notes online indicate that shin guards are required. So that's what we bought. But in researching info for this post, I just found on the Kidz Love Soccer website's FAQ section, under"What should my kids wear?" a note that said while shin guards are required for most classes, they aren't required for the Mommy/Daddy & Me class. Huh. That would have been nice to know last year.
Anyway, we didn't know that then, so we had to search for the most adorably small 2-year-old shin guards they make. We found some cute size small Adidas ones in pink and green at Big 5.  We also heard that Walmart and Target had small sizes. For other gear, your kiddo just needs regular sneakers, socks and any type of shorts.
All of this was actually really fun to prepare for. When looking at classes to take last summer, soccer seemed fun and different. Plus it was something Daddy could join in on after work.
Other than that though, I didn't really know what to expect with a kids soccer class. The description for the Mommy/Daddy & Me level session (the youngest level Kidz Love Soccer offers) said the class was for ages 2 to 3 1/2 and that parents were expected to participate. That worried me at first. My son was 6 months old at the time, and if Daddy worked late, it was up to me to bring both kids alone. Usually that's fine, since I'm alone with them all week. But I had our doable baby-wearing activities down to a science and I wasn't sure running on a soccer field was among them. So I called the city and asked how intense the parent participation part would be, and they assured me that it would be fine.
And they were right. It was a pretty chill class. You gather around a coach and do a little cheer at the end of class after getting a ball to kick around.
Class consisted of the coaches passing out laminated sheets with numbers and colors and the kids used them to complete little missions. Like kicking a ball across the field to different colored flags. Or kicking the ball into small towers of stacked plastic cones.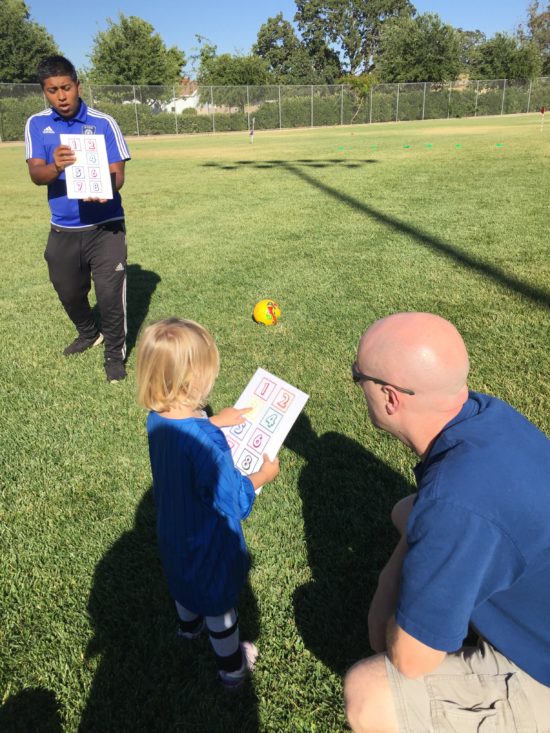 I was surprised. I guess I was picturing tiny people soccer games with teams and Posh Spice on the sidelines. Or something. I mean, what do I know? I was a journalism kid – Not a sports kid. But apparently in the six or seven levels of difficulty that Kidz Love Soccer offers, kids don't play a game of actual soccer until the fourth level class, Soccer 1: Techniques & Teamwork for ages 5 and 6.  Also, I should note that Kidz Love Soccer website says the program as a whole is designed to be non-competitive. It specifically says: "Our goal isn't necessarily to produce the next David Beckham — it's to produce a generation of kids who love sports and are good sports."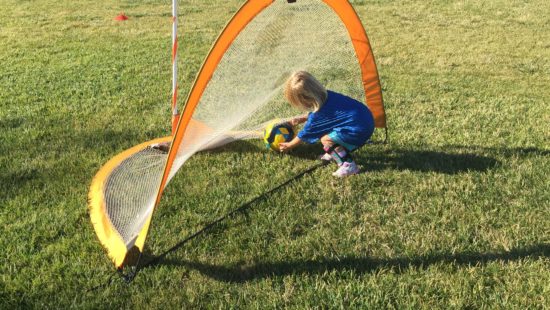 In fact, the FAQ section also address why the kids don't play more traditional soccer during the program:
While many soccer programs are busy using adult-like skill drills to hammer home the fundamentals of soccer, we approach coaching from a child-centered perspective. In other words, we make learning fun for kids. We put instruction into a context children understand using special techniques designed around how kids naturally learn. At Kidz Love Soccer we not only teach your child the fundamentals of soccer, but we also focus on developing the whole child. Our program helps develop a child's social, emotional and cognitive skills while exercising the child's body and creating players who are well-balanced and conscientious, on and off the soccer field.
So, that's nice. What really mattered to me anyway was that class was SUPER CUTE for pictures and video. Here's one of my daughter kicking in slow-motion. Just because.
Then there were the uniforms. Like I said, class required shin guards.  And we had to buy the teeniest tiniest shin guards they make. All the cashiers at Big 5 were totally smitten. After Googling how to wear them, I see now we didn't even put them on right. I guess you're supposed to wear them under the socks. Which I don't even really get because why would they make shin guards in cute colors if they were meant to be covered up?
Pretty sure that's my Elle Woods Moment Of The Day.
We also busted out the tiny sneakers and soccer shorts. Gah. When she received her Kidz Love Soccer shirt, a size Youth Small was the equivalent of a mini circus tent (with the short sleeves going all the way down to her wrists). But that just makes it cuter, amirite?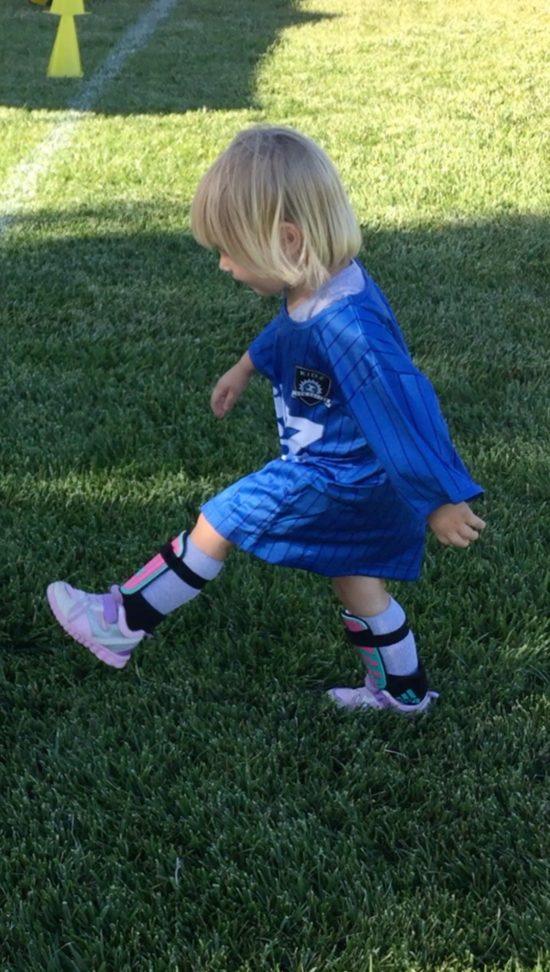 So, for all of those things, yes, I would recommend Kidz Love Soccer.
But, as my high school journalism teacher would always say,: "HOWEVER, COMMA".
The summer sessions in Paso Robles are ridiculously hot.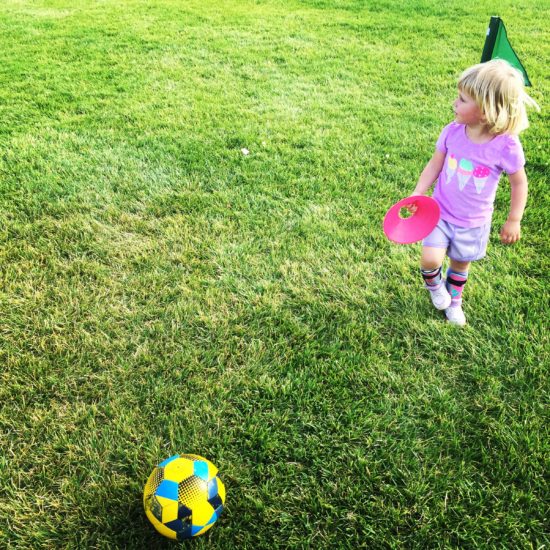 Like, too hot to even go outside to check the mail much less run around and be active in. Our particular session happened Tuesday evenings from 5:25 to 5:55 p.m. from June to August. I picked the 5:25 p.m. class because we wanted Daddy to attend after work, and because the morning class didn't work with our schedule. But what I didn't realize was, it's still more than 100 degrees on most summer evenings in Paso Robles.  All the required water bottle breaks in the world couldn't save us from that heat.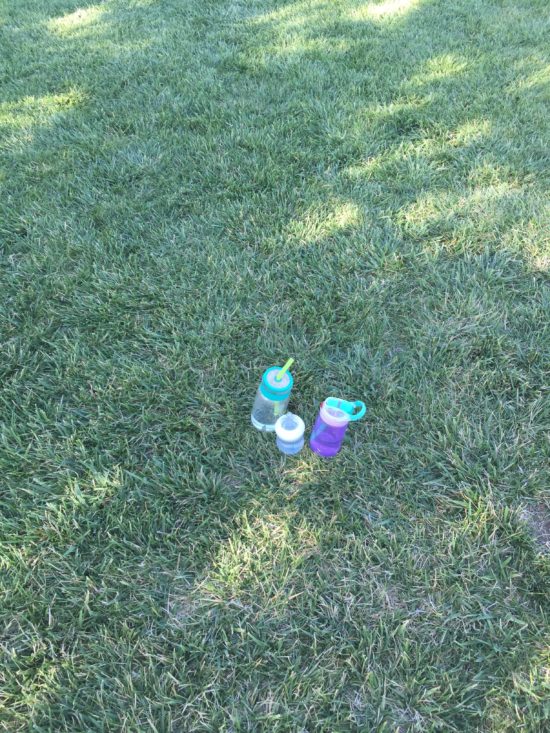 Baby wearing during all of this was also very difficult. For me, and for the hot and sweaty baby I tried to keep happy.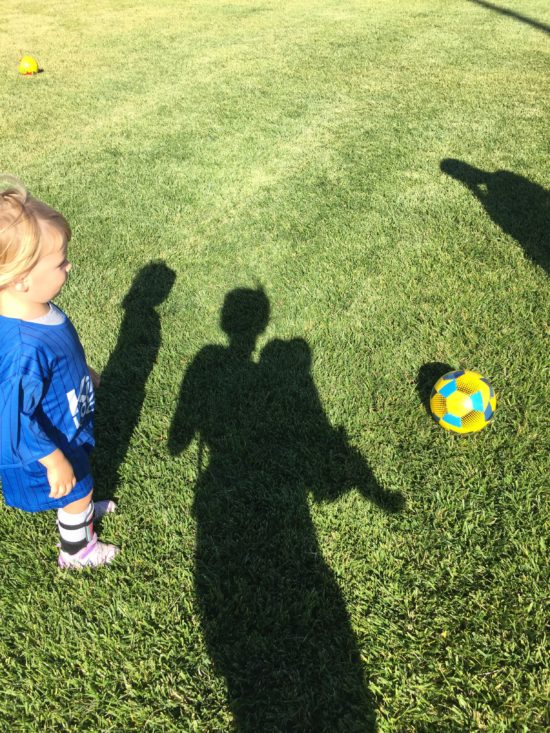 So basically almost all the kids dropped out of our time slot. We were the only ones there some days. And on other days we were the ones who skipped class. But, like most activities of this nature, class was prepaid upfront so you don't get refunds on the days you don't attend. That would be fine if we were sick or something, but when you want to go but it's just too damn hot to — you feel kinda gypped.
One thing I totally appreciated, though, was that Kidz Love Soccer offers an iPhone app to alert you if your class is canceled for whatever reason.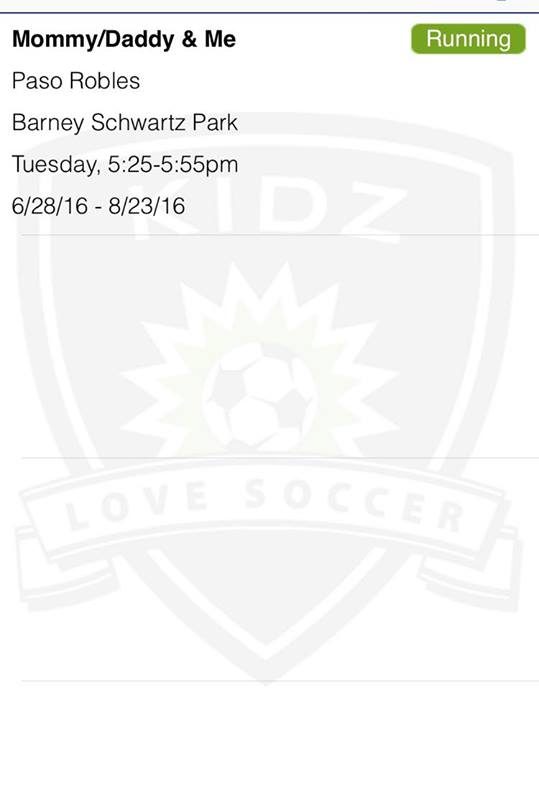 Our class was happening at the same time last year as the Chimney Fire in nearby Lake Nacimiento, so the air quality was bad on some days and the app alerted us to a canceled class for that reason. But then other days, it was 110 degrees outside and class wasn't canceled, which I thought was dumb. But at least there was a handy app to consult in order to know for sure.
So, while I do recommend taking this class, I don't recommend it for the summer. Or, considering it's hot af through October here, maybe not even in the in fall. At least not in Paso Robles.
According to this list, though, other SLO County cities that offer Kidz Love Soccer classes (not camps) include:
Arroyo Grande
Atascadero
Nipomo
San Luis Obispo
Santa Maria (well, that's Santa Barbara County. But still.)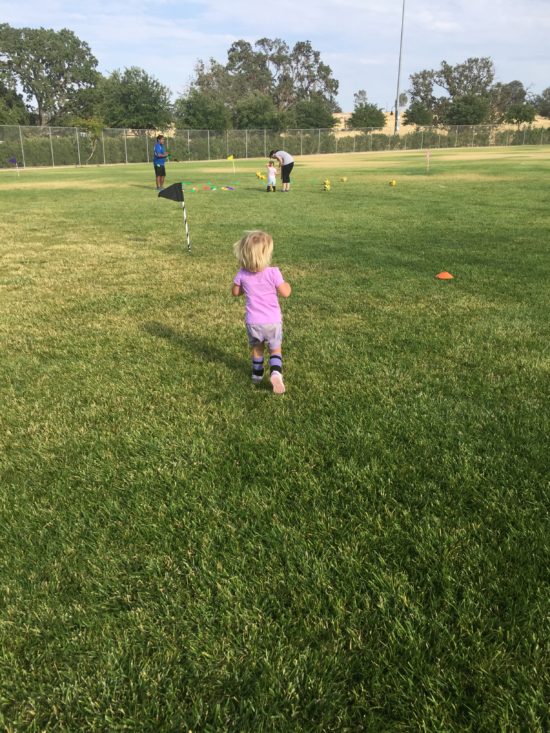 So maybe we will see you out there! … In the spring 🙂