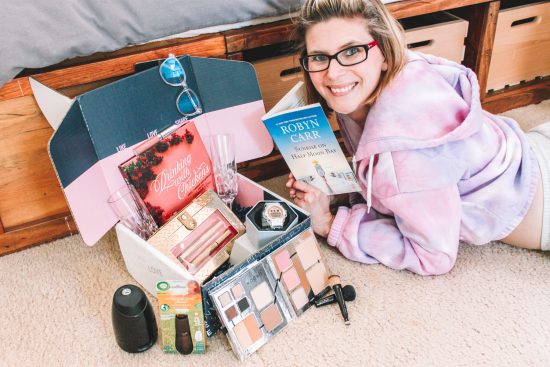 Ah, the age-old Mother's Day question: when you find something cool, do you keep it or gift it to yo mama? Haha. It's so hard to decide with this box of goodies Babbleboxx sent last week!
Either way, it's time to pamper, relax and sip – because here's our Mother's Day Gift Roundup!
---
This post is sponsored by BabbleBoxx and may also use affiliate links.  For more info on all that, check out my disclosure. 
---
Babbleboxx is encouraging families to celebrate Mother's Day all month long (no complaints here!). Here's a quick look at some gift ideas for you or your mamas. Anyone in need of a promo code?? I got you. Brands that offered discounts are marked with a ▶ symbol below so you don't miss out on any deals!
---
Blue Light Blocking Lenses in style 'Hepburn' from EyeBuyDirect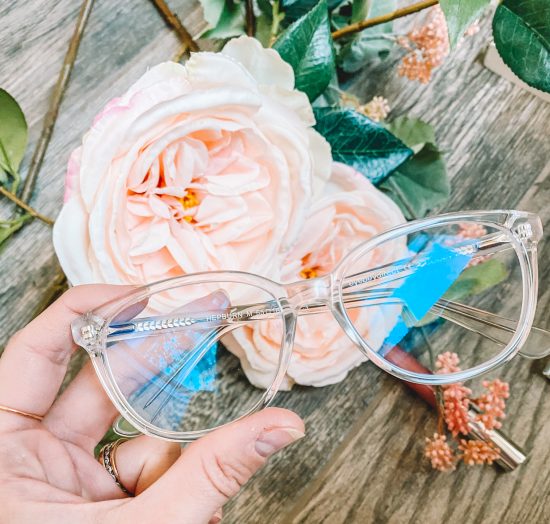 Is it just me, or have blue light blocking glasses been all the rage lately? I was excited to finally try a pair on!
Blue light is a harmful portion of light emitted by cell phones, tablets, laptops – you name it! All the things we are all using 24/7. Wearing blue light blocking glasses can help protect your eyes against digital eye strain, reduce headaches, and improves sleep quality. You know, just lookin' out for ya, mom.
Plus, these Hepburn Frames from EyeBuyDirect are too cute!!
No old lady specs here. To me, they give off retro vibes in the shape, but clear frames are way in right now. They're made from acetate for durability and spring hinges for a flexible fit.
▶ Use code MOM25 for 25% off orders over $65. Valid until Nov 1, 2020.
---
Sunrise on Half Moon Bay novel, by Robyn Carr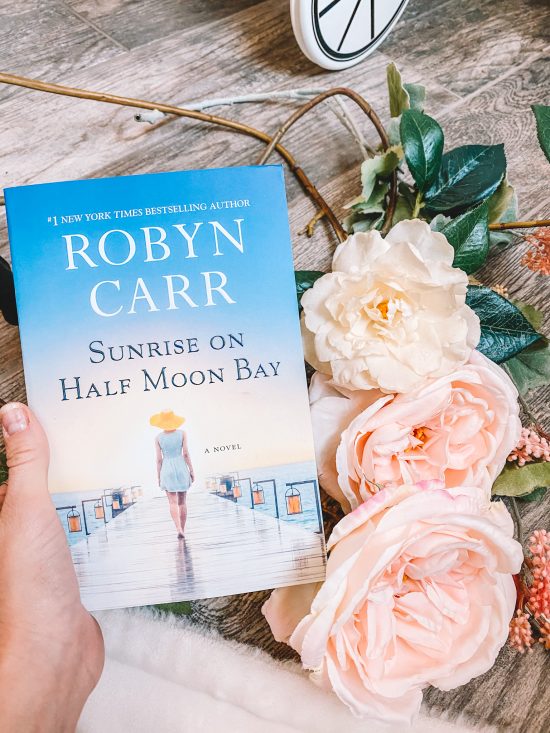 Who knew Harlequin Romance novels made heartwarming women's fiction, too?
Sunrise on Half Moon Bay is a story about family. Share in the journey of two sisters decades apart who find the strength to accept their failures and overcome their challenges.
This new release is from the #1 New York Times bestselling author of the popular Netflix series, Virgin River.
The book is published out of Harlequin Enterprises's MIRA books imprint, which features titles from thrillers to chick-lit. Who knew?
Sunrise on Half Moon Bay is the perfect springtime/summer read for Mother's Day or yourself. You can buy it on Amazon, Barnes & Noble and Bookshop.org.
---
Drinking with Chickens: Free-Range Cocktails for the Happiest Hour, by Kate E. Richards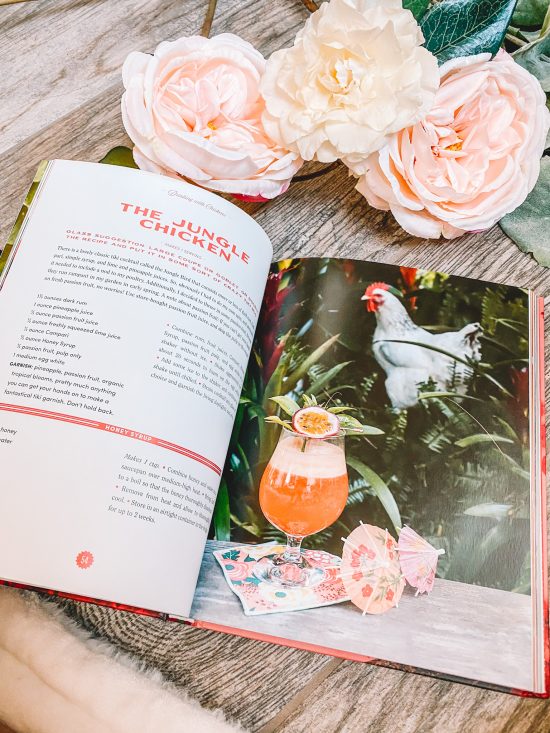 OK, this one is kind of funny. But in the best ways! Flipping through Drinking with Chickens: Free-Range Cocktails for the Happiest Hour, by Kate E. Richards from Running Press will have you swooning over all the Instagram-worthy pics of the seasonal cocktails Richards serves up from goodies from her Southern California garden.
Adding a twist, in each photo she decided to photograph her beautiful drinks with her chickens in the background – which is so weird but also so dang cute, right?! And super on-trend because everyone and their mother is getting chickens right now.
Maybe that's what makes it the perfect Mother's Day present. Plus, the book is super pretty. It would make a great coffee table book or kitchen staple.
---
G-SHOCK Women's Watch from Casio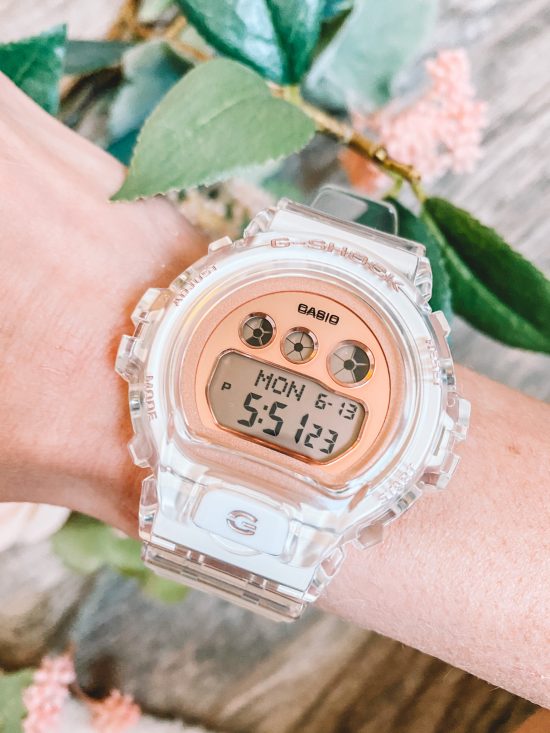 Several years ago, I started wearing watches to bring more bling into my mom-life uniform of tees, sneaks and black leggings. And even though I wear jeans now *sometimes,* this G-SHOCK stunna with its clear band with a rose gold face isn't letting me down.
This watch is made to be tough for moms on the go. It's designed with shock resistance and 200M water resistance. I don't know if I'll be doing any dives or lap swims to test that out anytime soon … but I know I'll appreciate that durability at the kids' bathtime when I accidentally dunk my whole arm into the bathwater! (Been there, done that). It also features a stopwatch with daily alarm options, countdown options and all the things. There are three models in the G-SHOCK series to choose from. Here I'm wearing model GMDS6900SR-7. Also, oops!! I just realized I totally didn't set the time before taking this picture!! Welcome to the future of Monday June 13. Lol.
You can read up on this watch here.
---
Lash Fix It Kit from Grande Cosmetics
The Lash Fix-It Kit by Grande Cosmetics does it all – but can we talk about the adorable box it comes in first?! It features a snap closure and is totally reusable to tote your makeup in! I love stuff like that.
Now back to our regularly scheduled programming … this two-step set features a full-size GrandeLASH-MD Lash Enhancing Serum and GrandeREPAIR Leave-In Lash Conditioner.
Lash care is majorly on-trend these days and everyone wants to know the secret to great lashes. The lash serum works to build longer, thicker-looking lashes with vitamins, antioxidants, and amino acids. Just swipe the little brush over your lash line, like you would with liquid eyeliner. Since I just got the product last week, I haven't seen the magic just yet but Grande Cosmetics says you'll see results in 4 to 6 weeks, with full results in 3 months.
The lash conditioner uses a biotin peptide to help protect against lashes falling out and breaking. It also has the same easy swipe application as the serum, and you can wear it under mascara during the day or alone at night. Or, alone during the day, too, if you're into that. You do you, girl.
---
Fluted Champagne King Edward glasses by Gorham Crystal from Replacements.com
As much as I love my stemless wine glasses from 2005, sometimes a mama just wants her bubbly in something pretty like these
Fluted Champagne King Edward by Gorham Crystal
, gosh darn it. These babies are made with blown glass crafted in Germany and are sure to dress up date night, home spa day … orrrr if you're anything like me – a nice Instagram swiping/cocktail sesh on the couch! I remember when Bowen and I were doing our wedding registry in 2011 and learning about all the different types of glassware and barware staples to get. The wine glasses and flutes were the most interesting because we learned that the designs are specific to function and taste, not just presentation (though that helps, too).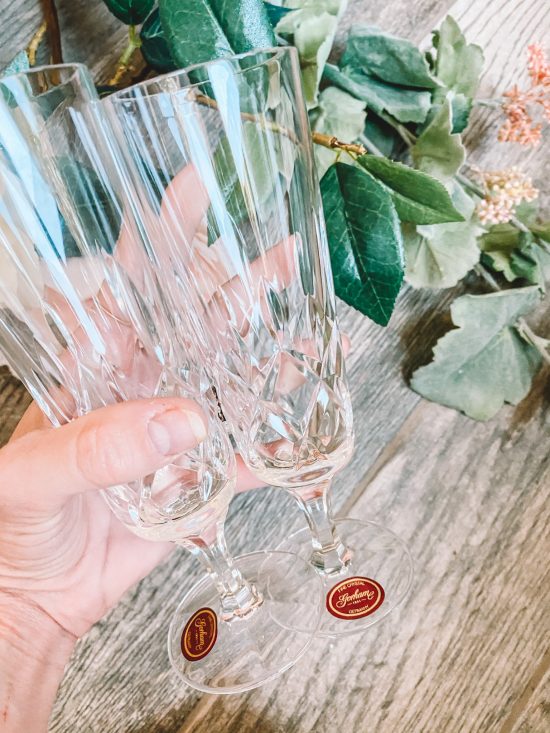 For example, didja know that fluted champagne
glasses
help sparkling wines keep their bubbles? The tall and skinny shape reduces the surface area of the glass so the carbonation can't escape. Crazy right? Yay for saving all the bubbles in your mimosas, bellinis and champagne
cocktails
.
They also make you look fancy! I mean, I look pretty refined, right?! 🙂 There's also
other barware
on Replacements too.
Fun fact about this company: Founder Bob Page started Replacements LTD in 1981, selling mail-order antique dishes and glassware from his attic. The company has since grown into the world's largest retailer in its category both new and old merchandise. While inventory is sourced from estate sales, auctions and antique stores, some of it comes new directly from major brands. Fun facts.
If you're strictly looking for replacements, the Replacements website also has a pattern finder
search tool
if you don't know the name of the item you're looking for. I think that's pretty dang cool.
Pretty sure we used this company to replace a few missing spoons from our silverware collection that have disappeared over the years.
▶ Save 10% off orders $125+ with promo code: MRBB10TS and 20% off orders $500+ with promo code: MRVV20TS. Valid thru 5/31/20 11:59pm PT. Valid one time per household Offers cannot be used to purchase Rolex watches, gift cards, combined with other promotions, offers, or discounts, or redeemed on prior purchases or exchanges.
---
WOOSH Beauty Fold Out Face Palette & Spin-On Lip Gloss
The magic behind this set is it's an all-in-one makeup palette for busy moms! The fold-out palette has sections for a full face of makeup, including: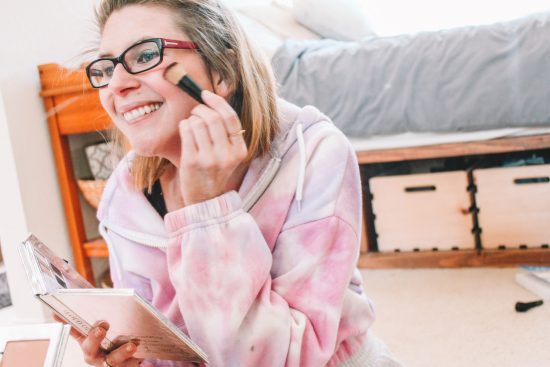 4 eye shadows
2 concealers
2 contour powders
2 blushes
2 foundation powders
1 highlighter
4-in-1 brush set
There are different shades to choose from online, and I chose is palette #2.5 in Medium Tan, as pictured here. Things I like about this makeup – the blush is super pigmented and I totally dig that. Blushes always brighten my face and I'm obsessed. This one has a super girly look to it.
The 4-in-1 brush system is also a no-brainer. I can guarantee you I never use the right brushes for the right makeups before this. But this kit has numbered brush heads to correspond to the numbers on the palette of the product which they apply for a "paint by numbers" simplicity. Whaaat?? So cool.
The makeup is mineral-based, fragrance-free, and it's not tested on animals.
---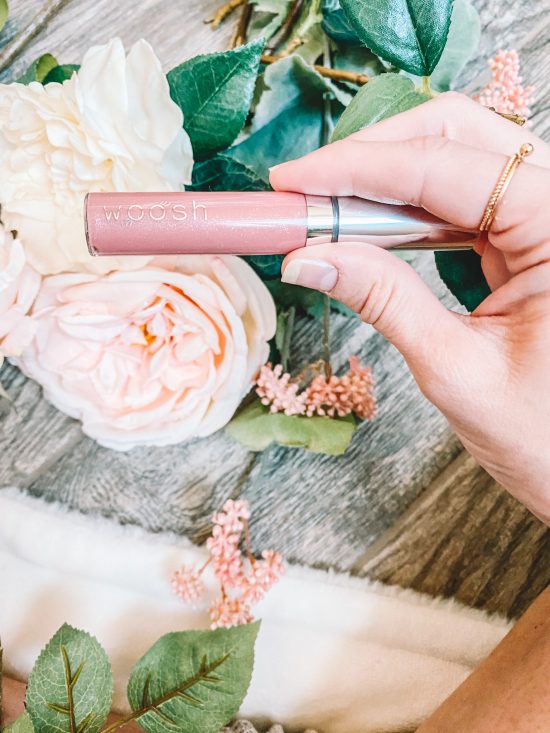 Sold separately,
this Woosh Beauty – Spin-On Lip Gloss
has a fun application – its applicator sponge brush thing rolls over your lip! I don't think I've seen that before. But that's where the "spin-on" part of its name comes from. It's not like a rollerball, but the entire brush head rolls along the lip as you swipe it across. It's also non-sticky, has Shea Butter and is 100% vegan. It comes in  8 semi-sheer nude tones. Pictured here is Beige Frosted.
▶ Use code WOOSHWITHME to get 25% off. Or, click here to get the 25% off discount automatically applied to your order.
---
Essential Mist Diffuser from Air Wick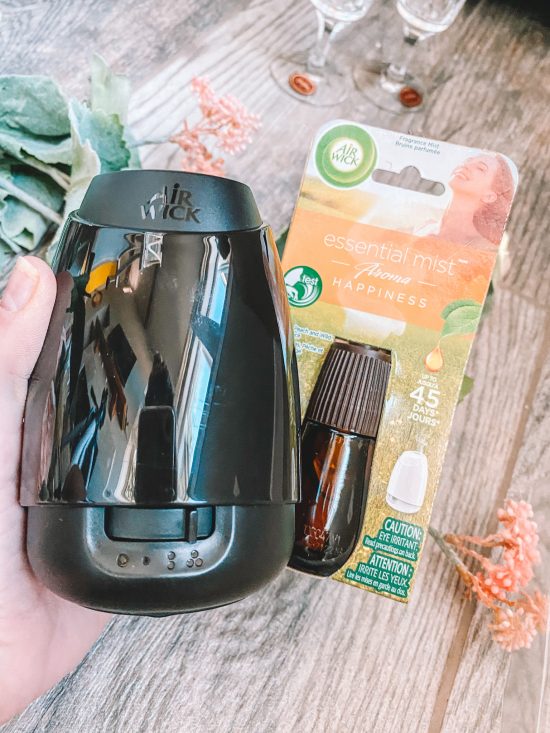 My mom is obsessed with candles for the way they make the house smell like homemade cookies or fresh-picked flowers. But I think after seeing this Air Wick Essential Mist Diffuser , she'll jump on board with this, too.
This diffuser uses nature-inspired fragrances to fill homes with a mist that lasts for up to 45 days.
It comes with options, too. Since it runs on batteries (3AA batteries included!), it's portable and you can set it to run for 8 hours before it automatically shuts off to conserve battery and refill life.
Other settings let you pick the fragrance intensity. Apparently, AirWick is big on nature- inspired fragrances, with selections in fresh, fruity and floral. The scent featured here is called Happiness (and who doesn't need a little more happiness!) mixing pineapple, peach and wild mint.
---
And that's a wrap! Happy shopping!