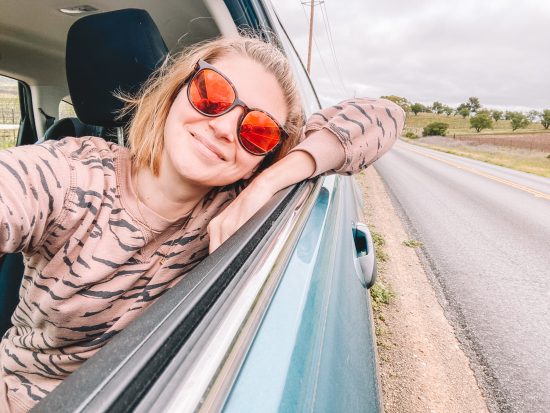 Now that you know my story about how I ended up as a blogger I want to share something with you that I've been writing, deleting and re-writing again.
I intended to present this blog from my role as a writer.  But over the years, something else happened. People saw me instead.
For so long, I was programmed to be the journalist – the objective observer.  The writer who takes herself out of the story, hovers above it and presents the information so readers could form opinions of their own. But now, with this blog, those same readers saw me in the story.  Even before I saw it for myself.
So I'm stepping into my story now, because, this time, it's my story to tell.
---
In December, I made the commitment to attend Suzy School, an influencer conference where I'd learn to better monetize Instagram and be the boss babe I was meant to be. But instead of just dishing out all tips and tricks, founder Suzy Holman wants to break it down so her students can build it back up with a clear head and clear goals. Her first homework assignment: to identify my gift. In this exercise, a gift isn't anything I "do" but who I "am".
The lesson goes something like this:
Suzy: What makes you, YOU?
Me: Well, duh. Journalism.
Suzy:  But, why?
Me: Because I'm a good writer and researcher. I'm also pretty easy to talk to.
Suzy: Nope. That's not it either. What about you draws you to those roles? WHY are you a journalist?  What characteristics about you make you good at those things?
Me: ….
Not knowing the answer, I did what any millennial would do – I turned to Facebook.
My Two In Tow Facebook readers have been following me all these years, many of them since 2009 when it was my reporter's page. So I asked them: what types of vibes do I give off in my posts? Why do you follow me?
Lo and behold not one of them said, "because you're a good writer." But I'm not mad about it. Because, honestly, they said the nicest things. And I'm pretty sure I'm going to print out all of them and hang them on my bathroom mirror forever.
They said:
"Your realness, sense of humor about parenthood, and your happiness. You just make it so easy to watch your Instagram stories when you seem like such a cool person"
"You're relatable, friendly, kind and inclusive. 😊 You always come across as a real person — kinda goofy, not perfect, always genuine."
"You're adventurous, brave, real, down to earth and you really love your family"
"You have the most beautiful and real energy about you! I feel it every time we talk and with every post you post. You are the real deal."
"You are relatable and honest."
"Your honesty"
"You're spunky"
After reading these, I wrote down some ideas for my Suzy School homework: People don't follow me because I present information, they follow me for me. (Yep,  the song "She Likes Me for Me" stuck in my head for days now). I even went into my posts insights on Instagram and discovered that the pictures where I'm in the shot do better than pictures of pretty places or just of the kids. Say whaaaat?
I mean, I get it. I'd want to hang out with me, too. I do it all the time 😉.
In all seriousness, though, my eyes are opening to what I'm really about. And I intend to show up as ME from here on out.