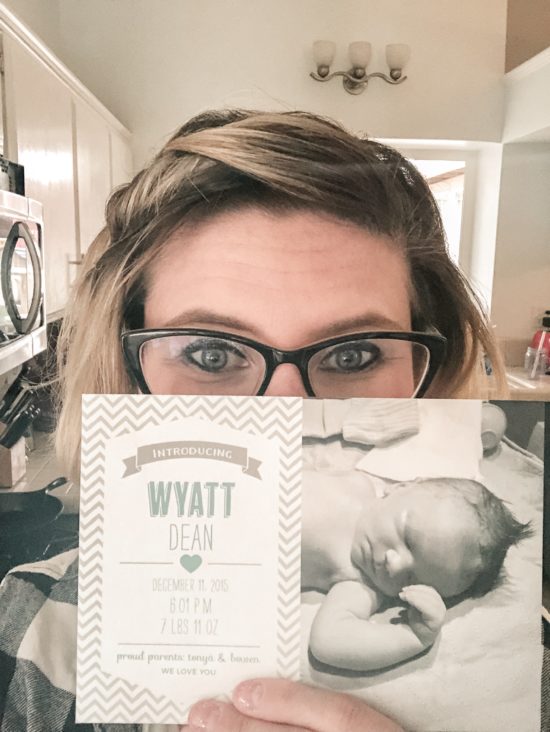 Once upon a time there was a mom who had two children.
After the birth of Baby #1, the mom's family and friends got super cute baby announcements printed on nice stationary after a lovely newborn sesh with professional photographer.
After the birth of Baby #2, the mom's family and friends got … the most sincere Facebook post she could muster between toddler tantrums and a newborn attached to her 24/7.
Lol. Cute story, right?
But, you guys! Wyatt legit never got a baby announcement. I have Clara's all nice and framed in our living room alongside a regular pic of Wyatt with his birth stats scrawled on it in SHARPIE. #secondbabyproblems.
That's why I'm excited to be reviewing Basic Invite. This Utah-based company offered me several complimentary items of stationary to design in exchange for my honest review. (For more info on all that, please see my disclosure).
So I finally made Wyatt not one, but TWO, birth announcements! Three years later – LOL. But hey, who's counting? I'm not going to mail them out but I am going to frame one 🙂  I also ordered a set of business cards for the blog, a see-thru business card just for fun and custom envelopes with liners, because … fancy!
The custom stationery company offers "a card for almost every major life moment including weddings, a baby shower invitation, birth announcements, first birthdays, graduations and more," according to its website. (There's also some super cute and on-trend western theme baby shower invitations and lumberjack baby shower invitations right now).
And that website, my friends, is awesome. I like it for five main reasons. Which – spoiler alert – leads me to my…
---
Five Reasons to Love Basic Invite
1. You can customize by color. So many colors.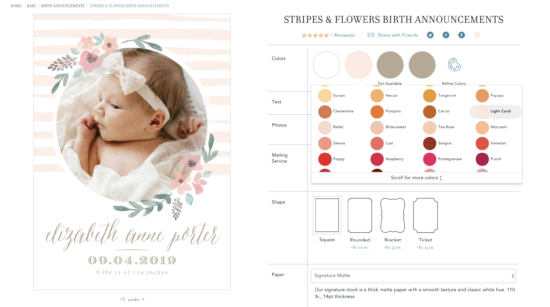 189+ color options, in fact. To get to them, all you do is just click on the color circles already suggested for the card, and then a rainbow of swatches appears and you can change it. For Wyatt's birth announcement, I chose a custom dark mint color option for the text. This design is called the Trendy Chevron Birth Announcements and you can find it here. The cost starts at .89 each.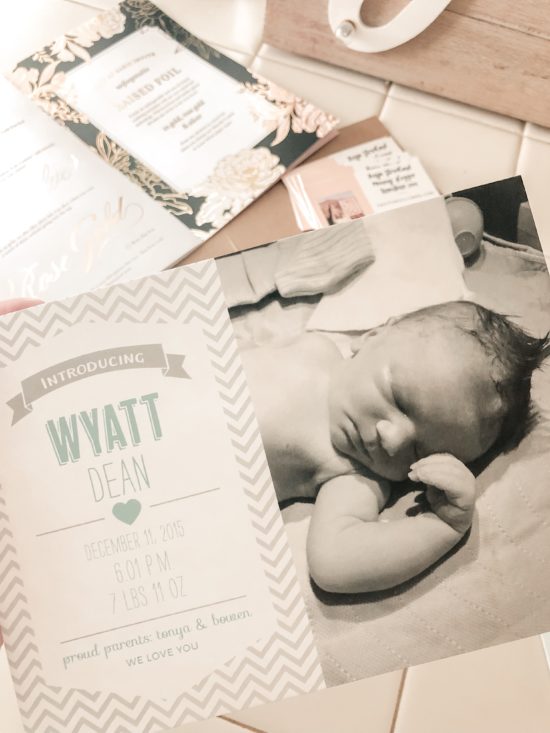 ---
2. You can upload your own designs
… A super handy feature for a blogger with a logo. I used this feature when designing my new business cards. And these suckers are some lovely pieces of stationary!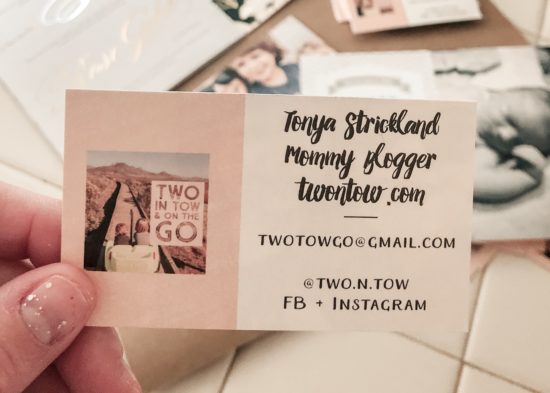 I'm really excited about them. Because a major Two In Tow business card update was definitely needed. Wyatt is still pictured in the Ergo in my first set of cards two years ago and he;s three years old now,
so …..
I picked this shot for my new logo, of the kids and I at the oh-so-scenic Marina Boardwalk in Morro Bay, California.
Basic Invite let me pick from a bunch of fonts, and I could change the peach half to match my custom HTML color code from my website and theme materials. Super handy.
These particular business cards are printed in Premium Shimmer cardstock and I wish it would show up in my photography because it looks way pretty. (The shimmer paper is pearl white with a smooth finish to add a subtle shine and glow, according to the website). I think it's an extra 20 cents per card.
This is business card is called the Photo Logo Business Card and you can find it here. The price starts at $.17 cents each. I also uploaded a photo of all three of us to the back.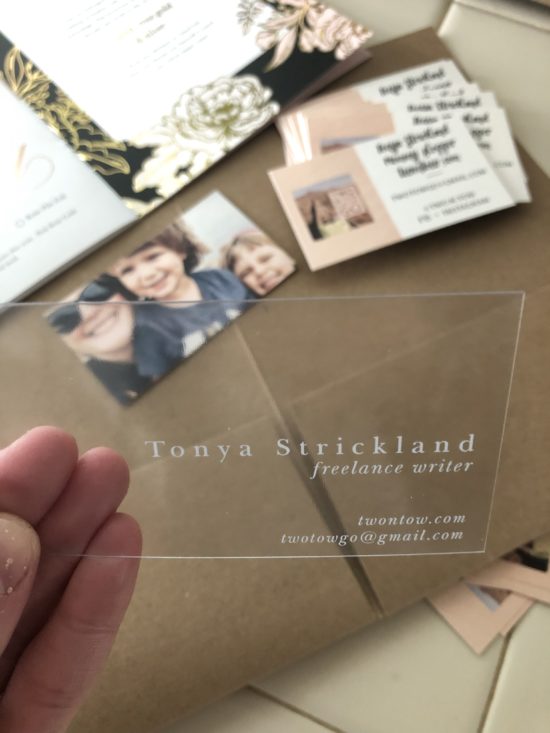 I also ordered one of the Script Initial Clear Business Cards just for fun. And they're totally clear! Never seen this kind before. For this design, I just used my own name and wrote Freelance Writer under it instead and going with the full blog them
The verdict? I think it looks pretty classy.
---
3. The designs are contemporary and on-trend
I'm all about calm and easy colors and styles. Nope, nne of that primary-color kid jungle print for me. But from what I've seen, the bulk of the designs seem to fit a contemporary/modern palette:
The website also has a nice feel with seamless design features and buttons. signing in to your account, it doesn't just list your order number. Instead, it has the specific names to all the things you ordered, a chance to view the proofs again and a nice reorder button.
---
4. You can add super pretty envelope liners!
This is something I've always seen but never tried. But I'm so impressed! The floral print is one suggested by Basic Invite, and it just reminds me the prettiest fancy hotel bathroom wallpaper with like, crystal faucet handles and gold sinks.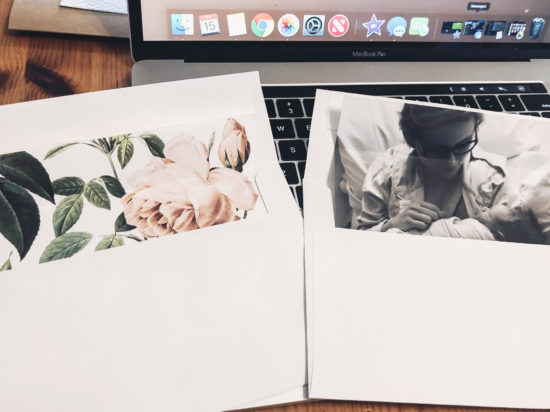 Lovely for like, a party invitation or something. The second design was a custom photo upload option. I chose Wyatt and I in the hospital when he was first born to go with his birth announcement. What a sweet way to include mama in the package. I don't remember how much this add-on costs but I don't recall it being a lot more.
---
5.Basic Invite offers a mailing service
Honestly, I don't even care how much this feature would cost (but for those curious, I believe for a birth announcement it's $0.35 extra per card). But Basic Invite will ill address, stamp, and mail your cards for you. (!!!)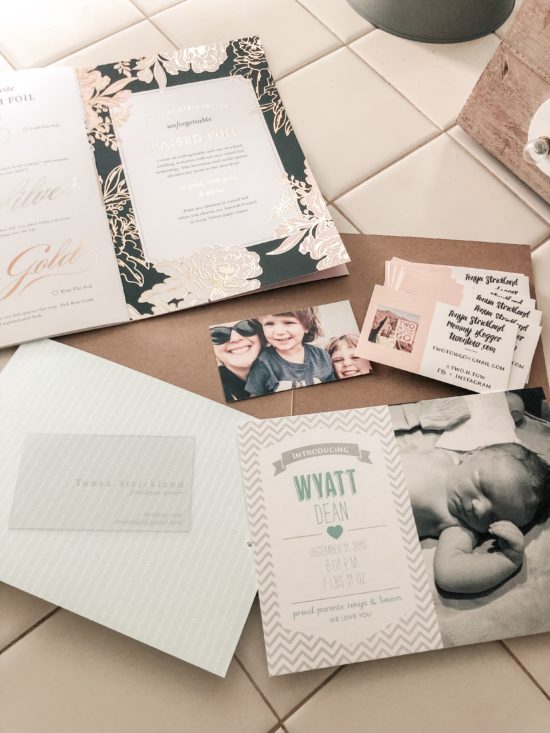 Just upload your address list to the site and off they will go.
The cost of not having to visit the post office, – or, oops! – remember to buy stamps in the middle of the holiday craze or just after birthing a human is priceless.
And that's our review! We definitely recommend Basic Invite.
XO
---