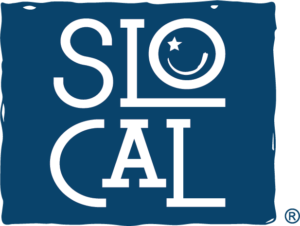 This article was first published on SLOCAL.com as part of my SLO County Tourism Ambassador role as a SLOCAL Storyteller. I was one of five chosen writers selected to share local attractions for our regional tourism board. Check out the cool places everyone went here. 
---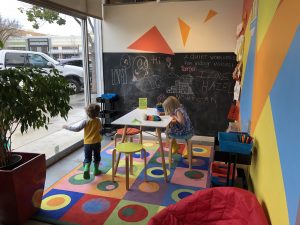 There's more to bringing kiddos to Downtown Paso Robles than hitting up the library and the playground. Take the nonprofit Studios on the Park, for example. At 1130 Pine St., this creative space may look like just another fancy art gallery primed with pretty things for your children to crash into. But … did you know it has a free kids nook? And workshops for littles? Or, a walk-up watercolor art bar? To be honest, I didn't know either. But, it's true! And thank goodness for that.
---
While Studios on the Park is a welcome respite for art-lovers amid downtown's bustling tasting rooms, shops and eateries, it's also a fun spot for your littlest downtown-goers. Decidedly un-intimidating, Studios on the Park is just what it sounds like: an array of working artist studios featuring local talents smack in the middle of their creative process, paintbrush, or other tools still in hand. There's also a changing collection of exhibits and artwork for sale, opportunities to create your own art, and a gift shop (which also includes some handmade toys and books). So, without further ado, here are our …
Top Five Reasons to Take Your Kids to Studios On The Park in Downtown Paso Robles. 
1. The Building is Cool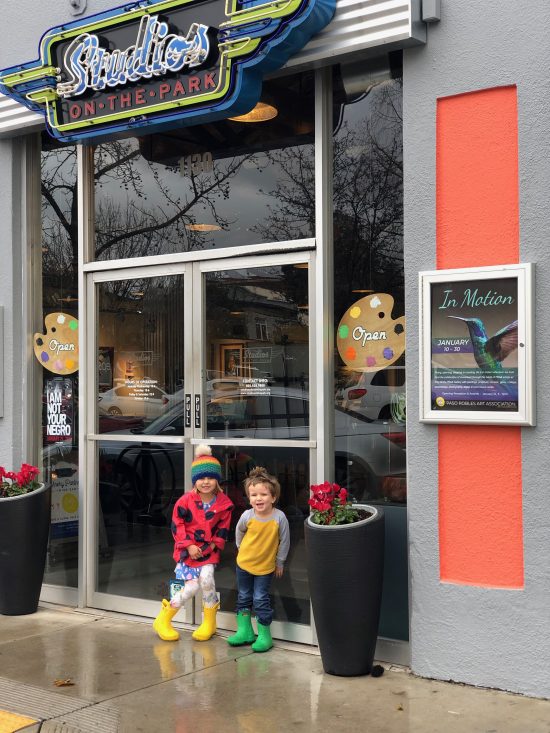 Do your kids like cars? Because shiny chrome is a major theme in the decor here, starting with a classic front-end grille at the front desk. Tucked into the former Pioneer Auto Parts building with the funky metal sign, Studios on the Park is the perfect space to walk through and look at all the things.
---
2. There's a Free Kids Corner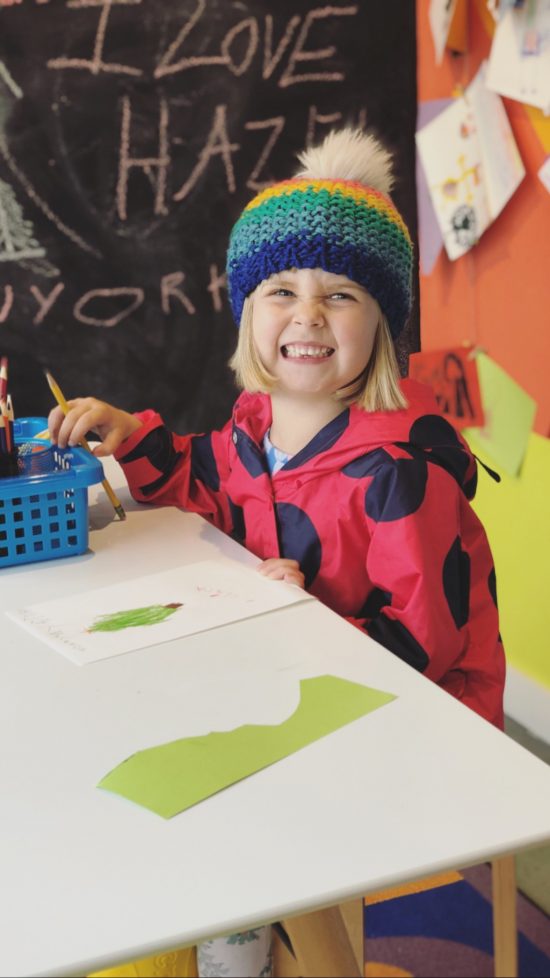 The Kids Art Smart Program is a no brainer for the thousands of schoolchildren who take organized field trips to Studios on the Park to learn the tricks of the trade in a classroom setting. But did you there's an entirely different set of activities available to the public through its youth arts program?  It all starts upfront at the Kids Art Smart Activity Alcove near the entrance. This brightly painted kids corner is free and open to the public – just pop right in. You don't need to sign up or donate money to use it (though I'm sure donations are always welcome). The Alcove is packed with markers, scissors, colored pencils, paper and books. 
---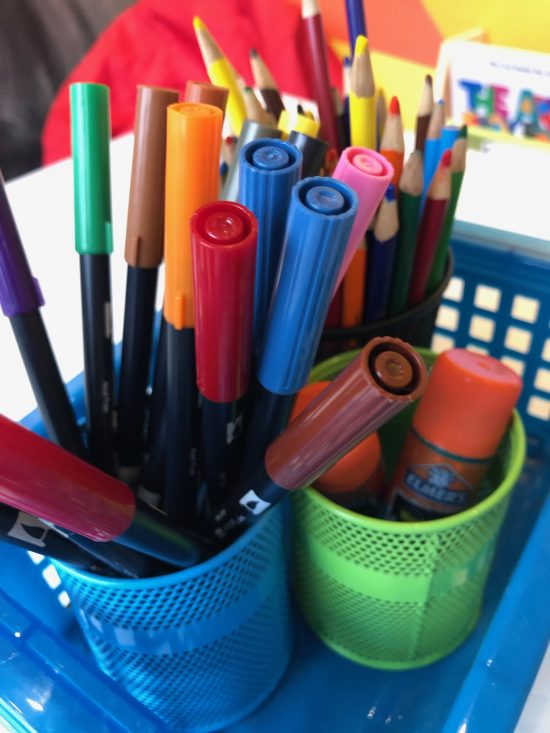 It also offers up a Pinterest-worthy chalkboard wall with baskets of chalk on hand, and a modern desk area for kids to get in the zone. On the wall, there's a beanbag chair for lounging and reading. The Alcove is designed to offer "children and teens the opportunity to develop their creative thinking and personal expression while experiencing the joy of art," Studios Executive Director Sasha Irving said. 
When Clara (5) and Wyatt (3) explored this space, Clara immediately started grabbing markers and paper and glue to craft up some greeting cards for her BFFs. 
---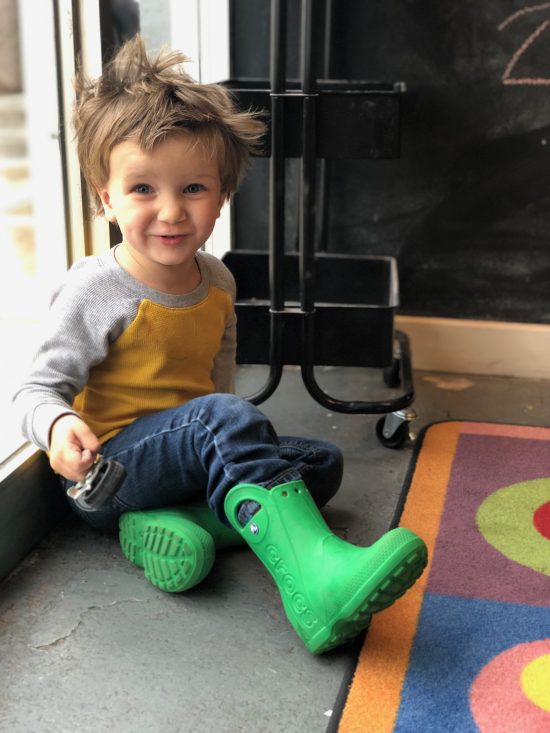 Meanwhile, 3-year-old Wyatt also grabbed markers. Unfortunately, though, instead of making nice things he attacked the chalkboard wall with them. Threenagers. Just what are we going to do with them? He also unscrewed the wheels off the art cart and smeared his pudgy handprints on the super clean looking plate-glass windows. Soooo, it's my professional mom opinion that the Alcove is best used for kiddos ages 5+. However, I was distracted by talking about blogging stuff when this mayhem all went down. I think a 3- or 4-year-old would do well if you held their hand and gave them your undivided attention. Perhaps by drawing on the chalk wall with them and reading a picture book at the little table. That would be such a sweet little pit stop after lunch, too.
---
3. The Artists Actually Love Your Kids' Questions
Studios welcomes the public into the workspaces of its resident artists – and to ask all the questions they want. So I say sic your kids on those unsuspecting creative folk. Haha. No, but seriously kiddos (and adults) totally dig this brain-picking thing here. Because that's the beauty of the Studios on the Park: you get real access to the story behind the art.
Why did you use that color?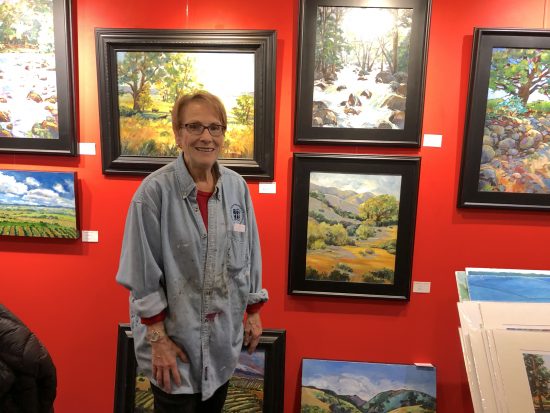 What happens when you mix yellow and green?
Did you know alligators have 74 teeth?!
When I was here with my SLOCAL Storyteller crew, we spoke to Atascadero artist Sharon Sobraske while she painted. Gesturing to a rocky beach covered in brushstrokes of the most vibrant red, Sharon chatted about her methods for folding in layers of color. Her secret: she often paints in red first so the hue offers pops of color that emerge later.
---
4. Make Your Own Masterpiece at the $10 COLORbar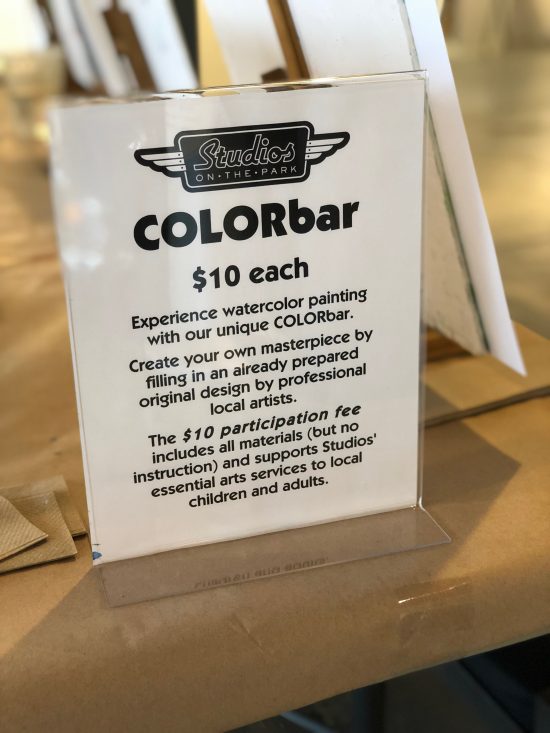 Adults and kids are invited to create a little art of their own through the likes of the $10  COLORbar.  The setup is not instructed, is walk-up based and welcomes families to participate. The bar includes a brown paper-wrapped table and benches setup featuring multiple canvas drawings on table top easels, all ready to be filled in with watercolors with each individual place setting of supplies. The cost is $10/project and features a collection of one-of-a-kind original designs by Studios artists.
---
5. Kids Art Workshops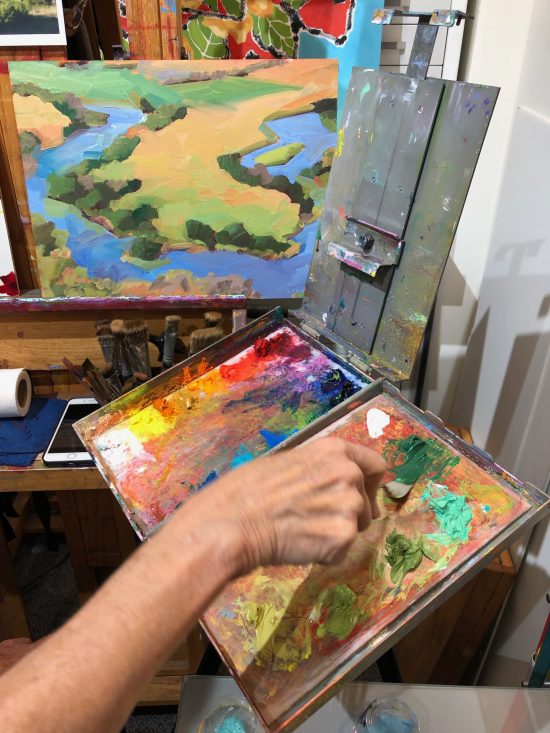 Looking for more of a guided instruction experience for older kids? There's a class for that. From drawing labs to patchwork projects,  Studios' roster of kids classes is often changing. Just check out its Youth Art Schedule for details. Classes are taught by the artists and tailored to specific age groups for a fee that usually includes all materials.  
---
Check out more behind-the-scenes with Studios on the Park at @studios.pr on Instagram and @StudiosOnThePark on Facebook.
Related post: 7 Things to do With Kids in Downtown Paso Robles, California