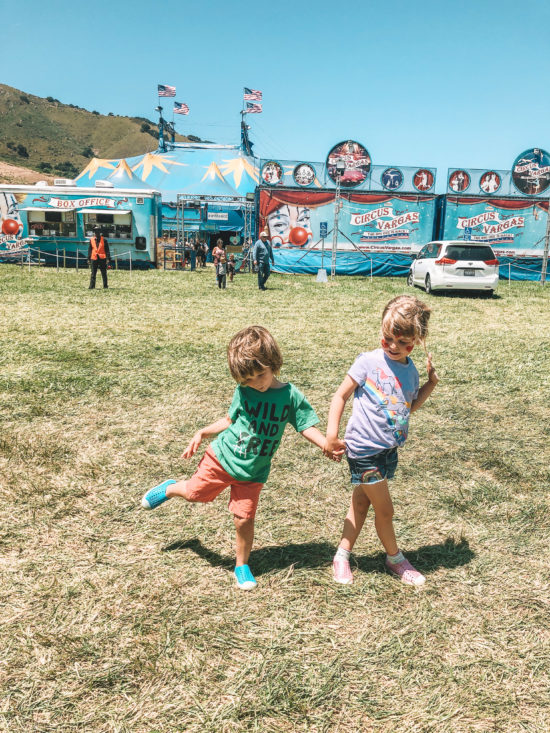 Circus Vargas was at the Madonna Inn in SLO this July. Overall, it was a lovely, inventive, no-animal circus with gorgeous costumes, talented performers and enough music and lights to keep children's interest.
The circus peeps contacted me looking for a mommy blogger to write about our experience going to Circus Vargas. Usually, I reach out to people or apply for these kinds of things, so the coolness of being contacted out of the blue will NEVER be lost on me! We were gifted a family four pack of ringside seats (front row!!) in exchange for this review, but all opinions are my own. (See my disclosure for more info).
---
We visited the 12:30 p.m. show on a Sunday. It wasn't too crowded or too hot, and the tent had big cooling fans inside. I'm officially impressed by this well-put-together circus including the show itself and the setup. The are enough lights/music/fun stuff going on to keep the kids interest (mine are age 3 and 5, for reference). The kids ate popcorn and cotton candy and sat through the whole show.  I loved looking over and watching their faces during some of the more exciting parts. They really seemed to take it all in. My hubby was also super engaged in it.
HOW TO PICK SEATS
Under the tent, the circus is done on a ground floor "stage" in the shape of a circle.
There are roughly three performances per day (with some exceptions, like on the Fourth of July when there are fewer). We went to the 12:30 p.m. show, the first of the day. And it wasn't packed, which is nice for us. You can find the schedule here.
As far as I can tell, the absolute cheapest seating is the bench seating in the very back. Then, there is arena seating, which are the red and blue chairs. And finally, there's individual chairs with soft velvet covers called ringside seating at the very front. Kids younger than 2 are free (lap seat)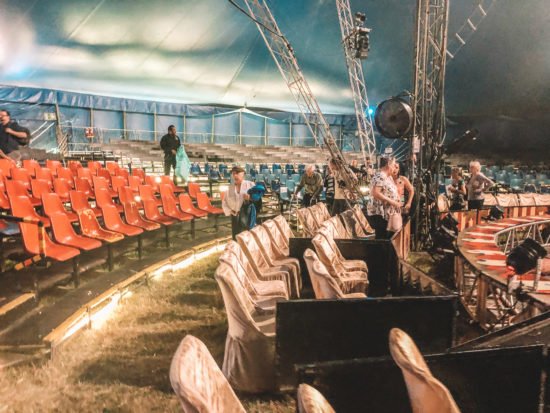 Here is all the pricing information ( I don't know if it changes per city) from Circus Vargas.  You can buy tickets on site from the box office booth, or online with a $2 surcharge. A lot of the seats are first come, first serve.
---
Another bonus of this circus is the setup is cool. After you park, there's a box office to get tickets (more on costs below), then a little outdoor area with seating for food, restrooms and wooden photo props to pose with.
---
---
Then you walk into a lobby area that's under an entrance tent. It's filled with string lights and cute hand painted signs and props. You can buy souvenirs and face painting in there. And there's another spot to buy snacks and drinks.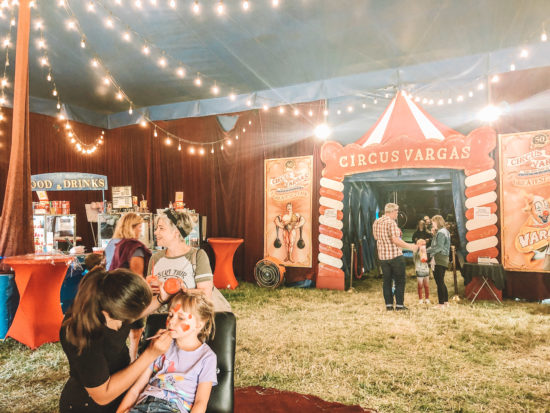 ---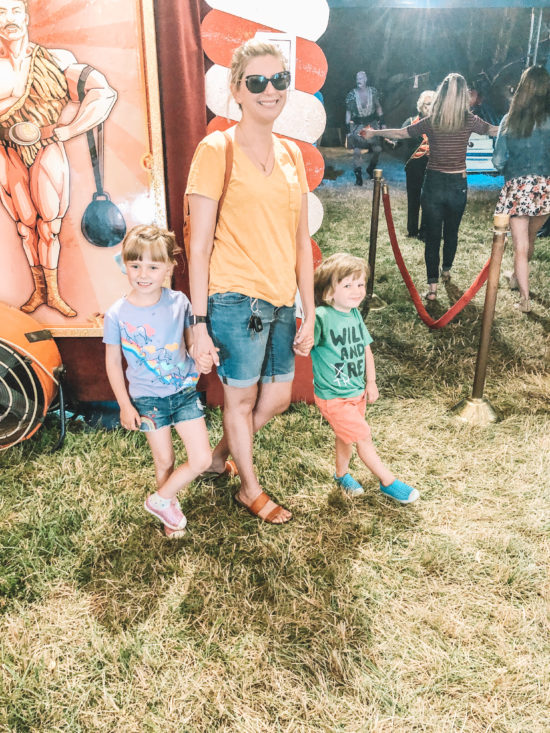 From there, you enter the big top where the show is. I explain the seating below. But first I want to say that the acts were colorful and lively; the costumes were gorgeous with lots of sparkle, rich reds and little details; there are no scary clowns!! LOL. (There are a couple of clown-types, but not overly stereotypical ones).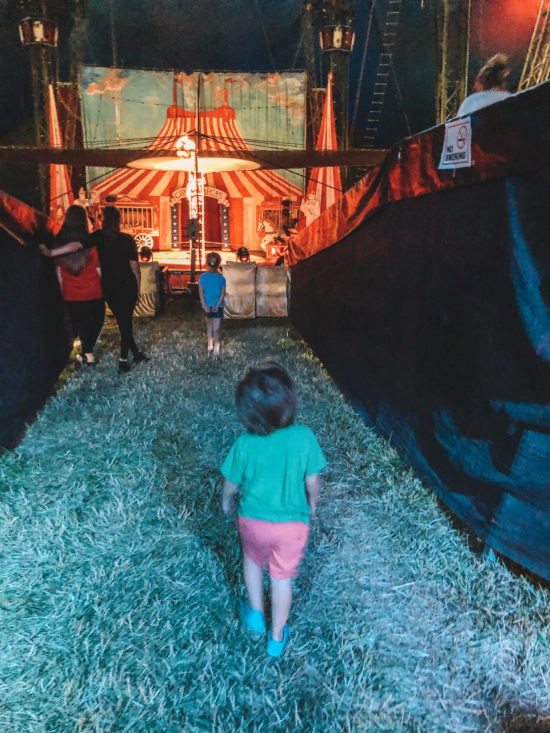 ---
And the acrobats have some crazy cool skills. I'm not kidding. I'm so impressed by their muscles and movements. One of them jumped over a hoop of knives on a tightrope and the others swung and flipped but swings through the air.
---
There's also one INSANE motorbike cage in the shape of a ball that I was not expecting as the grand finale. Just look at Wyatt's face while he was watching it!! So sweet!!
---
ABOUT THE SHOW
Circus Vargas is an animal-free circus that travels throughout California that's been around since 1969! Click here for all the history stuff you know I love.
The traveling bigtop features an impressive circus tent with acrobats, daredevils and a flying trapeze. There are no animals with this one, but the two-hour performance is celebrating its 50th anniversary this year with an endearing story and costumes about the classic circuses of times past.
I also liked that the show is shaped similar to a play – it starts with a story about a woman who arrives to the circus by train with the hopes of becoming a flying trapeze artist. The story follows her journey in meeting all the circus performers until the end of the show that ends with a celebration and her decision to stay or go.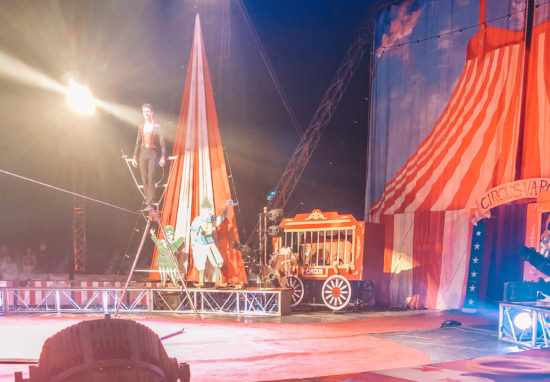 ---
The show is broken down into two parts over two hours, and I appreciated the intermission so the kids could use the potty and take a break.
We had Clara's face painted (Wyatt didn't want to). The face painting booth does accept credit card and (I think) the service starts at $7. Clara picked a $10 design that included glitter. Homegirl has got her poses down, right??
---
TIPS
From our experience of going as a family of four, my biggest tip is: BRING CASH.
As far as I could tell, there were no ATMs on site and while some vendors have credit card machines attached to ipads and phones – not all do. And definitely not for all the things. One of the ladies there told me that the vendors who walk around with cotton candy, popcorn soda and light-up toys during the show do not accept card, but the woman who takes your picture at the beginning of the show does. She will sell your photo to you in a souvenir paper frame for $10 at the end. I loved it!
$10 CASH PARKING
The circus is in the big grassy horse ranch at the Madonna Inn, and parking there costs $10 cash. I didn't realize that going into it, so I'm super thankful we just happened to have on hand. (Ps. there are signs saying you can't park in the regular Madonna Inn parking lot).
SNACKS & SOUVENIRS
There are three or four places to buy snacks. We bought Cotton Candy inside the tent from one of the concessionaires walking around once you're seated. They were $5 each.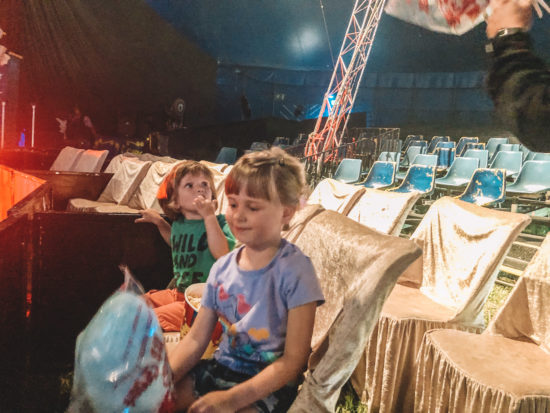 You can also put snow cones in fun plastic light-up cups and toys with flashing lights that seemed to be popular. We didn't get those, though.
---
But we did by $4 water bottles with free cups of ice at the concession stand in the lobby.
We bought the large tub of popcorn (I don't remember the price, sorry) for the kids to share and they finished the whole thing! We bought that at the blue vendor booth near the patio seating outside.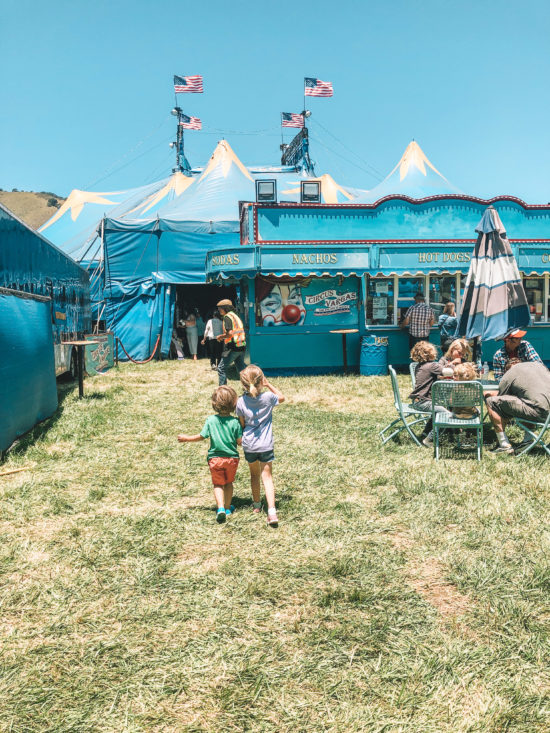 ---
OTHER FUN
PRE-SHOW
We missed this part because the kids had to potty. (There are portable potties on site and a handwashing foot pump station.)
Arrive 30 minutes early for an interactive pre-show activity where kids learn circus skills such as juggling, balancing and more.
AFTER-SHOW
After the show, meet and mingle with the entire cast and pose for pics and selfies with your favorite cast members. I made sure to explain to the kids that the performers work very hard to put on a show and that their actions take a lot of PRACTICE. And as such, even though it can feel intimidating, is makes he performers happy to tell how much  you appreciated their act and thank them for the show. I also made sure to tell them that they made my kids smile, and I loved watching the kids' reactions during the show. I think that made the performers happy.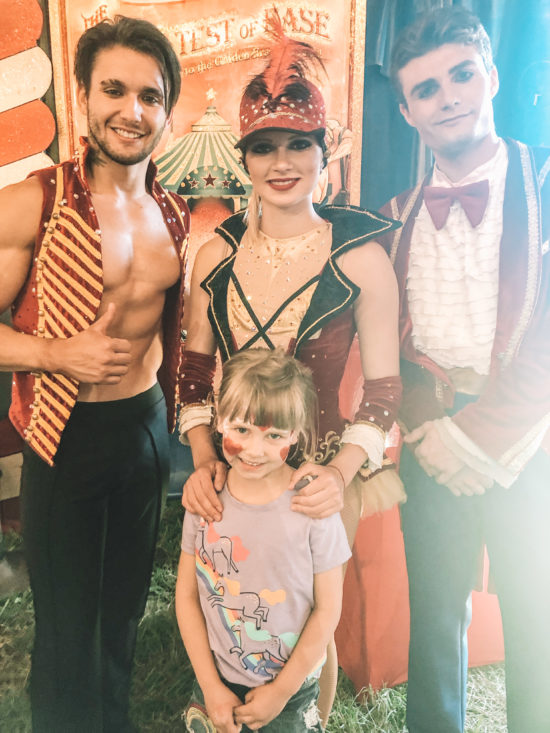 Circus Vargas is leaving SLO after July 8 and going to Torrance in So Cal next.
Thank you, Circus Vargas! We had the best time!