I don't know whether it was the collective energy of goodhearted people finally able to gather, the airy mix of melodies mingling in the breeze, or the much-anticipated warmth of actual sun on our skin, but Uptown Gig Harbor's second annual FEST4ALL Make Music Day Gig Harbor on June 21 had the unmistakable feeling of summer.
And my family couldn't be more excited.
This article originally appeared on Uptown Gig Harbor's "On The Up" blog. 
Hi, I'm Tonya! A California girl who now calls Gig Harbor home. My introduction to FEST4ALL Make Music Day came through the business of writing and ended with all the warm fuzzies that come from connection and community.
---
Hunker down for a little story: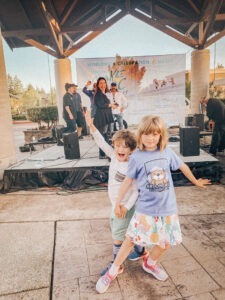 Just as the heat of the summer solstice topped 70 degrees, my kindergartener, Wyatt, and second-grader, Clara, hopped off the steps of their big yellow school bus, discarding their backpacks at my feet (#momlife) and were hungry for a quick snack. Two protein bars, three potty breaks, and one slightly frazzled mommy later, I buckled those crazy kids in with the quick clicks of car seats and off we drove to Uptown Gig Harbor on the promise of enjoying 24 acts performing free concerts on four stages from noon till night.
---
How FEST4ALL Make Music Day Gig Harbor Began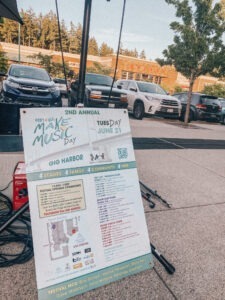 It was all part of Make Music Day, a global phenomenon that celebrates the natural music-maker in everyone. Born in 1982 (just like me!), the festival began in France when a bunch of cool Europeans lined the streets to play any instrument they could for whoever wanted to listen. The performances weren't about money or fame, they were about providing free music for the people. Just because. How cool is that?! 
Now, 40 years later, 1,000 cities worldwide host their own Make Music Days every summer solstice. Seattle, Federal Way, and Issaquah also signed up in Washington this year. In Gig Harbor, the spin was to emphasize inclusivity. Hence the name, Fest4ALL Make Music Day here. One whole stage was even dedicated to sound-sensory sensitivity performances at low volume. Plus, Uptown has ADA access throughout.
---
Our Day
Since Clara and Wyatt were in school that day, we'd already missed several performances by the time we arrived to Uptown around 4:45 p.m.
But we were determined to explore it all. So we meandered through brick-lined breezeways to visit each of the four stages tucked into captivating little corners of musical enchantment throughout the shopping center.
Wine glasses clinked over plates of mixed greens on the upscale patio of the Green.House Restaurant as date night duos enjoyed the relaxed R&B tunes of United by Music youth mentor Miranda Kitchpanich on the Showcase Stage.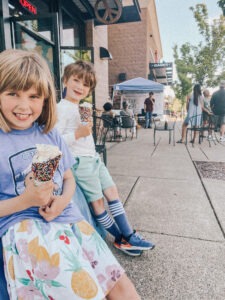 Then we were off to window shop for future birthday gifts at Teaching Toys Too on our way to the Spotlight Stage. There, several sets of iron bistro chairs turned toward the students of Tarra Winslow's Con Brio Piano Studio. We were quickly entertained by a young man named Arthur Keast who rightly chose to serenade the crowd with music that could've been written for Frank Sinatra. The kids listened to Arthur for an impressive amount of time before they realized we'd stepped into a 10-foot radius of sugar (they have a special sixth sense for this kind of thing, amirite?). So we popped into Ben and Jerry's to order our requisite chocolate chip cookie dough double scoop on waffle cones (with sprinkles!).
---
Soon we were on the move again, this time in search of the Front Porch Stage. We found it nestled beneath a charming criss-cross of string lights in the corridor by Fondi Pizzaria (which boasts the best gluten-free hand-tossed dough I've ever had) and the delightful Pearl Tea boba shop with its happy yellow awning. This particular area was home to a casual collection of mostly cool older dudes listening to the folk art of Lawrence Lambert & Elaine Dempsey on guitar.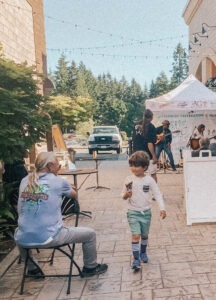 The music was groovy, but I couldn't help but laugh at my little Mr. 6-year-old giving some serious side-eye to a perfectly nice man with a ponytail and a "No Bad Days" T-shirt smiling at Wyatt's gigantic ice cream cone. Email me at twotowgo@gmail.com with your suggested captions for this classic showdown! 🙂
Funny looks aside, we kept on walkin' to our fourth and final spot: the Pavillion Stage …
… Read the rest of this post over on Uptown Gig Harbor's "On The Up" blog!
---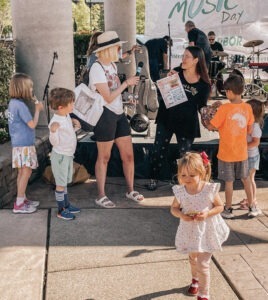 You better click on that link too because here's a SNEAK PEEK of what's next — they asked me to go on stage to talk about Two In Tow & On The Go! Eeeek!!
Xo,
Tonya
Ps. Make sure to catch FEST4ALL Make Music Day Gig Harbor's winter edition this holiday season! Find out how YOU can participate in upcoming concert events by emailing barbarahammerman@gmail.com.