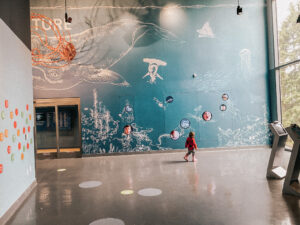 We've visited Tacoma's Point Defiance Zoo & Aquarium a lot lately. It's the perfect burn-all-that-kid-energy option for even the rainest of days.
One time, after our friends left, we even hung back to walk through the zoo's indoor Pacific Seas Aquarium three more times 😅.
A fan fave in our group is the free interactive self-portrait exhibit near the aquarium's exit where you can see your face on an octopus. Here's how it works.
---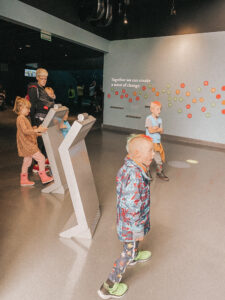 In 2018, the Pacific Seas Aquarium opened on the zoo's campus (and is included in your regular zoo admission). This article says the 35,000-square-foot sea life attraction is the largest capital project in the zoo's 113-year history!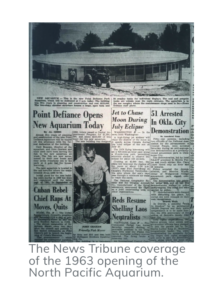 It replaced the longtime North Pacific Aquarium, a nostalgic-looking building that's architecturally interesting for its circular shape. From what I've seen in old newspaper clips, the North Pacific Aquarium was the coolest place to be in the 70s and 80s. If you have any scrapbook-worthy memories of it, I'd love to hear them!
---
Meanwhile, things like modern ADA ramps and new species tanks have made the new Pacific Seas Aquarium largely considered a major upgrade for this South Sound zoo. Especially among experts who say the old building was weakened by decades of salt-water corrosion and outdated tech.
Now, fresh interactive exhibits like the "Our Ocean | Our Future" Mural wall I mentioned above take center stage.
---
Yeah yeah yeah, all that history stuff is fun and all — but Tonyaaaa, how do we get our faces on an octopus???
OK, OK, I'll tell you. 😊
After you leave the shark tank ceiling and are about to exit the aquarium … just mosey on over to one of two kiosk machines that look like little Disney movie robots next to the window. (Note: there might be a line!). When it's your turn, you'll find touch screens where up pops a message asking you to pledge to take care of the Earth (by cutting down on your plastic usage, etc).
---
Tap tap tap through a few more info boxes until you reach the little white camera icon for a selfie! Snap that selfie like the glittery pop star you truly are (showcasing your best smile or funny face!) and the picture gets magically transported to a beautifully rendered floor-to-ceiling mural right in front of you!
Don't you just love how magic works? 😉
---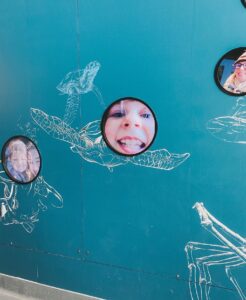 The feature is extra fun because your face shows up on … you guessed it: an octopus!
Or, if not a jelly, a host of other little circle screens creatively placed on the faces of original illustrations such as a sea lion, wolf eel, scuba diver, or a turtle. Little Miss Clara was the coolest sea turtle in hers.
As far as I know, the picture disappears from the wall after a few minutes and you can't get a Splash Mountain style souvenir print of it or anything. (Funny pic thread alert, btw).
📱Tonya Hack: But who needs that? Just take a pic of it with your phone! Snap a selfie … next to your selfie. 🤯 You'll be like, soooo millennial.
This free kiosk activity feature is one of several interactive exhibits created around the Puget Sound by Seattle-based design firm Studio Matthews. The company described the mural project as place where "playful illustrations and interactives create a lively backdrop".
---
In 2018, the News Tribune reported that all of the aquarium's new interactive elements were designed to inspire.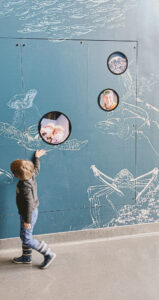 "It's all about recognizing the connection we have with the ocean," said Alan Varsik, director of Zoological and Environmental Education for Metro Parks Tacoma. "After you form all these new friendships, we want people to leave knowing how they can take action."
So what about you? Have you taken a fish selfie for the wall? Let me know in the comments.
And, like always, we'll see you there!