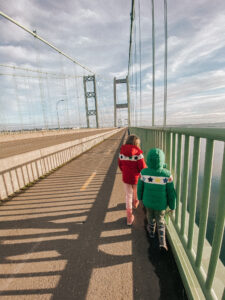 This year, the kids and I walked across the Tacoma Narrows Bridge – something I've been wanting to do since we moved here!
After weeks of rain, we saw a moment of sunlight and dry skies. So with a skip, hop, and one possibly illegal parking spot later, we went for it!
And now I can say with certainty that the bridge walk is an absolutely incredible kidventure, but only after a few safety rules were discussed. You'll see why in a minute.
Read on for all the deets on how we walked the Tacoma Narrows Bridge from the Gig Harbor side.
---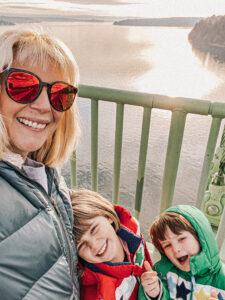 Being from SoCal, I've never lived in a town with bridges. You know, besides the crowded freeway overpass variety. But I've always been wowed by crossings that span a divide, especially San Francisco's Golden Gate Bridge.
Now that we live in western Washington — there are bridges everywhere! We even get to cross one every time we drive to our cousins' house in University Place.
That bridge is, you guessed it, the Tacoma Narrows Bridge. And history says it's actually a pretty famous one. (More on that later).
But first, the walk:
---
Tacoma Narrows Bridge
The Tacoma Narrows Bridge is actually two suspension bridges  (one eastbound, one westbound) connecting the Kitsap Peninsula (where we live in Gig Harbor) to Tacoma over an especially blustery section of the Puget Sound called The Narrows.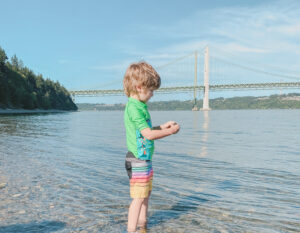 ---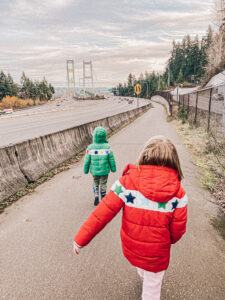 Looking at the bridge towers in this pic, the westbound bridge is the skinny one on the left, built in 1950. The wider eastbound bridge on the right came later, in 2007.
The only option to walk across is on the eastbound bridge, via the Scott Pierson Trail.
Meanwhile, there's no pedestrian access on the westbound bridge at all. Once, from the car, I spied a teeny tiny maintenance corridor for work crews. But don't sneak onto it. That's scary.
---
Scott Pierson Trail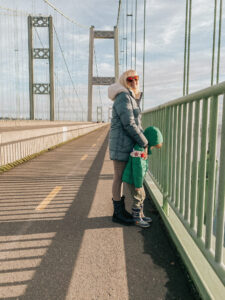 The Scott Pierson Trail was developed by the Washington State Department of Transportation as a paved, multi-use path stretching 6.1 miles from 24th Street NW and Highway 16 in Gig Harbor all the way east to S 25th Street in Tacoma. It's the red line on the map below. According to the Washington Trails Association, its best walking segment is, in fact, across the bridge:
"… the clear highlight from a walking standpoint is access to the new Narrows Bridge and all the views that affords. Much of the rest of the route east of the Tacoma War Memorial park tightly hugs the Highway 16 freeway and is not well marked so while useful for bicycle commuting, does not make for a peaceful walk."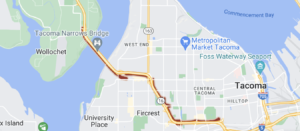 To reach the bridge section, you can either park on the Gig Harbor side with no official parking lot, or on the Tacoma side at the War Memorial Park parking lot. The kids and I wanted to park on "our side" of the bridge, in Gig Harbor. So that's what we did.
Unfortunately, when I say there's no parking at the Gig Harbor entrance, I mean there's not even street parking! Zip. Zilch. Nada. It's clearly made for cyclists headed out of town.
But fear not, pedestrians! You're in luck. Because I found a hack. A hack probably every local in the history of Gig Harbor already knows. But I'm new here, so let's just roll with the idea that this hack shows unprecedented resourcefulness and determination. 😉
Tonya's Bridge Hack #1: Park on the wide gravel shoulder in front of Patriot Roofing, at 623 Stone Dr. NW. This not-so-treacherous offroad spot is conveniently located adjacent to Highway 16 and the Scott Pierson Trail a little ways down from the entrance. Score!
Note: I chose the gravel shoulder over Patriot Roofing's actual parking lot on the chance those businesses care about non-costumers eating up their parking spots.
---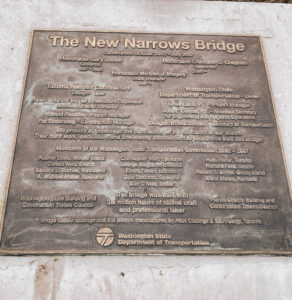 Once you finally park, you don't even have to jump a fence or anything shady to reach the Scott Pierson Trail because there's a little unofficial opening right there in the fence! Then it's an easy walk all the way out to the bridge. The path is wide, paved, and is even home to a little bridge monument to look at (or climb on, if you're 6 and 8). The walkway butts up against Highway 16, though, which brings me to that critical kiddo safety discussion I mentioned earlier.
Tonya's Bridge Hack #2: Make your kids walk along the right-hand side of the path and then put yourself between them and the short concrete barrier. Talk to them about freeway traffic and how fast those cars are actually going 😳. How often are your kids walking along a highway? Probably not much. A few warnings are in order to increase their awareness. Also, freeway cars make the walk LOUD, so make sure you have the talk before you get there.
---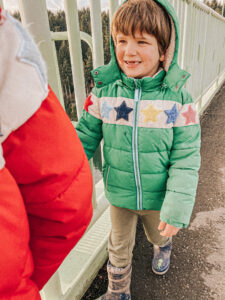 Fun fact: Just who is Scott Pierson anyway? While I can't find a ton of info on this Scott Pierson namesake character, I did find a few fun things.
It appears he is/was a city planner who biked to work and helped convince Washington's Department of Transportation to build the trail over the bridge. He also contributed to the first modern bike map for Tacoma and Pierce County.  Pretty cool! If anyone knows him, I'd love to include his pic on here or talk to him, so let me know!
UPDATE | JUNE 2023: Look what I just found while searching for an entirely different trail on the Pierce County website! Page 15 in the Tacoma-Pierce County Walking Guide is all about Scott. 🙂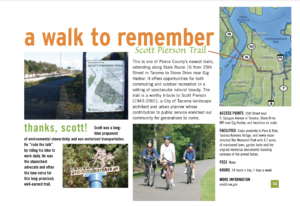 ---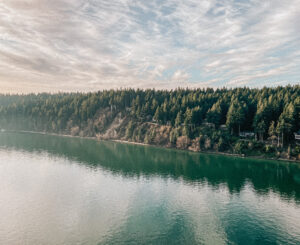 Walking The Bridge
After that short walk from Patriot's, you'll soon make it to the bridge. The views are incredible! The water is a deep blue-green and goes for miles. Your stomach drops a bit when you look down, which is a little thrill. If you go on a clear day, you can see University Place and Steilacoom to the west. We even watched a crazy long freight train with its colorful box cars snake down the shoreline. And, immediately below you, you'll spot the tiny ant people enjoying the rocky coast of Narrows Beach. Here's a look:
I said before that the whole trail is about 6 miles. Except I walked it with children whose little legs gave up approximately a quarter mile in. BUT, I can say the bridge part is, in fact, really well done. It has a two-way paved pedestrian/bicycle route with handy dashed yellow lines and is plenty wide. I think it's 10 feet wide across the bridge part, specifically. There's room for everyone.
Tonya's Bridge Hack #3: I had the kids stick to the right-hand side of the bridge path, too. That way, they didn't get knocked over by cyclists (and there were quite a few!) and it maintained our buffer from the freeway. There's a roughly 5-foot-tall railing on the waterside and that same short concrete barrier on the freeway side. That sad little wall with the cars zipping by freaked me out, and I worried the kids would flop over it when they weren't paying attention and fall straight into traffic and be gone. Hooray for mom brains, right?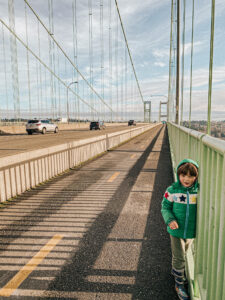 Also, for those wondering, the railing bars on the right weren't wide enough for 6-year-old Wyatt to shimmy through. Yes, I checked. His arms fit through but not his head. That said, the gaps could *possibly* fit kiddos in the 1 to 3 age category, depending on their head size. And any age person could easily stumble over the barrier on the traffic side. So that's nerve-wracking. Feel safer having those little buggers restrained instead? The whole walk is definitely stroller-friendly! 😅
And that's it for our Tacoma Narrows Bridge adventure! Would you walk across this bridge with your kids? Let me know in the comments!
Also, if you're still reading, your reward is getting to cry at this super touching Instagram Reel I made with footage of us on the bridge. Awww.
---