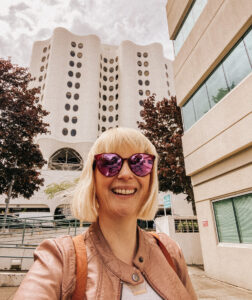 Being a California girl in Washington brings its share of challenges. Rain, cold, unknowingly growing the uber-poisonous Fox Glove plant in our endlessly green bounty of a front yard.
But being an Evergreen State newbie also comes with some perks. Because one of my very favorite things is exploring new places. And not just the travel magazine hotspots – but the random places that catch my eye and get me wondering: what the heck is that about?
---
Such an occasion occurred last month while I was driving up South 19th Street in Downtown Tacoma Washington with my Indochine Asian Dining Lounge takeout, happy for the good food but predictably lost with the Google Maps voice yelling at me to make a U-turn to get back to the I-5. (Yes, I say "the" before freeway names. Yes, the California stereotype is true).
---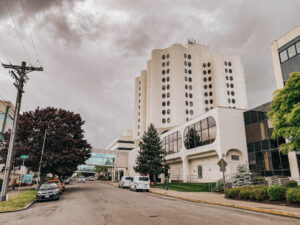 It was somewhere between questionable internet directions and the distinct possibility that another driver was mad at me when out of my passenger window arose an absolutely wild-looking building straight out of Planet of the Apes. Actually, are buildings even in that movie? Or just the Statue of Liberty's very sandy remains? In either case, a  spaceship building with actual porthole windows emerged along the otherwise normal Tacoma city skyline and I was smitten.
---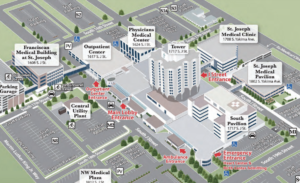 Sadly, the building isn't actually related to the cosmos as my blog title so wishfully suggests. (But it sure looks like it, right?).
In reality, it's the nearly 50-year-old tower wing of the St. Joseph Medical Center campus at Virginia Mason Franciscan Health.
Today, the medical tower houses patient beds for the cancer center, a Level III NICU, and fancy birthing rooms with water tubs.
---
But the structure does come with a fascinating design history that involves clusters and quadrants. Still sounds pretty space to me! The patient rooms were built in circle shapes around nursing stations to increase eye contact between staff and patients.
American architect Bertrand Goldberg's innovations of contoured concrete are considered not only functional works of art but, according to the Society of Architectural Historians, they're also based on the ideology that better layouts equal better patient care.
"Within each quadrant were patient "villages" of ten beds each, clustered around a nursing station. The village system ensured that no nurse would be out of a five-foot reach of any patient. There were four villages on each floor."  bertrandgoldberg.org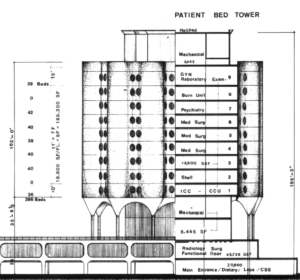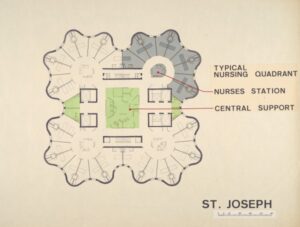 ---
You can see from this original architect's rendering that 40+ years ago the bed tower housed surgical patients, a burn unit, and psychiatry. Here's a look at the evolution of the quad rooms from the 70s to present day:
---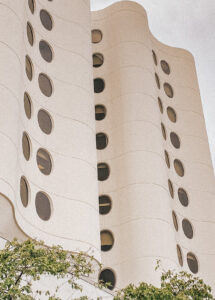 The Tacoma design is closely related to Goldberg's other architectural marvels in the 1960s and 70s such as the Good Samaritan Hospital in Arizona, the Providence Hospital in Alabama, and the Prentice Women's Hospital in Illinois. All with those giant porthole windows and base supports fit for a rocket launch, might I add. How cool is that?
And while you can't necessarily take your kids to St. Joseph's to go run around like the other destinations on my blog, (such activity is probably frowned upon lol), I highly recommend driving your kids by the tower! If not for the wow factor, at least for the chance to wow your tiny humans with some fun facts and (hopefully) an early appreciation of cool architecture.
---
Because just look at it. Sooo cool. Maybe I'll see you there!
---
St. Joseph Medical Center Tower
Located in Tacoma's Hilltop neighborhood at 1717 South J St.
---
Fun Facts
---
🚀Locals call it St. Joe's
🚀The tower opened in 1974
🚀Each patient room had its very own giant porthole
🚀The tower housed 260 new beds
🚀It's 13 stories tall (w/the first few floors in the base)
🚀Each level originally had four "quadrants of space" (cue some "Twilight Zone" music)
🚀Outside, the reinforced concrete was finished in white fiberglass for a glossy look
🚀Its 3D curved columns and shell surface buffer against earthquakes and wind
🚀The building remained undamaged in the 6.8-magnitude Nisqually Earthquake in 2001!
🚀Over the years, the quadrants changed to build new offices, utility rooms, and larger birthing facilities, which some say altered the "purity" of the original design
🚀It appears the only public tower tours are of its birth center (for prospective parents), but a virtual tour is available with additional floorplan info  here.
Source:  Society of Architectural Historians
---