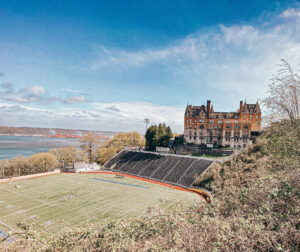 Stadium High School is one of the top things to see in Tacoma, Washington. (You can even go on a tour of it here!)
This historical landmark is known as one of the prettiest high schools in the country. Do you know what famous movie it was featured in? The answer is in my most popular Reel to date!
But how did this insanely cool architectural wonder become a public school, of all things? Well, I'm glad you asked …
The origins of this impressive Harry Potter-style building began in 1891 when the Nothern Pacific Railroad commissioned its construction as a luxury French château hotel. But two years into the project, the economic depression halted efforts and the building sat unoccupied until 1898 … when it caught fire! Yikes! Fortunately, the Tacoma School District eventually swooped in and purchased the remnants of the building for its newest school. And here it stands as such today.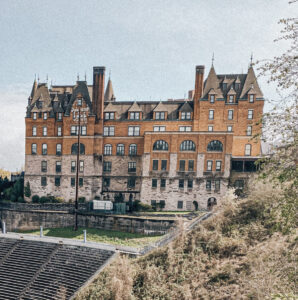 "The reconstructed building opened in 1906 as Tacoma High School. Seven years later, the name was changed to reference the adjacent Stadium Bowl. Later additions included a circular lunchroom, an underground swimming pool, a science and industrial arts complex,[5] a gymnasium, and a multi-story parking lot structure with tennis courts on the roof." 
"In 2005-2006 the school underwent a major renovation, seismic upgrade, historical restoration, and expansion. The centennial celebration of Stadium High School was held on September 16, 2006. The celebration was attended by 3299 alumni, setting a Guinness World Record for the largest recorded school reunion."