*** Update 2023: Clara had a safety scare during her Level 4 swim lesson at the YMCA this year and unfortunately I can no longer recommend this program for swim lessons.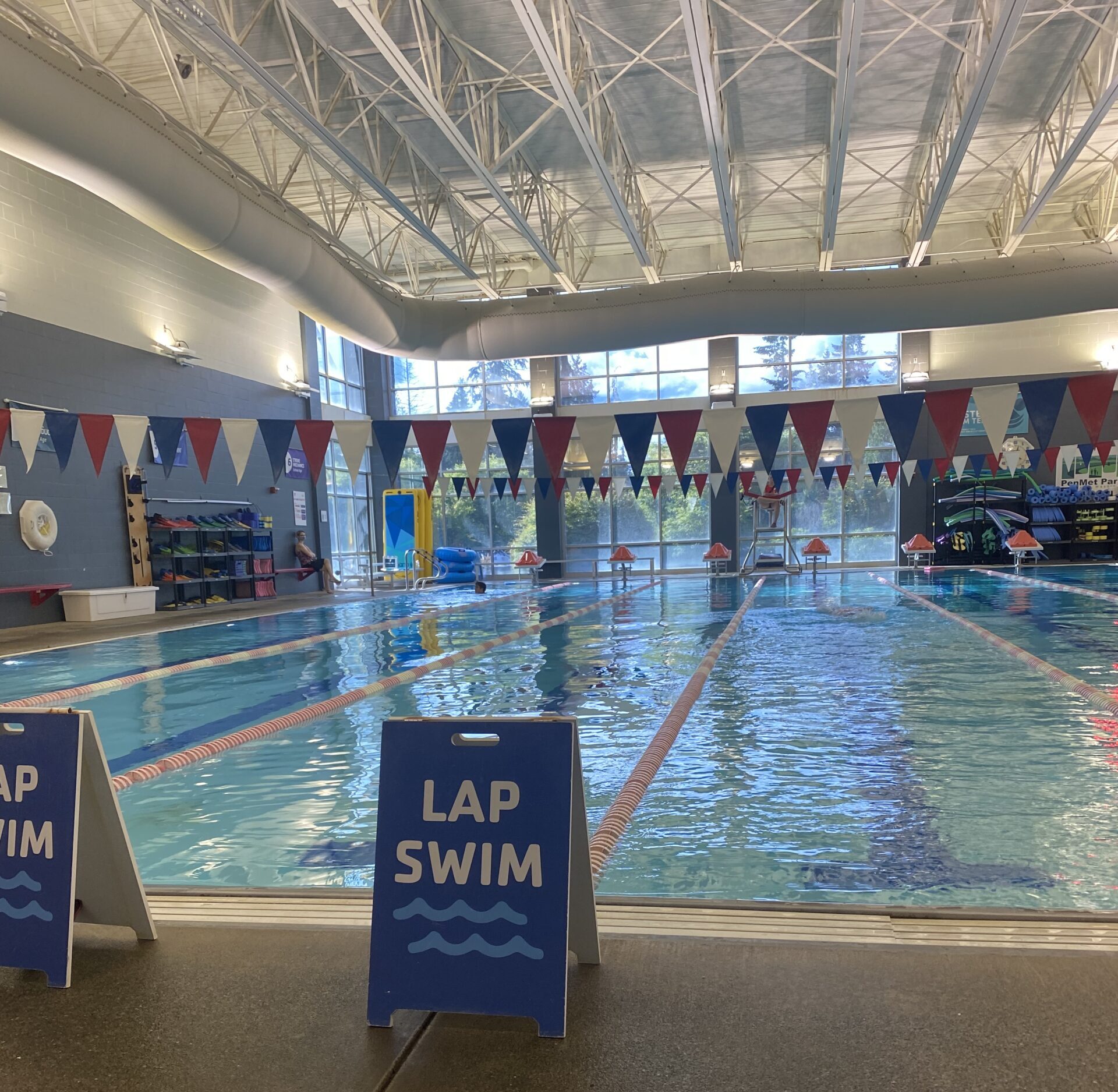 What happened: In Level 4 Swim, Clara had a group lesson per usual, but the kids do much more big-kid-type swimming including laps across the deep end (somewhere in the 6 or 8+ feet deep range, I'd have to check to confirm). During Clara's lap portion, she started to sink mid-way through her third lap. In the pool with her, there were the other kids doing laps, their group instructor, and a separate lifeguard watching from the sidelines.
Unfortunately, her instructor was distracted by another child in her group who was crying and upset and idk what the lifeguard was doing. I was with Wyatt sitting in the bleacher seats watching the water and him. As I've mentioned in the past, I'm super helicopter-y around my kids and water since things can go south so quickly. And that's what happened here. Clara started to sink and pop up and sink again and cry (but not yell out 'help' – just crying softly like she was hurt) and I was the only adult who noticed. I jumped up from the bleacher seats and ran to the side of the pool, kicking off my shoes in the process, ready to jump in to get her and right before I was about to jump in I made eye contact with the instructor who only when he saw me standing up realized something was wrong.
He looked at me, and then at Clara and swam over to her to help, so I ended up not jumping in. He grabbed her arm and led her to the side of the pool. Then he tried to use the incident as a reminder to swim to the side of the pool when you get tired like that blah blah blah but by then she was clearly distraught and traumatized and I was livid that no one but me saw a NINE-YEAR-OLD basically drowning in the middle of the deep end.
So, no. I can no longer recommend swim lessons at Tom Taylor YMCA.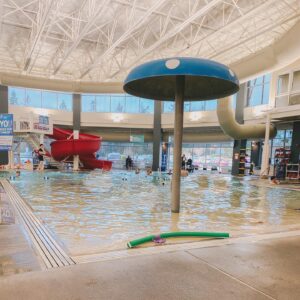 That said, I'd still recommend family rec swim in the kids pool because the kids' feet can touch the bottom on that side. And it's still a fun pool to play in, but only if you're watching your kids yourself. (There are lifeguards there too and I'm sure most of them are great – but I wouldn't trust any lifeguard as the sole line of defense for my children's safety anyway, and esp not after this experience that left me even more skeptical). As I've told Clara's incident story in social circles, I've heard two similar stories about the Gig Harbor YMCA: one from another mom who had an issue with the preschool/kindergarten age group several years ago where her own child went underwater for what she felt was too long during a group lesson; and a third story that same mom repeated secondhand about one of her friends told her about where that mom jumped in during a preschool swim lesson although I don't have more details or a timeline for that one).
Overall – swim lessons are hard – especially group swim lessons with lots of moving parts and one instructor. Perhaps a solution here would be not to have upper-level group lessons at the YMCA in the deep end where the kids can't touch.
Further, this is why always watching my kids in the pool or by a body of water is important to me. And why I always have the kids in life vests in lakes, bays, deep creeks etc. Because you just never know.  
I'll leave my old post up below so you can see what the pool is like. But again, I wouldn't recommend group lessons, especially in the upper levels in the deep-end lap pool.
---
original post –
We've been doing swim lessons at the Tom Taylor YMCA in Gig Harbor all winter long.
Perks have been small class sizes (lots of kids registered but only 3-4 show up), open swim options, family locker rooms and even showers!
Here's the open-swim side of the pool. The jacuzzi on the right is for ages 16+ and unfortunately, the waterslide is reportedly retired.
---
YMCA Swim Lessons
We have (2) Youth YMCA Monthly Memberships (ages 0-17 ) at $43 each.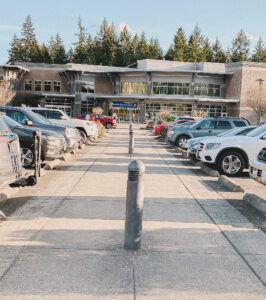 Memberships for parents/guardians are not required if you don't use the facility yourself. Unfortunately, this means you can't get in the pool with your kiddos without your own membership, but you can watch them from the benches. (Or try it out with the quarterly day pass linked below!). As a "non-member spectator," I had to give them a copy of my photo ID and sign a waiver upon entering the community center prior to the kids' swim lesson in order to watch them. The YMCA FAQ also mentions that "while membership is not required for parent viewing, it is required if the parent/guardian is involved in the class (i.e., toddler gym or parent and child swim lessons)."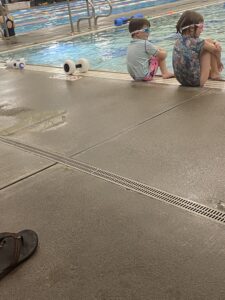 Meanwhile, the kids' monthly memberships get them access to signup for any of the YMCA weekly classes like art, dance, swim lessons, gymnastics, etc.; discounted spring/summer camps ;and youth sports! Plus, full access to all the pools and facilities of all the YMCA of Pierce and Kitsap Counties community centers. I heard the Silverdale YMCA has a neat pool setup so we may try that out on a day trip this summer.
Right now, we are signed up for swim and soccer. We've only had one day of soccer so far, but I'll post more on that soon!

The swim lessons are 30 min each and are monitored by a teacher and the YMCA lifeguards. I sit on the sidelines and watch. Clara goes first while Wyatt plays and then visa versa. The swim classes are divided among age group and skill level:
Ages:
Parent & Child
Preschool
School Age
Teen
Adult
Then, within those categories you have various stages of skill. Here's a look at the Preschool and School Age stages:

"Levels 1-3 help preschoolers learn personal water safety and achieve basic swimming competency by learning two benchmark skills — swim, float, swim and jump, push, turn, grab."
"Levels 1-4 feature socially distanced in-water activities where kids learn from a swim instructor in the pool with them."
"Levels 5-6 feature socially distanced in swim lane activities where kids learn from a swim instructor on the deck."
This setup is nice because Wyatt, for example, lost two years of swim lesson experience in the pandemic so he's starting the whole process over. I would have been super sad if he as a six-year-old beginner swimmer would have been lopped into a swim class with beginner two-year-olds.
Wyatt is in School Age, Level 1 and Clara is in School Age, Level 3. 🙂
The kids have taken swim lessons every summer since they were born. But then they lost a lot of what they learned in the off-seasons, and then lost just about all the skills during the pandemic.  We still went out in the water of course, but as you've probably seen in my pics, they've donned Puddle Jumpers every time. But now that the kids have been vaccinated, and we moved to an area surrounded by water, swim lessons year-round sound like just the ticket. Though you better believe I'm still strapping life vests on them at the beach this summer. That's a boat town thing, right? Or, at least a stressed out mommy thing 🙂
---
YMCA/PENMET Day Pass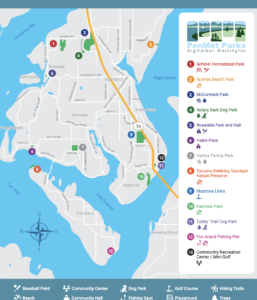 Since Bowen and I can't get in the pool with the kids, I briefly thought about getting an extra membership for me. But then a mom on Facebook told me about YMCA's quarterly free day passes for people within the Peninsula Metropolitan Park District – which is us!
I used the voucher pass last week so I could see what it was like to play in the pool with the kids between their classes. Spoiler alert – I got cold. Lol. No surprise there. But, I'm a cold-blooded Californian who needs a constant heat lamp apparently. And it could be different for you!! Haha. So here's the link to the free YMCA day pass so you can try it out.  Full disclosure: the pool is indoors, totally heated and I'm just a big 'ol baby.
PenMet Parks district residents get the voucher because it contributed $1.5 million to the YMCA aquatic facility back in the day.
Fun fact about this interesting parks and rec district — it's not operated through the city of Gig Harbor. (Gig Harbor has its own Parks & Rec Dept here). Instead, PenMet Parks provides playgrounds, trails and open space within approx 52 square miles of the peninsula, such as unincorporated Purdy, Rosedale, Swede Hill and Canterwood, as well as Fox and Raft Islands. That list also includes our area, Artondale, located southwest of Gig Harbor proper and just across the little Fox Island Bridge.
Official Gig Harbor city limits are actually pretty small – everything inside the blue border is Gig Harbor proper.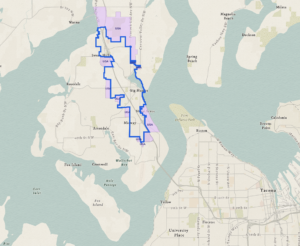 I didn't even realize it, but many locations in unincorporated Pierce County have a "Gig Harbor" mailing address. Turns out, we're one of those people! We live just southwest of city limits — officially making us county residents and PenMet Parks District members! Woot woot!
---
10550 Harbor Hill Drive
Gig Harbor, WA 98332
HOURS
| | |
| --- | --- |
| Mon – Thu: | 5am – 10pm |
| Fri: | 5am – 7pm |
| Sat: | 7am – 5pm |
| Sun: | Closed |
---