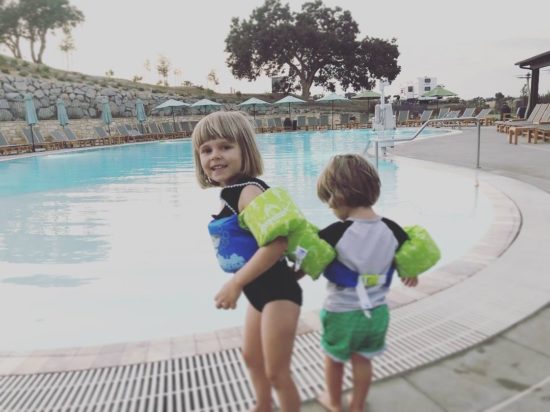 We were recently #hosted by the brand new Cava Robles RV Resort in Paso Robles, California.
And, you guys, we just about had the best time ever.
We now have a ton of favorite things about this place. From the luxury pools, to a bucket-dumping splash pad and a giant chess board to play on at the wine patio, I definitely recommend this resort for your next family-friendly adventure.
Let me count the ways …
We received two nights at the resort compliments of Sun RV Resorts for our review.  (Like always, these gifts will never shape our content and you can read more about that over on our disclosure. This post also contains affiliate links, which earns us a small commission if you shop the links at no extra cost to you.
---
---
Cava Robles is a brand new destination at 3800 Golden Hill Road on Paso Robles' east side. Paso is the Central Coast's wine country, located about halfway between San Francisco and Los Angeles off highways 101 and 46E.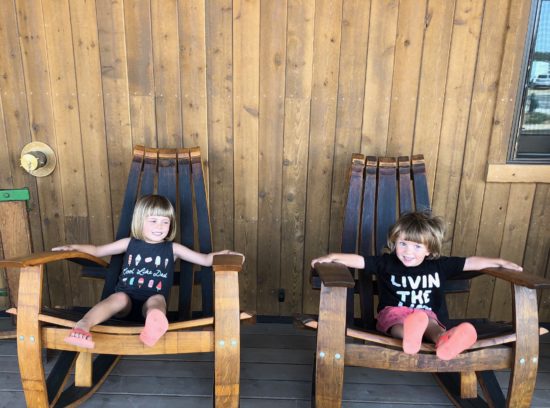 Open since May 2018, Cava's sprawling 76-acre property offers travelers an RV and cottage escape featuring large lots, fancy on-site amenities and fun stuff to do for the kids.  Its unique setting makes it so you're close enough to groceries and gas in town, but still buffered from all that since you're tucked into the countryside.
It's also just about five miles from my house, making the super short drive home with two littles  pretty awesome, too. Staycation for the win!
And this is vacation at its finest, people. We're talkin' playing in two seriously impressive pools, eating ice cream for breakfast and taking in the golden expanses of the oak-dotted landscape I love. Perfection.
---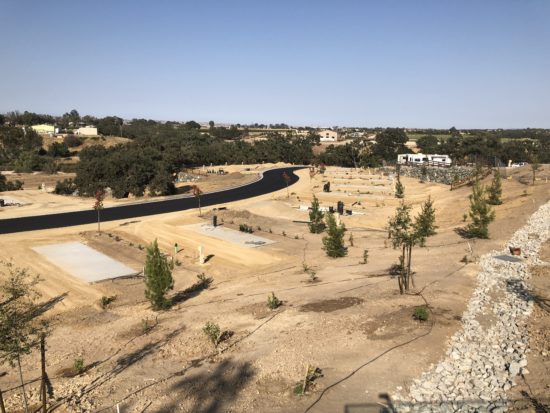 Parts of the grounds are still under construction, but it wasn't like a noisy construction site or anything. So that was nice. The pictures on the website show lush foliage and big trees everywhere, and while that may be the setting once all the landscaping matures, it's still fairly California country at the moment with native grasses and freshly planted trees. However, there are established oaks there. I recommend checking out any of the RV sites off Ramas De Roble on the map to take advantage of that shade.
These sites, as shown below, are at the top of a hill away from the main attractions. But if you rent a golf cart, (more on that below), you're just a quick zip away from everything anyway.
---
A Quick Look At The Resort: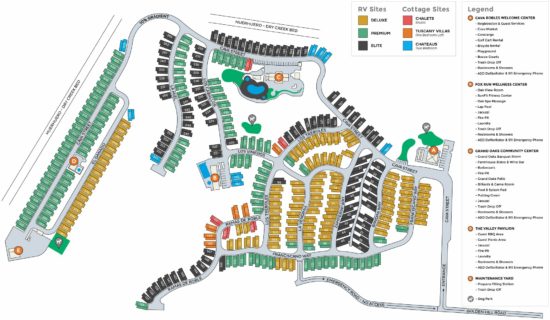 You can see a digital version of this map here where you can zoom in and stuff.
Here are all the amenities:
Two large swimming pools with jacuzzi

Fitness center
Laundry

Fitness classes and water aerobics

Golf cart rentals ( so FUN!!)

Individual shower rooms

Free WiFi (woot!)

Playground

Splash Pad

Putting Green

Fenced Dog Parks

Laundry facility

Spa Services ..

. (The spa can be expected to open in 6-8 weeks)

Concierge service to help plan days of hiking, biking, wine tasting or a trip to nearby beaches & shuttles to nearby wineries and events

On-site restaurant and bar serving up locally- sourced wines and beers

On-site specialty programs such as wine tasting, concerts and nature walks

Kids Club
….. So much stuff, right?
Here Are Our Faves:
Cottage Rentals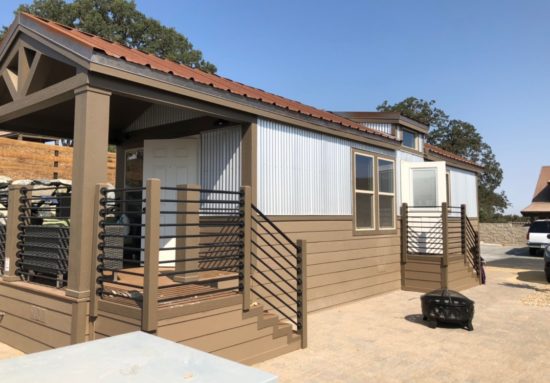 Don't have an RV?  We didn't. Luckily, the resort offers three types of cottage rentals:
Studio Chalet

2BR Chateau

Huge 2BR Loft Tuscany Villa
We stayed in this 2BR Chateau across from the Lap Pool.
You can see pictures of all three cabins here, just scroll down a bit and they're listed on the righthand side. While we were there, I also peeked in the windows of a villa still under construction and it looked totally nice. It had a huge kitchen, something that looked like a wine fridge, and vaulted ceilings. It also had a fenced-in rooftop deck accessible via an outdoor staircase, which the other cottages don't have.
But for us, the 2BR Chateau  was juuuuust fine. In fact, the kids couldn't wait to "move in."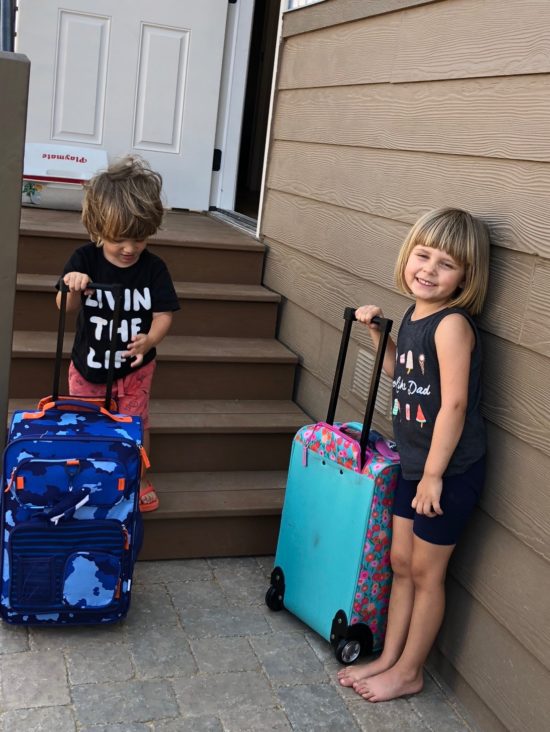 Once we were through the door, we were greeted to a fully furnished living room and an attached kitchen. I thought the kitchen would be more like a kitchenette that you find in hotel rooms but it ended up being a full kitchen with everything but an oven. It had all the appliances, big fridge and freezer and even a stovetop and microwave.
And it was also well equipped: Flatware in the drawers, wine glasses and coffee mugs in the cabinets, dish soap and sponges under the sink and even a junk drawer complete with  little corn-on-the-cob handles!
I mean, that's some meticulous planning right there. I was so impressed.
---
Meanwhile, each of the two bedrooms had a big fluffy bed, built in dressers and its own flat screen cable TV.
Bonus: We even found oversized comfy blankets in the secret drawers built into the base of the beds! So make sure to look for those.
The living room was decorated and homey.  The bathroom is totally nicer than the two at my house. It comes stocked with towels and even a folded washcloth in the shape of a fan with little shampoos, soaps and even makeup remover wipes. The one we had was a shower only, no tub. Spoiler alert: the light switch to the bathroom in our cabin was hiding behind the hand towels. My 4 year old found it after I had given up looking. She's far cooler than me.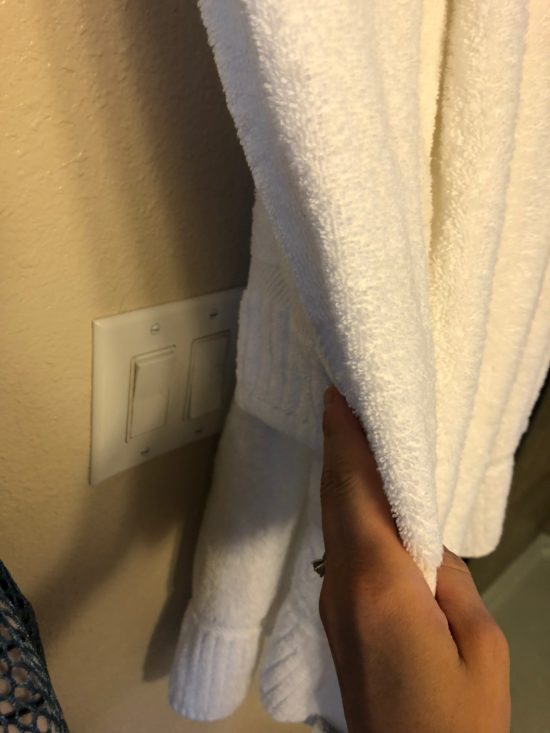 ---
Also, how fancy is this slide-out side table in the living room? It perfectly fit two sippy cups. Side note: These are the best sippies for travel. They don't leak – EVER. I highly recommend them.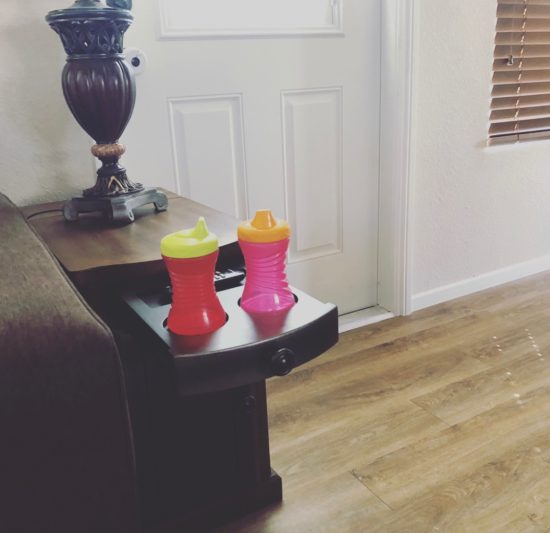 ---
I took one of the bedrooms for me and the kids and grandpa got the second bedroom on the other side of the cottage.
The kids and I brought our two trusty DockATot Grands  (which we previously reviewed here) that we always travel with now. (Shameless plug: You can save $10 off one a DockATot via our affiliate link ). The kids slept in those on the floor, albeit a little crammed. They didn't mind tho. That's just more cozy, right? The bedroom itself came with a remote controlled air conditioner/heater unit, a closet and a built in dresser. It also had a lamp and side table that I had to move to the closet to make the other DockATot fit.
---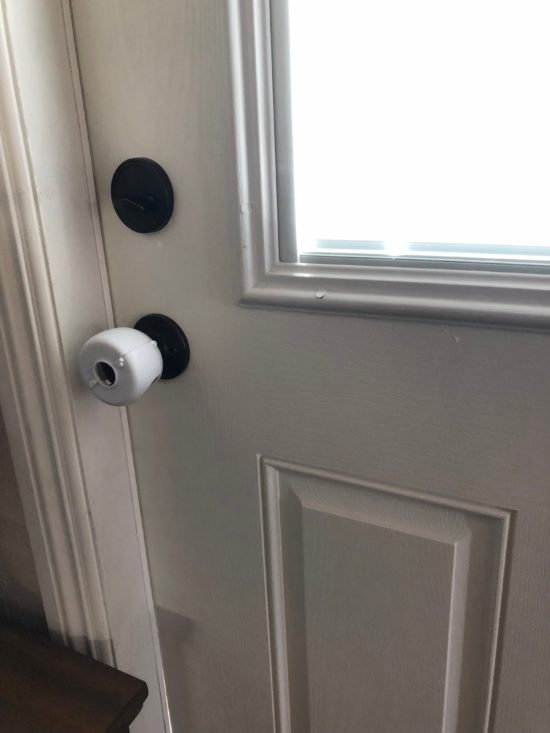 Speaking of making a few parent customizations to the unit, everything was pretty safe looking and well organized. Still, I always travel with outlet and doorknob covers. Because I didn't want the kids leaving out the front door when I was in the shower or something.
---
Outside, the cabin had furnished patios with bbq and dining table down below. This is the magical spot where we ate ice cream for breakfast and cuddled under blankets and listened to crickets to at night. It's a really comfy spot, and helped me connect to nature and the "camping" vibe, even in the cabin setting.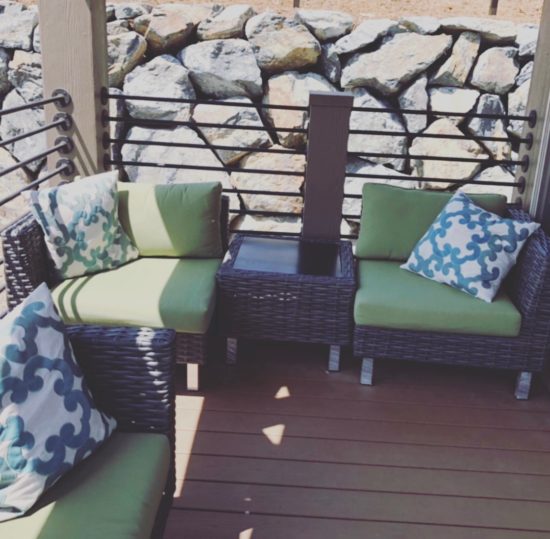 I should also note here that this is the very first overnight trip I did alone with both kids. Total big deal. Well, we did take grandpa with us (my dad), so we weren't totally solo. But still. And it went sooo well. I can't even. I definitely attribute that to this amazing, home-away-from-home style cabin.
And, of course, one awesome grandpa.
You're probably wondering how much these cottages and RV sites cost per night. I've seen a few different prices actually, so make sure to check out these fall pricing deals over on the Cava website.
The Pools
By far, the sparkling gem of Cava Robles are its amazing pools. One of them is an upscale lap pool located on the north end of the resort.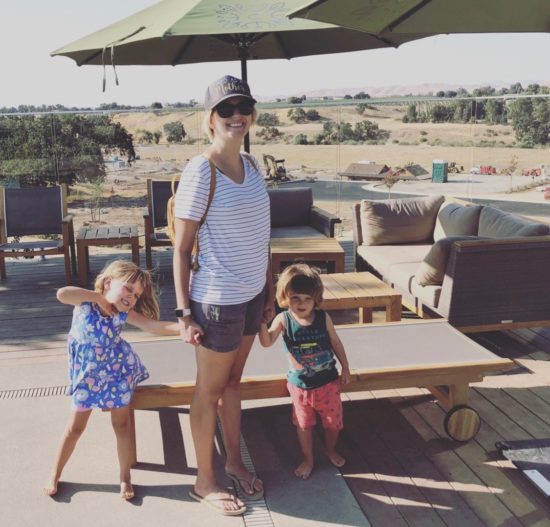 The lap pool stretches out on this deck type area that overlooks the future of the resort where construction is still underway. It's also paired with an impressive indoor workout center and a spa/wellness facility slated to open in late 2018.
---
I enjoyed taking pictures by this pool and it was decidedly less busy than the main pool.
---
That main pool though. Housed in the Grand Oaks Clubhouse, the main pool is a luxurious place where classy lounge chairs and umbrellas line a seamless infinity pool that quietly spills over the edges.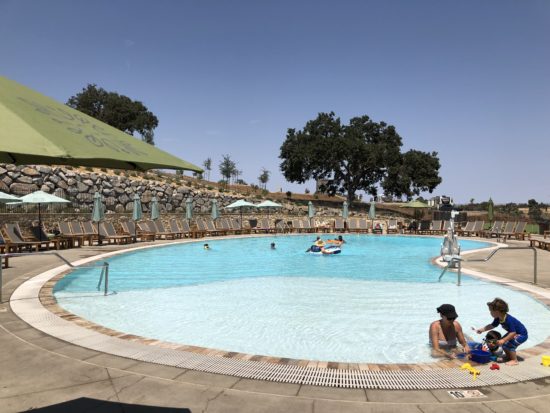 I had never seen an infinity pool before IRL, actually. But the Googles tell me that they're designed to give the visual effect of water with no boundary.
Not only is it beautiful, but the main pool is also great for little kids. That's because about a third of its entrance is only 10 inches of water, making for a lovely wading platform to play and splash in. Then, that opens up to stairs that take swimmers down to about 3 and 5 feet of water. For that, we brought our own Puddle Jumpers, which help the kids stay afloat in deeper water.
---
Kids Club
We didn't try this but Kids Club will pick up again in Summer of 2019. It's a drop-off program at the Grand Oaks Clubhouse where your children will be entertained with games, crafts, and educational activities for all ages. People at the resort tell me that the price is currently TBD.  But coming from someone with two small humans and almost no babysitters, I would say whatever the price is to magically have any time to yourself in wine country is totally worth it.
---
Golf Cart Rentals!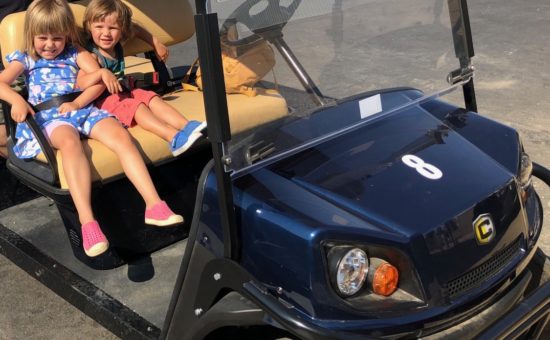 Ok, so this was totally my favorite part of the trip. Is that weird? I just had the absolute best time whizzing around the resort grounds in this thing! Plus, it's super handy not to have to drive the car to all the go-to spots inside the park. Golf cart rentals are $55/day and 100% worth it.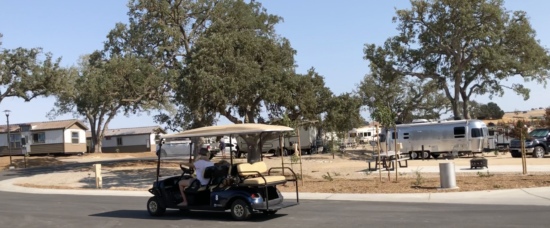 ---
The Splash Pad
The Grand Oaks Clubhouse is also home to the splash pad and putting green. Hint: The secret to turning on the splash pad is to stomp on that black circle on the floor, located to the left of Wyatt in the middle photo. Who knew? But we sure looked funny trying to figure it out.
---
Giant Chess & Jenga On the Wine Patio
Go through an outdoor gate attached to the pool and you'll find the Grand Oaks Clubhouse Patio.
This upscale area is home to giant chess and giant Jenga. Super fun for the kids. Even if they don't know what they're doing, mommy still gets to sit and watch from the fire pit so it's all great in my book.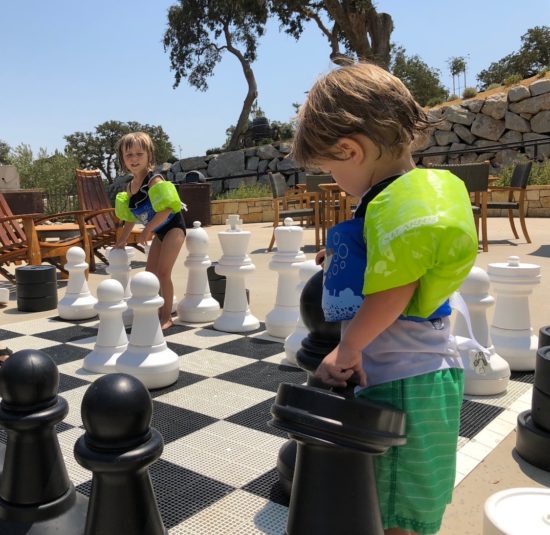 ---
The Playground
Located next to the Welcome Center & Cava Market, this playground is a great pit stop after kids have been in the car all day. It has slides, a climbing wall in the shape of a tent (too cute) and one of the most interesting see-saws I've ever seen.
---
Superman Ice Cream Breakfast (purchased in town)
on the Chateau Patio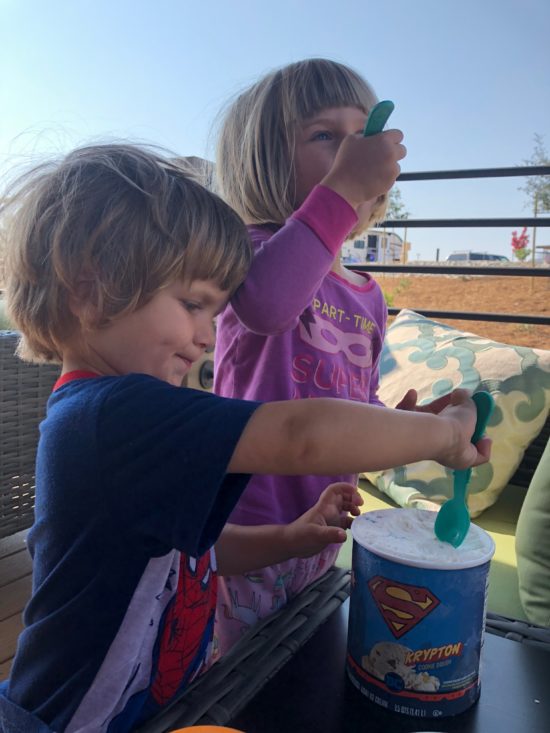 … OK so that last one might be a little specific to us, but feel free to copy! Lol.
---
On a related note, Two In Tow is an RVshare affiliate, and you can check out the following links should you want to rent or rent out an RV anywhere in the United States.
Go here if you want to rent an RV
Go here if you own an RV that you'd like to rent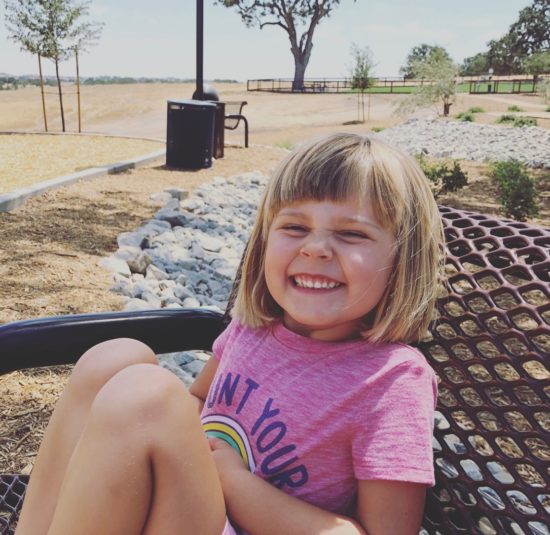 And that's a wrap for our Cava Robles review! If you have any questions about the resort that I didn't touch on here, you're welcome to drop a comment or email me at twotowgo@gmail.com and I'll do my best to answer.
We hope to see you there!
---
Cava Robles is a Sun RV Resort. Sun Communities owns and operates more than 360 Vacation Rental + RV Parks in the United States and Canada.
Visit Cava Robles on Facebook // Instagram // Web
(844) 641-5093
Check out other family-friendly destinations in SLO County.