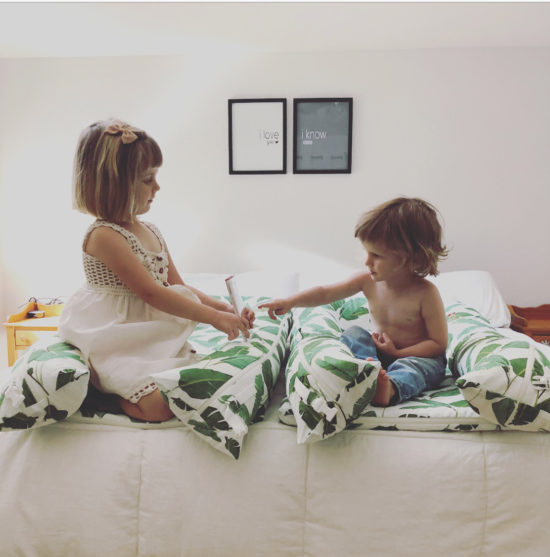 My wish for my children is that they always find friendship in each other. That they find joy and creativity in play. And that they each have their own comfortable space. These words are inspired by our newest collab compliments of DockATot.
I received two DockATot Grand Docks in the oh-so-chic Bananas For You print in exchange for our honest review but all opinions are my own. For more information, please see my disclosure.
Before I get into the full review, can we take a sec to seriously appreciate this print? I'd recommend it to anyone trying to decide on which design to snag. It really brightens up the neutral colors in my house, too.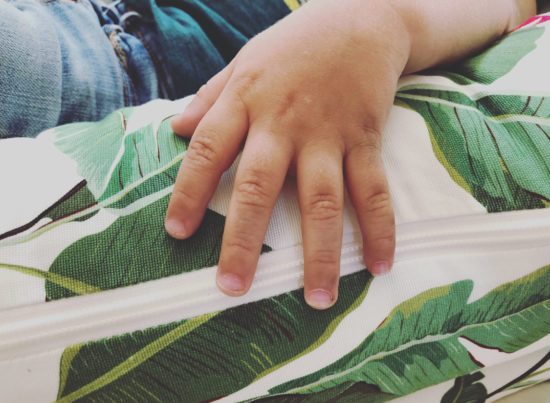 THE REVIEW
DockATot is a stylish lounger and co-sleeper for babies and toddlers. They come in two sizes:
Deluxe for 0-8 mos
Grand 9-36 mos
They're designed to provide children a snug environment so they feel cozy and comforted in their own calm space. In our house, these have been great for sleeping, reading and snuggling up to watch a movie. You've probably seen DockATot's smaller infant version used as a co-sleeper in mom's bed (never in a crib). But we're excited to show off uses for the Grand toddler size version!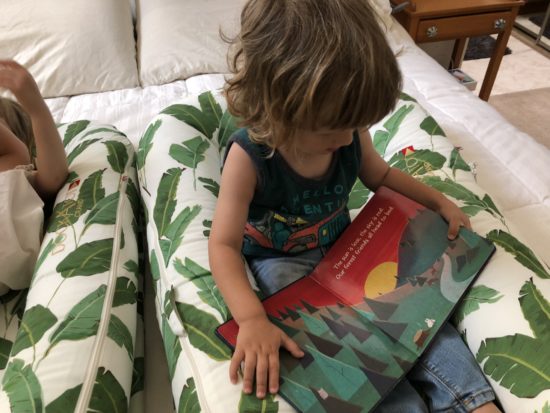 As soon as the kids pulled out their Grand Docks, they started thinking up elaborate bedtime scenarios for pretend play. They rounded up their babies (Bunny, Kitty and Bear) and quickly outfitted their Docks with their favorite bedtime books and began "reading" to each other and singing lullabies. Later in the day, they put the Docks into their rooms, pulled the shades and turned on their sound machines! It was so cute! This "bedtime" game is surely this mama's new favorite .
**Update**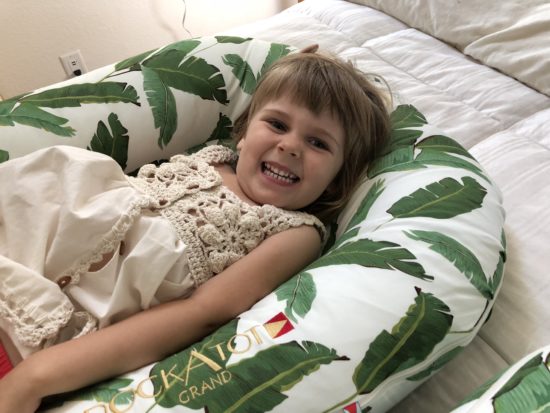 Since our initial review: I can accurately report that my kids have used their Docks every day. They pull them out for morning cartoons, snuggle on them with their favorite blankets and they were a lifesaver when the kids were sick and grumpy. My 2 year old even slept in his on the floor a few times when he fell out of his big boy bed. (we have a rail up, he's just a crazy climber.)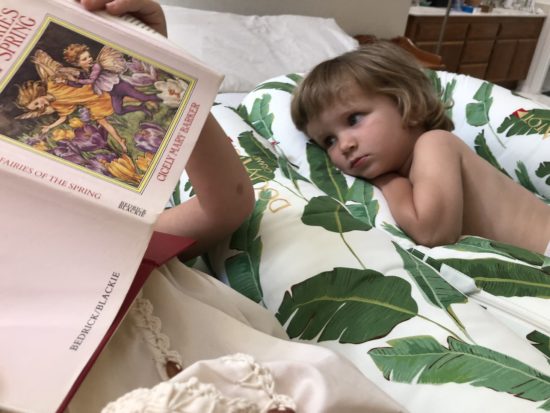 LIKES:
🌙.These come in the coolest patterns. I love the bright 'Bananas for You' print we got. They add a fun pop of color anywhere in the house.
🌙. I love the handmade feel. The zippers are solid and smooth on their track. And the stitching is strong throughout. Docks are handmade in Europe and designed in Sweden.
🌙. The Grand is a thoughtful size because my older toddlers like to have their own snuggly spaces, too.
🌙. Speaking of, these are perfect for my kids' personal space preferences. (Ie: no major eye-roll moments of "Mommm!! Brother's FOOT IS TOUCHING MY FOOT!)
🌙. The Grand size can also be used for big kid bed transitions, a move both my kids have made, but have not quite mastered so this is handy.

DISLIKES:
🌙.  Honestly, I can't think of anything I dislike about these.
🌙. They are fairly pricey, though, so I guess there's that. But in my opinion, these are quality so it's money well spent.
A Snapshot of the DockATot Grand:
DOCKATOT GRAND
Instagram: @dockatot
Web: dockatot.com  
From the brand:
– DockATot is a multi-functional lounger, co-sleeper and playtime lounger.
– Two sizes (Deluxe for 0-8 Months, Grand 9-36 months)
– Made in Europe, designed in Sweden.
– Tested for breathability
– OEKO-TEX certified
– All natural, 100% cotton
– Handmade in Europe
– Ideal micro-climate for babies and tots
– Grand is perfect for toddler bed transitions