This article originally appeared in the July 2018 edition of Colony Magazine.
It's also published here.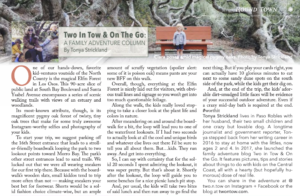 One of our hands-down, favorite kid-ventures outside of the North County is the magical Elfin Forest in Los Osos. This 90-acre slice of public land at South Bay Boulevard and Santa Ysabel Avenue encompasses a series of scenic walking trails with views of an estuary and woodlands.
Its most-known attribute, though, is its magnificent pygmy oak forest of twisty, tiny oak trees that make for some truly awesome Instagram-worthy selfies and photography of your kids.
---
To start your trip, we suggest parking off the 16th Street entrance that leads to a stroller-friendly boardwalk looping the park to two lookout points toward Morro Bay. The park's other street entrances lead to sand trails. We lucked out that we were all wearing sneakers for our first trip there. Because with the boardwalk's wooden slats, small kiddos tend to trip more often than not — making sneakers your best bet for footwear. Shorts would be a solid fashion choice climate-wise, but an ample amount of scruffy vegetation (spoiler alert: some of it is poison oak) means pants are your new BFF on this walk.
Overall, though, everything at the Elfin Forest is nicely laid out for visitors, with obvious trail lines and signage so you won't get into too much questionable foliage.
Along the walk, the kids really loved stopping to take a closer look at the plant life and colors in nature.
After meandering on and around the boardwalk for a bit, the loop will lead you to one of the waterfront lookouts. If I had two seconds to actually look at all the cool and unique birds and whatever else lives out there I'd be sure to tell you all about them. But…kids. They run away. And get into everything.
So, I can say with certainty that for the solid 20 seconds I spent admiring the lookout, it was super pretty. But that's about it. Shortly after the lookout, the loop will guide you to some benches for a nice picnic lunch pit stop.
And, per usual, the kids will take two bites of said lunch and then run away to go find the next thing. But if you play your cards right, you can actually have 10 glorious minutes to eat next to some sandy dune spots on the south side of the park, while the kids get their dig on. And, at the end of the trip, the kids' adorable dirt-smudged little faces will be evidence of your successful outdoor adventure. Even if a crazy mid-day bath is required at the end. #worthit