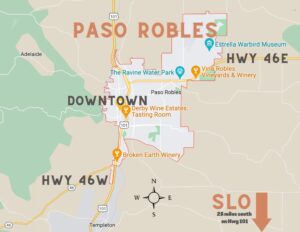 People are always asking me for recommendations on things to do in Paso Robles, California. And even though I don't live there anymore, I'm all for it.
The below list is compiled from five separate text message exchanges I've had in the last two months with everyone from a friend's co-worker to my own family.
This is a no-frills list with linked titles and short descriptions, but I also made a map!
---
The recommendations are divided by Paso's main three geographic regions (as marked on the map) and categorized as "Eat, Sip, Do." I'll note here that these recommendations aren't tailored to families with kids. But, guys! You know I have a list for that, too. 😉.
Downtown Paso Robles
EAT:
Californian menu with a farm-to-table gourmet twist. The pork-belly sandwich is not to miss! Their outdoor dining patio was always our go-to for out-of-town visitors.
Upscale Mexican food with a big tequila menu, cool decor, and a fun atmosphere. They also make really pretty cocktails!
Neat spot. Has a very minimalist/garden/hipster vibe. I've never personally been there, but friends say it's awesome.
Easy homemade sandwiches and an outdoor patio when you don't feel like doing a big lunch thing. The kids and I ate here all the time and I even named our cat after them! I don't know if they do it anymore, but when I worked at the newspaper in Paso, they'd deliver my lunch order on a red scooter which is how they got their name!
Fun and colorful candy store that's a big hit. Located in Paso's historic bathhouse building (and, later, a former Tribune location!), this store specializes in hard-to-find classic candies. It also has an international section, an impressive Jelly Belly wall, and plays "Willy Wonka's Chocolate Factory" on a loop. Find more pics and deets in my SLO Sweets post.
SIP:
1122 Cocktail Lounge & Speakeasy
This place is a secret-door speakeasy and their cocktails are artsy. They mix them in front of you with props (torches, smoked oak and tiny tongs) and you can even dress up super fancy style for the occasion if you want. I blogged about this bar for VISIT SLOCAL.
Paso's go-to Irish pub. Sport your local knowledge and tell them you remember when this place was called the Crooked Kilt! Fun locals vibe; killer must-have bloody marys. I've been there many a time.
This is the local's bar for sure. Karaoke, young people, authentic cowboy scene. 
This bar opened after we moved. But it sure looks like a great immersive experience for its touted "tiki oasis" scene. From what I read, it's owned by the same people as Pappy McGregor's, Fish Guacho, and 1122. (The Park & Pine Group).
Casual outdoor beer garden, dog-friendly. Fairly new.
Craft beer and live music. It had "one of the best Johnny Cash tribute bands endorsed by the Cash Family for the show's authenticity." Music updates on its website.
Note: Wondering where all the Paso winery recs are? Keep reading 🍇.
DO:
This is a free art museum, but each of the exhibit rooms is someone's actual working art studio where they mix the paint and put it on the canvas and the whole shebang. It's not all just paintings, either. I blogged about it for SLOCAL, and wrote about it several times for The Tribune as a Paso Robles reporter.
Pretty for walks and taking pics. It has a gazebo, twisty oak trees with leaves that filter the sun just right, and this mysterious heart shape in the grass near the playground!
Aka The Paso Robles History Museum. It's the brick building in the middle of Downtown City Park that dates back to 1908. Admission is free but donations are accepted. It has specific hours so check the website first. I spent many an afternoon searching newspaper archives in the Carnegie basement. It's home to the Paso Robles Historical Society and its cool exhibits. If you're so inclined, take a read on one of my very favorite stories about the 19th-century glass negatives local historians restored in this very building. Here's my full blog post on this neat historical site!
This is a relatively new attraction and very popular. The slogan is "Welcome to the Gateway of Paso Robles."
---
Off Highway 46 East 
EAT:
I live a sad gluten-free existence due to allergies so my knowledge of good restaurants is, unfortunately, not that great. I stand by my recommendations for downtown, though! If you have recs for this region of Paso, leave them in the comments! 😊.
SIP:
Everyone goes to Tobin James. It's touristy but with an upbeat country vibe and people love their bold wines and little sunbeam patches. Get ready to see those patches everywhere now! If you know, you know.
DO:
Private, open-air mineral tubs you can rent by the hour! Reserve a package and get a bucket of sparkling wine tubside. Bowen and I went here for every anniversary and on most "date days" after having kids. There's also a day spa here.
Vina Robles Winery + Amphitheatre
Vaulted ceilings, big glass windows, and neat architecture make this tasting room never feel crowded. The outdoor Amphitheatre is unlike anything in the county and welcomes big-name acts. Tickets are for sale here.
Bruce Munro's one-of-a-kind, super cool outdoor light installation that everyone loves visiting at least once. Tickets required. Somehow I never got the chance to go, but here's a write-up about it from my friends at Travel Paso.
Open roughly from Late May – Early September 2022, with blackout dates.
Water slides, a lazy river, and a cool tiki bar. You can also rent cabanas with bar and food service. I was the "official blogger" for Ravine two years in a row and here's my last review for more info on how to live your best life there.
---
Off Highway 46 West 
Note: Most of this region is actually called Templeton, California.
EAT:
Pier 46 Seafood market is next to Trader Joe's. Since it's a little fish market first, it has some patio seating outside with not a lot of seating inside. But everyone says that hands down, their fish tacos are the best in SLO County!
SIP:
We were wine club members here and their wines were always my favorite. Truly robust red zins and they have the absolute best non-sweet sauv blanc if you enjoy a refreshing white. Bring your tasting experience to the outside patios and lawns with vineyard views if you aren't into tasting room crowds. They also have one of the only regional frisbee golf courses for a fee and an annual music festival. And you guessed it, I also wrote about Castoro for SLOCAL.
This winery is in an actual castle. A castle!! I went to a party there a few years back and the castle scene is always fun for exploring and for taking pics!
DO:
Take Hwy 46W about 41 miles to the coast to take in the sights. You have to. It's my favorite place to be. There are amazing bird's-eye views of Morro Rock from the top of the drive.
There are more than 200 wineries in and around Paso Robles, most of which are family-owned. You could easily go online, book a van tour (here's a bunch on Google), and hit up all of their recommendations and all the wine would be good. In this blog, I just listed a few personal faves!
---
Nearby Regions
Casual hipster restaurants in a revamped industrial complex. I've been to Cal Wise Spirits and they literally hike to Big Sur to get juniper for their gin. They do a distillery tour, too.
One of the only sparkling winemakers that bottle right on site: and the property is super modern/mansion/chic amazing and has a posh-looking tasting room. I'd say this tasting room is more "gold and glam" compared to the more rustic/farm-style tasting rooms in the area.
Historic City Hall, Atascadero
This building and I go way back. Plus it looks like it belongs in Europe! This rotunda-topped marvel is home to city offices but there's a museum on the ground floor to peruse for free, with a donation box in the lobby. Speaking of the lobby, make sure to look up! The ceiling is covered in ornate shapes of red, green, and gold-painted plaster. The Atascadero Historical Society gives complimentary tours of the building by appointment via atascaderocolonymuseum@gmail.com. I've never actually been on the public tour, but I did a construction/reno walk-through with fancy architects from LA. Don't miss the four water fountains around the entrance, they're 100+ years old. Further across the lawn, the  "Wrestling Bacchantes" statue hails from the 1904 World's Fair. Here's a post from when the kids visited.