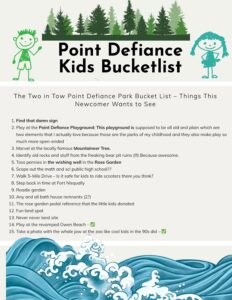 It's officially the first day of fall and I'm already feeling the pull to explore every outdoor inch of Pierce County before I have to layer up in 15  jackets just to leave the house again.
That feeling, paired with recently diving head-first into the research rabbit hole of how Point Defiance got its name (more on that soon), I now know of approximately 513 cool things I haven't seen there yet, and I'm having some major FOMO over it.
So I made the following Point Defiance Park Bucket List to help encourage me to get out there. Here we go!
---
A Park for the People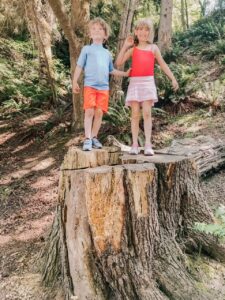 First, some background:
Point Defiance Park is 760 acres of forest, gardens, a zoo with elephants and sharks, coastline, trails and history stuff – each offering its own spin on family-friendly things to do in Tacoma.
As Point Defiance Park shifted from existing as a federal military reserve to being a public tourism destination after 1888, a storied roster of things to see and do there has come and gone.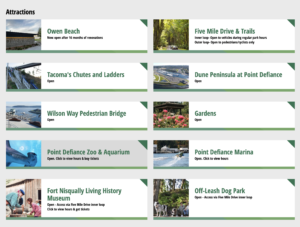 Today, the park has 10 official public attractions to explore.
Of them, the kids and I have been to the Point Defiance Zoo & Aquarium, Owen Beach, and the Dune Peninsula walkway by Ruston.
---
Point Defiance Park Bucket List, Tacoma
Note: watch for the ✅
I'll be adding them next to the items as we see them, and then updating the blog with an overview of each.
Play at the Point Defiance Playground: This playground is supposed to be all old and plain – two elements I actually ADORE in swings and slides and climbing things because those are the parks of this 1982 kid's childhood. And, they're usually less busy AND make playtime much more open-ended.
Marvel at the locally famous Mountaineer Tree – a Douglas fir estimated to be 450 years old!!
Identify old rocks and stuff from the 1898 bear pit ruins (!!!)
Toss pennies in Rose Garden wishing well.
Scope out the math and science high school. (kid goals!)
Walk 5-Mile Drive – (I know – 'no cars allowed' – but is it safe for kids to ride scooters?)
Step back in time at Fort Nisqually.
Walk through Washington State's favorite flowers in the Rhododendron Garden.
Find any and all old bathhouse remnants. (I hear there were two?)
Stand in the Rose Garden again and think about the park department's sweet old Ebenezer who asked precious schoolchildren in 1895 to donate rose clippings to it.
Scout out Fun Land's former location. It opened in 1933.
Dig in the dirt for Never Never Land character paint pieces as these guys did. Or look for the ruins shown in this YouTube video.
Play at the revamped Owen Beach – ✅    Our Owen Beach blog post
Take a photo with the whale jaw at the Point Defiance Zoo & Aquarium like all the cool kids in the 90s did – ✅
Walk Ruston Way ✅
[/wc_box]
Attractions Then & Now
Typical me, I'm always fascinated with "what was."
On June 28, 2005, the Tacoma News Tribune celebrated 100 years of the park in an extensive special report. I'm printing this historical sites map that the newspaper published during its centennial series of all the old locations of previous attractions. Some could even still be there.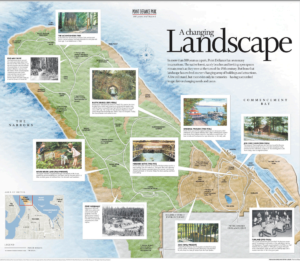 ---
Other fun park archive articles of note: