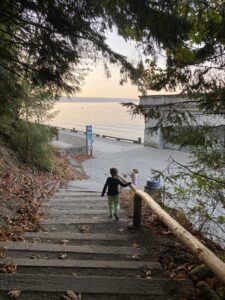 Our trip to the newly reopened Owen Beach this summer has got me majorly hooked on its motherland: the 760-acre Point Defiance Park. I may be new to the area, but it's clear this place is Tacoma's beloved urban reverie of all things nature-y and good.
It's operated as a public space for more than a century and is currently home to 10 mini destinations – including a modern-day zoo and aquarium – so, there's a lot to unpack here.
But, nonetheless, I tried!
---
RELATED: Don't miss my Point Defiance Park Bucket List
---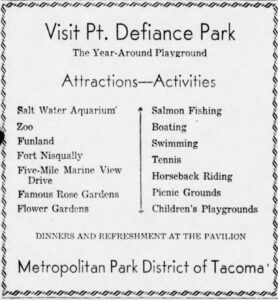 For this post, I honed in on the sentiments, photos, and stories (plus a few key dates) that help shape the backstory of Point Defiance in my own mind, so I can establish a sense of place there for you. If you're a local and want to share what the park means/has meant to you, I'd love to hear it in the comments.
During my "getting to know" process with any story of historical value, I'm big on "then vs now" comparisons. So, naturally, in the last few weeks, I've not only spent hours searching newspaper archives, historic library collections and other online info, but I've also amassed: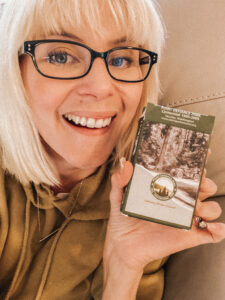 23 old-timey Point Defiance postcards on my eBay Watch List.
A $5 Offerup deck of commemorative playing cards from the park's 2005 centennial, featuring 100 years of historical pics and captions (score!).
126 pages of fun facts from Melissa McGinnis' and Doreen Beard-Simpkins'

 

genuinely lovely

Images of America

book titled,

"

Tacoma's Point Defiance Park."

13 old articles from the Tacoma News Tribune archive (and I've delighted in every single one).
Several photos from when I may not have left Bowen with the kids to "just get gas" last week and somehow (oops!) ended up at Gig Harbor's Old Ferry Landing to see what Point Defiance looks like from across The Narrows.
You know, all that "I'm a totally normal person" stuff. Anyhoo. Read on for some cool history on everybody's favorite Tacoma destination!
---
The History of Point Defiance Park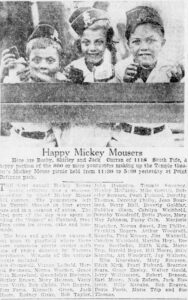 In 1888, Congress shed its longtime military claim on Point Defiance and allowed the City of Tacoma to make the peninsula public. As the story goes, local real estate and street car developers petitioned the government to give up the land because they saw it as a business opportunity to draw in settlers by having a cool public park nearby (fun playing card facts ftw!).
And they were right. Because from the moment those proverbial gates opened, visitors fell absolutely head-over-heels in love with the land.
In 1905, the title to the peninsula was formally deeded to the city, and the official Point Defiance Park was born. The community here celebrated its centennial in 2005.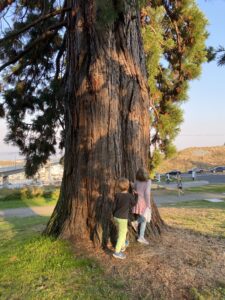 Today, the park is a major regional destination. It's run by public rec agency Metro Parks Tacoma. The park also has the modern Point Defiance Zoo & Aquarium, the newly renovated Owen Beach, trails abound, a boathouse marina with watercraft rentals and fishing gear, some crazy cool gardens, a playground, and a Japanese-style Pagoda original to 1914. To my delight, it's also home to a rich history of quirky-cool attractions that have come and gone, all with some amazing stories and photos attached.
In a state with so much lush greenery, I was initially surprised by the public's steadfast admiration of this park. But, upon a closer look, it's clear that Point Defiance Park is, indeed, a very special place.
And here's why.
---
Setting the Scene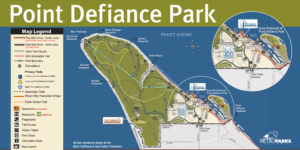 Situated on the entirety of a wooded peninsula carved from ancient glaciers and topped with a dense and towering forest, Point Defiance Park is buffered on three sides by the salty inlet waters of the Puget Sound and nestled into the northern tip of Tacoma's city limits in western Washington. You find its main entrance at 5400 N Pearl St.
Ask any one of its 3 million visitors, and I'd wager a guess they'd tell the true beauty and splendor of Point Defiance is inherent to it remaining largely untouched for centuries.
That idea tracks. When American voyagers first plotted the peninsula as a military reserve in 1841, it made settler development there an official no-go. As time ticked on, guns and cannons never came but Tacoma's broad sweep of industrial commerce sure did.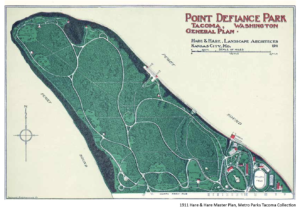 And while the city's urban sprawl grew up and around The Point (as the locals call it), it never crossed its borders. And that right there is why this natural expanse of sea cliffs, beaches, and timber remained completely, and gloriously, undisturbed – and accessible to the public today. A visual of the city's development vs a peninsula of undisturbed nature is well illustrated in this historic photo from the Washington State Historical Society.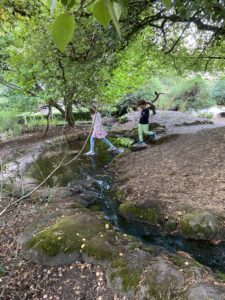 "It was, without a doubt, "an island of peace and beauty" as the original park planners, clearly smitten with the peninsula's forest-y beach vibe in the early 1900s, once said. (Point Defiance's first superintendent, Ebenezer Roberts, per Metro Parks Tacoma).
FUN FACT: The Tacoma News Tribune reported that some of trees are an impressive 200 to 500 years old. (Check out the Mountaineer Tree on my Point Defiance Bucket list).
---

---
Locals in Love
I'm a big nostalgia person (shocking, lol) so here are several passages in the 1960s Tacoma News Tribune archive describing the park's natural splendor as a tourist destination. These definitely made me smile. 🙂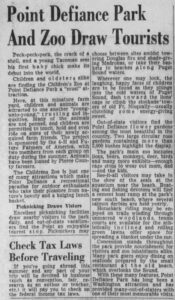 "… look the laughing happy faces of children are to be found as they plunge Into the cold waters of Puget Sound dash toward the lions' cage or climb the stockade towers of old Ft Ntoqually— usually clutching some energy-giving sweet."
"Horseback riding may be enjoyed on trails winding through unmarred woodlands. Tennis courts are available for the athletically inclined, and rolling green lawns offer spare for spreading a blanket under the sun."
"Point Defiance Park has long been a Washington attraction and has provided many-out-of-staters with me of their most memorable visits"
From my most recent estimate, the park also has 1.5 bajillion swoon-worthy stories about its history. Like, didja hear about the one where its 1890s park superintendent named his children after foliage, wore adorable old man tweed with flowers in his cap, and planted rose clippings he collected from school children for what would later become the park's most famed and accredited rose garden?
Yeah, I just learned about that one too.
His name was Ebenezer Roberts and according to the Harbor History Museum his daughter, the late Trillium Roberts Insel, "is responsible for most of the information known about … Point Defiance's early days from an article she wrote in 1967 for the Tacoma News Tribune."
Of which, I've only found a teaser for and not the full report. I'll link back when I find it!
---
The Park's Past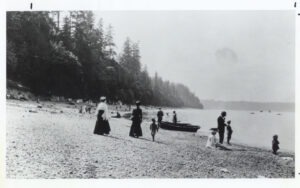 When Point Defiance initially became public, very few manmade things existed there. That meant its first visitors were mostly casual beachcombers (pictured here in delightful period skirts and suits) and summertime campers on holiday, staking temporary tents in the sand. I believe the shoreline pictured here is Owen Beach, which we visited for the first time this summer! These folks, like so many after them, took refuge on the banks and trails of Point Defiance to escape the hustle-bustle backdrop of city life in Tacoma.
---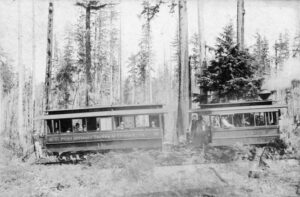 Within two years of becoming public, landscaped gardens, picnic areas, and a fancy-pants city streetcar line were established in 1890. Visits to the park increased as advances in public access and amenities rolled out just before the turn of the century.
It wasn't until 1905 (17 years after it first opened) when the feds formally granted sole ownership of the acreage to Tacoma by transferring the land title, and Point Defiance Park was born.
---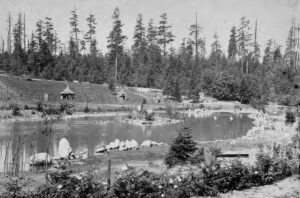 While the list of things to see and do at Point Defiance began shaping up long before 1905, the bulk of early development there honed in on the peninsula's southeast corner for the destination's Pearl Street gateway.
A large lawn (known as The Bowl) and duck pond soon joined the historic flower gardens (that my favorite story dude planted!!) that remain even today.
---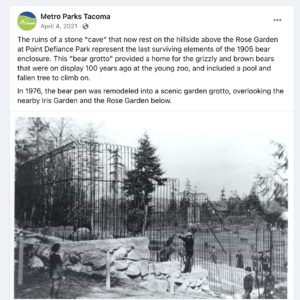 Behind the pond, an informal zoo cropped up as early as 1899. A stone and iron bear pit was erected, and some bison were fenced into a wooden corral.
Soon, people could swim and fish and rent horses there for trail riding. The horse barn burned down in 1964.
By the fall of 1936,  Metro Parks Tacoma published a newspaper ad with a full list of what private and public entities had come up with for entertainment at Point Defiance Park, aka, Tacoma's "Year-Around Playground."
---
Funland!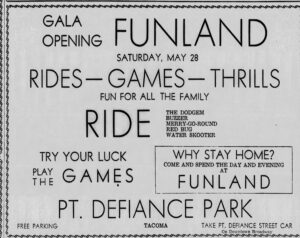 Among them: Funland! Landing the title of Point Defiance's first (and only) amusement park, the attraction brought permanent carnival rides and games to the park's main entrance, advertising 5-cent rides on opening day. Funland faves were the Merry Mix-Up swings, the Shoot the Chutes water track ride, and a classic carousel/merry-go-round. A newspaper ad from 1938 boasts "rides, games, thrills (and) fun for all the family," mentioning additional rides called the Dodgem, Buzzer, Red Bug, and Water Skooter.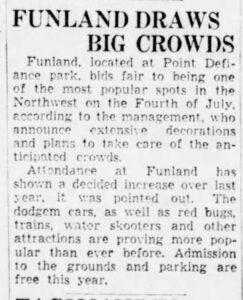 Funland and its rides with the cool names had a solid 30-year run during the Great Depression. In 1963, the public lost interest, and Funland closed. Almost two decades later, Don Mansfield, a 33-year-old Tacoma lawyer who used to sell burgers at Funland as a kid, approached the community with a plan to revive Funland in 1976. Newspapers at the time reported that while some people loved Mansfield's idea, others, such as park planners, had pictured a less-traffic-y/more natural future for the destination.
---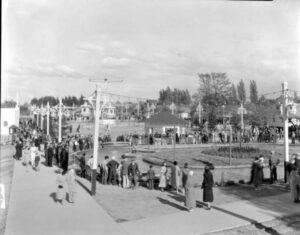 Mansfield's plan eventually fizzled because he couldn't get investors for an amusement park that was no longer in the Point Defiance Park master plan. But not before Mansfield was allowed to build a go-cart track and batting cage (described as where a machine throws baseballs to a batter). I read that the go-cart place remained at Point Defiance for quite a long time until it too eventually had to go.
---
Never Never Land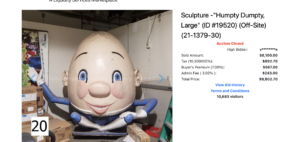 Elsewhere in the 1960s, a new and quirky attraction popped up — Never Never Land. This walk led families through an outdoor storybook trail featuring giant fiberglass exhibits of Humpty Dumpty and his storybook friends. There was even a giant slide kids could scoot down modeled after "There was an old woman who lived in a shoe" nursery rhyme.
Here's a rundown from the rec agency:
"Never Never Land was a storybook walking trail in Tacoma's Point Defiance Park that first opened in 1964. The "wooded wonderland" attraction ultimately closed in 2001 after constant vandalism and theft proved too challenging to manage in a cost-effective manner. The collection has been in storage since Never Never Land closed, and while many pieces were lost during a fire in 2011, a few figures survived. (The Humpty Dumpty sculpture) and others like it are fine examples of Tacoma history and are expressions of familiar nursery rhymes from Mid-century American childhood." The statues were made by the late Hungarian-Canadian sculptor Elek Imredy (1912-1994).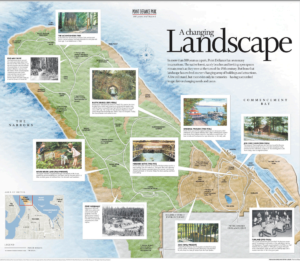 That attraction eventually closed in 2001 but was also pitched as a revival. This time, in the last few years! Grit City Magazine reported that Dave Mitzel and his 14-year-old son Brandon wanted to bring Tacoma's "beloved storybook park back into existence, and are eyeing April of 2021 as an opening date."
But … that was all in 2019, pre-Covid. So, I'm not sure what happened there. But I do know that many of Never Never Land's statues were auctioned off to the public last year in 2021. (This super cool mushroom house in Gig Harbor has many of them!).
BUT THIS JUST IN — I was poking around on Facebook and this Facebook page is talking about a Never Never Land revival again, but this time they're seeking private land.
---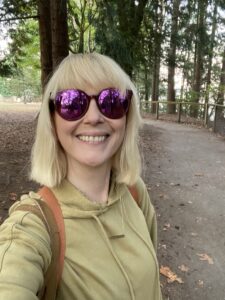 For even more history on Point Defiance Park, including its locomotive camp, superintendent's historic lodge house, and its four famous boathouses, check out the following:
➤ READ: Metro Parks Tacoma has a wonderful timeline of the history of Point Defiance Park, complete with stories, pictures and dates.
➤ WATCH: The City of Tacoma also posted on YouTube a truly wonderful history video: "Point Defiance Park: 100th Anniversary Special" for the park's 2005 centennial. I had so much fun watching it!
Point Defiance Park Fun Facts 
▲ △ ▲ △ ▲ △ ▲ △ ▲ △ ▲ △ ▲ △ ▲ △ ▲ △ ▲ △ ▲ △ ▲ △ ▲ △ ▲ △ ▲ △ ▲ △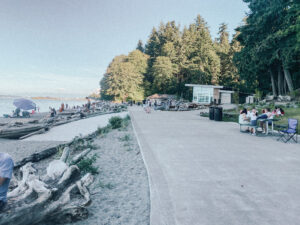 ➤ It's the second largest city park in the U.S., outsized only by New York City's Central Park.
➤ The park sees more than 3 million visitors visit each year — and yet somehow parking is still free (woot woot!).
➤ In 2011, the American Planning Association named Point Defiance Park one of the Great Places in America.
➤ From a scientific standpoint, Point Defiance is rare among urban parks in the PNW because it has 500 acres of old-growth forest bordered by sea cliffs and beaches.

➤ Never Never Land's oversized fiberglass characters were recently auctioned to the public (I'll take the XL Humpty Dumpty for my backyard at the bargain price of $8,100 please).
➤ Quite a few of those auctioned Never Never Land sculptures are now at the new KP Mushroom House under construction in Gig Harbor. There's even a storybook for sale about it. The book is illustrated by Gig Harbor muralist Hillarie Isackson.
➤The wooden carousel currently operating at the modern-day Point Defiance Zoo & Aquarium is a replica of the park's original, handpainted animal carousel from 1917. 
---