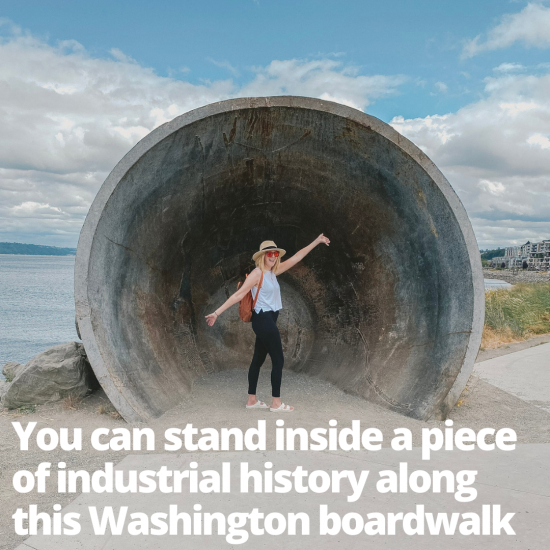 Snazzy waterfront views of Commencement Bay are just one of the cool things about Tacoma Washington's famous Waterwalk at Point Ruston.
But four-person surrey bike rentals,  a one-mile walking route, and historic points of interest are also there to enjoy.
Here's a look at our recent anniversary trip and all the things we saw.
---
Ruston Way Waterwalk
The Waterwalk is a one-mile paved route for cyclists, pedestrians  – and even roller skaters! It's located at 5005 Ruston Way in Tacoma.
The path stretches along the west side of the touristy new shop/live/play waterfront development Point Ruston Village and the fancy new hotel I blogged about for our 10th wedding anniversary.
---
---
Copper Smelter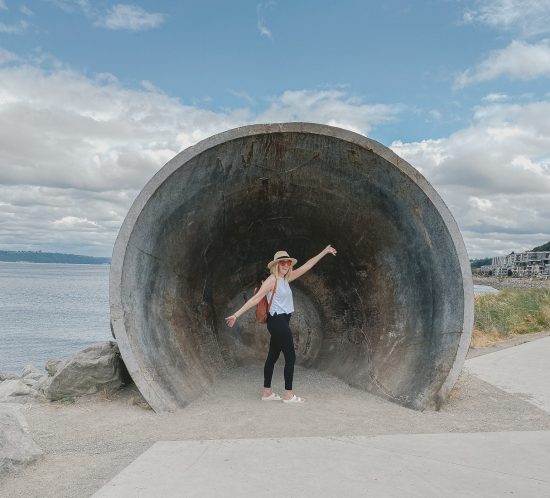 I'm still learning about all the places here in Washington state, but as I beefed up on my local maritime history, I learned the Asarco Company operated a copper smelter at Point Ruston for almost 100 years, closing the industrial site in the 1980s. One of my IG followers pointed out that I'm standing in one of the giant historic melting pots, currently on display along the Waterwalk at Point Ruston outside of  the hotel.
---
Since I geek out on history,
I looked up more info on the smelter.
Check out this crazy side by side of then versus now.
---
What you're looking at above is the way the Point Ruston site used to be: "The ASARCO smelter, at its peak, refined one-twelfth of the world's copper; and for most of its existence smelted 60,000 ounces of gold and 450 ounces of silver annually. The stack, erected in 1917, the highest in the world back then, rose 571 feet above its base." ( Tacoma Daily Index )
And now the site is all redone and pretty – heavily anchored in the tourism sector of things to see and do. It all definitely gives off all the fun, resort-y vibes nowadays: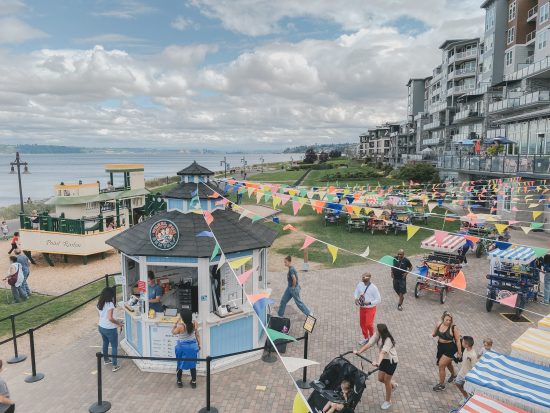 This area is off Grand Plaza, home to Wheel Fun's bike and buggies rentals and a cute boat-themed playground. The waterfront views here overlook the Commencement Bay portion of the Puget Sound.
---
---
Historic Point Ruston Ferry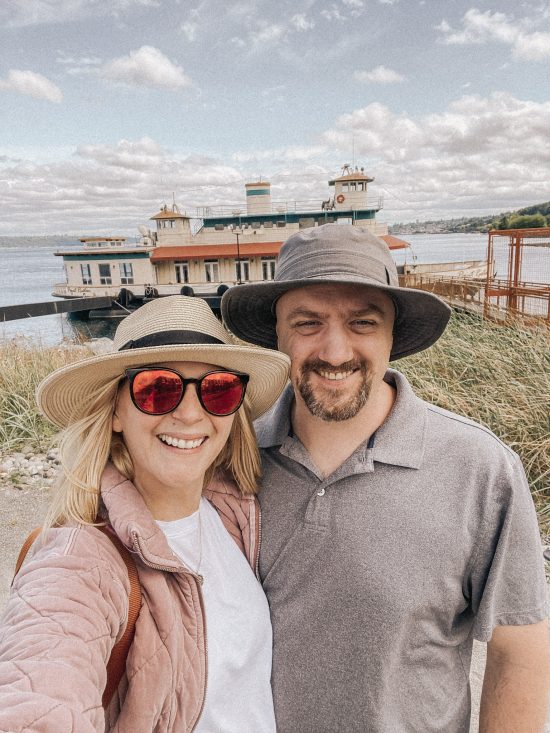 Another point of interest along the Waterwalk is the Historic Point Ruston Ferry.
Built in 1936, the boat lived its life as a ferry boat shipping people and supplies across the water and is now docked and retired as a showroom for the new housing development along the waterway. I love how colorful it is.
And that was our little weekend getaway. Hope to see you there!