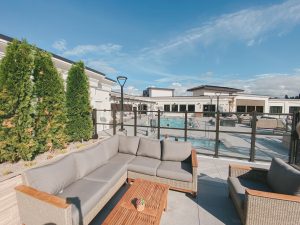 An outdoor rooftop pool – a rarity in rainy Washington – and a jetted jacuzzi spa inside our room are just some of the reasons Bowen and loved our 10-year (#hosted 🙌🏻) anniversary trip to Tacoma's brand new @silvercloud.pointruston hotel.
 The 194-room Silver Cloud Hotel Tacoma – Point Ruston Waterfront property opened as new construction in June 2021. Don't confuse it with its similarly-named sister destination, the Silver Cloud Inn – Tacoma Waterfront about 2.5 miles to the south. The inn is older, although I also hear it's another beautiful site.
---
We received our one-night stay compliments of the hotel.  Like always, these gifts will never shape my content and you can read more about that over on my disclosure.
---
Here's the proximity between the two Silver Clouds. The hotel I'm reviewing today is on the upper left:
---
Silver Cloud Hotel Tacoma at Point Ruston Waterfront
The newer Silver Cloud is located at 5125 Grand Loop along the touristy new shop/live/play waterfront development Point Ruston Village, which I blogged about here!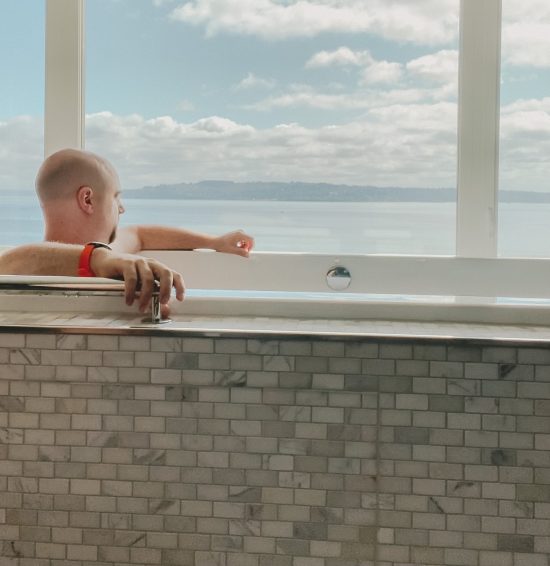 We partnered for a media stay in a Water View King Jacuzzi Room, which is one of its upper-tier rooms and totally worth the extra money for the relaxation factor. You get a jacuzzi INSIDE your room! And that's not just a jacuzzi tub in the bathroom either –  but a full-on spa next to your king-sized bed.
---
Clearly, we also had a fun time modeling the room for our lovely blog readers 🙂
---
The Views
If you go for a water view room (which I hardly ever do but am retroactively kicking myself for because after experiencing it – OMG the coolness), you get to enjoy floor-to-ceiling views of Commencement Bay. That's some prime maritime in-room entertainment over coffee as you spy interesting cargo ships, yachts and speed boats crossing your floor-to-ceiling windows every hour. It would've even been fun to get a pair of binoculars for some optimal people watching!
---
Hotel Restaraunt
Copper & Salt Northwest Kitchen had all the arty vibes of a chic hotel date night. I'm no food critic, but let's just say I'm still dreaming of my greek salad with its more-than-generously sized bites of mozzarella. My only complaint was it seemed to us that the servers were still getting a feel for the flow of the restaurant, (when we went in August, it had just opened) because there was too much lag time in between drinks, ordering, and the check. But, then again, we are also parents of tiny humans who had us hooked into a bedtime/Facetime date at 9 p.m. so we had to move things along.
---
The Pool
And now for my favorite part of any hotel – the pool. It's my understanding that outdoor hotel pools are a rarity in the PNW, and rooftop pools are even more scarce. But this hotel has both! In fact, the entire pool terrace was drop-dead gorgeous and even included an outdoor couch area with fireplaces. Fancy stuff.
---
Instagram Mystery!!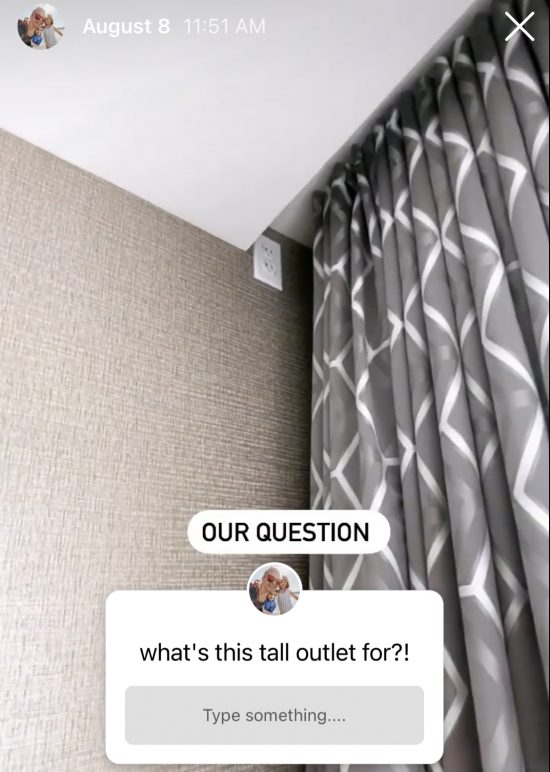 Fun fact for those of you who follow me on Instagram Stories! Still wondering what the heck that tall outlet was for in the corner of the room?? You're in luck, because the mystery is solved!!!
No, it's not for the tallest guest ever. 🙂
It's because:
"The wall is wired to that area in the case we install automatic or remote-controlled curtain systems in the rooms in the future."
-Justine Kunz, Director of Sales & Marketing
---
Overall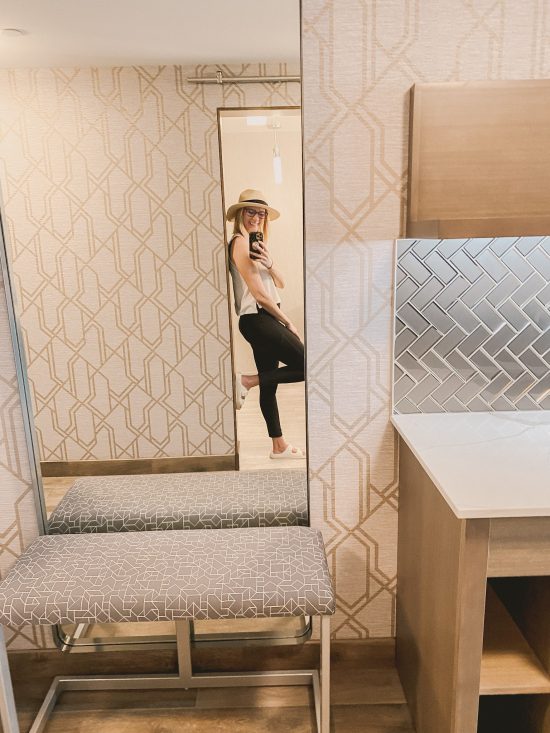 Overall, this is a beautiful hotel with stunning views and very nice amenities. The in-room jacuzzi is definitely worth the money and there's a walkable, fun, and engaging tourism scene just outside. I'd stay here again in a heartbeat. Employee shoutouts are my new favorite way to end hotel reviews! So if you stay here, keep an eye out for Erika in Customer Service who checked us out on August 8 at noon, and Hostess Lillian "Lily" who seated us at Copper & Salt on August 7 at 7p. They were both friendly and accomodating and helped us feel special!
---
Special Note: Making Friends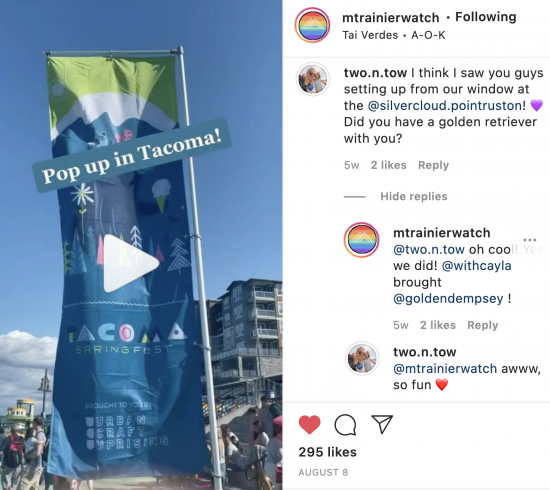 Funny story: Our view spanned a corner of Grandview Plaza. On Sunday morning, we sipped coffee and from our bedroom window watched small shops and vendors set up for the Tacoma Summerfest Pop-Up Market in the plaza. Bowen and I spied one dude who was really hustling to bring in box after box of merchandise up and down the (many) plaza steps from the parking lot. Later, I searched the Point Ruston geotag on Instagram to see who all was there, and I found a post from box dude!! Turns out, he was with the t-shirt/hat shop @mtrainierwatch. I decided to go full psycho and comment on his post that I spied him setting up the booth from our hotel window LOL. Luckily he messaged me and thought that was cool. 🙂 And I did, too.