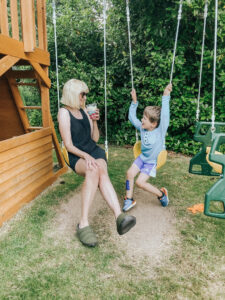 This post is sponsored by Babblebox.
Now that the PNW is miraculously sunny and warm, I've made it my personal mission to avenge the cold weather misfortunes of parka-clad "Winter Tonya" and hit up aaaalll the beaches, splash pads, and parks in my tanks and shorts for as long as the sun will have me.
Dramatic? Yes. True? Double yes.
All of this summertime go- go- going makes it super important for the two.n.tow crew to recharge when we get home. So when Babbleboxx offered to send me its latest Outdoor Adventures box of goodies to test out for products designed to hydrate, fuel, and energize, I gladly accepted.
---
Here's a look at what we got! (This box isn't available for purchase, but I linked all the goods below and there are some great discount codes in here, too.)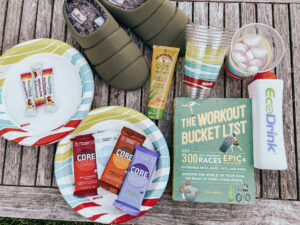 ---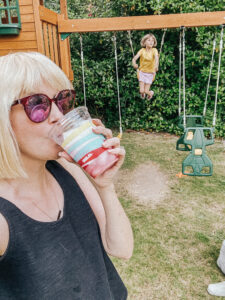 Looking back, when Clara asked what lovely-looking cold beverage I was sipping, I shouldn't have said strawberry lemonade. Not that I endorse fibbing to your tiny humans. But, you know. Kinda. Because the flavor is that good!
EcoDrink Naturals are powder packets made up of 28 vitamins, minerals, and electrolytes (100% DV of Vitamin A, C, D, E, B7 and B12!) for quality hydration that's caffeine-free, gluten-free, and sweetened with Stevia. You just add water. I don't know the ins and outs of giving kids nutritional supplements, but I let Clara and Wyatt have a few sips each 🙂
---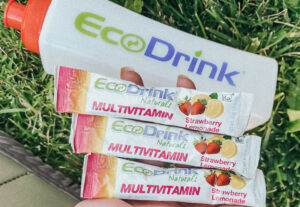 Here's the Amazon link. Some people on there say the drink has a chalky flavor, but I didn't really notice. And just in case you're doubting my tastebuds, Clara is super duuuuper picky and she had no complaints either.
---
SOLO Cups & SOLO Plates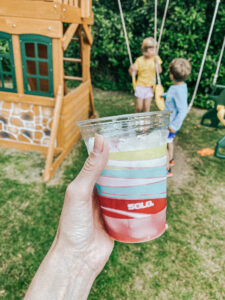 I put my strawberry lemonade in this pretty summertime Solo Cup and topped it off with a ton of ice and a dash of lemon fizzy water to make a mocktail of sorts.
Aren't these chunky 18 oz Solo Cups so cute?! They were part of the promotion, and, as an added bonus, these were also a great fit for little hands. I love that they use 20% post-consumer recycled content and are shatter resistant. These beauties would be perfect for the kids' summertime lemonade stand or for a family get-together.
---
Here's a photo montage of Clara trying to swipe it from me, for your viewing pleasure:
---
The SOLO Cups were paired with these SOLO Paper Plates in matching colorful prints. By the time I took a few blog pictures for this post, Bowen had gotten off work and sliced up some bell peppers, cucumber, and tomato for the kids' dinner.
So, naturally, I swiped some for myself (two can play at this game, kiddos!) as I hid out to eat them on the kids' swingset — lol. Mama's got to get in her snacks when she can! Amirite?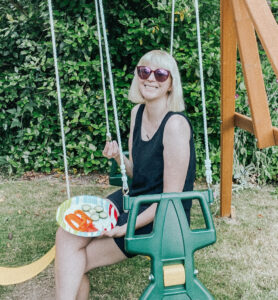 As I sat outside, I appreciated that the moisture from the veggies didn't make the plate a flimsy mess on my lap. It's the little things, you know? SOLO Paper Plates are made to be sturdy and also grease/soak-proof. Fun fact: the plates are microwaveable, compostable and recyclable. So many "-ables."
Can we make "awesome-able" a word? I'm gonna go with yes.
---
CORE Bars
Of course, veggies weren't my only snack. Because …  chocolate! In the form of CORE Bars! While I ate one, the kids were conveniently back from dinner (well played, children) and were going crazy in the background for a bite.
CORE Bars are organic and plant-based snacks you keep in the refrigerator. They offer immune support with nutritional content packed with probiotics and fiber. I'd heard of these bars before and had been wanting to try them — so I ate the Peanut Butter Chocolate and the Coconut Chocolate Chip right away!! Lol. The chocolate on both was delish. Five out of five stars.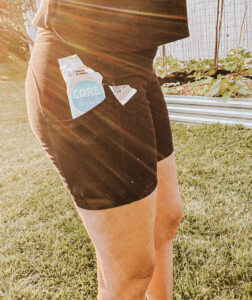 But the best part? They fit in my pocket! (Yes, I'm just like those 'dresses w/pockets!!!' girls except my personal style involves stretchy shorts and snacks. As it should be.)
▶ I'm going to buy more of these for pocket beach snacks and you can too (and save 20%) with CORE discount code SUMMER20. Deliciousness linked here.
---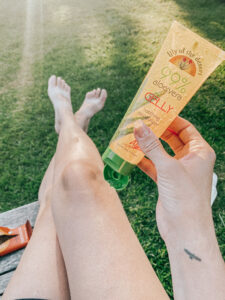 After all the snacking, (you can still see my wrapper evidence), I was taking pics for my fifth product and realized … we're going on our second year here in the PNW. And you guys!! I already have the Birk tan lines on my FEET!!! Sporting that stereotype is so worth it though for the existence of comfy strappy shoes and sun. These PNW'ers know what they're doing.
For the sun part, I now have this fancy 99% Aloe Vera Gelly by the same company as the drink packet people, Lily of the Desert. This organically grown aloe vera is designed to hydrate the skin in your after-sun care routine. It says the gelly can also be a daily moisturizer and a shaving gel! (Gel … Gelly … I get that spelling now). I put the product on my legs and it's not sticky like all the other aloes in my skincare stash, which I soo appreciate. There's no fake green tint either.
---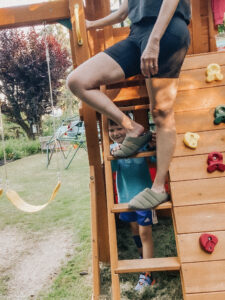 Ok Ok, I also have a solution for the shoes part, too! Once I get home from the rocky beach, I can kick off my sandals and slip on my new Staheekum Summit & Go Slippers. Somehow I ended up with a Men's size 8 in olive, but the puffy quilted nylon is nice and the shoes are slip-on so they still fit.
The outsoles are durable for both indoors and out, which is a bonus for, oh, I don't know … climbing play structures, feeding chickens and running after kids, maybe? 🙂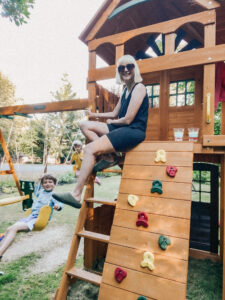 ▶ If you want to try these or give these  indoor/outdoor house shoes as a gift, save 10% with Staheekum discount code BBOXX22.
Fun fact: Staheekum is a PNW-based company, headquartered in Kent Washington, located just 30 miles from me! The company's promise is:
"For every pair of shoes sold on our website, a tree is planted through Trees for the Future." Aw.
---
Before the day was done, I settled down with the last item:  THE WORKOUT BUCKET LIST by Greg Presto. Published by Running Press, this hefty book lays out 300 ideas for readers to challenge themselves to do alternative outdoor hikes, bikes, lifts, and runs around the world. The pages have great illustrations with ideas for home workouts and other fun stuff! Page 66 suggests I take a trip home to sunny California and rollerskate through LA.
To that, I say: challenge accepted!
---
Hope you enjoyed this Roundup of Adventure Goodies!