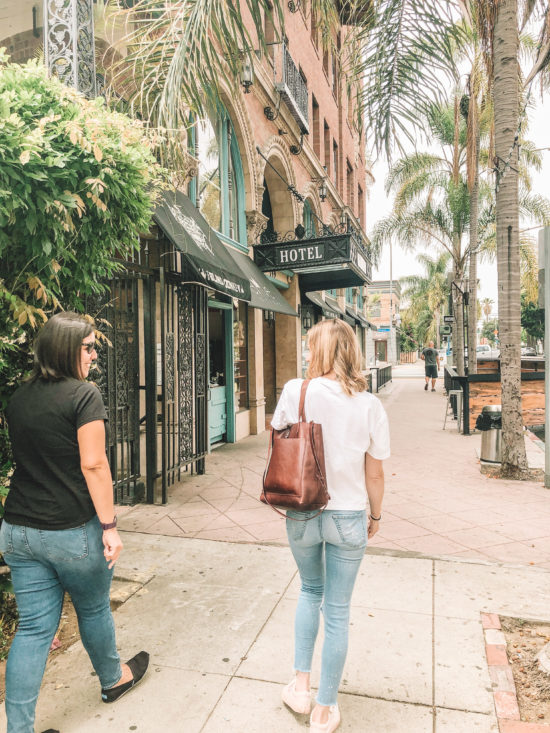 Earlier this month, two gal pals and I left our collective assortment of tiny humans with the husbands and the grandparents and lived it up at the Broadlind Hotel's penthouse suite in Long Beach, California.
Overall, the property is a truly charming getaway with all the architectural character I love, situated in a conveniently walkable downtown location.
We also had a lot of fun there. I brought the full force of the 'gram with me on this trip – which is always equal parts embarrassing and awesome if you've ever done this "influencer" thing before. But two brands gifted us face masks and wine glasses to test out, which was cool. Aaaand, I *might* have taught the girls how to pose for pics (fluid motion, head up, don't forget that foot-pop!). So, really, the whole thing just made us crack up the entire time. And pretty sure these girls have modeling contracts in their near future.
---
We received our one-night stay with parking compliments of the Broadlind Hotel for our review.  Like always, these gifts will never shape my content and you can read more about that over on my disclosure.
---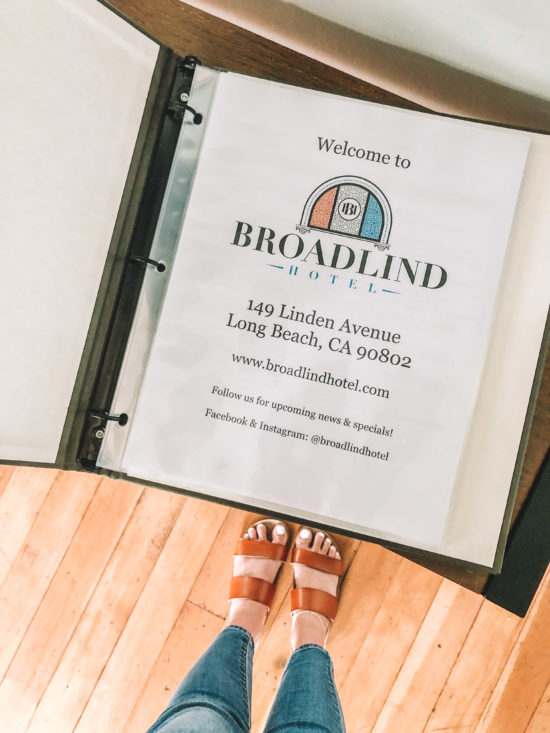 The Broadlind was built in 1928 at East Broadway and Linden Avenue. (Broadway and Linden … Get it? Broadlind. Yep. That location is how the hotel got its name.) #funfacts.
This four-story boutique hotel is set up in a unique way: each of its 20 rooms are laid out in an apartment-style experience above the city. It offers nightly and long-term stays. But there's no big lobby, no bellhop and a simple keypad code to buzzes you in through the front door.
I frickin' loved that.
Your stay also includes amenities such as a cleaning service by request, towels, little soaps/shampoos and even coffee for the coffee pot in every room.  At any time, help is only a phone call away. On-site parking is also coordinated via text message (my true love language).
Yes, the Broadlind is largely a self-service venue, which speaks to the introvert in me. But it also evoked a certain … livin'-in-the-big-city vibe. I loved the air of independence it gave; like I really was a resident of the bustling downtown scene.
(Ps. You know we totally got our Carrie fix and binged "Sex in the City" that night.)
---
---
Here's a closer look at some of our favorite things:
---
The Room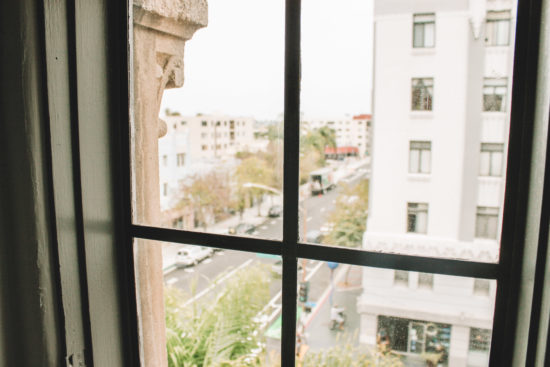 The girls and I stayed in the penthouse suite at the tippity top of the building. Designed to make the Broadlind look like it has a tower, this open-layout type space has a ton of natural light, a full sized bed and a modern fold-down couch. There's a real kitchen with a fridge and cups and plates (and that coffee I mentioned – super important), private bath, closet (complete with a chest of drawers), and a full living room setup. I quite enjoyed our little spot on top of the world there – looking out arched windows to people-watch in the day, seeing the clouds catch shades of sunset at dusk and gazing at the twinkling lights of the cityscape at night.
---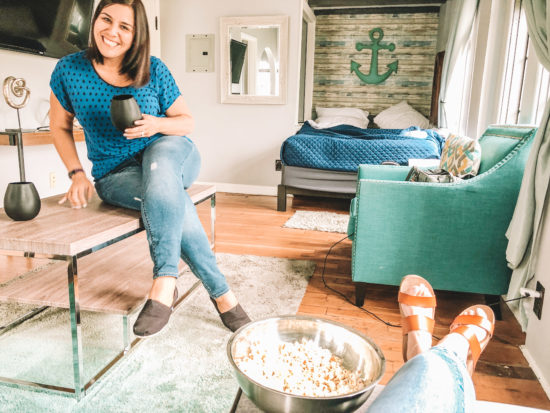 The decor was fresh and modern, true to a beachy vibe that plays up the fact that the hotel is just a 10 to 15 minute walk to the city's expansive ocean waterfront of shops, boats and pretty things at Shoreline Village and the like.
The colors in the room were a calming mix of teal, blue and green accents anchored among variations of painted grey walls and furniture. The girls and I especially liked the hardwood floors below and the exposed beams above.
---
Here's a closer look at the penthouse: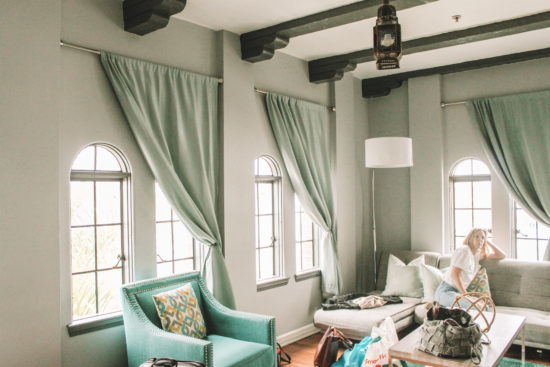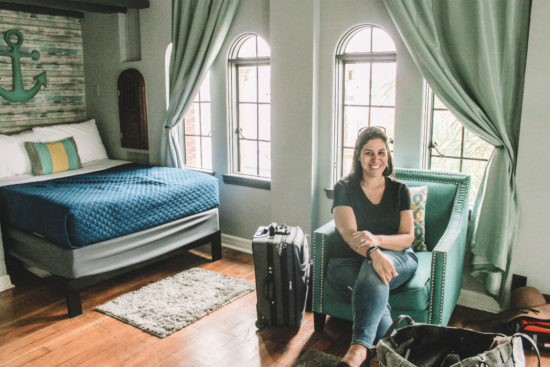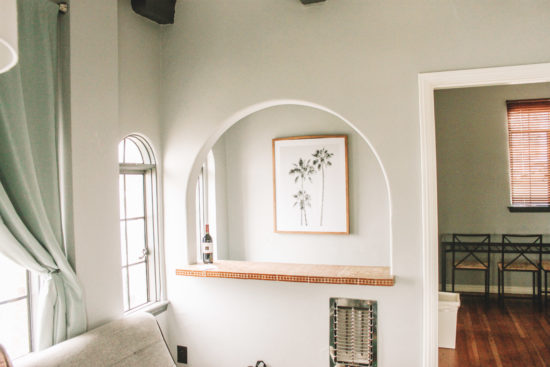 Since I had never really stayed in a penthouse suite before (because, um … fancy!), I didn't realize that by definition, penthouses always occupy the highest floor of a building. That meant great views and a generous floor plan at the Broadlind, but also a hike to the top of a lotta stairs. With luggage. Really, that was my friends' only complaint about our stay. When I requested the room, I missed the Broadlind's disclosure about not having an elevator due to its 1928 origins. (As such, it's also not wheelchair accessible if that's an issue).
Speaking of friends, ya'll know I'm big on honesty and I really wanted the girls to be part of this review – and not just for the pictures. So, here are their unabridged thoughts via text when I asked them their likes and dislikes.  Kari's notes about being a guest of a guest are about the setup where the room was registered under my name, so I was the only one who got check-in info and codes (muhahaha).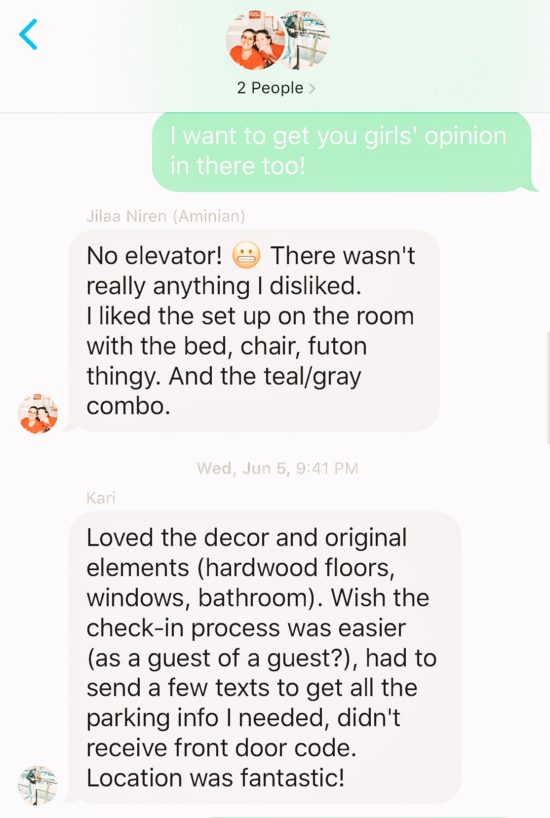 I posted a few more glances at the penthouse below. Make sure to check out the mysterious and intricate little wooden door near the bed. We suspect it once held a telephone. Or, you know, the portal to an enchanted fairy world. Whichever.
---
Also of note,  the room has the cutest Instagram-worthy alcove with barstool seating. We definitely had some fun practicing arm poses there. 🙂
---
Continuing on to more things we loved …
The History
The City of Long Beach has more than 120 official historic properties, and the Broadlind is Long Beach Historic Landmark 16.52.210.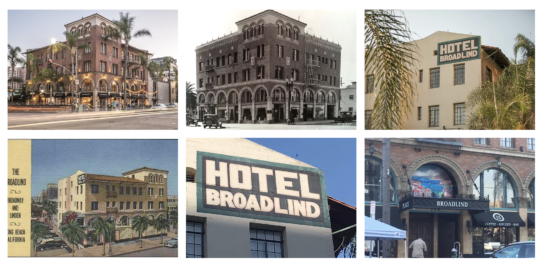 And while its historical throwbacks are certainly celebrated, its most recent claim to fame resides on the basement floor.  There, you'll find the Blind Donkey whiskey bar whose richly detailed interior is featured in the 2016 movie "La La Land." Alas, my main man Ryan Gosling wasn't there. I'm sure we'll meet up later.
That was cool but one of my favorite things to tell my friends about this place was that its handpainted Hotel Broadlind sign on the west front of the building is the original 1920s signage.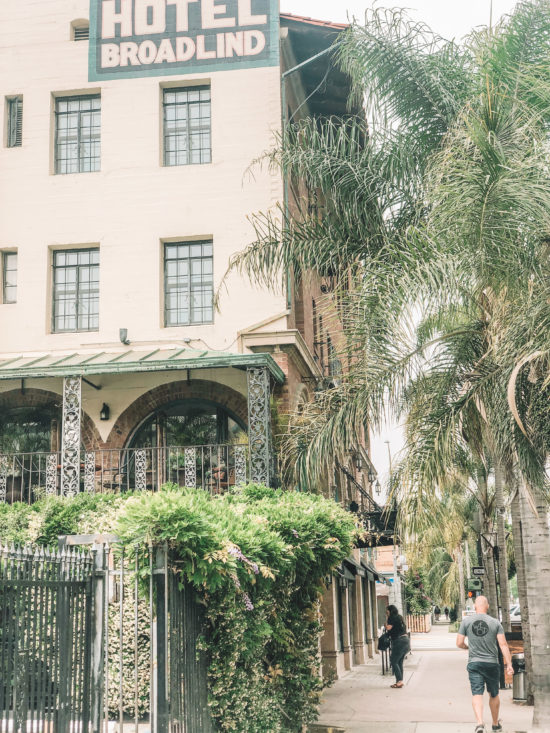 I'm a sucker for that kind of thing. I read in newspapers that some say this art makes for the perfect backdrop for its prominent spot in the city's East Village Arts District.
That's not all. As history tells it, the Broadlind started out as a hotel sought by Navy dudes on short-term respites from their ships docked in the bay.  Those guys apparently really loved to party in the original basement gambling/drinking hall (the Blind Donkey opened there in 2014). Long Beach insiders tell me that in the Prohibition era, guys used a secret tunnel connecting the historic art-deco Lafayette apartment tower across the street (popular with statesmen and government types) to that basement bar at the Broadlind, where all the working girls joined them. How risqué.
---
The Architecture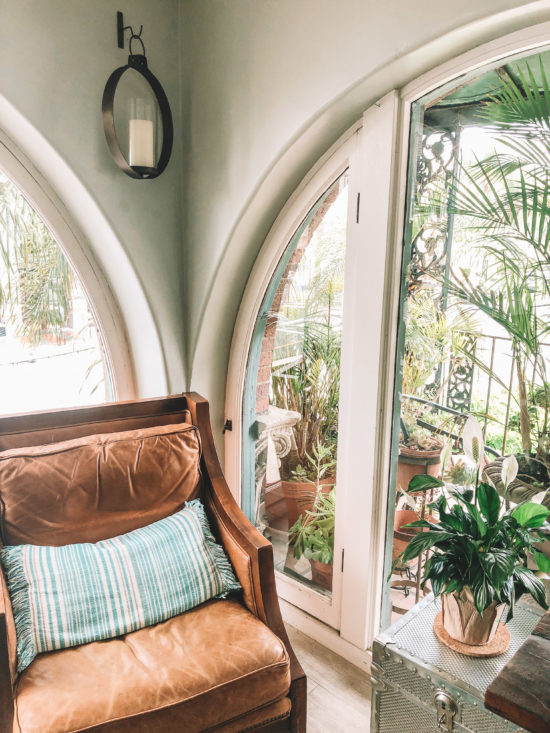 This place has gorgeous lines and brickwork. I'm not going to sit here and pretend I know a ton about architecture. But, I will say I sure love researching it.
So when I came across the city's Historic Landmark register, I was excited to see it says "the Broadlind Hotel is an excellent example of Italian Renaissance architecture, which is rare in the City of Long Beach."
The Los Angeles Public Library's historic collection also had some info, and I was stoked to find some more details on the building. The record says: "The hotel was intended to cater to bachelors and was furnished to appeal to the masculine tastes of the time with heavy furniture featuring a Spanish motif."
---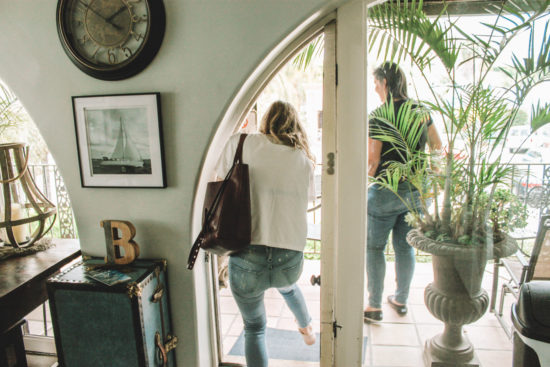 I smiled when I read the part about the building's arched street level windows, which sit two stories high on square marble columns. It's this similar window style that I swooned over from the mezzanine because they have little window doors that led out to a second-floor open-air patio available to hotel guests. That's some cool stuff right there.
Speaking of, that patio is located off the mezzanine,  which was designed to provide a gathering place in the absence of a traditional hotel lobby. It's also here you'll find a beautiful sitting area full of plants the best worn-leather chair, wifi, a desk, music and laundry facilities.
---
---
The Location
This place is close to everything. After check-in, we walked to lunch at Long Beach Taco Co., drove to $20 thai massages at Yuan Massage, then came back and noticed people on Bird Scooters zipping around the streets.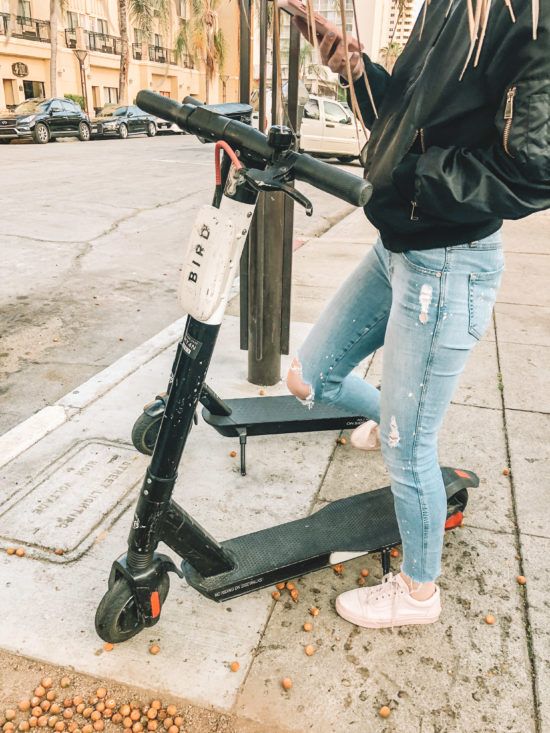 We got the Bird app's GPS map and found two scooters in front of our hotel plus a third around the corner. This is not an ad, but hands fricken down our favorite thing to do in the city was riding those Birds through the downtown streets to the waterfront. We definitely felt like kids again!
I'm not kidding when I say scootin' is so freeing. Seriously fun, efficient, pretty fast (you control the speed via a handlebar throttle) and not to mention we just felt super cool on them. I'm not a skateboarder/surfer/athletic type and it only took me about five minutes to warm up to this thing AND I never bailed. Pretty good, if I do say so myself lol. I had never heard of the company before, but we saw them parked by the hotel and were curious and it definitely paid off.
Here's a look at some of the pretty places to see in scootin' distance from the hotel (or walking, too).
---
---
Elsewhere, we enjoyed coffee and eggs via the Broadlind's free breakfast voucher at the nearby Village Grind and bought all the girls night snacks at the Wabi Sabi Village Market. Broadlind Hotel, meanwhile is going to have its own ground-floor eatery soon in a partnership with the Blind Donkey. That restaurant is called Burger Daddy and is currently under construction. The hotel's general manager Michelle gave us a sneak peek at its two-story interior and it looked so cool already! Can't wait to go back and check it out when it's open.
---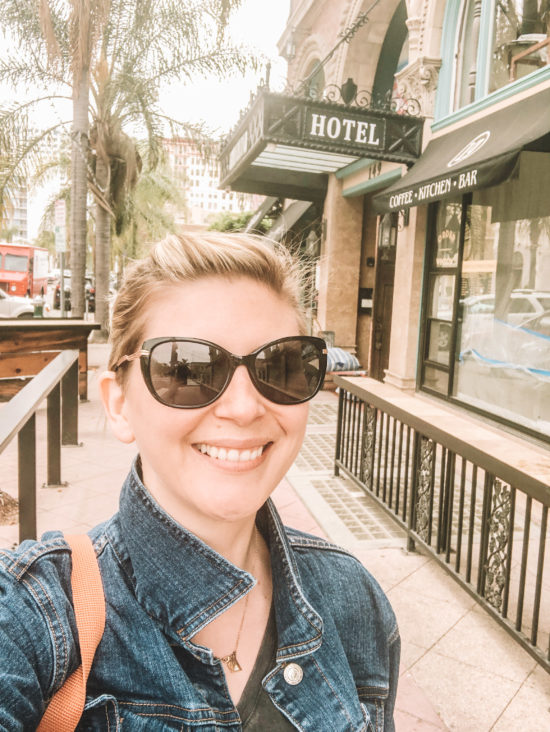 Thank you, Broadlind Hotel! We really enjoyed our little getaway.