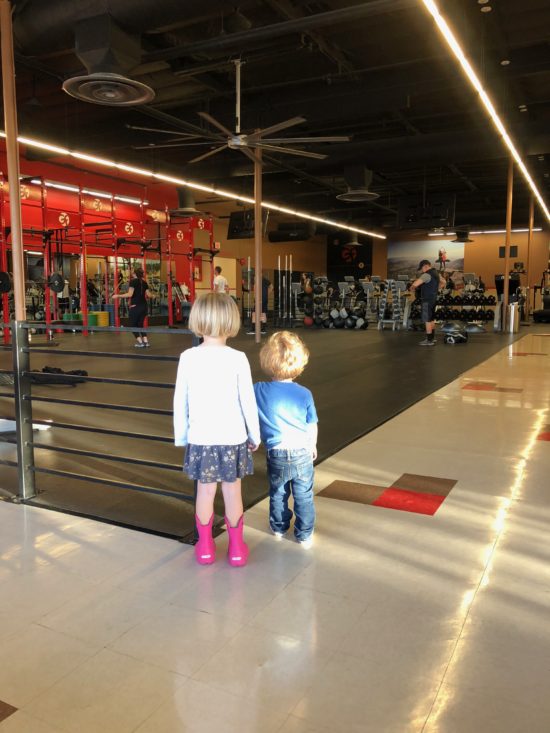 For more than a year, I've been trying to wrangle fitness back into my life. To, you know, stay sane. And, to shed some of this craziness that two babies in four years has done to my body. What I'm talking about is consistently getting in a real workout two to three times a week. The kind of exercise that gets my heart rate up, makes some of that endorphin magic happen and unplugs me from the daily mom scene for at least 30 minutes.
But, I'm home with the kids all the time. And, for me at least, it basically feels impossible to find somewhere to keep them for about an hour, a few times a week.
A little about me is I'm one of those crazy people who actually really like the gym. I love the people watching,  the strength and cardio machine choices and the routine. I even like "leg day" and "arm day" and getting in a really great stretch after a cardio sesh. The reliability of it all draws me in. Way more than like,  getting on a treadmill in the garage ( I don't actually have one) or doing a YouTube workout (no thanks). That's just not me.
So what's a girl to do? Luckily, the fine folks over at Give Fitness Health Club in Atascadero know the struggle is real. The gym peeps will take your kids and play with them in a big colorful room full of toys for a whole two hours a day with its Kid Care service, which is included in the cost of most of its monthly memberships.
That's why I'm stoked to team up with Give Fitness for the next four months. I banked some free gym time in exchange for writing about my experiences there. My original intention wasn't to chronicle this as a body image transformation journey with Before and After pics and all that. But I can, if you want. Hit up the comments and let me know! But mostly I was thinking I'd share how I use the gym and its features like the classes, equipment and review its Kid Care.
While I received these services complimentary of Give Fitness in order to review them, all opinions are my own. For more information, please see my disclosure.
---
---
Also …. I'm no sales girl. I don't get any incentive if you sign up for the gym or its other services. I think that's important to note. I'm literally just here to give the mom-to-mom advice (or parent-to-parent advice for all you dads out there) that self care is important. And not in a cliche, buzz word kind of way. But in a legit, "parents matter, too" kind of way.  We give everything to our kids (our time, our energy, our sanity) but if we don't keep anything for ourselves, how effective can we really be?  In my humble opinion, workouts are the key to longterm self care.
Fun fact tho: Did you know you can try all that out for free, with this two week pass? Two weeks is kind of a lot for a free pass, right?  So I think that's awesome and wanted to share. Also, keep reading for an exclusive promo code for a discounted membership for our readers.
So, that's where I'm at with this partnership. Are you in with me?
Adventure:  Give Fitness Health Club,  7175 El Camino Real (in Atascadero's Vons shopping center).
What it is:  Gym time for mom while my 2 and 4 year olds play in the Kid Care room.
Info: Find Give Fitness at www.givefitness.com // Facebook // Insta
I first wrote about Give Fitness Health Club  about four years ago. It was the last story I wrote for The Tribune before maternity leave for our Clara, our first child.  The last story pre-parenthood. The last story before isht got real.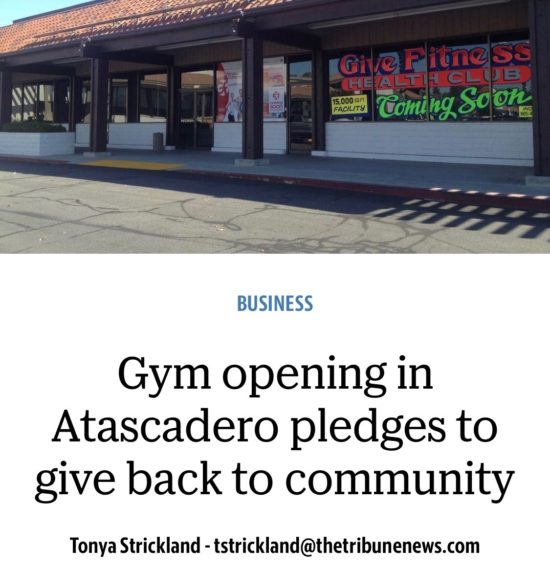 If you don't want to read it, that's ok. You're busy. The CliffsNotes are that Give Fitness is different in that it donates 50 percent of its profit to local charities and causes, and then reinvests the other half back into the gym. It also offers health club services (tanning, classes, childcare) that other gyms in its price point don't.
Writing this post marks my first completed week at the gym. Here are a few small things I like about it so far:
► The Purell stations placed on every wall. It's like they KNOW me.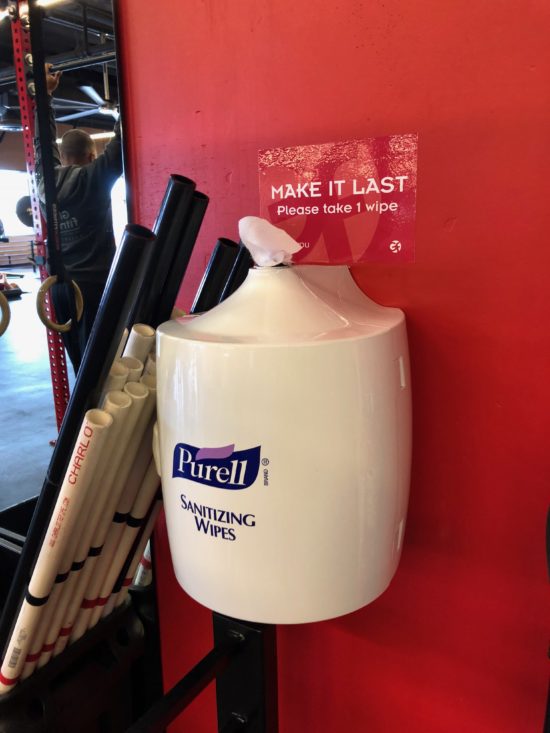 ► This Brita water fountain on the wall by the locker rooms to fill up your water bottle. Because mouthpiece water fountains? Ugh, so gross.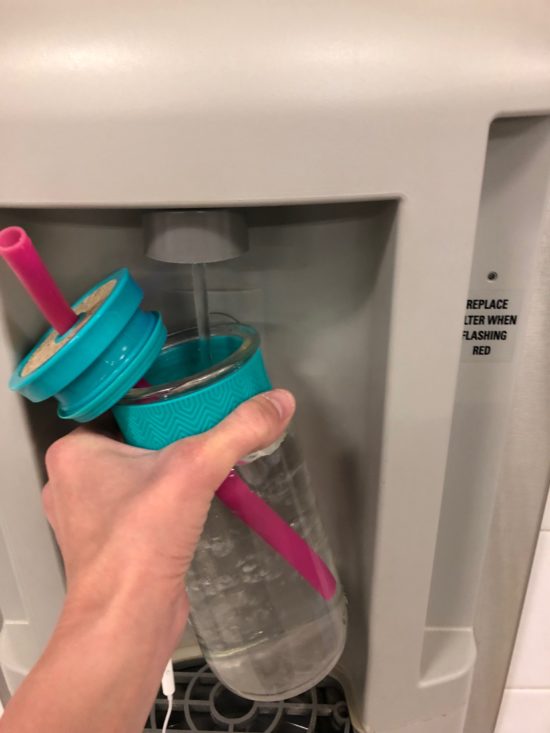 ► When you scan in with the gym's phone app as your keycard, you rack up reward points for everything from free gym stuff to even Disneyland tickets. Boom.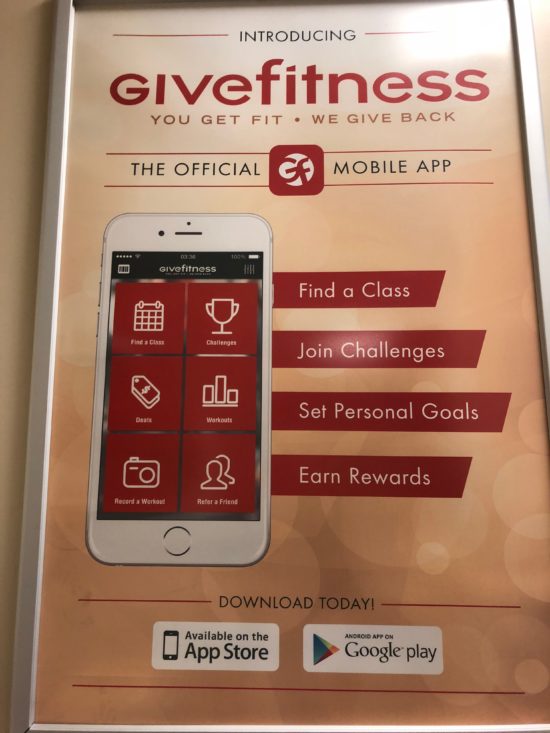 ► Zoning out to Hulu (on my phone) on the elliptical machine. Actually being able to watch an entire episode of Superstore without being interrupted is so #momgoals for me right now.
Speaking of Superstore, some real talk: How is Ben Feldman not actually Scott Baio? Seriously. Google it.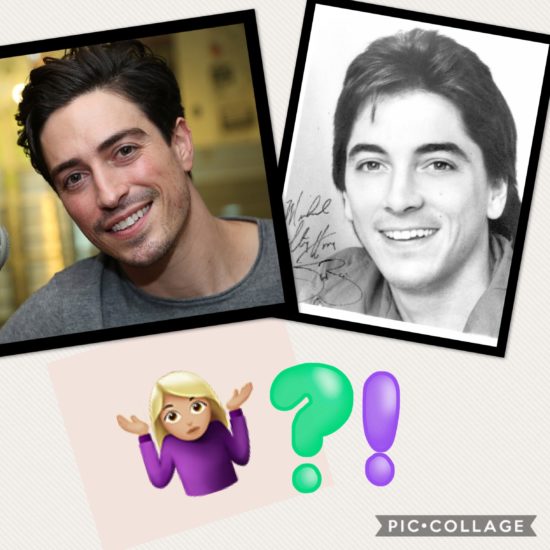 ---
Anyway, Give Fitness signed me up like any typical member. Except I'll be that random girl taking selfies on all the gym equipment. I'll probably look totally awkward. But, hey. No big. And don't worry, no pics of your kids, just mine. Because I totally get that.
---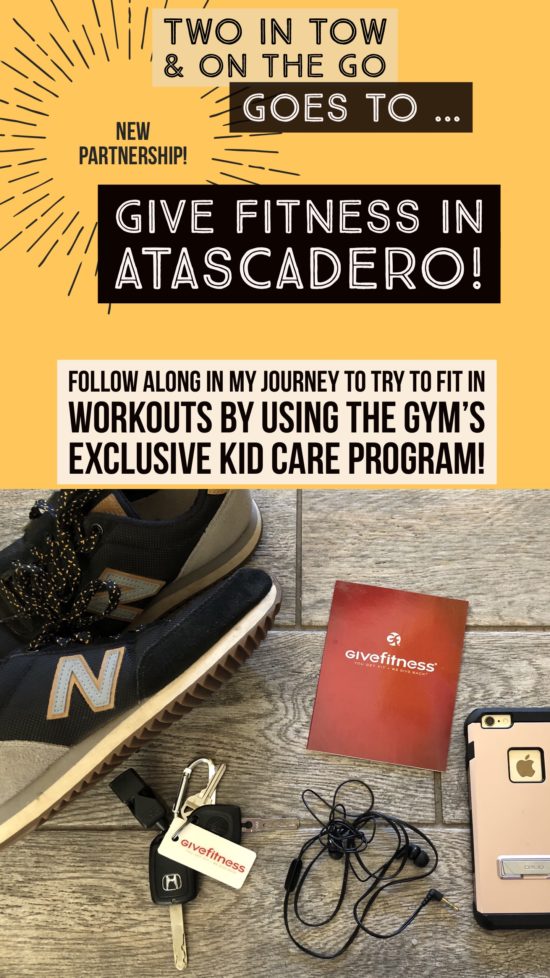 Also exclusive to our collab, Josh created a Give Fitness promo code for you guys! Just enter the promo code TWOINTOW into the Corporate Member field on the Give website when signing up online (or online on a tablet at the gym). With this Give Fitness coupon code, you get the $29.99/m Corporate Membership price for $24.99/m. That's a $5 savings every month just for mentioning us! Childcare for one child is included in that price, for two hours of care per day (that's right … TWO hours. And, dude, there are even showers there … Just sayin'). Tack on an extra $10/m to that for each additional child.