A few weeks ago I introduced my latest partnership — trying out Give Fitness Health Club in Atascadero with my toddlers in tow each week.
The gym also created an exclusive gym membership discount just for you guys! Read below to grab the Give Fitness promo code to score $5 off your membership EACH MONTH.
Here's my experience so far.
WEEK 1: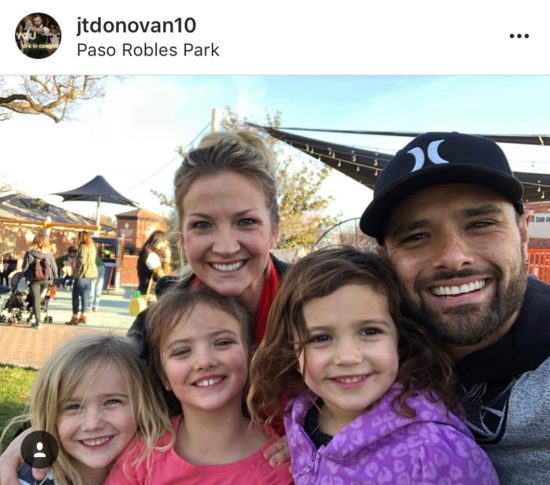 My introduction to Give Fitness started with a talk with one of the owners: Josh Donovan. He's local to Atascadero, where he and his wife raise their three little girls. He's totally a nice, relatable guy who really gets the parenthood thing.
Heck, he even created a locker room gear cubby system in front of the cardio machines so you can keep your stuff in sight. Juuuust in case you forgot your locker room lock (or never had time to buy one) because you barely even made it to the gym at all, in between surprise poopy diapers and small humans who won't keep their shoes on. (Me.)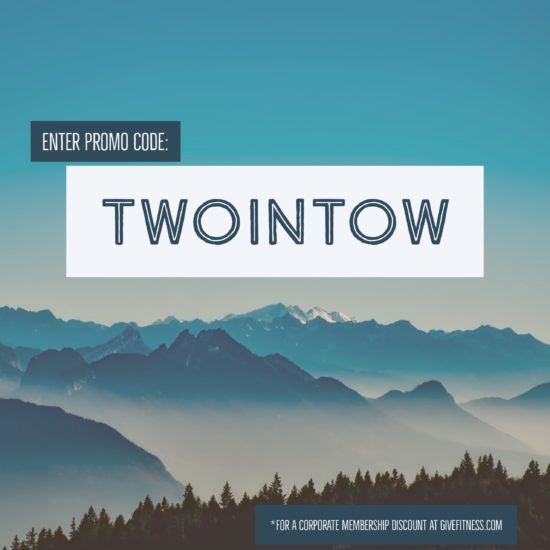 Also exclusive to our collab, Josh also created a Give Fitness promo code for you guys! Just enter the promo code TWOINTOW into the Corporate Member field on the Give website when signing up online (or online on a tablet at the gym). With this Give Fitness coupon code, you get the $29.99/m Corporate Membership price for $24.99/m. That's a $5 savings every month just for mentioning us! Childcare for one child is included in that price, for two hours of care per day (that's right … TWO hours. And, dude, there are even showers there … Just sayin'). Tack on an extra $10/m to that for each additional child.
Isn't that super nice of them? I think that's just the Give Fitness style. Josh isn't some faceless owner in an office somewhere. He's way involved  – you'll see him everywhere. Working out, taking videos about different workout techniques for Insta and Facebook, blogging and chronicling his own personal fitness journey. You'll also find his sister, Tiffany, the rockstar general manager, setting up membership accounts and completing the latest rowing/jump rope/insanity cardio challenge on the floor.
Overall, these are just some of the reasons I approached Give Fitness with this collab. They're local , they're real and they're involved.
WEEK 2: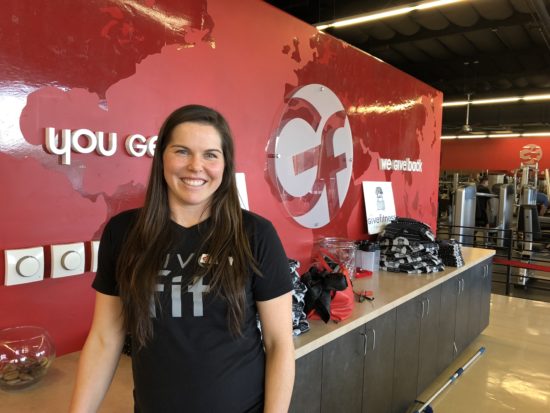 After our talk, Josh set me up with my next appointment a few days later: a  heath assessment with a personal trainer. The very lovely Laura Jangaard went over all the basic health questions with me:
Do I have any medical conditions, previous injuries, surgeries? Etc. …
What do I eat in a typical day? Then she made some suggestions to tweak that.
Helped me outline some goals and then showed me a few moves to help meet those goals.
She also went over the class schedule and introduced a few of the personal training packages the gym provides.
We also chatted a ton: about babies, about life, about all the superhuman body stuff the female body goes through. She made the whole thing super casual and not intimidating at all.  I didn't feel like she was judging me, or that I was being tested for how fit or not fit I was. Not that that's ever what a talk with a personal trainer would be like, but I've never met with one before so I didn't know what to expect.
After that session, I came back on three other days based on the Kid Care hours: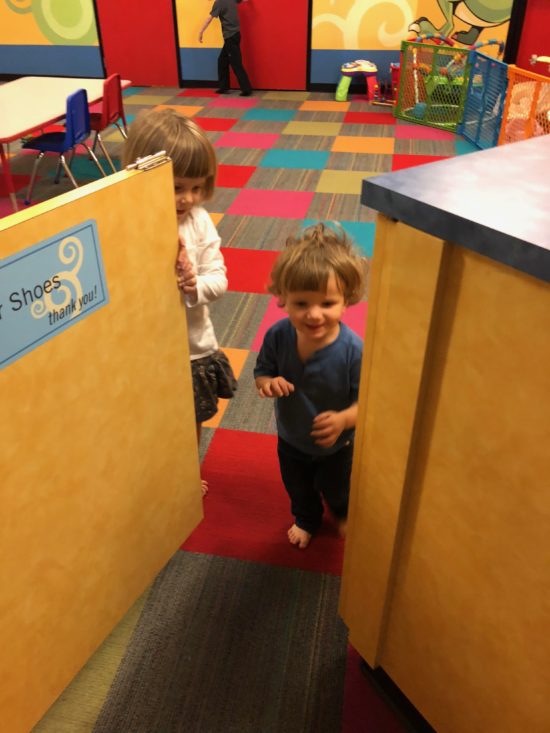 Kid Care hours are:
Monday – Thursday // 8 a.m. – 1 p.m. AND 3 p.m. – 8 p.m.  // Friday & Saturday // 8 a.m. – 1 p.m. // Sunday: Closed *During the week, Kid Care closes for two hours each day between 1 and 3 p.m. to be re-cleaned and re-sanitized.*
From that window,  I chose different times of the day to go in order to get a better feel for the different crowds:
The gym was super busy and high-energy. School was out at that time, so there were younger people there (minimum age for membership is 10) and maybe some others getting off work early?  So there were lots of people talking and doing floor exercises and the machines were pretty full. MIght have also just been a Monday/burn off the weekend thing.
**UPDATE from Week 5: I went at 3:30 p.m. on a Thursday and it wasn't the same scene at all. It was a lot quieter with way fewer people. So I think that other experience was, in fact, a Monday thing. **
At noon on Wednesday, the gym was slower. There weren't a ton of people there as I thought, having seen the crowd on Monday. I also thought that maybe there would be a lot of people there on their lunch breaks from work. But the crowd was noticeably smaller and older.  By noon, I had to rush a little bit because I forgot Kid Care closed at 1 p.m. for re-cleaning. But, seriously, even an hour is great.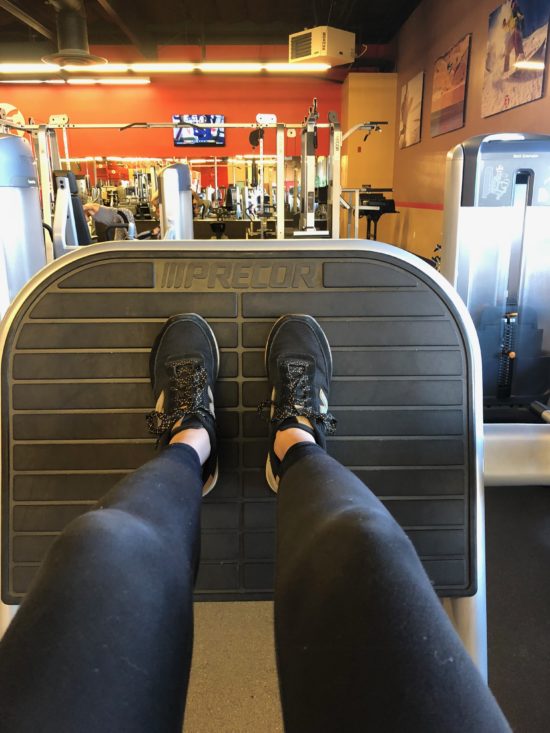 This time of day was my jam. Mostly older folks doing cardio. Not a ton of people overall. Quiet. Two hours before Kid Care closed, so there was no rushing. Next week, I want to try even earlier and see if it's the same feel. Plus it's nice to get the kids out early enough to do something afterward.
And that's it so far! I'll give the deets on Kid Care in the next post. Unless you want some Before and After/ body image stuff. Remember to let me know about that one!
[/wc_box]
Till then …
Xo, Tonya.
I received four months free membership in exchange for my review of this gym. I don't get any money on new memberships though, I really just want to share my experience with you! For more information on these types of partnerships, see my Disclosure.